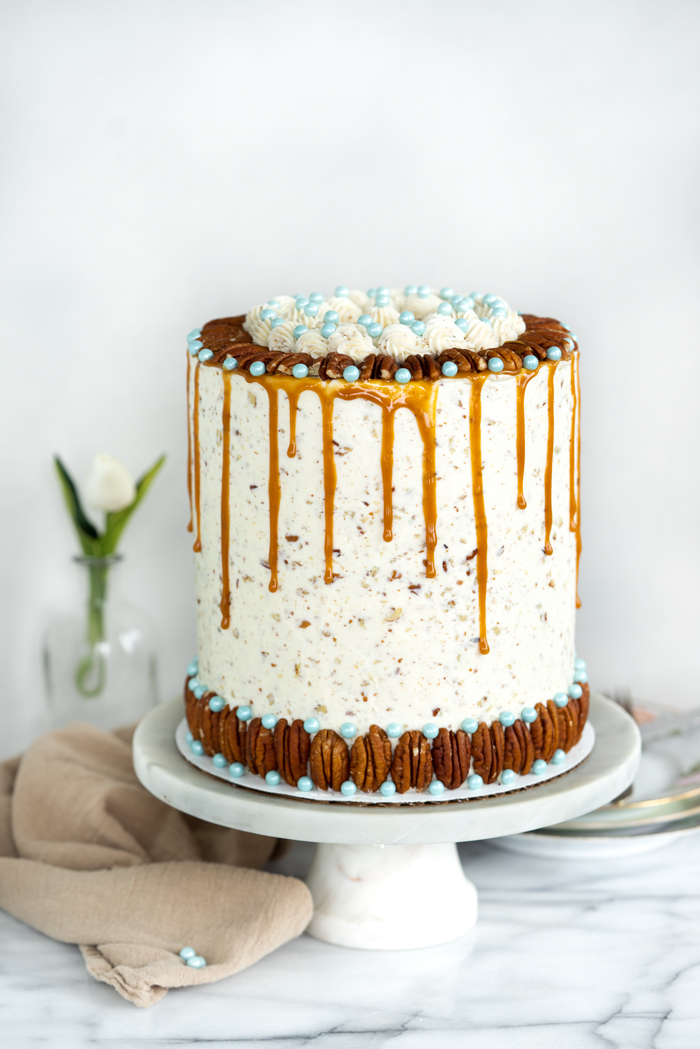 Pecan Turtle Cake Recipe. Chocolate, pecans and caramel all in this delicious cake!!
Frank Lloyd Wright was once asked out of all his works which one was his favorite, his response "My next one…". Though I am not an accomplished architect I feel the same way about cake. As soon as I fall in love with a new cake recipe or design I am onto the next and then it becomes my new favorite.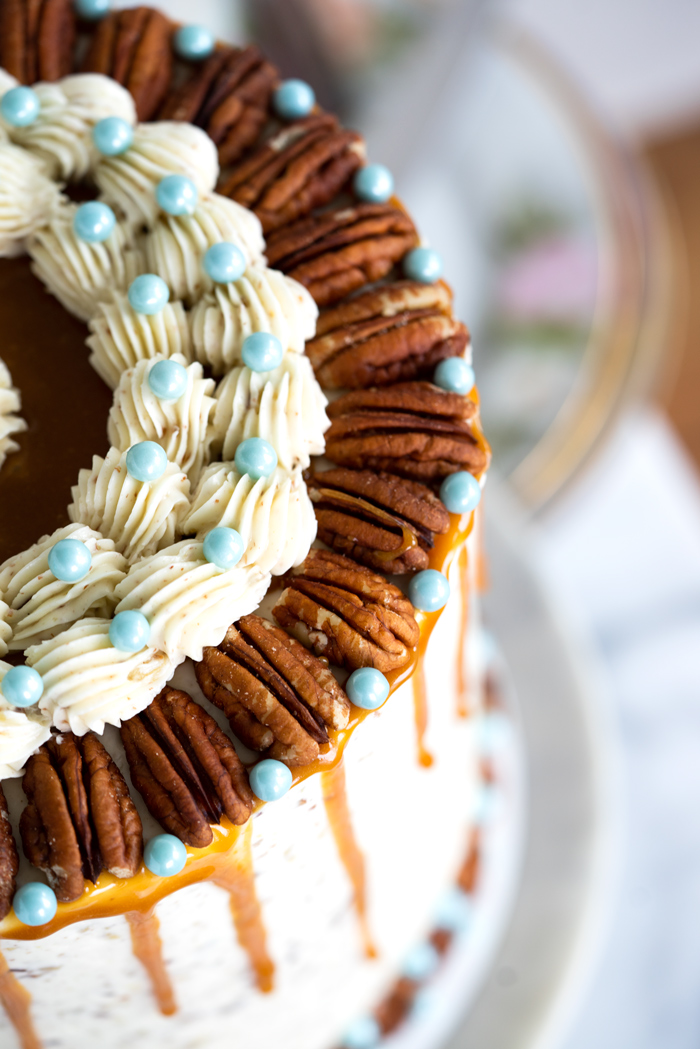 This Pecan Turtle Cake is currently "My next one…". It has fast become my new favorite cake recipe, so much so I had to call my mom and tell her to get this cake outta my house, lol, because I just want to keep snacking on it 🙂 .
Pecan Turtle Cake Recipe Breakdown:
Layers of moist delicious chocolate cake – this is the base for this recipe and represents the chocolate in the famous candy.
Filling – Layers of brown sugar buttercream, gooey caramel and rough chopped pecans. That filling by itself is seriously everything!!
Pecan buttercream – Fresh, finely chopped pecans take this buttercream recipe to the next level, the sweetness with the nuttiness wraps this cake in even more phenomenal flavor.
What this cake has on the craving level (everything) – Sweet, creamy, gooey, crunchy, nutty, chocolatey, buttery. It hits every texture!!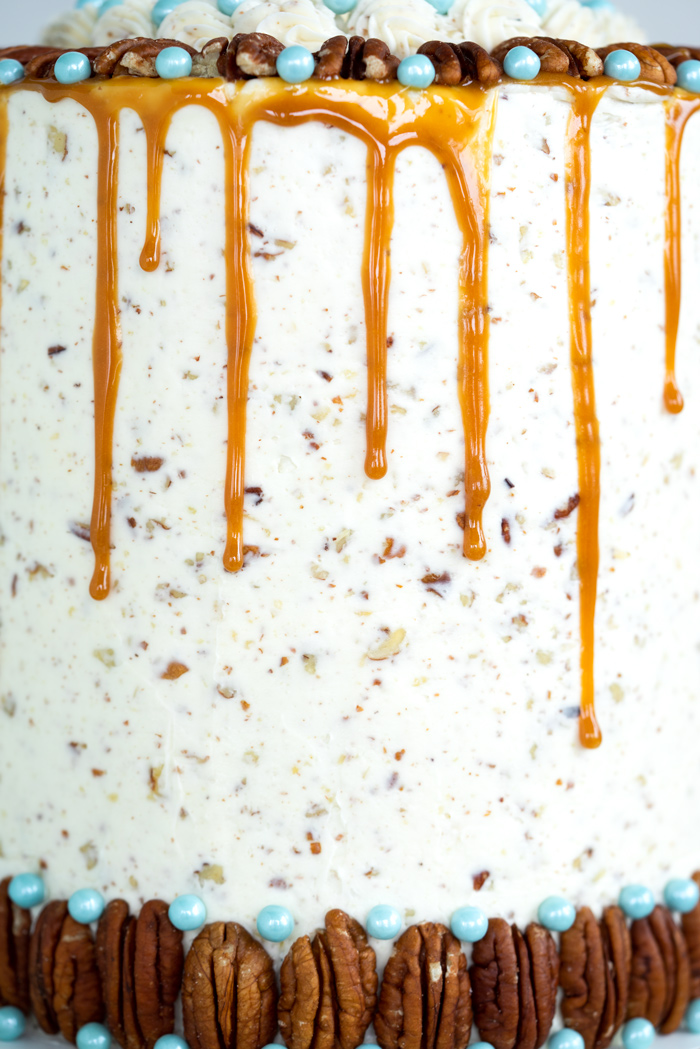 I'm completely love speckled buttercream's lately, whether its sprinkles, vanilla beans, cherries or in this case pecans, I'm all in. The more you can focus on the delicious ingredients in a cake you can use them in the decorating for a natural or more organic decoration technique. The pecans in the buttercream coating add interest and super flavor. Note though that when trying to smooth the buttercream some nut pieces will drag across the buttercream and leave scrape marks. I had to go back in with a small spatula, fill in these spaces and smooth it out again.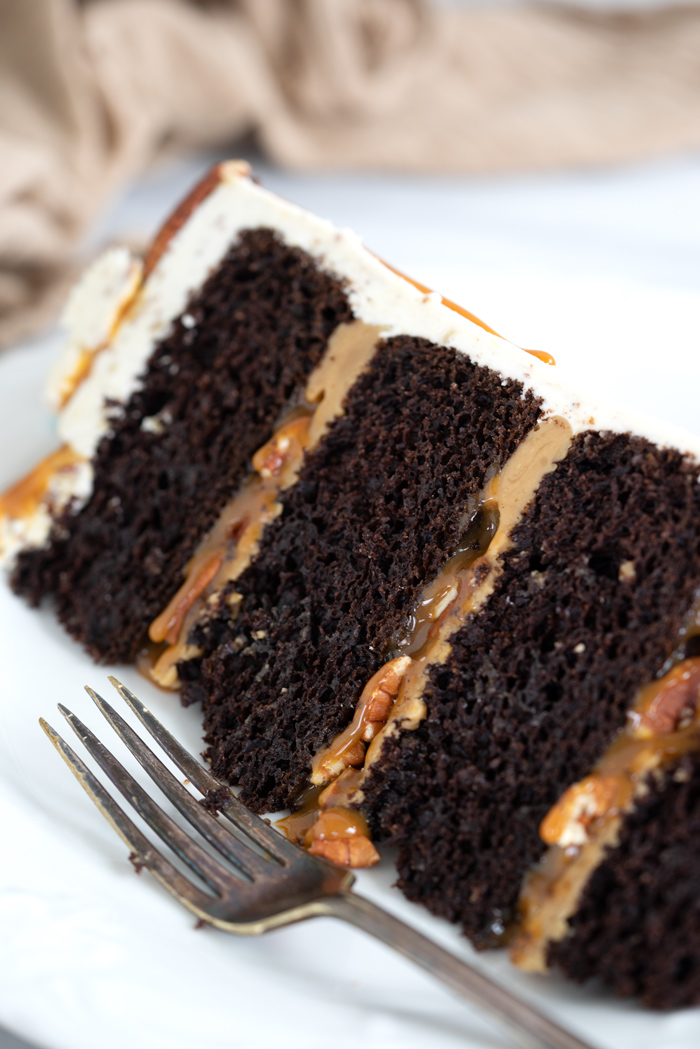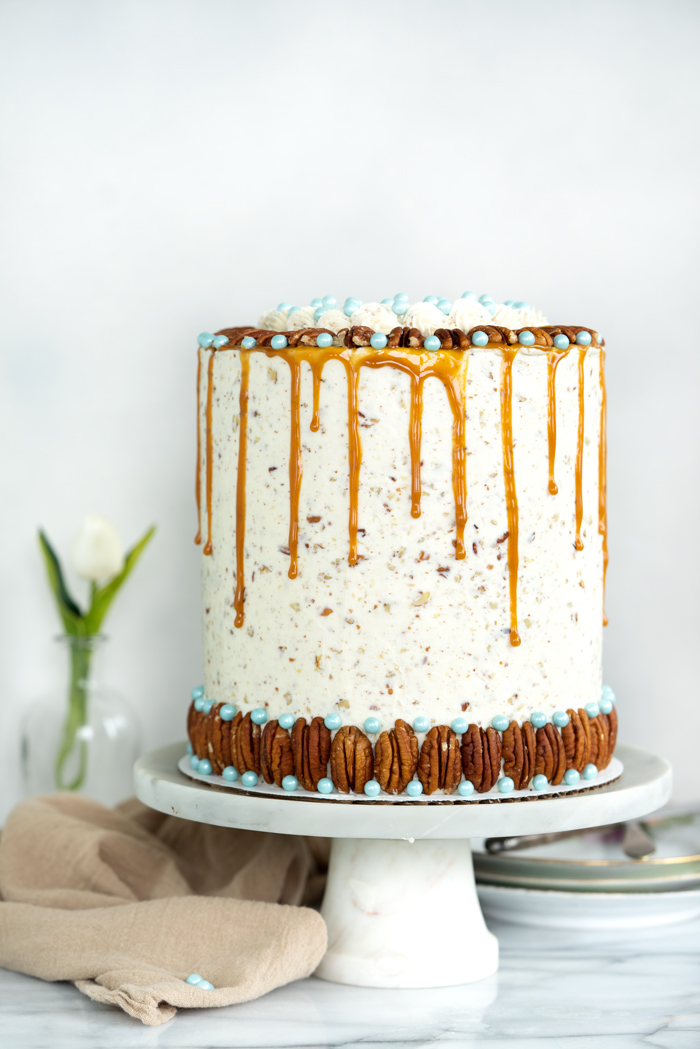 For the caramel drip (if using) make sure your cake is very well chilled so buttercream doesn't melt. I use a piping bag or squeeze bottle for caramel drips so I have more control. The caramel filling is gooey and will start to drip from the cake as its cut, it's gooey though, not runny so as long as you are quick enough with cutting you won't loose any caramel.
I hope you enjoy this Pecan Turtle Cake as much as I do!!
Stacey
PIN FOR LATER! Thanks.

Pecan Turtle Cake Recipe
Pecan Turtle Cake Recipe. Chocolate, pecans and caramel all in this delicious cake!!
Ingredients
CAKE:

2

chocolate cake mixes

6

large eggs room temp

2/3

cup

canola oil

2

cups

buttermilk room temp

1/2

Tbsp

expresso powder

this magnifies the chocolate flavor of the cake and is optional

1

Tbsp

vanilla extract

BROWN SUGAR BUTTERCREAM Filling:

5

egg whites

1 1/4

cups

dark brown sugar

1

lb

butter room temp

2

tsp

vanilla extract

pinch

of salt

FILLING:

1

cup

rough chopped pecans

1

cup

of favorite caramel sauce

homemade or store bought, if buying go for darker, thicker variety.

PECAN BUTTERCREAM:

5

egg whites

1 1/4

cups

granulated sugar

1

lb

butter room temp

2

tsp

vanilla extract

1

cup

finely chopped pecans

pinch

of salt

GARNISH

optional:

Whole pecan halves

Caramel sauce for drip

Piping additional with pecan buttercream

Sprinkles

optional
Instructions
CAKE:

Preheat oven to 350 degrees F.

Flour/grease and line bottom with parchment paper on (4) 7 inch cake pans.

Place all ingredients in mixing bowl.

Mix on low until all ingredients are wet.

Bring mixer to medium/high and mix for 2 minutes until completely combined.

Pour evenly into prepared pans and bake 28-33 minutes or until toothpick inserted comes out clean.

Let cool completely.

BUTTERCREAM INSTRUCTIONS:

(this can be used for both buttercreams. I make each buttercream one at a time. First make the brown sugar buttercream for filling and crumb coat. Next make the pecan buttercream for the final coats and decorating.)

In large sauce pan add the egg whites and sugar (or brown sugar if making the brown sugar buttercream).

On low/medium heat you are going to whisk (continuously) egg mixture until sugar is completely dissolved (you can test it by rubbing a small amount between your fingers to test it, it should be completely smooth).

Transfer to mixing bowl and with whisk attachment whisk on high until stiff peaks form and mixture is completely cooled (if not completely cooled your butter will melt). If you have reached the stiff peak stage but meringue is still warm let it sit to cool to room temp.

Switch to paddle attachment.

On low speed add the butter one piece at a time.

Bring mixture up to high speed and continue to mix until well combined, smooth and creamy.

Add in the vanilla and salt, mix to combine.

For the pecan buttercream fold in the pecans by hand.

ASSEMBLY:

Cut tops of cakes if hump formed while baking.

Place first cake layer on cake board, secure it in place with a dab of frosting underneath.

Spread even layer of brown sugar buttercream on top of the cake layer, smooth with offset spatula.

(I left the outer edges of frosting higher to keep the caramel from slipping out).

Next add caramel on top of the buttercream arrange evenly, sprinkle with chopped pecans.

Repeat with the next two cake layers.

Add the top cake layer and crumb coat the cake with buttercream.

Refrigerate at least 30 minutes.

Put final coating of buttercream on cake using the pecan buttercream.

Pipe swirls on top and garnish with whole pecan halves and sprinkles.