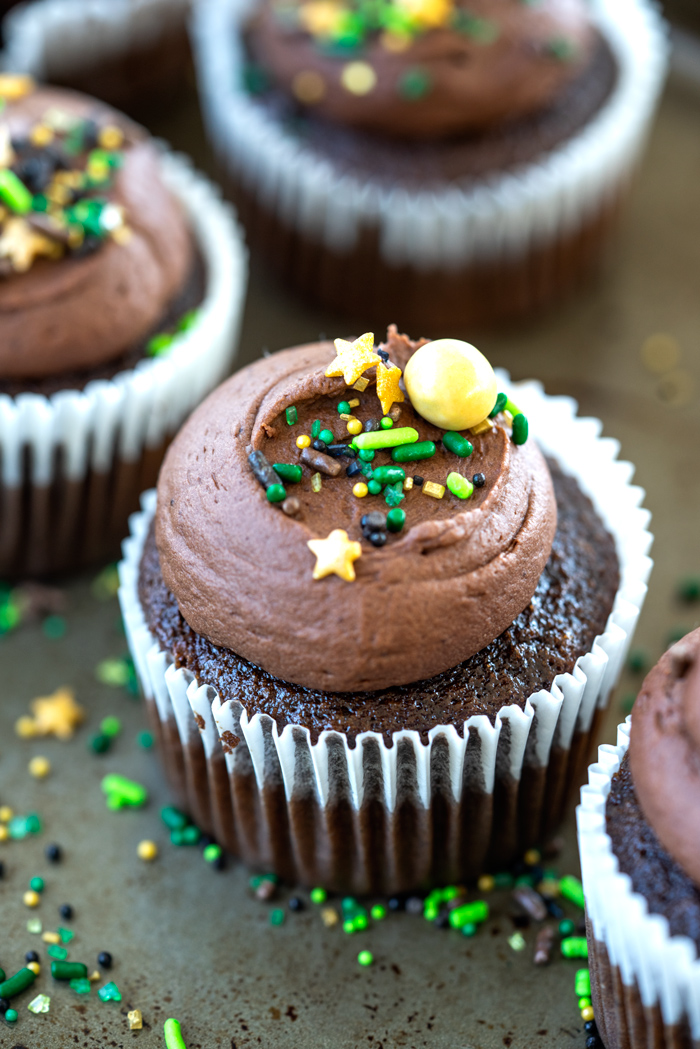 Super Moist Chocolate Mayonnaise Cupcakes. Delicious chocolate cupcakes made with mayonnaise.
So does mayonnaise in a cupcake sound acceptable or strange to you? I still can't answer that question myself but curiosity led me to make these amazing cupcakes and now I'm team mayonnaise all the way. This is actually an old time recipe used for generations. I can just imagine a great home baker preparing her ingredients to make cake or cupcakes and realizing she is out of butter. So she reaches for the mayonnaise and voila an instant classic is born. But in actuality it was created by the wife of a Hellman's Mayonnaise salesman who was trying to help her husband.
Chocolate Mayonnaise Cupcakes are deliciously chocolatey and super moist. Paired together with a chocolatey, melt in your mouth buttercream and I'm grabbing two and asking someone to pass the milk.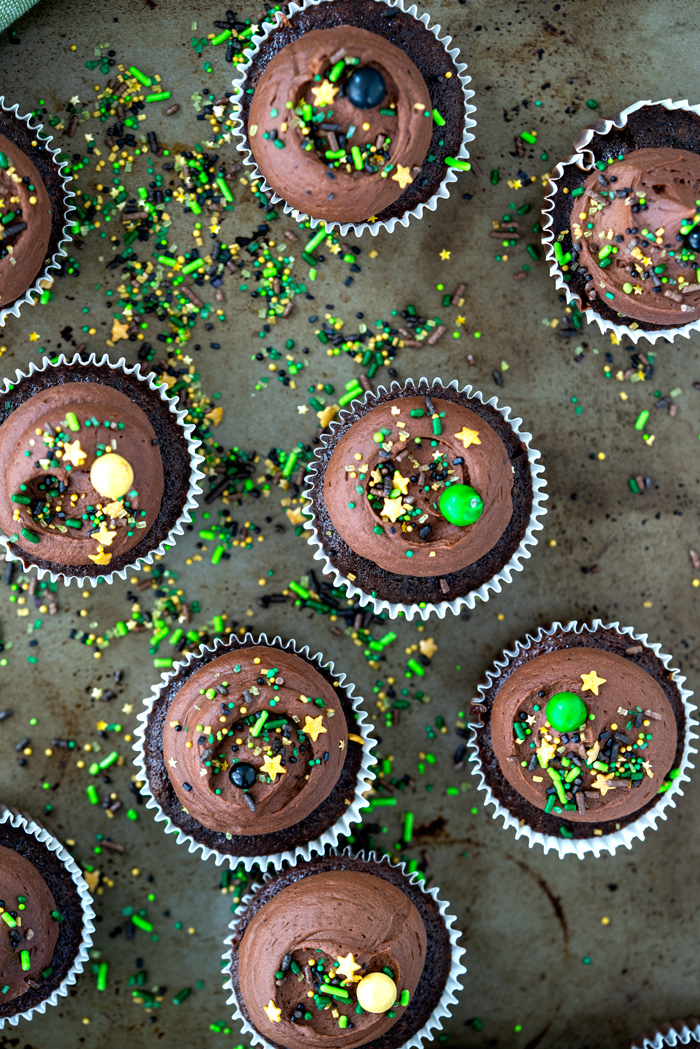 The process for making the batter is a little unique. So I thought I would break it down here so you get an idea of what steps are required. Don't worry, it's nothing complex just different.
Super Moist Chocolate Mayonnaise Cupcake Breakdown:
First, in a medium sized bowl, you are going to whisk your cocoa and boiling water together until smooth and then cool it to room temp.
Once cooled whisk in the vanilla and mayonnaise until fully combined.
Add the rest of your ingredients to the bowl of a mixer. These are the dry ingredients (including sugar), put the mixer on low for about 1 minute to mix them up.
Then add the chocolate mayonnaise mixture to the dry mixture and mix on low until all the dry ingredients are moist.
Bring mixture up to medium and mix just until all ingredients are combined.
The batter is soupy/liquidy.
Fill your cupcake liners about 1/3 to 1/2 full.
Bake.
Once baked up the cupcake should have a glossy brown surface. They do not have raised humps in the middle but rather bake up more flat.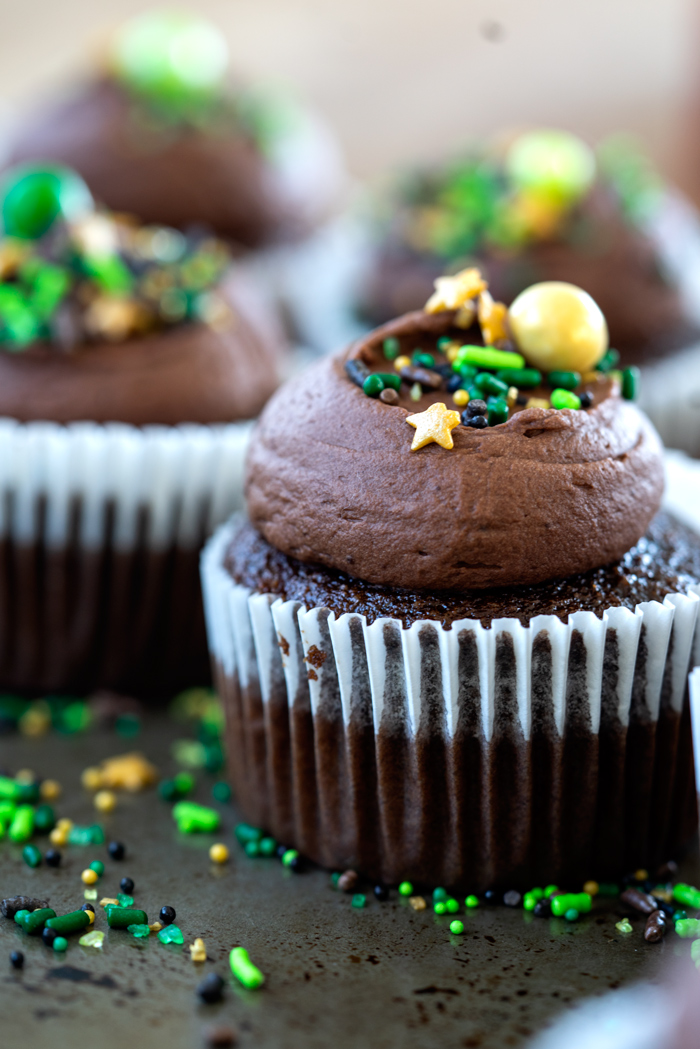 Melt In Your Mouth Chocolate Buttercream Tips:
Make sure you ingredients are room temp, in this case the milk, this helps the buttercream emulsify into a creamy whipped dream. If your milk is cold it will stiffen the frosting.
Sift your powdered sugar free of any clumps.
When it comes to frost the cupcakes you can certainly use a small offset spatula or knife.
If you are looking to make the swoop that I did here in the pictures. I piped a large dollop of buttercream on one cupcake at a time. Then while the buttercream is still creamy (not crusted on the surface yet) take a small offset spatula and place the tip of the spatula in the center of the dollop and swipe a swirl in the center.
Decorate with sprinkles of your choice. I used SprinklePops "American Hero Sprinkle Mix".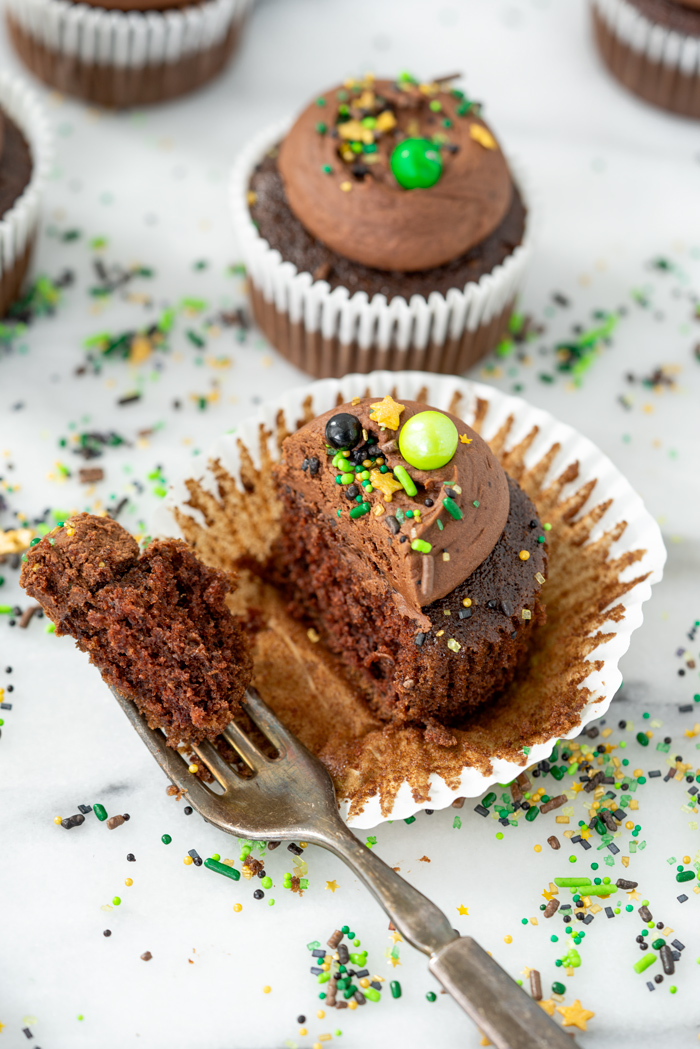 Enjoy these Super Moist Chocolate Mayonaise Cupcakes down to the last one!
Stacey
P.S. Have any questions about these cupcakes? I'd me glad to help, shoot me an email stacey@thesugarcoatedcottage.com
Here's a few more recipes you might like!
Maraschino Cherry Buttercream Recipe
PIN IT FOR LATER! You'll be glad you did!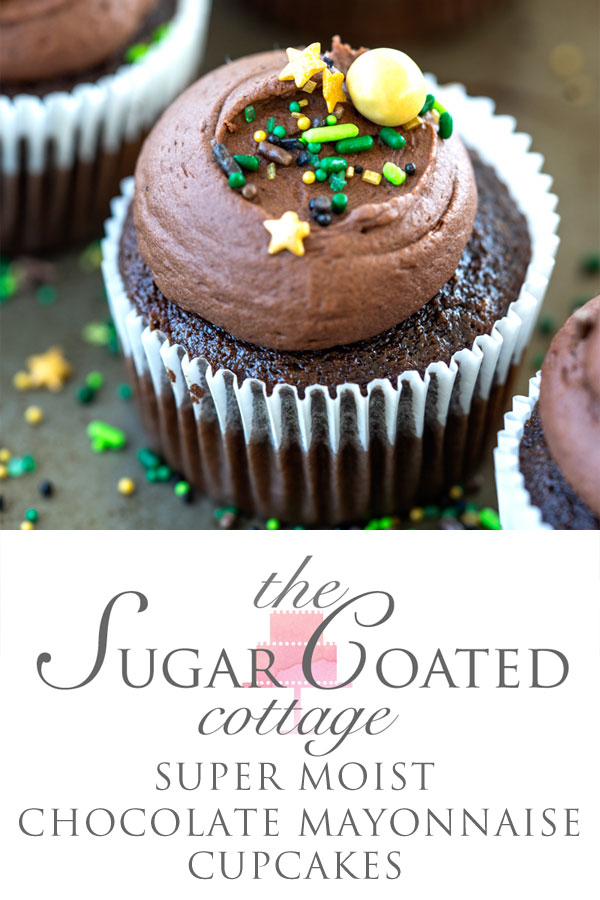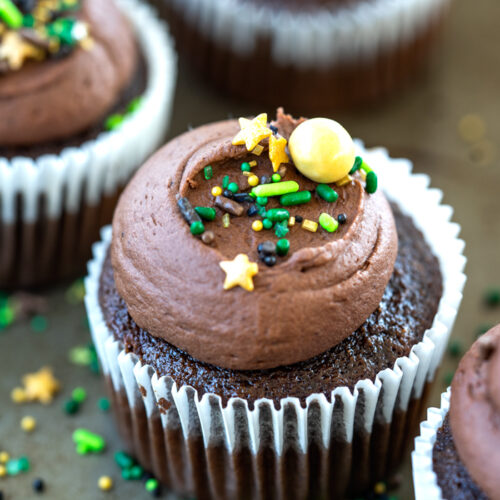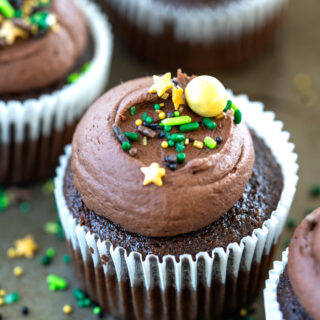 Super Moist Chocolate Mayonnaise Cupcakes
Super Moist Chocolate Mayonaise Cupcakes. Delicious chocolate cupcakes made with mayonnaise. | thesugarcoatedcottage.com #cupcakes #chocolate #dessert #buttercream
Ingredients
1/3

cup

unsweetened cocoa

I used Hershey's standard cocoa

1

cup

boiling water

3/4

cup

mayonnaise

I used Hellman's

2

tsp

vanilla extract

2

cups

cake flour

sifted

1

cup

sugar

2

tsp

baking soda

1/2

tsp

salt

BUTTERCREAM

1

cup

unsalted butter

1 1/3

cup

cocoa powder

I used Hershey's standard cocoa

6

cups

powdered sugar

sifted to remove clumps

2/3

cup

milk

room temp

1

tbsp

vanilla
Instructions
CAKE: preheat oven to 350 degree's F. Line 24 cup muffin tin with paper liners.

1. In medium bowl whisk the cocoa and boiling water together until smooth and combined. Let cool to room temp.

2. Add in the mayonnaise and vanilla, whisk until completely combined. Set aside.

3. In bowl of mixer add the rest of the ingredients. Mix on low for about 60 seconds.

4. With mixer still on low add in the chocolate mayonnaise mixture, mix until dry ingredients are moist.

5. Bring mixer up to medium speed and mix until all is combined, about 60 seconds. Scraping bowl as needed. Batter will be soupy/liquidy.

6. Pour into cupcake Liners, about 1/3-1/2 ways full.

7. Bake 18-22 minutes or until toothpick inserted comes out clean.

8. let cool.

BUTTERCREAM:

1. In sauce pan melt the butter, add in the cocoa and whisk toether until completely combined.

2. Transfer mixture to bowl of a mixture with a paddle attachement.

3. Add in powdered sugar, alternating with the milk.

4. Stir in the vanilla.

4. Mix until smooth and creamy.

ASSEMBLY:

Frost cupcakes with buttercream and sprinkles of your choice.