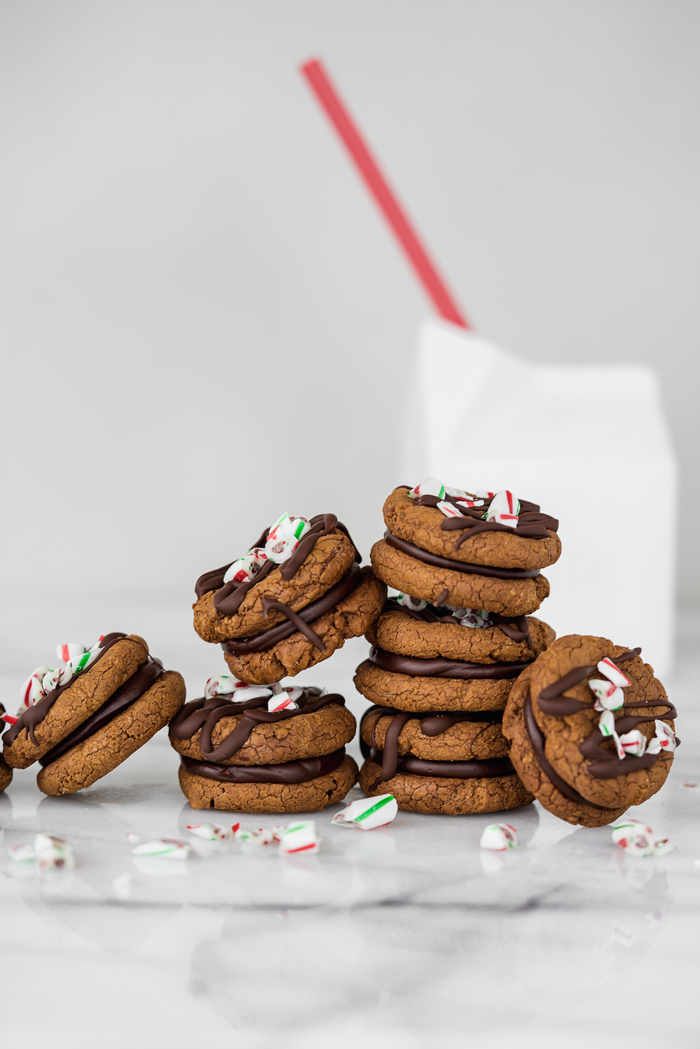 Peppermint Ganache Sandwich Cookies. Crunchy on the outside, soft on the inside chocolate cookies sandwich smooth and creamy peppermint ganache!
What would I do without Nielsen-Massey Vanillas this time of year? As you know from this post I am working in partnership with them this holiday season to spread the word of their Nielsen-Massey Holiday Flavors Bundle. The bundles feature their Madagascar Bourbon Pure Vanilla Extract, Pure Almond Extract and Pure Peppermint Extract. I'm giving a few as gifts this year (hint, hint). You can choose between 2oz and 4oz packages. Every baker needs this bundle in my humble opinion.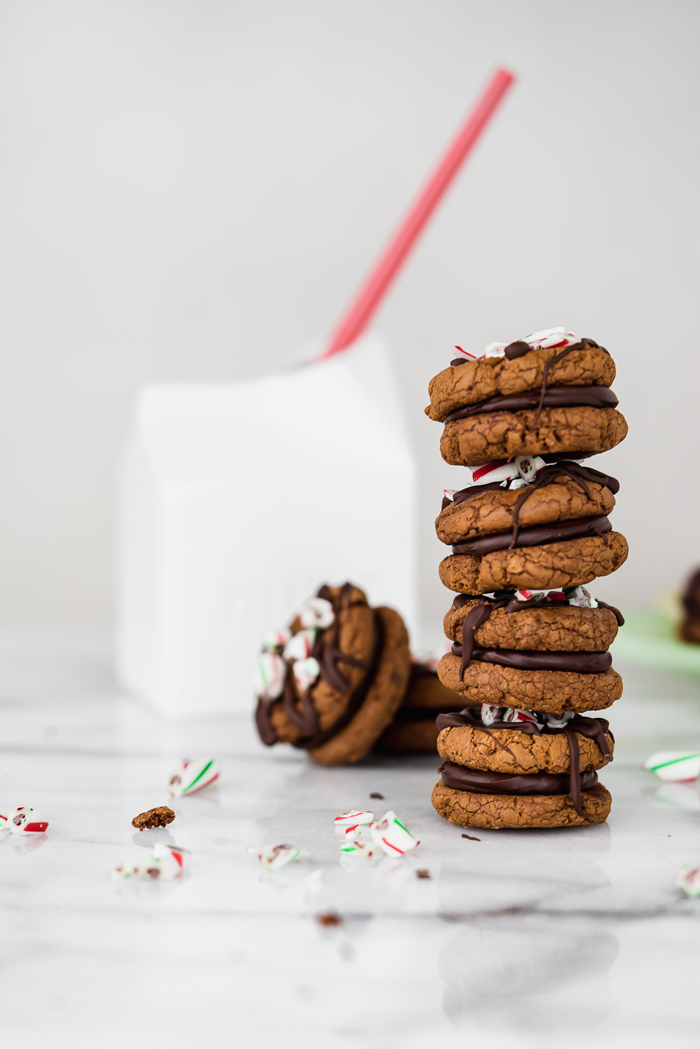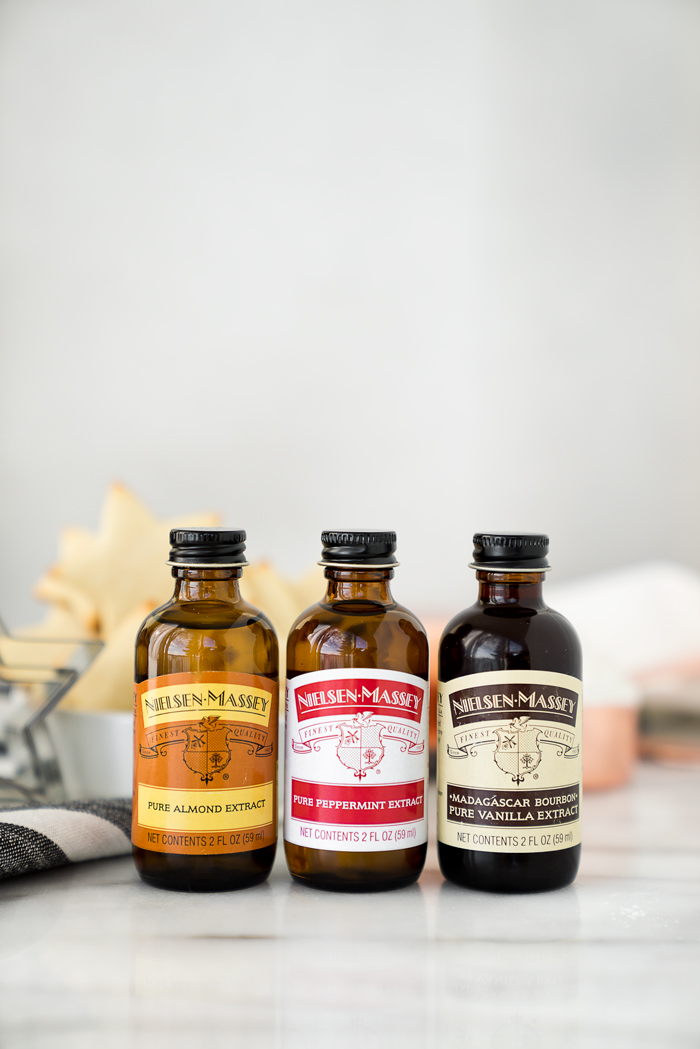 This time of year cookies are gifts for the ones I love so I really put a lot into the planning, the flavoring and the quality of my ingredients. Nielsen-Massey is a family owned and operated producer of premier pure vanillas and flavor extracts, in other words very high quality. Edible gifts for the ones you love deserve the best and for these Peppermint Ganache Sandwich Cookies I am using their Pure Peppermint Extract.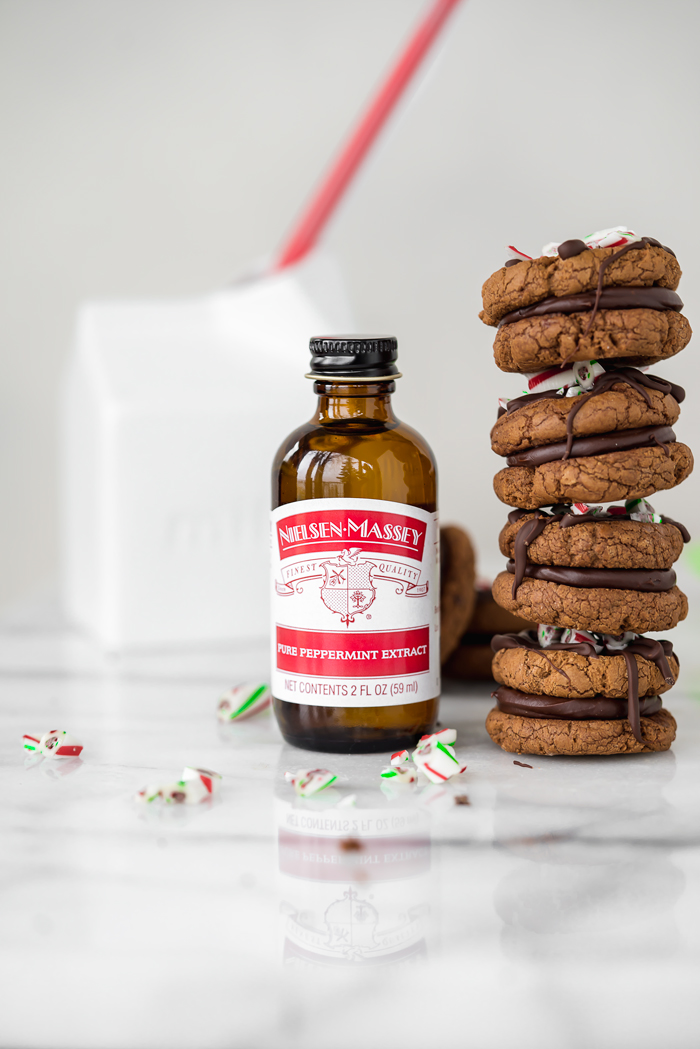 These little Peppermint Ganache Sandwich Cookies are at the top of my cookie exchange list this year. I have already had a few people call me up and ask for the left overs to which I replied, "Sorry, not this time. I have my own plans for these 🙂 ". These cookies are rich, decadent, pepperminty and indulgent! And they're mini's which I love, it gives me an excuse to eat more 😉 .
Peppermint Ganache Sandwich Cookie Breakdown:
The chocolate cookies are smooth, crackly and shiny with a light crunch on the outside but then are soft and chocolatey on the inside, kind of like a brownie texture.
Ganache – the word just sounds rich and decadent! Chocolate and heavy cream brought together into a melt in your mouth truffle filling.
Then we take the above mentioned and sandwich them together to make one outstanding sandwich cookie!
But because we like to go all the way I drizzled on chocolate and sprinkled the tops with crushed candy canes.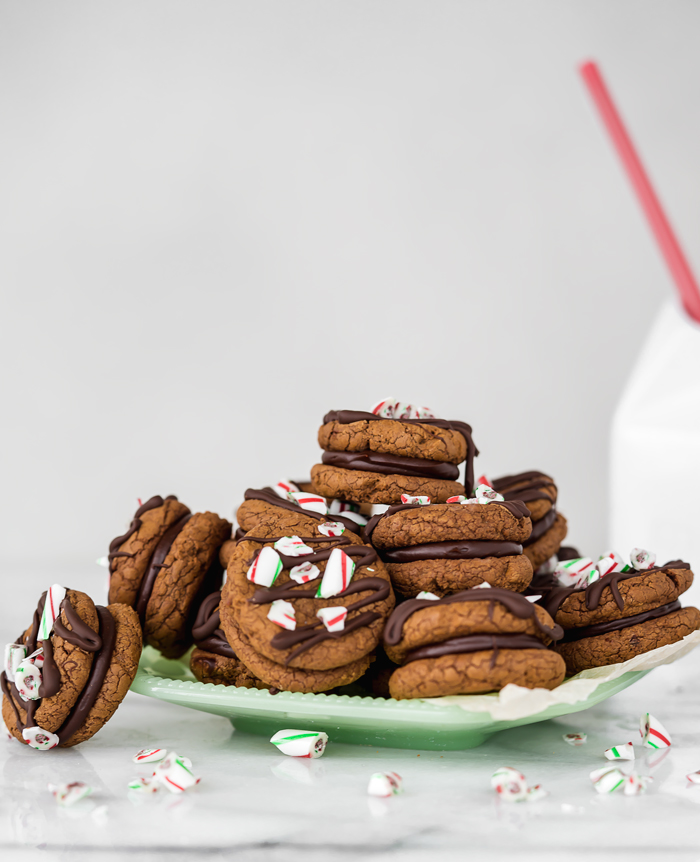 Keep these Peppermint Ganache Sandwich Cookies on your holiday cookie exchange list! Your friends and family will love you for it!
Enjoy!
Stacey
(This is a sponsored post with Nielsen-Massey Vanillas. I use their products and stand behind them. All opinions are 100% my own. Thank you for supporting the brands that support The Sugar Coated Cottage blog. 🙂 )
PIN IT FOR LATER! Thanks.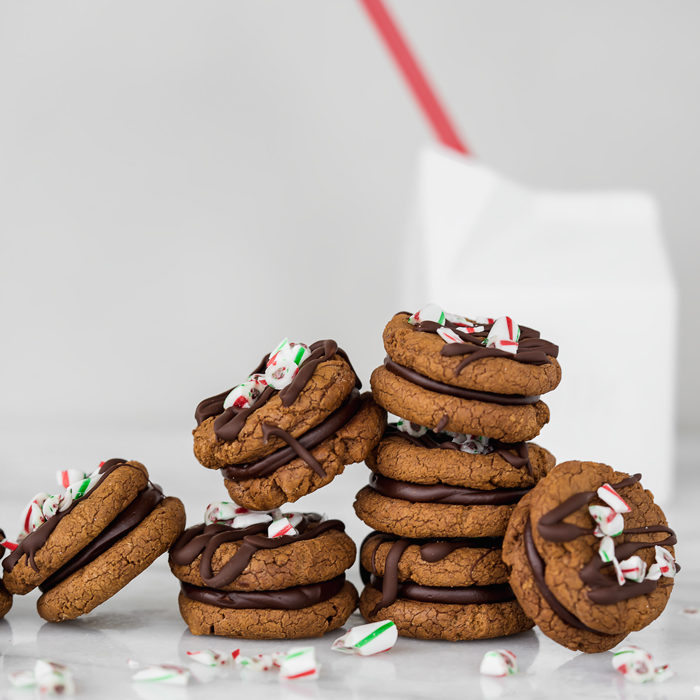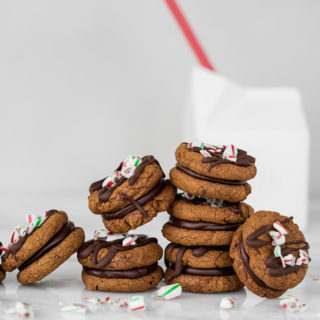 Peppermint Ganache Sandwich Cookies
Peppermint Ganache Sandwich Cookies. Crunchy on the outside, soft on the inside chocolate cookies sandwich smooth and creamy peppermint ganache!
Ingredients
COOKIES:

2

cups

semi-sweet chocolate chips

3

Tbsp

butter

2

large eggs room temp

1/2

cup

sugar

1/2

tsp

salt

2

tsp

vanilla extract

1

cup

all purpose flour

1/2

tsp

baking powder

GANACHE:

3/4

cup

heavy cream

8

ounces

chocolate chips

1/2

tsp

peppermint extract

GARNISH:

melted chocolate for drizzling

crush candy canes
Instructions
preheat oven to 375 degree F.

Line cookie sheets with parchment

COOKIES:

Melt the chocolate chips and butter together, mix until smooth and all mixed together.

Let cool.

In bowl of mixer fitted with paddle attachment, add the eggs, vanilla, sugar, salt, mix on high speed 3 minutes.

On low speed mix in the chocolate, scrape bowl as needed.

Add in the flour and baking powder.

Mix until just combined.

Cover dough and refrigerate 30 minutes.

When ready scoop small dough balls onto parchment paper, I used the #100 scoop.

Take the bottom of a measuring cup and press dough balls down to flatten them.

Bake 5-6 minutes or until tops are crispy, crackly but centers are still soft.

Let cool completely.

GANACHE:

Place chocolate in small mixing bowl.

Bring heavy cream to a simmer and immediately remove from heat.

Pour over chocolate, let sit 1-2 minutes to allow it to melt the chocolate.

Add in the peppermint extract.

Stir in small circles until chocolate mixture forms ganache.

Set aside to cool completely. For the cookies it should be soft (not stiff) but not runny like syrup.

ASSEMBLY:

Pair cookies up (top and bottom).

Scoop ganache into piping bag.

On one of the cookies in the pair pipe ganache (you can use a small spoon if you don't have piping bag) onto middle of cookie leaving 1/4 inch border.

Place second cookie on top and gently press down so ganache goes right to the edge.

Repeat will all the cookie pairs.

Set aside to allow ganache to completely set.

GARNISH:

Drizzle with melted chocolate and sprinkle with crushed candy cane.