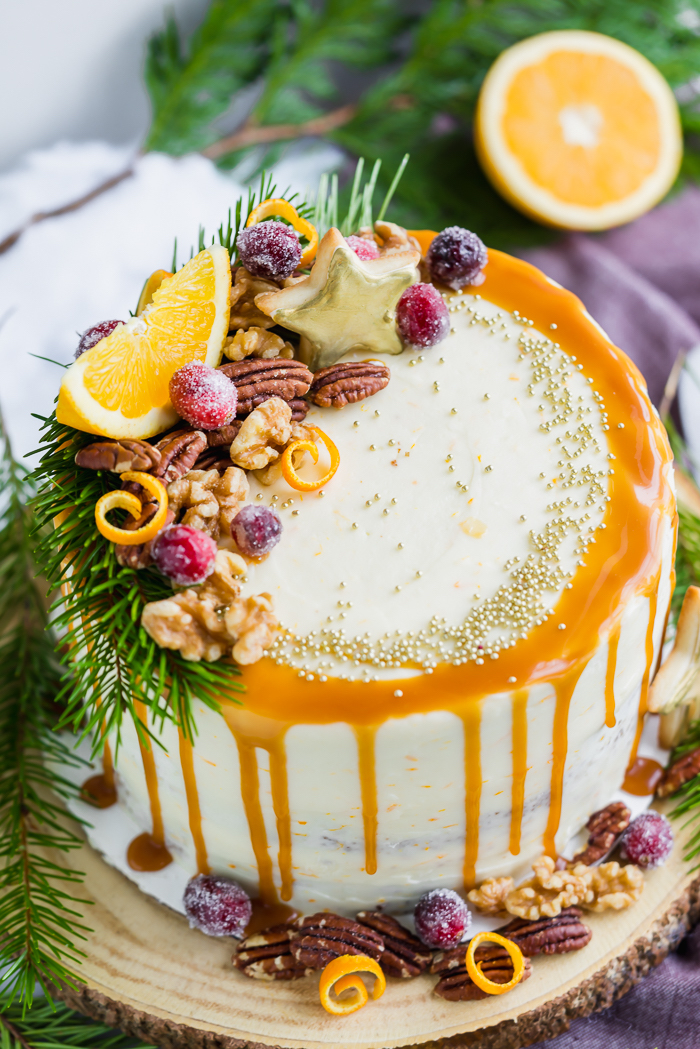 Gingerbread Orange Layer Cake. Three layers of orangey rum glazed gingerbread cake coated in an orangey cream cheese buttercream!!
Christmas will be here a few short weeks everyone, are you counting down to? I've never lost that childlike excitement 😉 . Speaking of exciting, I was asked to join the Virtual Gingerbread Swap!! I am so excited to join this group of talented bakers and bloggers! So make sure to check out all the great gingerbread offerings, I have all the links at the bottom of this post.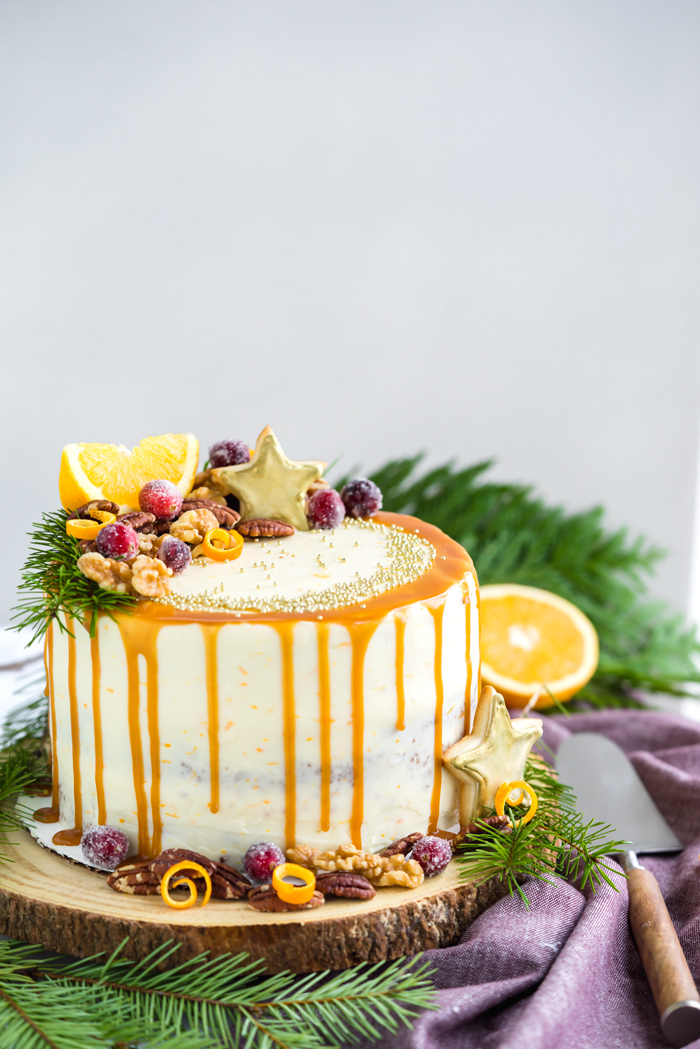 Gingerbread is one of the most iconic holiday flavors! Not only does it evoke nostalgic feelings but in addition all those flavors are warming for the cold temps many of us are experiencing right now. As a child I can remember decorating and eating gingerbread cookies. Back then I didn't quite understand what made a gingerbread cookie different but I knew it tasted darn good with that sweet icing! I decided to turn that love of gingerbread cookies into a cake. The Gingerbread Orange Layer Cake.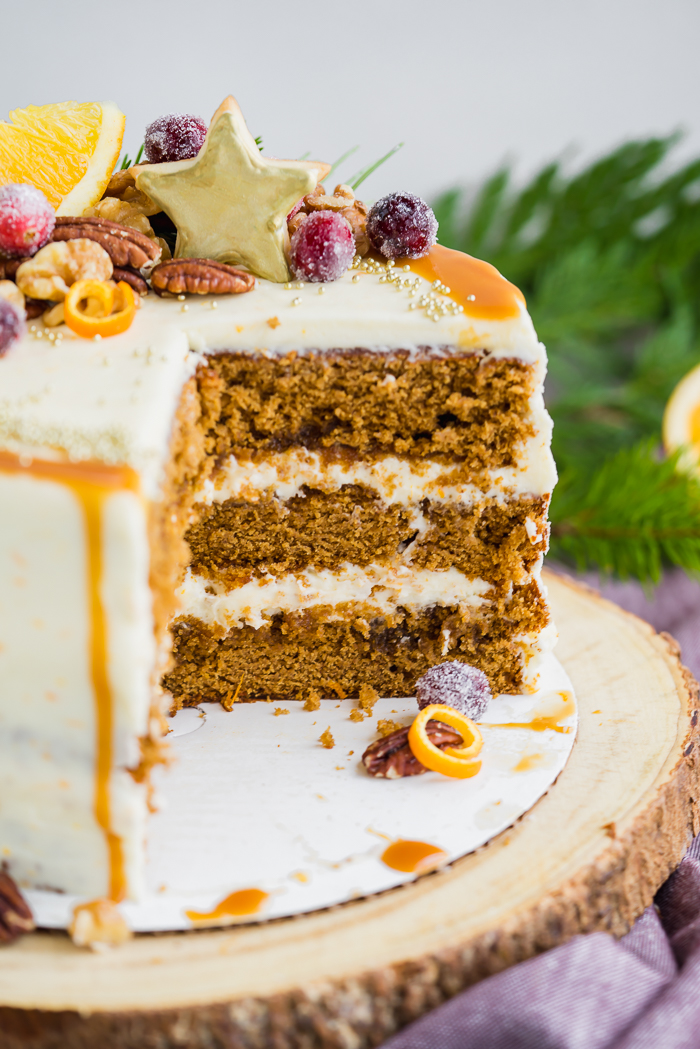 The Gingerbread Orange Layer Cake breakdown:
The cake layers are full of that lovely gingerbread spicing we remember as kids and still love today.
In addition to the spicing we have orange zest to add a little sweet citrus note.
Each layer is glazed with a Rum simple syrup that builds on the already wonderful flavor profile.
Last but not least this cake is layered and enrobed with Orange Cream Cheese Buttercream. I had to start each word with a capital because this buttercream deserves a title all it's own. Not only does it taste orangey but you can see little flecks of orange zest which just adds to the beauty of this cake.
Because cream cheese is the base of this buttercream it is smooth, creamy and soft so it melts like butter with each bite.
Decorating:
For the decorating I chose to go with a semi-naked finish. The cream cheese base makes for a softer buttercream, one that cannot be piped (at least not this particular recipe). So I kept the icing of the cake simple. I had some fun and sugared cranberries (1/2 cup cranberries, very tiny squeeze of lemon juice and about 2-3 Tbsp sugar, toss around until coated and lay on baking rack to dry) for a little pop of red. An orange wedge and curled orange peel to hint towards the flavoring. Some pecans, walnuts and a couple sugar cookies I had left from last weeks post for small batch sugar cookie recipe. A little greenery and of course sprinkles! Oh and a caramel drip, because everyone loves a drip 🙂 .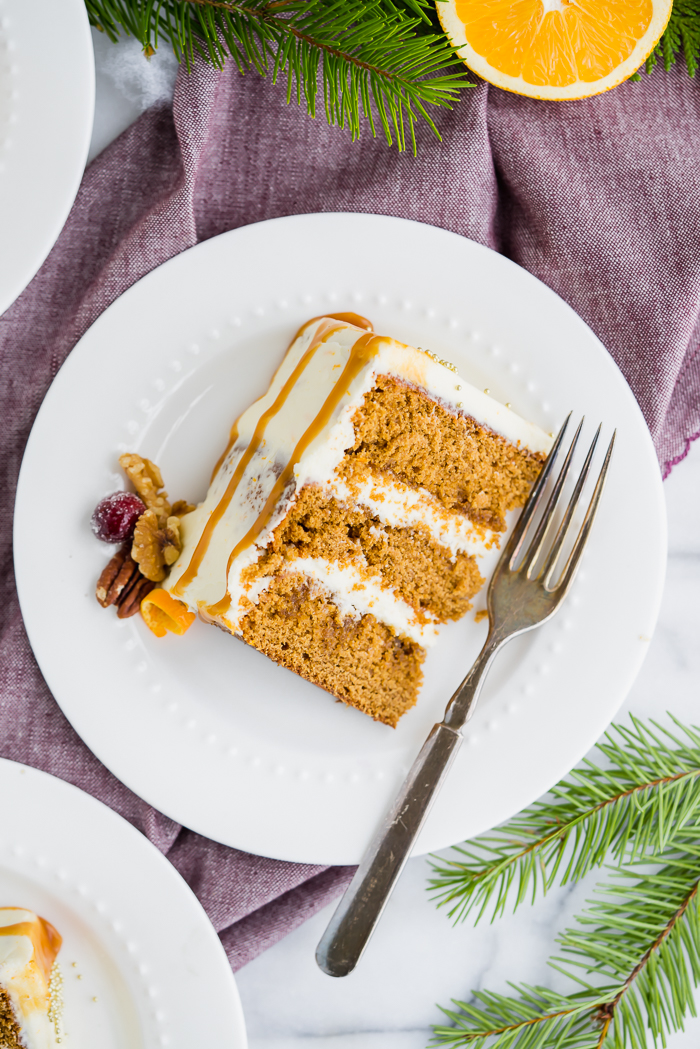 This Gingerbread Orange Layer Cake is the cake of all cakes for the holidays!! You and your guests will love every single bite and may even go back for seconds. If you are like me you will definitely go back for seconds 😉 . So make this cake, grab a cup of coffee/tea, a warm throw, sit by the fireplace and reminisce with friends and family as you enjoy each bite.
Check out all these wonderful Gingerbread inspired recipes from my blogging baker friends!! Links below, all the posts go live at 11am Eastern. Enjoy and Happy Baking!!
Treats from Our Virtual Gingerbread Swap
Enjoy!
Stacey
PIN IT FOR LATER! Thanks.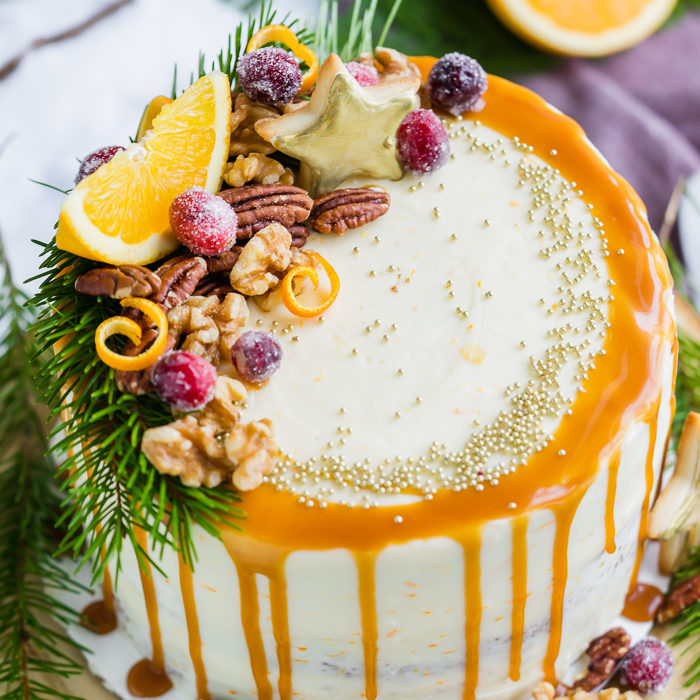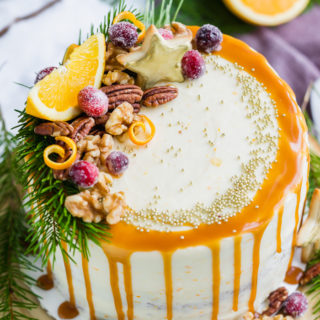 Gingerbread Orange Layer Cake
Gingerbread Orange Layer Cake. Three layers of orangey rum glazed gingerbread cake coated in an orangey cream cheese buttercream!!
Ingredients
CAKE:

2 1/2

cups

all purpose flour

2 1/2

teaspoons

ground ginger

1 1/2

teaspoons

cinnamon

1

teaspoon

nutmeg

1/2

teaspoon

cloves

1/2

teaspoon

salt

1/4

teaspoon

baking soda

1

teaspoon

baking powder

3/4

cup

12 tablespoons unsalted butter, at room temperature

1 1/2

cups

brown sugar

packed

2

large eggs room temp

1/2

cup

molasses

1

Tbsp

orange zest

1

tsp

vanilla

1

cup

water

GLAZE:

1/3

cup

rum

or water if you don't want to use rum

1/4

teaspoon

cinnamon

3/4

cup

granulated sugar

BUTTERCREAM:

1

lb

of cream cheese room temp

1

cup

butter room temp

2

Tbsp

orange zest

1

Tbsp

orange juice

optional

1

tsp

vanilla extract

2

lb

powdered sugar
Instructions
Preheat the oven to 350°F.

Lightly grease and flour 3 x 7" pans and place parchment on the bottoms. This is a sticky cake so please do not omit the parchment paper on the bottom of the pans.

In a large bowl add the flour, spices, salt, baking soda, and baking powder. Stir with whisk to combine. Set aside.

In bowl of mixer fitted with paddle attachment beat together the butter and sugar until fluffy.

Add the eggs one at a time, beating well and scraping the bottom and sides of the bowl after each addition.

Add in the orange zest, vanilla and molasses. Mix well to combine.

With mixer on low speed add the flour mixture in by spoonfuls alternately with the water, starting and ending with the flour.

Mix just until well combined and smooth.

Pour the batter evenly into the prepared pans, smoothing the tops.

Bake for 30-35 minutes or until a cake tester inserted into the center comes out clean.

Cool completely.

GLAZE:

Add all ingredients into small pan and bring to a simmer only until sugar is dissolved. Let cool 5 minutes.

Cut any humps off top of cake layers, take a skewer or toothpick and poke random holes on the tops of each cake (this will allow for glaze to seep into cake. Brush the cake layers with the glaze.

BUTTERCREAM: * (see notes regarding quanity)

Cream the cream cheese and butter together until light and fluffy.

Add in the vanilla, orange juice and orange zest, mix well to combine.

With mixer on low speed add in powdered sugar one spoonful at a time until well combined and completely mixed and creamy, about 3-5 minutes of mixing after all powdered sugar is added. Scrape down sides of bowl as needed.

Note: This is a soft frosting because of the cream cheese, it does not pipe designs due to its soft nature.

ASSEMBLY:

Place dab of frosting on cake board/cake plate to keep cake in place.

Place the first cake layer on the cake board/plate.

Spread a large dollop of buttercream on top and spread evenly to the edges of the cake.

Place next cake layer on top and spread with buttercream.

Repeat with with remaining cake layer until all are stacked.

Once all the layers are in place apply a crumb coat ** (see notes) of buttercream around the top and sides of cake. Refrigerate at least 45 min. (Crumb coat gives a nice smooth base to work with when ready to apply final coat of buttercream and decorate).

Apply final coat of buttercream, I chose a semi-naked cake design for this but I still used a crumb coat to keep the final coat clean.

Decorate with fruit, nuts, sugared cranberries and any holiday cookies and greenery you may have on hand.
Notes
*The quantity of buttercream will provide enough to crumb coat and completely coat this cake. I chose to do a semi-naked cake so I had frosting left over. But there is enough buttercream to completely coat this cake if you don't like the semi-naked look.
**Highly recommend crumb coating and refrigerating this cake before the final coat. Due to the softer nature of this frosting chilling it before the final coat will make for a smoother coating.
Recipe adapted from King Arthur Gingerbread Bundt Cake recipe.