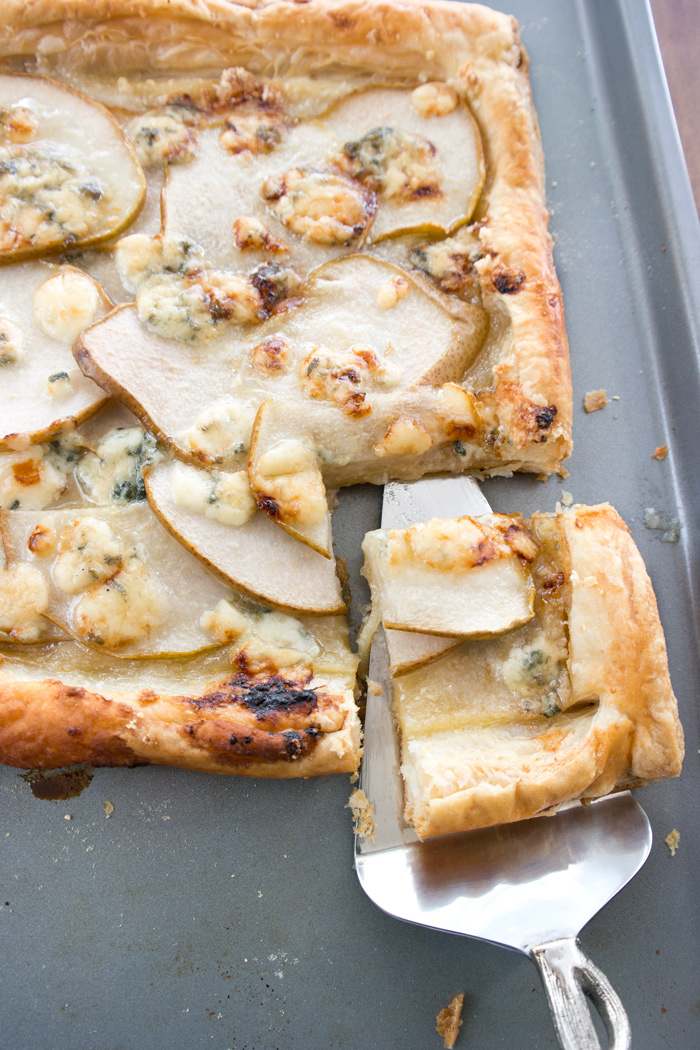 Pear and Blue Cheese Puff Pastry. Light, crispy puff pastry topped sweet juicy pears and blue cheese. A sophisticated yet simple dessert to make.
[social_share/] Yum
Guess what guys, the leaves are starting to turn colors and it is so beautiful. They are not even at "peak" yet which just makes me more excited. When this time of year rolls around I am definitely thinking comfort food. Some sweet, some savory and just darn make me feel good and warm food. This Pear and Blue Cheese Puff Pastry checks all those boxes for me.
[social_share/]
When I was a kid all my friends favorite cheeses were Velveeta, string cheese, spray cheese (shiver). Though I liked those cheeses I was in love with blue cheese. You heard me right, this kid loved blue cheese. I loved it by itself, on crackers, in salad dressing, dip. Did I hear someone just say Black and Blue burger. Yes, my love affair with blue cheese runs deep and there is nothing I love more than a great recipe to use it in. It's creamy texture, light saltiness and pungent after taste always make me want to come back for more. And in case you are wondering I prefer the mild to slightly medium variety. I am not into the over baring strong varieties, you know the ones you can actually smell a mile away.
Then we have pears, not just pears but ripe, juicy just the right softness pears that seem to just melt in your mouth with each bite. Their sweetness is unique and delicious and was also a favorite as a kid growing up. If ripe enough they do not need to be peeled, the skin will melt away with the flesh as if it's not even there.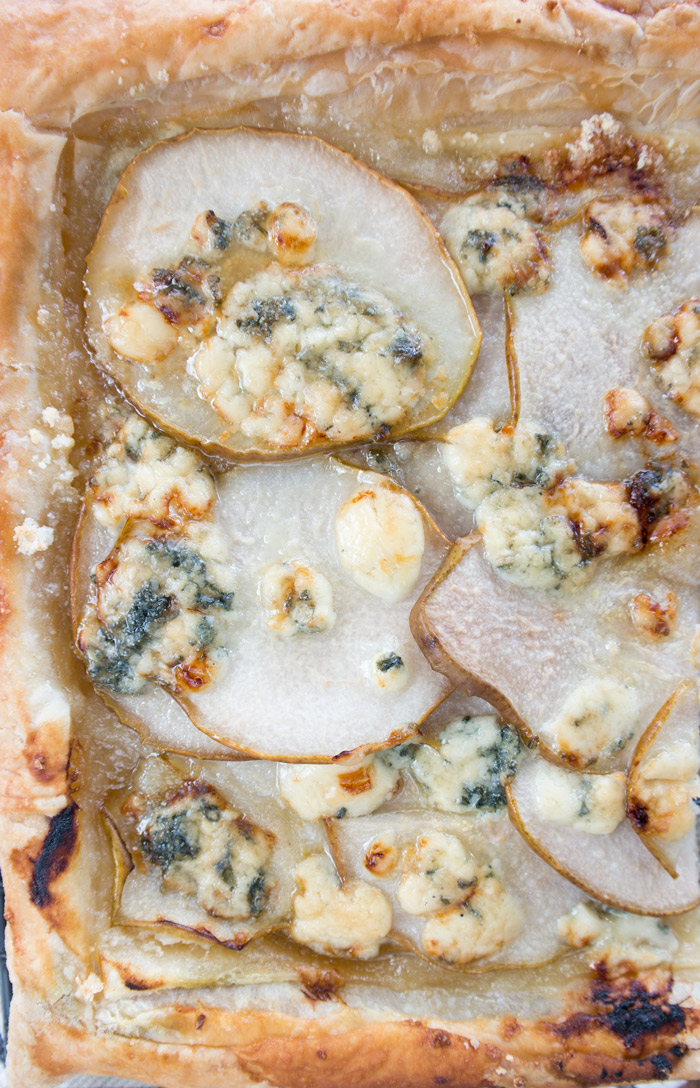 [social_share/]
A surprise twist to this Pear and Blue Cheese Puff Pastry, as if it couldn't get any better…almond paste. Simple to make from scratch, almond paste.
Ok, so do I really need to tell you all how much I love puff pastry, I mean really, just check these out and let me know if you still need me to explain my love and admiration…Chocolate Marshmallow Puff Pastry Cinnamon Rolls, Chocolate Filled Pastry…you get the picture, love, love, love, love, love. And for both our sakes I use store bought, though I hope to take on the challenge of homemade puff pastry today we use store bought.
When this came out of the oven I could hardly wait for the cool down. I just wanted to dig in but I was patient, nothing would ruin this experience faster than a burnt tongue or roof of the mouth, ouch! Finally it was time, the puff pastry is light and crispy, the pears melt in your mouth like butter, hints of almond and the blue cheese takes all this wonderful sweetness and balances it out with its beautiful, slight salty pungentness. It's well balanced by the blue cheese but this tart is more on the sweet side. Yes, I had seconds and thirds, so bad I know, I'm supposed to share.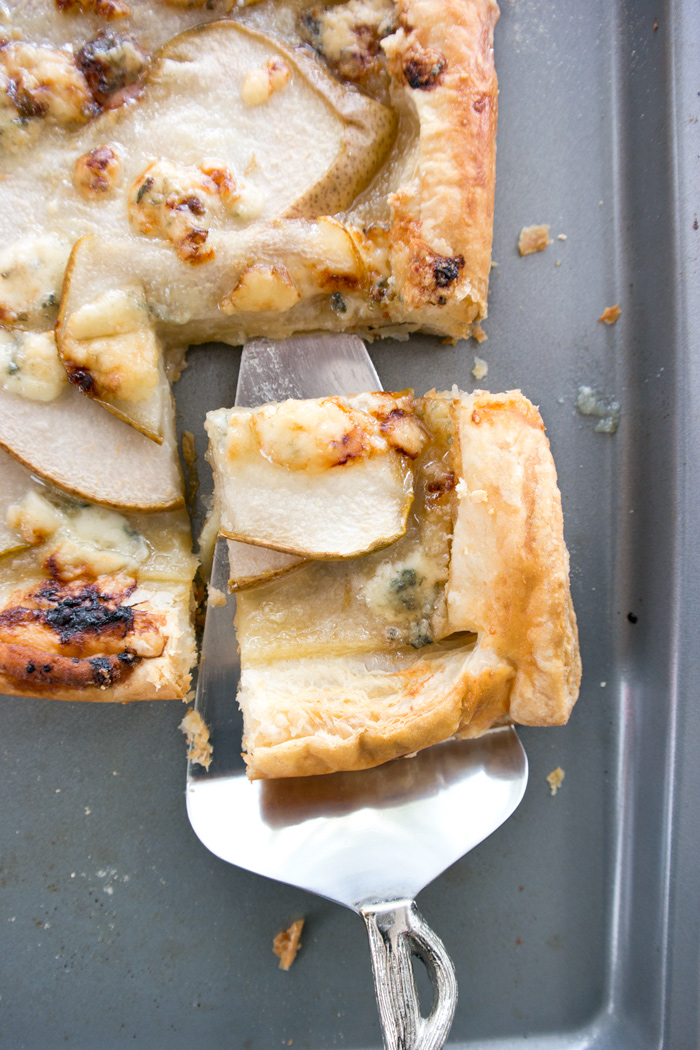 [social_share/]
This Pear and Blue Cheese Puff Pastry is the best of sweet with a touch of savory!
This recipe was adapted from Eat This Book: Cooking with Global Fresh Flavors

by Tyler Florence, I love almost everything he makes. Enjoy! Stacey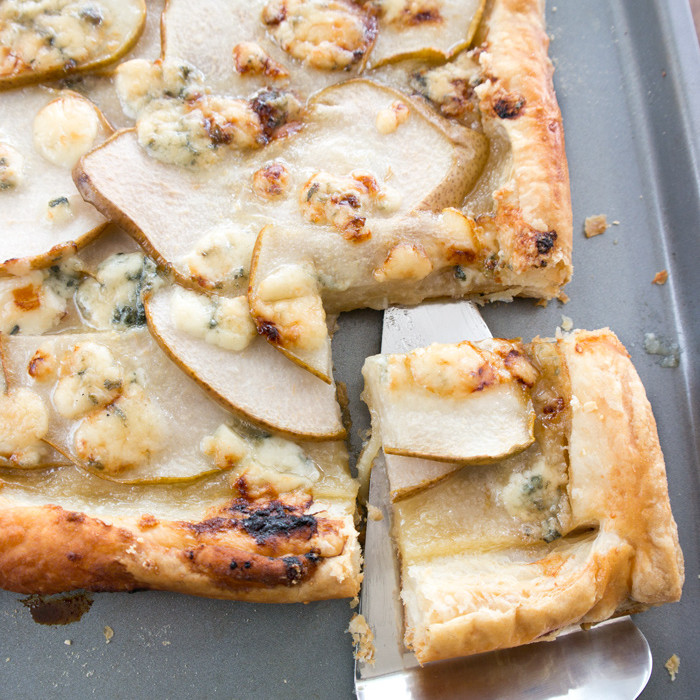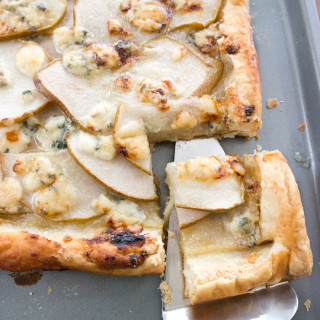 Pear and Blue Cheese Puff Pastry
This Pear and Blue Cheese Puff Pastry is the best of sweet with a touch of savory!
Ingredients
1

sheet frozen puff pastry

I used Pepperidge Farm, you will get two sheets in the box

1/2

cup

almond flour

1/4

cup

sugar

1

Tbsp

water

2

pears sliced thin with peel on

2

ounces

blue cheese crumbled

Honey for drizzling

1

egg white for edges
Instructions
Pre heat oven to 400 degrees F.

Prepare cookie sheet with parchment paper. *

Prepare puff pastry, thaw per manufacturers instructions but should still be cold.

Take almond flour and sugar and mix in small bowl with 1Tbsp water until paste is formed.

With a small knife trace a 1 inch edge around the perimeter of the puff pastry.

On the inside of the 1 inch border take a fork and poke all around so crust does not rise in center.

In the center evenly distribute the almond paste.

Evenly lay the pear slices over the almond mixture.

Arrange blue cheese on top and even under a few pears.

With a pastry brush very lightly brush egg white onto 1 inch border.

Drizzle with honey.

Bake for 20-22 minutes or until edges are golden brown and pears are soft.

Let cool 10-15 minutes.
Notes
The Pepperidge Farms brand give you (2) 9x9 squares of puff pastry. I only used one. If your puff pastry is larger adjust filling quantities to accommodate.
I used Maytag Blue blue cheese, it is mild and creamy.
This cuts very nicely with a pizza cutter.
*Some links are affiliate links which means if you were to buy the product via the link provided I would get a small commission.