Gruyere Crusted Apple Pie. The perfect apple pie that is just the right sweet with a little hint of savory thanks to Gruyere baked in the crust. [social_share] Yum
I found myself digging through drawers and boxes this week looking for warm Fall like clothes only to realize that, "I have nothing to wear!" It seems it's either old, outdated or I just don't like it anymore and we can't have that! I did some shopping and got a few things. I have to admit I thought I was going to get a lot more but I just haven't hit fashion gold yet. You know that golden moment when everything you try on fits, is on sale and you just can't say no? Then when you get to the register the clerk says, "you could save another 40% if you open our credit card…". Yup, still waiting for that moment, it's close I can feel it.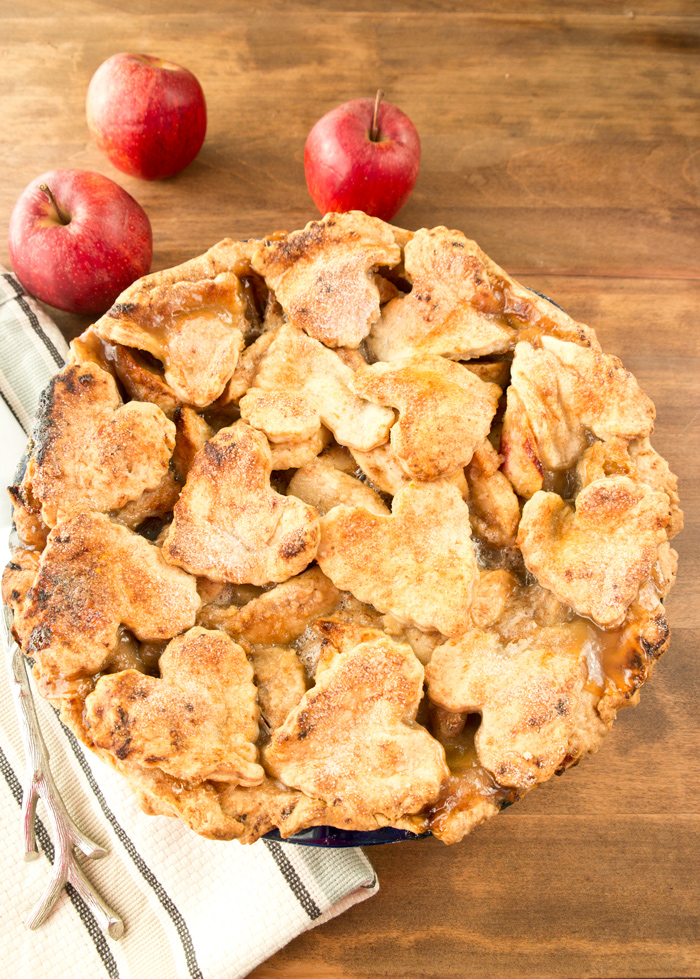 [social_share]
Apples, apples and more apples. Take the apples from our trip to the orchard plus the apples from my brothers trip to the orchard and you have more apples than we can shake a stick at. But that is never a problem when there's apple pie to be made.
As you can see I am a bit obsessed with the sweet and savory lately and tree fruit for that matter…Pear and Blue Cheese Puff Pastry anyone? So here I go again. This is apple season and weather! I love a traditional warm and inviting apple pie and this one has become my go to. There is actually Gruyere in the crust, that's right in the crust! So each bite of flaky crust has a nice savory undertone which pairs so beautifully with the full sweetness of the apples and all the glorious spices.
[social_share]
Crust is a beautiful thing. Its so light and flaky yet stands strong and tall as it holds all these beautifully sweet tart apples. I like making crust but I always get a little nervous each time I make it. Will it be the right temperature, cold, should always be cold. Will I roll it out big enough to fit the dish and have enough left over for the top? What about the top? How will I decorate it, what if starts burning? So I just shut the voices off and go for it.
Gruyere, wonderfully cheesy, salty, savory and if I had to be honest a bit stinky Gruyere. Adding this cheese to the crust takes it up a level. It adds the right savory to make the apple pie a little sophisticated.
[social_share]
Now the apples, I used Empire and Gala apples. They are sweet tart and have a nice firm texture that bakes up beautifully and holds their shape with out becoming too mushy. After all they will be baked at high heat for 60 minutes.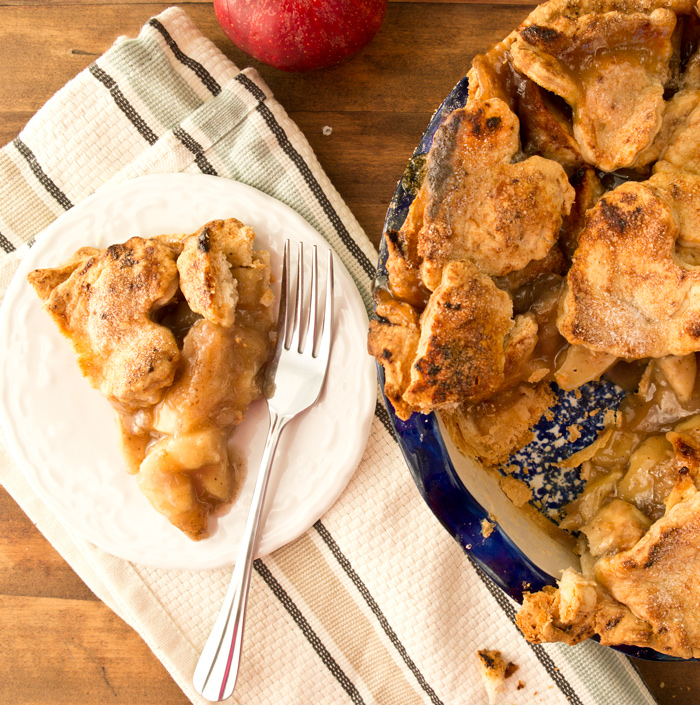 [social_share]
I don't think I need to tell you that this apple pie will make your house smell like Grandmas. The smell of apples, spice and everything nice will permeate every inch of your house as it bakes. When you pull the pie out of the oven you will reveal a beautifully baked and bubbling golden pie! And you'll be like, "I did this?" which will then turn into, "I DID THIS!"
Enjoy!
Stacey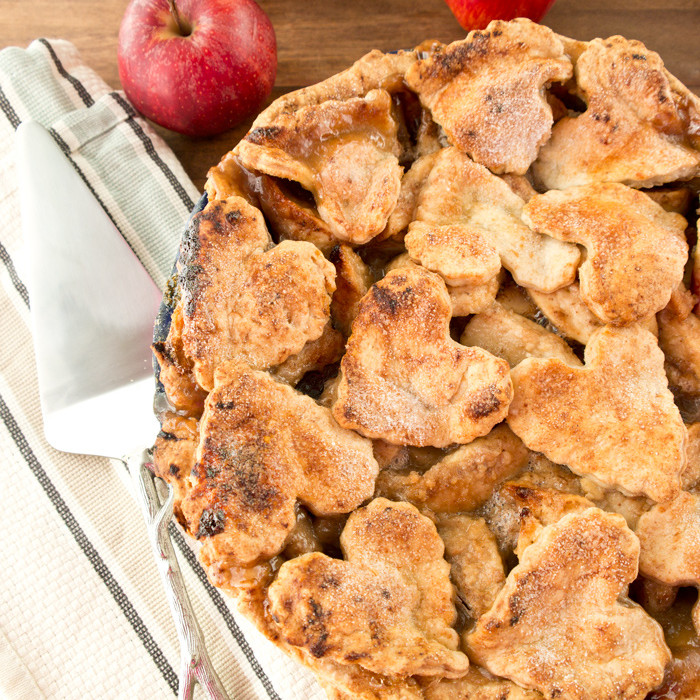 Gruyere Crusted Apple Pie
Gruyere Crusted Apple Pie. The perfect apple pie that is just the right sweet with a little hint of savory thanks to Gruyere baked in the crust.
Ingredients
CRUST:

2 1/2

cups

all purpose flour

1/2

tsp

salt

3/4

cup

cold butter cut into small pieces

1/2

cup

finely shredded Gruyere cheese

1/2

cup

ice water

1

large egg

beaten and set aside for pie assembly

1

Tbsp

sugar set aside for pie assembly

FILLING:

6

lbs

apples that are sweet tart and firm in texture

granny, gala, empire, etc peeled and cut into 1/2 inch thick slices.

1

Tbsp

lemon juice

1

cup

granulated sugar

1/2

brown sugar

1/2

cup

all purpose flour

1/2

tsp

cinnamon

1/4

tsp

cloves

1/4

tsp

nutmeg
Instructions
Pre Heat oven to 400 degrees F.

Butter and flour 9 inch pie plate.

CRUST:

In large bowl add flour and salt.

Cut the butter into the flour mixture until it resembles small peas.

Add the cheese, stir.

Drizzle ice water over flour mixture and stir with fork until moistened and dough form ball when pressed together.

Press together to form one large dough ball. Cut in half, form each half into a disk.

Wrap each in plastic wrap. Refrigerate for 2 hours.

FILLING:

Add apple and lemon juice to large bowl and mix.

To medium bowl add flour, sugars and spices, mix well to combine.

Pour over apples and stir well so apples are coated.

ASSEMBLY:

Remove on dough disk from refrigerator. Roll out into a circle about 1/4 inch thick.

Roll onto rolling pin and unroll over the 9 inch pie plate. Gently press into corners.

Cut off extra, if some of the sides come up short press small pieces into these areas.

Fill pie plate with apple mixture, scrape the juices/flour mixture into pie as well.

Remove second dough disk from refrigerator and roll out to be about 1/4 inch thick.

Cut into any shape you desire.

This will be the top of your pie so make sure the pie is covered with spaces so you can see the apples. Pinch together the bottom crust edge and the top crust edge to help keep the juices in.

Gently brush the top crust with egg wash.

Sprinkle with sanding sugar or granulated sugar. Be careful not to add too much in places as this can cause burning.

BAKING:

Move rack to lower position in the oven.

Bake uncovered for 45 minutes.

Next, cover with aluminum foil to prevent burning and bake another 25 minutes.

Remove from oven and let cool. Pie should be golden brown and filling thick and bubbling.