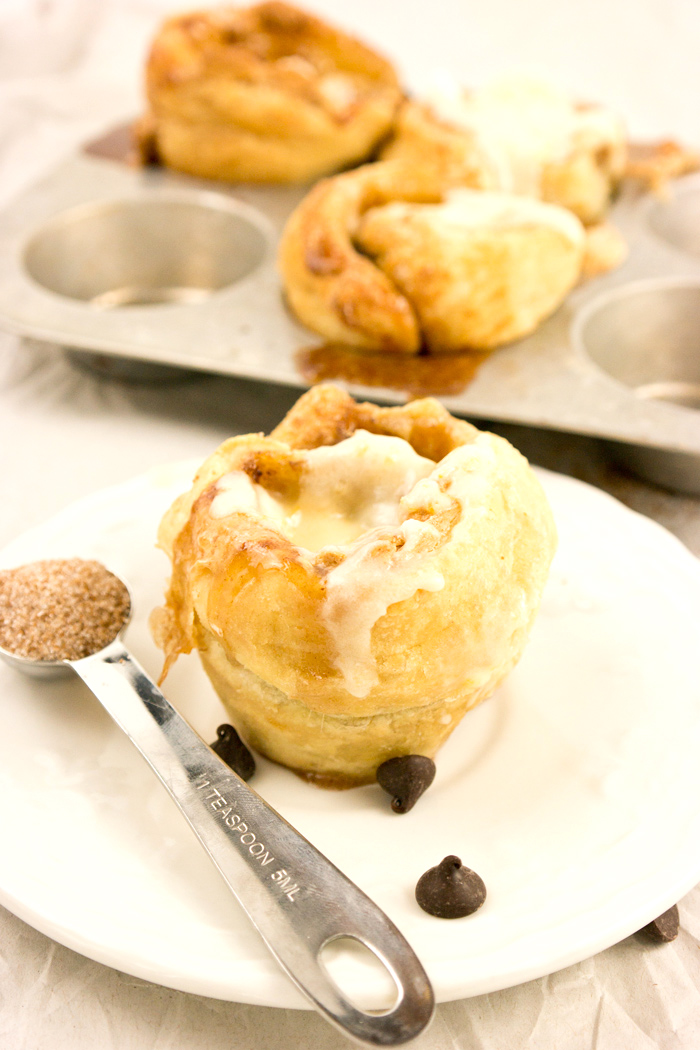 [social_share]Yum
Chocolate Marshmallow Puff Pastry Cinnamon Rolls. Woo, try saying that one 5 times fast…I only made it through half of round 2.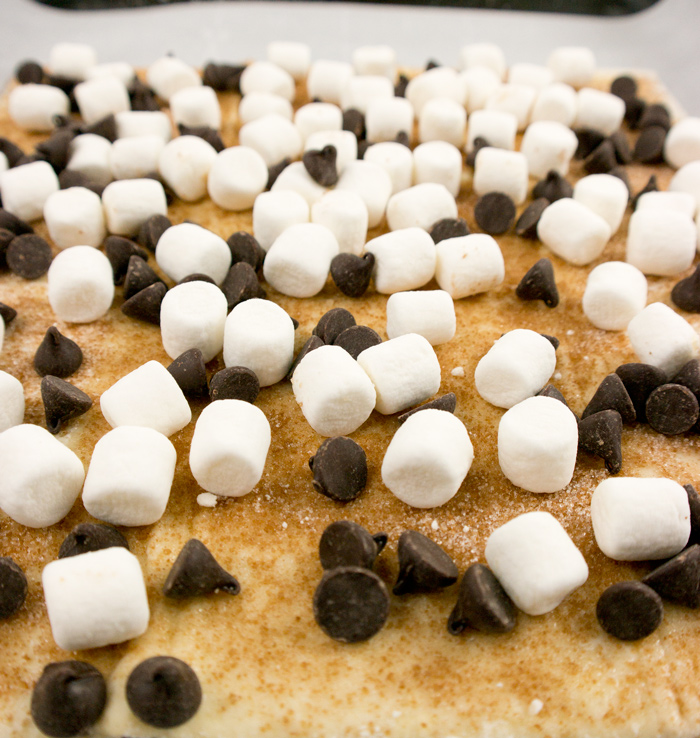 Michigan has what's known as the Great Lakes garage sale. This means that one weekend each summer, everyone who lives in the Great Lakes region of the Michigan "thumb" who wants to have a garage sale can opt in. It attracts fleets of bargain hunters from all over, both from Michigan and Canada, because you are getting hundreds of garage sales in a mile where on any other weekend you may see 3 if you're lucky. And since it covers the whole east side of the thumb that's miles upon miles of garage sales. My husband and I talked about it for weeks, decided what we needed to sell and how we were going to do it. But then as we got closer to the weekend I started thinking to myself, "do I really want to give up a weekend to barter with folks and run the risk of strangers asking to use my bathroom?". It's not really the bathroom thing that bothers me but rather the paranoid side of me thinking they want to case the joint and come back and rob me. Of course they would have to find something of substantial value here and all I can say is they better not touch my Kitchen Aid mixer because I will chase them down. It's my version of a fancy sports car, yes it gets polished. Anyways…where was I? Oh yes, apparently my husband started thinking the same way and the day before we decided to claim our weekend and not participate!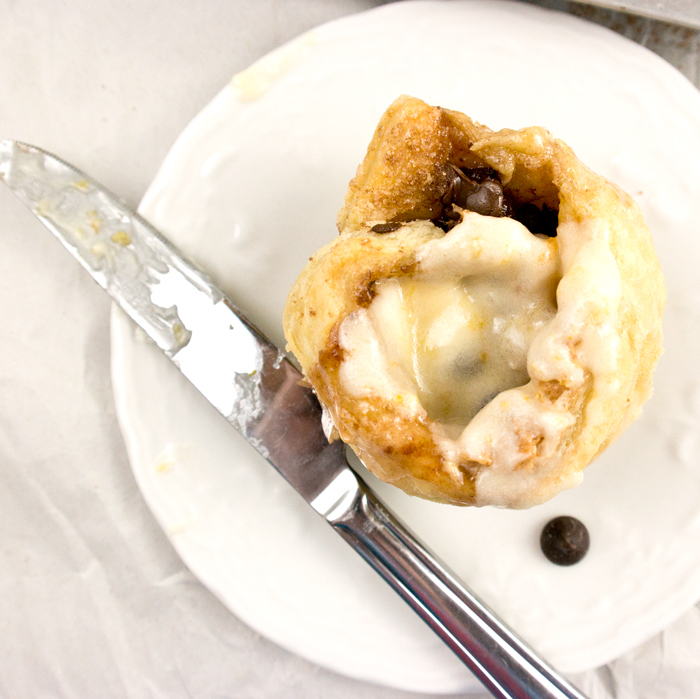 [social_share]
So where was I going with all this you're wondering? My parents, who love to barter and dicker with perfect strangers and don't mind running the risk of the occasional bathroom request, joined in the big garage sale. It wasn't long after opening on the second day and my mom was calling me, sounding like a prisoner in her own garage, asking, "What are you doing today? Can you bring us a snack? Can you bring us lunch? I'm so bored…", lol. So as a special treat I made them these Chocolate Marshmallow Puff Pastry Cinnamon Rolls. I'm a firm believer that if you have to sit somewhere and be bored then you might as well eat good while doing it.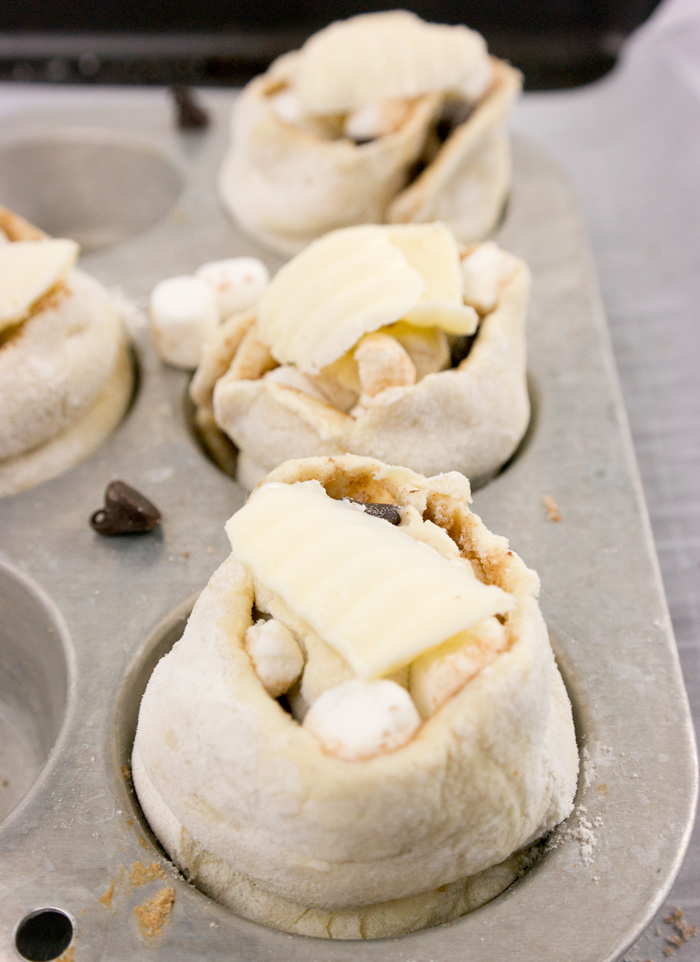 [social_share]
Now you may be thinking, "this sounds way over the top in the world of cinnamon rolls". You would be right, it is over the top but shouldn't it be? No one ever says, "I had the most boring cinnamon roll today and loved it!" So without restraint I got to work. Flaky, buttery, puff pastry. Warm and inviting cinnamon sugar. Smooth, creamy, rich chocolate. And a true american, childhood classic, marshmallows. The last ingredient, the secret ingredient, drum roll please…..Buttercream, you heard me, B-U-T-T-E-R-C-R-E-A-M! Glaze has it's place but for these, I want buttercream. Now, who wants to go back to the basics after all that?
Just in case you're not convinced yet. We're talking buttery, sticky fingers. Mix that with rich chocolate and the gooey, shiny, stickiness of the marshmallows and we've reached heaven. But we're not done yet. Now we have the warm, comforting slight bite from the cinnamon and the sweet addicting luxury of the buttercream as it begins to melt ever so slightly. Ahhh, magic in a roll.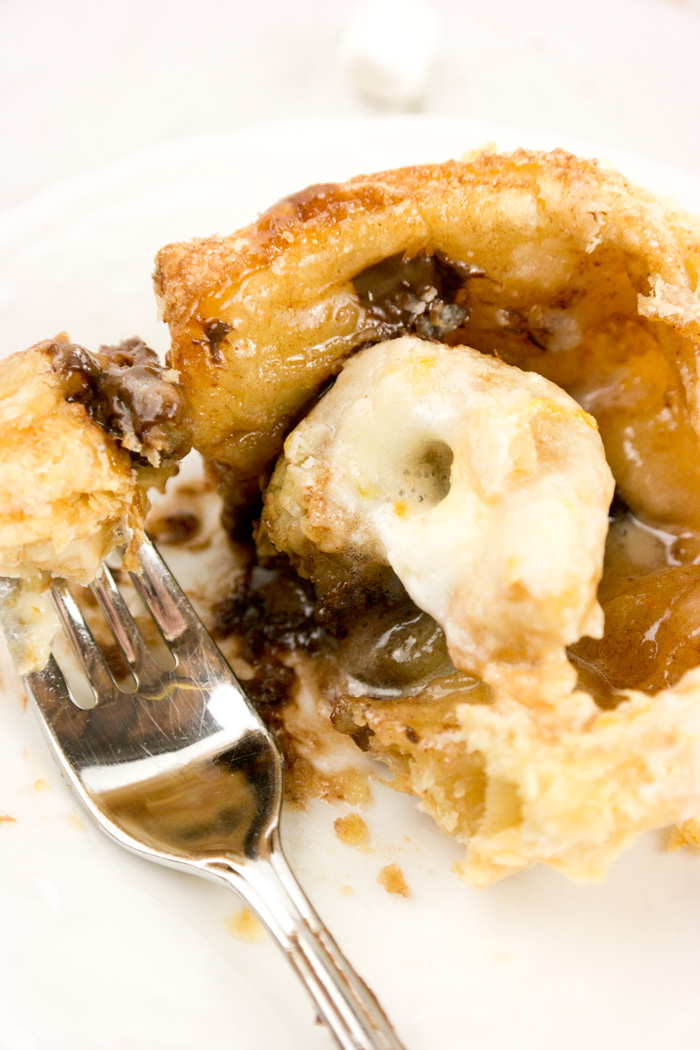 [social_share]
There's no delicate, prissy way to eat these. To be honest as you begin to see and smell these bake and then see the buttercream get all melty you will be ready to dive in without reserve.
Warm, sticky, gooey, creamy, flaky, buttery Chocolate Marshmallow Puff Pastry Cinnamon Rolls with buttercream! So good you may not want to share.
Enjoy!
Stacey
One note: These photos show Orange Buttercream. I had some left over from my last post, Orange Scented Cupcakes, and one of my absolute favorite flavor combos is chocolate and orange so it just seemed right. I'll give you recipes for both the orange and basic buttercream.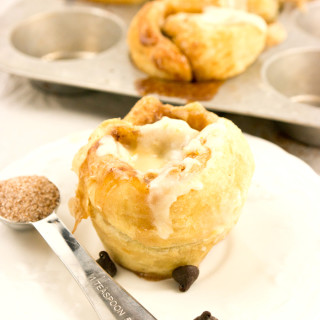 Chocolate Marshmallow Puff Pastry Cinnamon Rolls
Warm, sticky, gooey, creamy, flaky, buttery Chocolate Marshmallow Puff Pastry Cinnamon Rolls with buttercream! So good you may not want to share.
Ingredients
PUFF PASTRY ROLLS:

1

sheet frozen puff pastry sheets thawed per manufacturers instructions

I used Pepperidge Farms which has 2 sheets in the box, you only need one.

3/4

cup

mini marshmallows

1/2

cup

semi-sweet chocolate chips

2

Tbsp

butter

plus extra for muffin tins

CINNAMON SUGAR:

2

Tbsp

sugar

1/2

Tbsp

brown sugar

1/2

tsp

cinnamon

BUTTERCREAM:

1/4

cup

unsalted butter

1/2

lb

powdered sugar

2

Tbsp

milk

1

tsp

vanilla extract

pinch

of salt

For Orange Butter Cream add the following:

2

Tbsp

orange marmalade

plus more for garnish on top

1/2

Tbsp

orange zest
Instructions
Pre-heat oven to 400 degrees F

Grease muffin tins with butter generously, also butter around the top edge as rolls will puff over.

Roll out puff pastry sheets onto a non-stick surface (like parchment paper or floured counter).

Sprinkle with cinnamon sugar mixture generously (you will not use all the mixture, reserve in airtight container).

Scatter on the marshmallows and chocolate chips, leaving 1/4 inch of pastry free of anything at the far end.

Carefully roll up the puff pastry sheet (some chips and marshmallows may fall out).

When you get it all rolled up press slightly down to press the ingredients and pastry together. Do not smash it down, it should still keep its roll shape.

Cut roll in 4 pieces, I found a bread knife worked well.

Place each roll into muffin tin cavity. Gently press down on the roll to secure in muffin tin.

Place a small pat of butter on top of each roll.

Bake for 15-17 minutes, until golden brown on edges and tops.

Make buttercream:

Cream butter in mixer until light and fluffy.

Add powdered sugar in small amounts and blend well, repeat until all powdered sugar is used adding milk in between as needed.

If making Orange Buttercream, add the marmalade, zest and mix.

Set aside.

When rolls are done let cool 10 minutes.

Add scoop of buttercream to each roll.
Notes
This recipe makes 4 rolls from one sheet of pastry. This recipe can easily make 8 rolls by doubling the ingredients. Please note: cinnamon sugar and buttercream recipe will not need to be doubled to make 8 rolls.
You will have extra cinnamon sugar and buttercream, store in airtight container and put buttercream in refrigerator.
These rolls come out of the muffin tin best when warm. Run a knife gently around the edges and slowly pry out of tin.