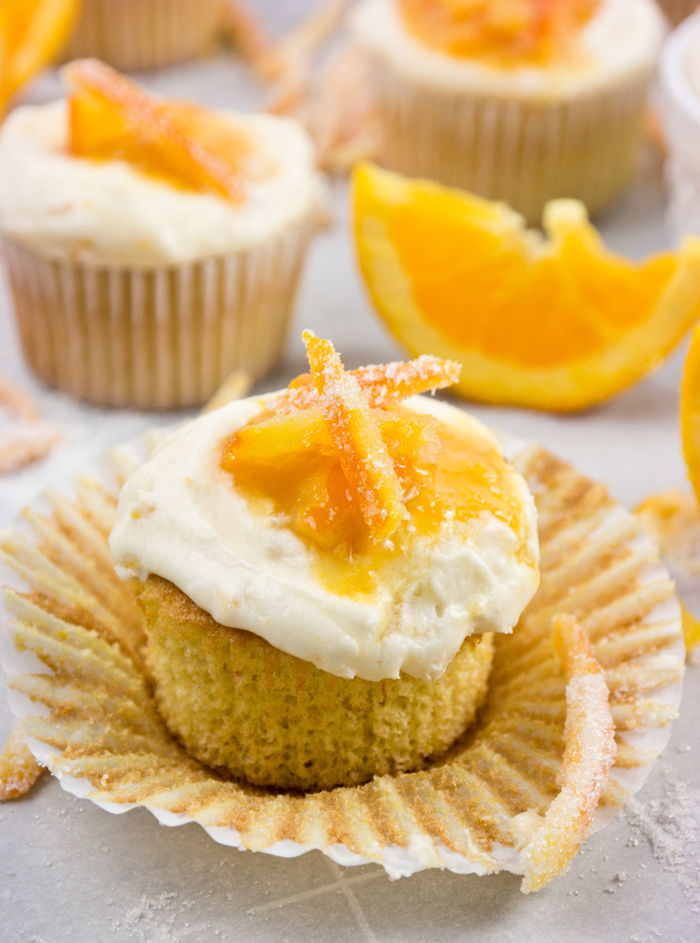 [social_share]Yum
Weather has been gorgeous! Lots of sunshine, warm breezes and just enough rain to help me water the flowers without tampering with out door plans. It's been pretty status quo here which is just the way I like it. I've been cleaning up the gardens, which by the way I can take no credit for. The owners before us loved to garden and did a beautiful job. But I have to admit at the beginning of each summer season I can't help but think that I need to down size. Gardening is full time work or a hobby if you love it. But I don't have the luxury of the time needed to work all the gardens they left behind, the previous owners were retired so it was a past time not a chore. I do my best but every so often I catch my neighbor watering something or weeding something on my side of the fence. At first I was a bit taken back (my bruised ego for sure), I wasn't sure if it was an insult or neighborly gesture. But then I had to come to the realization that I can't do it all. And the truth is the flowers need a little TLC and that is what my neighbor was helping with, so I let it go. I always envision myself doing it all but then am shocked when I can't , again and again and again….You'd think I'd learn by now.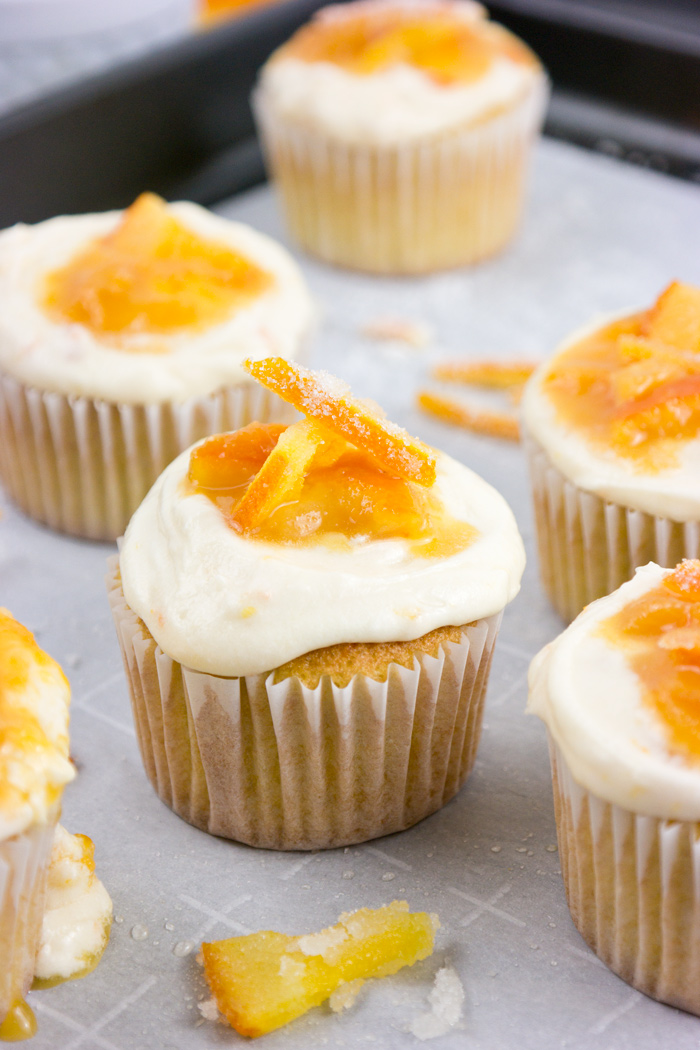 [social_share/]
I find myself starting to slip into the Fall vortex as I see the current magazines starting to bring out their seasonal spreads. It draws me in like a magnet every time. Yes, I am trying to hang on to summer but I do love fall! The colors, the sweaters, the pumpkin spice lattes and of course all the warm comfort food. But I am resisting and in an effort to hang onto summer before its gone, gone, gone I made these delightfully light Orange Scented Cupcakes. The orange flavor is not only in the cupcake itself but in the buttercream as well. So incredibly fresh and bright tasting, think warm sunshine in a cupcake wrapper.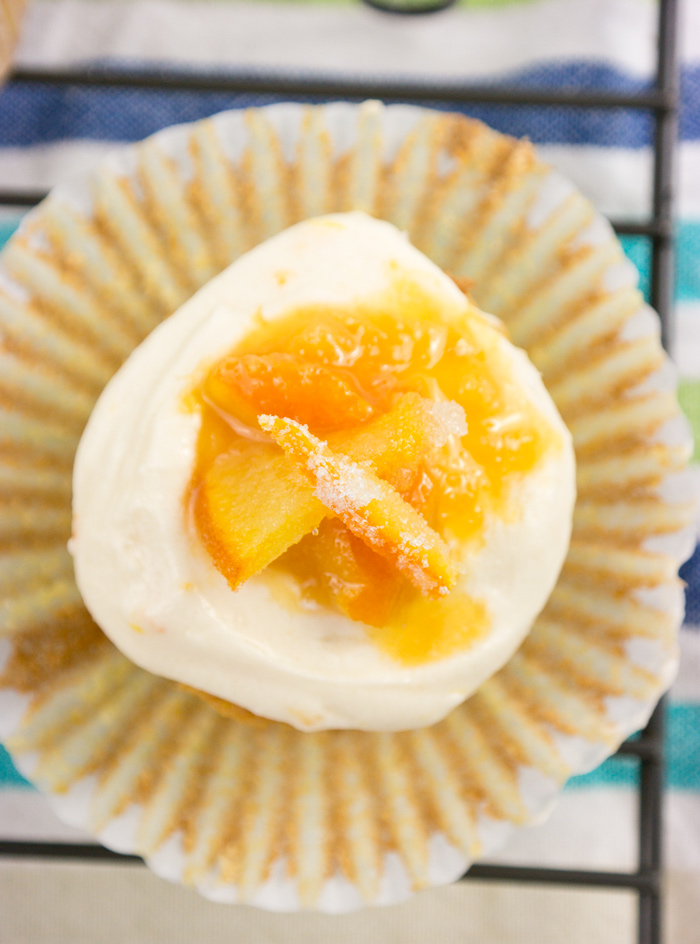 [social_share/]
The cupcakes are light and billowy orange chiffon cake, adapted from The Cake Bible. The orange juice and zest lend to the flavoring of this cake so the flavors are completely natural which I love. The buttercream, ahhh, buttercream, one of my favorites, is flavored with orange zest and orange marmalade. Now speaking of marmalade I chose a chunky one full of orange peels and bits of orange and it's marvelous. So while your shopping for marmalade and you have a choice choose the one that has more filling, you won't regret it.
To top these cupcakes off I used candied orange peels. I made a quick version of the candied orange peels because they are garnish and these cupcakes won't last long. Now you can see in the photos I have extra sugar granuals on my candied orange peels and you're probably thinking, "she didn't shake off the excess enough", and you would be right. But this was done intentionally. I love the little crunch of the sugar, what can I say?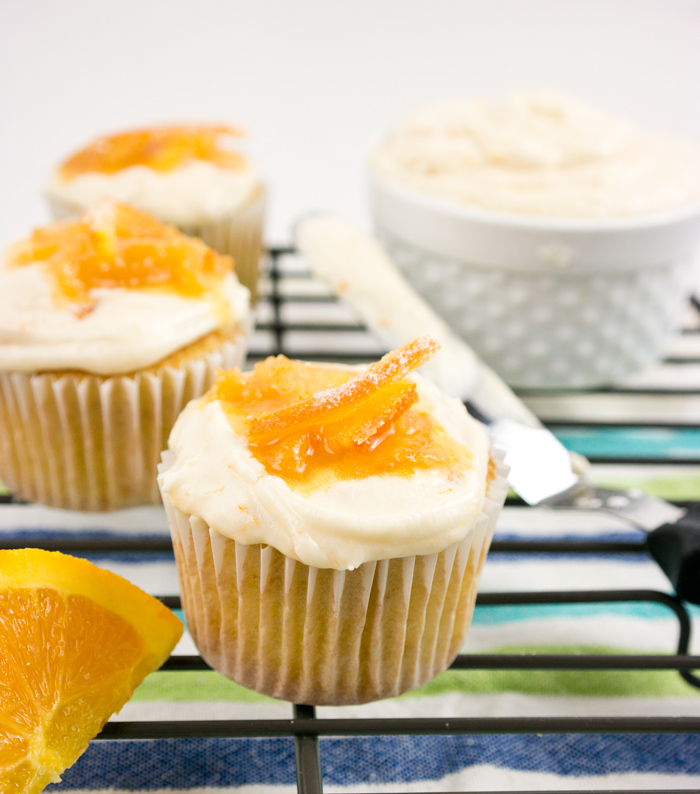 [social_share/]
I served these at a family breakfast and they were a hit. No one could believe how light and delicate the cake was or how the flavors captured the true citrusy flavor of a real orange. I have already been asked to make a batch for my friend to take into work. I knew these were amazing but I have to admit it's always nice and reassuring when everyone else feels the same way.
Orange Scented Cupcakes. Light, sunny, orangey cupcakes with orange buttercream. If you like oranges you'll love these.
Enjoy!
Stacey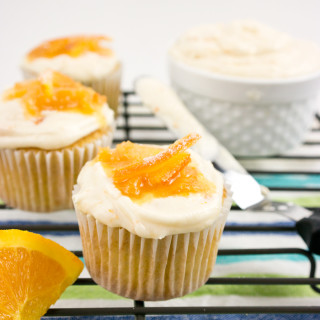 Orange Scented Cupcakes
Orange Scented Cupcakes. Light, sunny, orangey cupcakes with orange buttercream. If you like oranges you'll love these.
Ingredients
ORANGE CHIFFON CAKE - adapted from The Cake Bible:

1

cup

+ 2Tbsp sifted cake flour

3/4

cup

sugar

1/4

tsp

baking powder

1/4

tsp

salt

1/4

cup

canola oil

or vegetable oil

1/4

cup

egg yolks* see notes

1/2

cup

+ 2tbsp egg whites* see notes

1/3

cup

orange juice

2

Tbsp

grated orange zest

1

tsp

vanilla

1/2

tsp

cream of tarter

ORANGE BUTTERCREAM:

1/4

cup

unsalted butter

1/2

lb

powdered sugar

2

Tbsp

milk

1

tsp

vanilla extract

pinch

of salt

2

Tbsp

orange marmalade

plus more for garnish on top

1/2

Tbsp

orange zest

CANDIED ORANGE PEEL

optional for garnish:

Thinly sliced peel of one orange

slice in thin strips

1/2

cup

water

1/2

cup

sugar
Instructions
Preheat oven to 325 degrees F

Line 24 muffin tin cavities with paper liners.

ORANGE CHIFFON CAKE:

In large mixing bowl combine flour, all but 1 Tbsp sugar, baking powder and salt. Stir to combine.

Make a well in the center, add the oil, egg yolks, orange juice, orange zest and vanilla.

Whisk one minute until smooth batter is formed.

In bowl of mixer fitted with whisk attachment beat egg whites until frothy.

Add cream of tarter. Beat until soft peaks form when whisk is raised.

Beat in one tablespoon of sugar and beat until stiff peaks form.

Gently fold egg whites into batter with wire whisk until just blended.

Pour batter into prepared muffin cups, about a 1/4 inch from the top.

Bake for 8-10 minutes or until light golden brown and cake springs back when lightly pressed in the center.

Cool completely.

ORANGE BUTTERCREAM:

Cream butter in mixer, add orange zest and mix.

Add powdered sugar in small amounts and blend well, repeat until all powdered sugar is used adding milk in between as needed.

Add the marmalade and mix.*

CANDIED ORANGE PEEL:

Put all water, 1/2 cup sugar, orange peel in small sauce pan.

Bring to a boil, lower to a simmer and continue simmer on low until liquid is reduced by half and orange peels look translucent (about a 1/2 hour).

Strain the mixture and reserve the liquid for another use.

Let peels cool and then roll them in granulated sugar.

Set aside to dry.

ASSEMBLY AND GARNISH:

Frost each cupcake, try to swirl the frosting so there is a small dip in the center to hold the marmalade.

Next put a small amount of marmalade on top of each cupcake.

Garnish with candied orange peels.
Notes
*I provided specific measured quantity of egg yolks and egg whites. Based on the size of my eggs I used 4 total eggs, adjust qty as needed to get measured amount.
*Frosting will be softer due to the addition of marmalade. If needed add additional 1/2 cup powdered sugar.
*Syrup from the candied orange peels can be discarded however it does taste very good and would good for mixed cocktails, drizzled over ice cream or anything else you can think of.