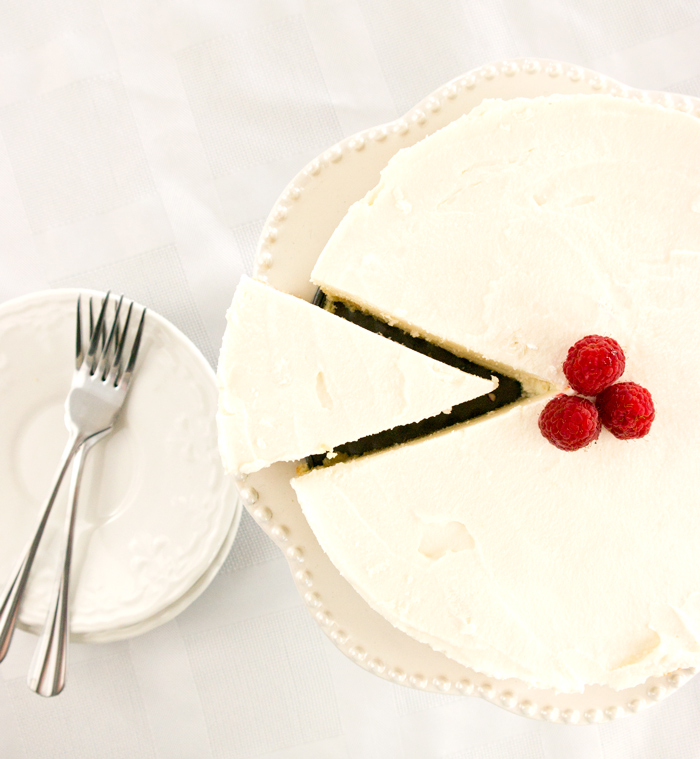 Whipped Ricotta Cheesecake. Light, fluffy, creamy and so addicting.
[social_share]Yum
This cheesecake brought back memories. Before we had our daughter my husband and I took our share of cruises. They were pretty easy, you really didn't have to plan much and there was no excuse for being bored. Our favorite part of the cruise is a tie between beaches and mealtime. You get a gourmet dinner every night. This dinner included appetizer, soup/salad, main entree and my personal favorite, you guessed it, dessert. My husband pretty much stuck to the same two desserts, chocolate lava cake and cheesecake. Even the nights they didn't serve cheesecake they would bring it for him if he asked. Ahhh, fond memories. Eat all night, bake in the sun all day.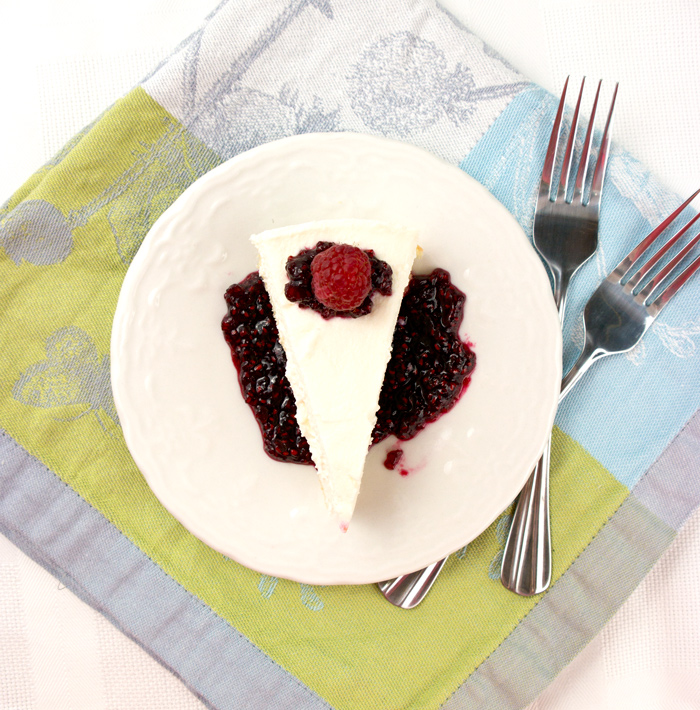 [social_share]
I recently got got a new pastry book, Dominique Ansel – The Secret Recipes. You may not recognize the name but you may have heard of the "Cronut", Dominique is the proud owner. Like with all new cook books I started thumbing through it and rating the photos. But this book was different, it has stories. Really nice stories that painted a picture for each recipe and of the Dominique's personal journey as a pastry chef. I snuck into the office and read it. I'm not sure how it happened but 45min went by before my husband and daughter noticed I was missing, lucky day, lol.
For this cheesecake I adapted Dominique's "Cotton Soft Cheesecake" recipe. Just the name alone intrigued me. Some cheesecakes can be very heavy so I knew from the name this was going to be different. Plus there was no cream cheese but rather ricotta.
This recipe has a multiple steps so I thought it best to prepare all my measured ingredients for each step. This saves a lot of time and eliminates room for error while you are in the process of keeping the recipe moving along.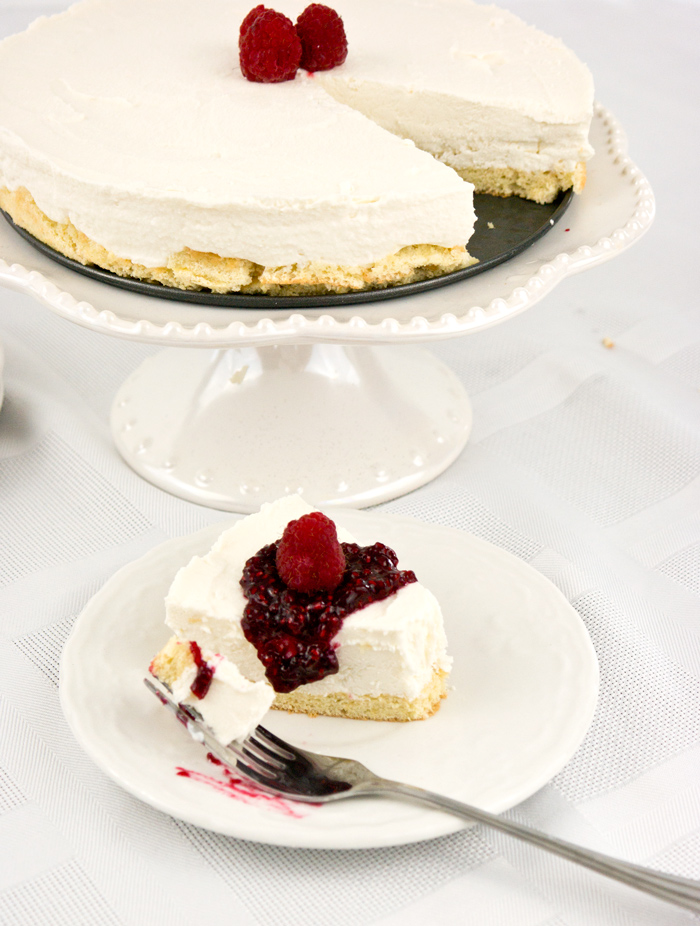 [social_share]
I started with the almond biscuit cake bottom. This is a two part recipe, first the batter and then meringue which will be folded into the batter. This baked up just as described in the book. For a crust or bottom, this too is very light and airy thanks the addition of the meringue.
Next the filling. This was a two step process as well. First the whipped cream and then the cheese filling. The whipped cream got folded into the cheese mixture, making a beautifully fluffy cheese filling.
It was getting close to bed so I assemble and froze the cheesecake as instructed.
The next day it was time to reveal the cheesecake. The cheesecake came out wonderfully. It is important to thaw the cheesecake completely. I took a bite when it was still slightly frozen and the flavor just wasn't there. But thawed, I got the full, fluffy and creamy filling that melts in your mouth. The slight texture from the ricotta which was a nice treat. And the delicate and light almond biscuit which holds it all together.
This cheesecake is not super sweet which makes it the perfect vessel for so many flavors. I chose raspberry for this time around but don't be surprised if you see an adapted version down the road from me again with a new flavor.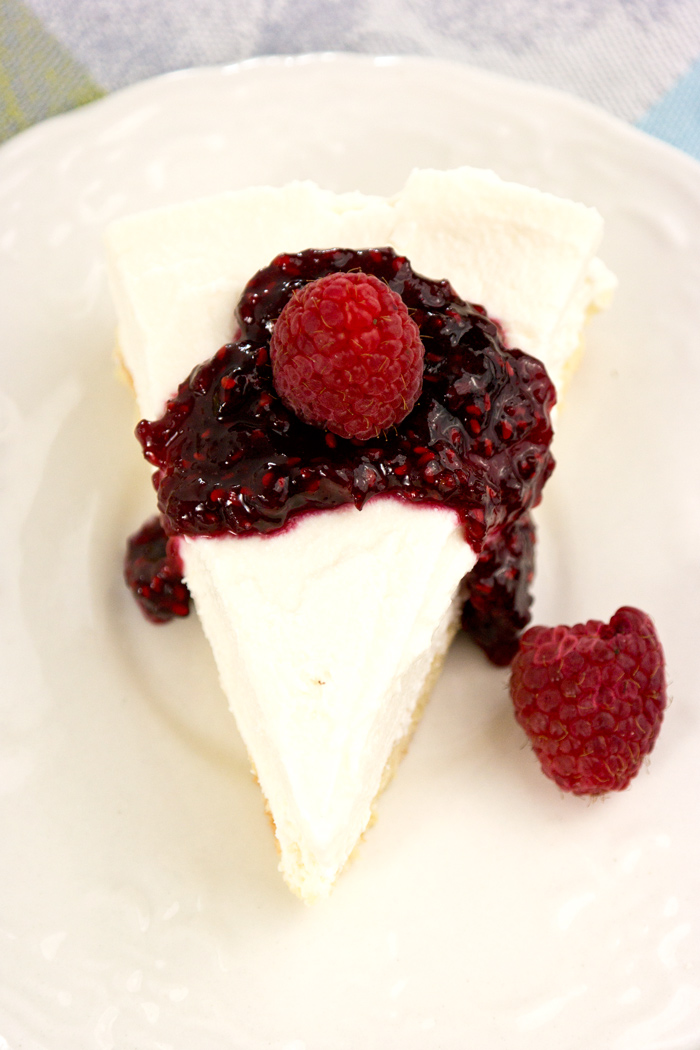 [social_share]
If you are looking for a cheesecake recipe that is outside of the box than this is the one. Smooth, delicate, creamy and silky.
Enjoy!
Stacey
*note: link to cookbook is an affiliate link, meaning if you were to buy from this link I would receive a small commission.
Whipped Ricotta Cheesecake
Whipped Ricotta Cheesecake. Light, fluffy, creamy and so addicting.
Ingredients
ALMOND BISCUIT:

3

large egg whites

1/3

cup

confectioners sugar

1/2

cup

almond flour

1

large egg

1

large egg yolk

1/3

cup

all purpose flour

2 1/2

Tbsp

sugar

CHEESECAKE FILLING:

1/3

cup

+ 1 Tbsp heavy cream

1

scant tsp gelatin bloomed

add to 1Tbsp water and let sit for 15 minutes

1/3

cup+1Tbsp sugar

2

Tbsp

lemon juice

2 1/4

cup

whole milk ricotta cheese

RASPBERRY TOPPING

optional:

1

cup

frozen raspberries

1/2

cup

sugar

Fresh raspberries for garnish

optional
Instructions
ALMOND BISCUIT:

Place rack in center of oven. Preheat to 380 degrees F (355 degrees F for convection).

Line qtr sheet pan with parchment paper.

Get 8"or 9" springform pan ready, set aside.

Combine confectioner sugar, almond flour and whole egg in bowl of mixer. Mix until combined.

Wipe down sides of bowl with spatula.

Mix again on high for 1 minute, batter will be pale yellow and fluffy.

Remove bowl from mixer and fold in the egg yolk.

Then fold in the all purpose flour. Do not over mix, the biscuit will become tough.

Transfer batter to medium bowl.

Using a clean and dry mixing bowl and whisk, whip the egg whites on medium until frothy.

With mixer still on medium stream in the sugar slowly.

Whip until you have stiff peaks.

With spatula fold in 1/3 meringue mixture into batter. Once incorporated add the remaining.

Batter should be cream colored and you'll see little bubbles on the surface.

Pour batter onto prepared pan, spread evenly with offset spatula. Biscuit should be 1/2 inch thick.

Bake biscuit for 5 minutes, rotate pan 180 degrees and bake for additional 5 minutes. Biscuit should be light brown and spring back with touched in the center. Let cool completely.

Using the bottom of springform pan as guide, cut out the biscuit the size of springform pan.

Place at bottom of pan, if there are some areas missing, press in small pieces, filling will hold it together once added.

CHEESECAKE FILLING:

Whisk cream in mixing bowl until stiff peaks form.

Put ricotta in medium bowl, whisk to remove lumps. Set aside.

Heat sugar and lemon juice in small sauce pan until sugar is dissolved.

Remove from heat and add in bloomed gelatin.

Stir until gelatin in dissolved.

Slowly whisk gelatin mixture into ricotta mixture until fluffy and blended.

With spatula fold in 1/3 whipped cream into ricotta mixture, fold in remaining whipped cream. The cheesecake filling will have a consistency similar to yogurt.

RASPBERRY TOPPING:

Place raspberries and sugar in sauce pan, bring to boil, reduce to simmer. Stir often.

Simmer until mixture reduced by half, about 20 minutes.

Cool to room temp before serving.

ASSEMBLY:

Get your springform pan with biscuit (already put at the bottom) ready.

Pour cheesecake filling into pan. With offset spatula even out.

Place in freezer and freeze until firm, minimum 5 hours, overnight works best.

When ready to serve, let rest on counter for 60 minutes or until thawed but still cool.

Garnish as desired.

Cut and serve.
Notes
*Because ricotta is used there is a slight grainy texture to this cheesecake.
*You can use salted caramel, chocolate or any fruit to compliment the flavor of this cheesecake.
*As mentioned in the post this cheesecake is not super sweet, its perfectly balanced. If you have someone who prefers really sweet deserts I recommend serving with chocolate, caramel sauce or fruit sauce such as the shown raspberry topping.