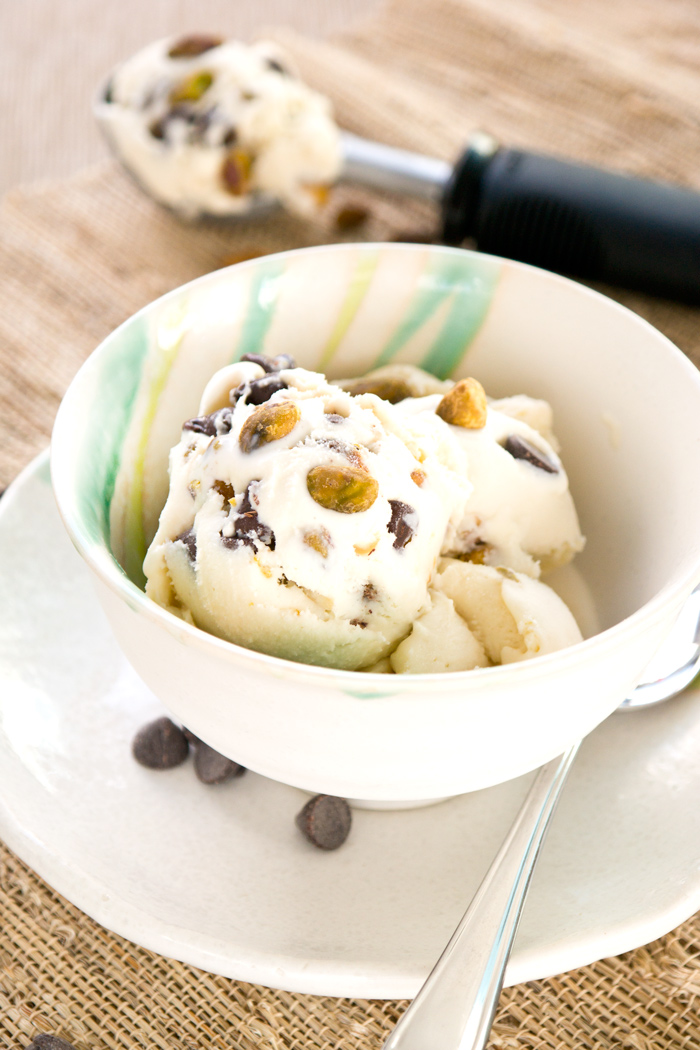 Pistachio Kirsch Ice Cream. Creamy, dreamy "no churn" ice cream with crunchy salted pistachios, Kirsch and dark chocolate. A simple to make pleasure.
[social_share]Yum
I have loved Kirsch for many years. Let's see there was that time I put it in truffles, that time I used it in frosting, that time I soaked cherries in it….you get the picture. Plus just the name makes it sound intriguing. It has become one of my favorite liqueurs. For those of you who are wondering what Kirsch is, it's a cherry liqueur. By adding it to drinks or desserts it gives a nice cherry flavor that is far from too sweet and is a bit more "mature" tasting then my other pal the maraschino cherry or cherry grenadine.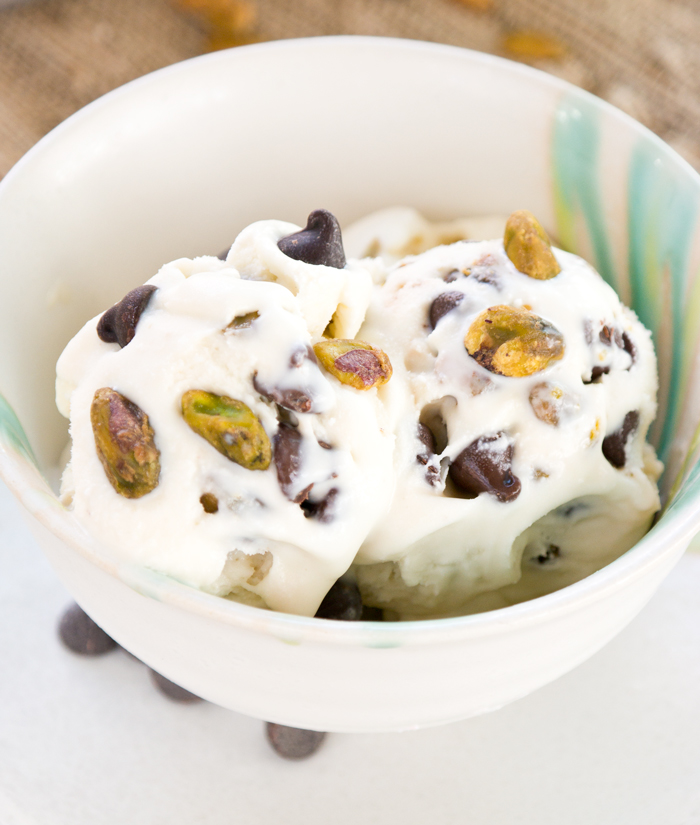 [social_share]
Pistachios, does anyone remember when they were dyed red and so became your fingers as you shelled them, lol. As a child I thought they grew red by nature, I had no idea they were colored. The first time I saw an "au natural" pistachio I was bored with it. Glad I got over that. My favorite way to eat pistachios is roasted and salted. Shells on or shells off is no matter to me. If the shells are on shelling them is half the fun. If the work is already done for me and they are shelled then it's a bonus. However, if you have a recipe that calls for anything over a 1/4cup consider buying the shelled ones. For a recipe many years ago I thought it would be no big deal to shell a cups worth of pistachios. As easy as that may sound, it took forever and my finger tips were hurting, lol.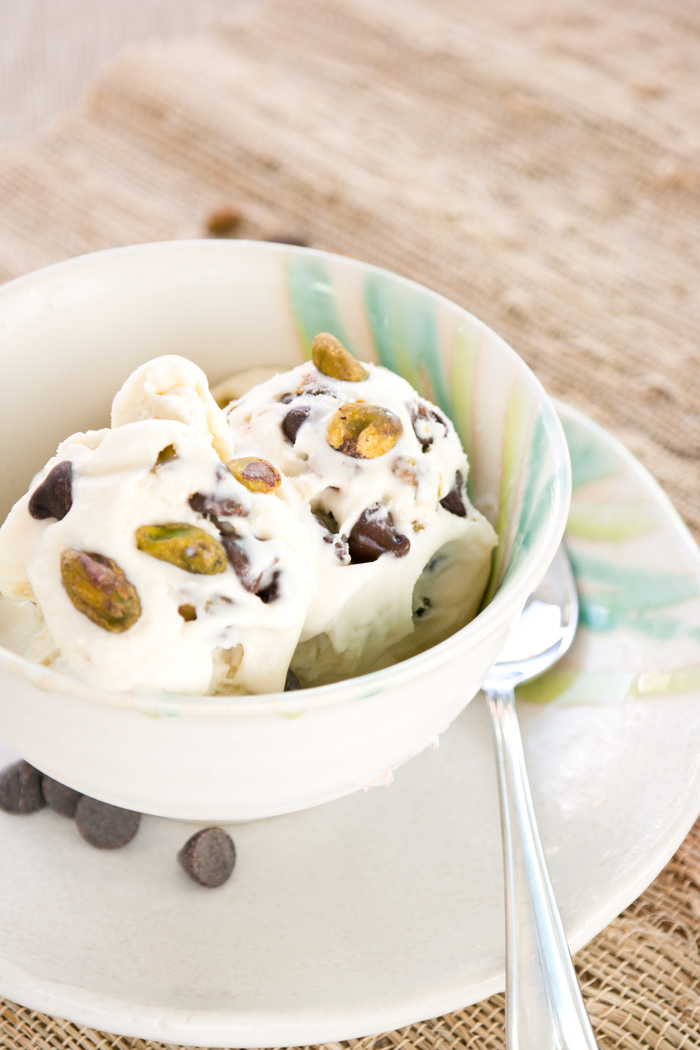 [social_share]
Then there's the dark chocolate. Does it really need an introduction? Dark chocolate just adds to the sophistication and adultness of the Kirsch. As if they are both looking down at childish ice cream flavors and giggling like snobs. But as snooty as it may seem when you take the first bite you'll soon find out they're right. Some times a little snobbery is called for.
The best part about all of this? The mind blowing part that I really never believed was possible? It's no churn! No ice cream maker. Just mix, freeze and eat. I had read about so many no churn ice creams and they sounded too good to be true. But then the stirrer in my ice cream maker broke, sad day, so I thought I would give the no churn option a try. I'm a believer! The addition of sweetened condensed milk to the heavy cream helps keep it soft and not overly hard or icy.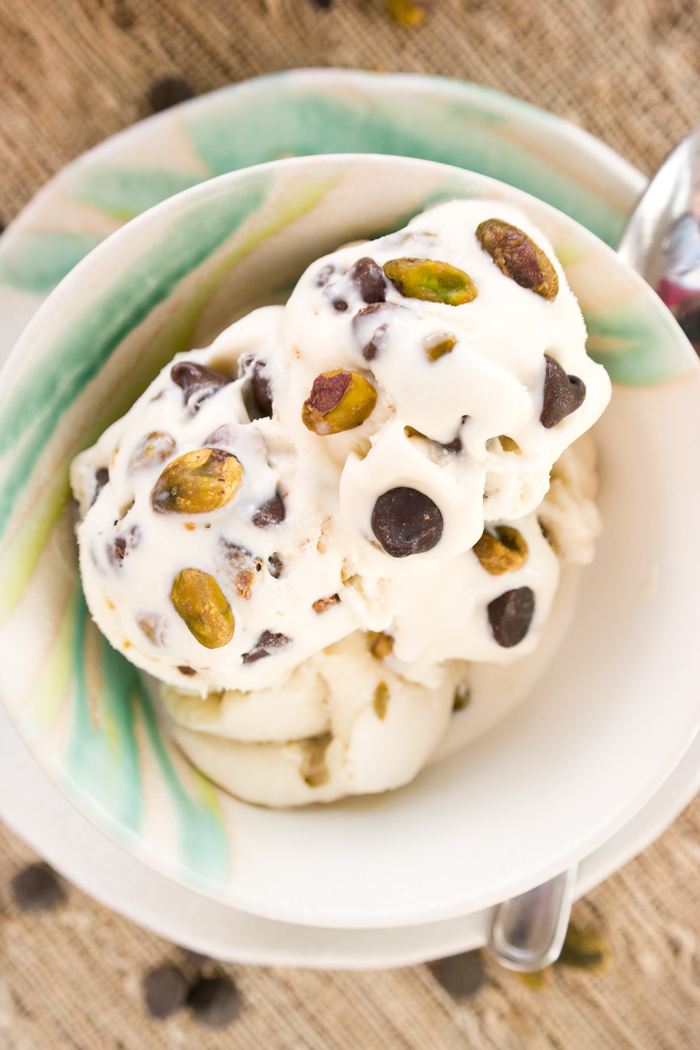 [social_share]
So scoop up a bowl, or two and enjoy the sophisticated flavors of Kirsch, crunchy, salted pistachios and dark chocolate enrobed in a creamy, no churn ice cream.
Enjoy!
Stacey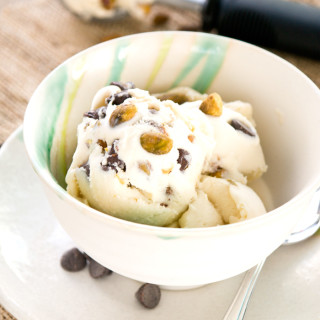 Pistachio Kirsch Ice Cream
Pistachio Kirsch Ice Cream. Scoop up a bowl and enjoy the sophisticated flavors of Kirsch, crunchy, salted pistachios and dark chocolate enrobed in a creamy, NO CHURN ice cream.
Ingredients
2

cups

heavy cream

1- 14

oz

can of sweetened condensed milk

2

Tbsp

Kirsch

cherry liqueur

2

tsp

vanilla extract

1/2

cup

pistachios

salted, roasted and shelled

1/2

cup

dark chocolate chips
Instructions
Set one standard loaf pan aside until needed.

In large bowl add cream, condensed milk, Kirsch and vanilla. Whisk until well incorporated. Go around sides of bowl to make sure the condensed milk gets mixed in well.

Add the pistachios and chocolate chips. Stir again to mix well, again go around sides of bowl to make sure the condensed milk gets incorporated.

Pour mixture into loaf pan and freeze over night or until frozen (minimum 6 hours).

When ready to eat take out of freezer for 5-10 minutes prior to serving.
Notes
1. It probably goes without saying but Kirsch is alcohol.
2. Some of the nuts and chocolate may settle to bottom of pan. Keep that in mind when dishing up, dig deep.
3. This recipe can be doubled and should fit into same loaf pan.
4. 4-5 serving is based on generous serving. You may get more or less depending on how much is served.