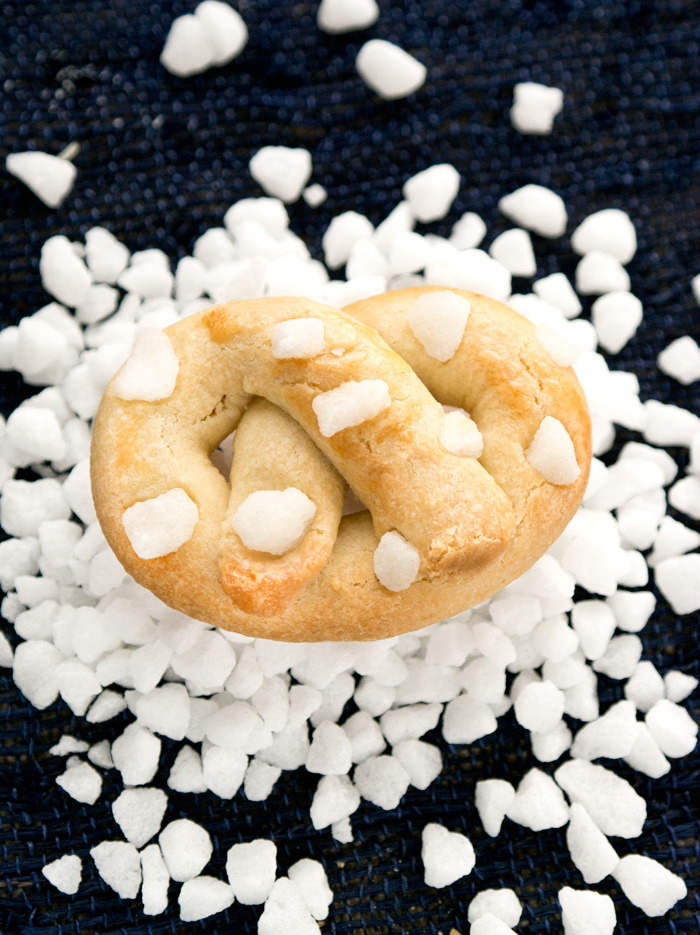 Pearl Sugar Butter Pretzels. Soft butter cookies and pearl sugar twisted in a pretzel makes for one sweet little cookie.
[social_share]Yum
So we're in the market for a new roof. Can I just say ARGH!!! It's exhausting. We've gotten three quotes and none of them are in the same ball park price wise. One tells us a warranty is must, the other will tell us the warranty is a scam. Then there are the shingle reviews online. Which just like the warranty, one message board will be praising shingle "A" while the other is slamming it and promoting shingle "B". One board will tell you shingle "A" only lasted 3 years and another board will tell you it lasted them 20 years. I think we might have to play a game of Eny, Meeny, Miny, Mo…because there is no definitive information out there. I couldn't help but chuckle that I made a cookie shaped like a pretzel this week. I think it was my subconscious acting out how my brain feels with all the roofing mumbo jumbo, TWISTED, lol.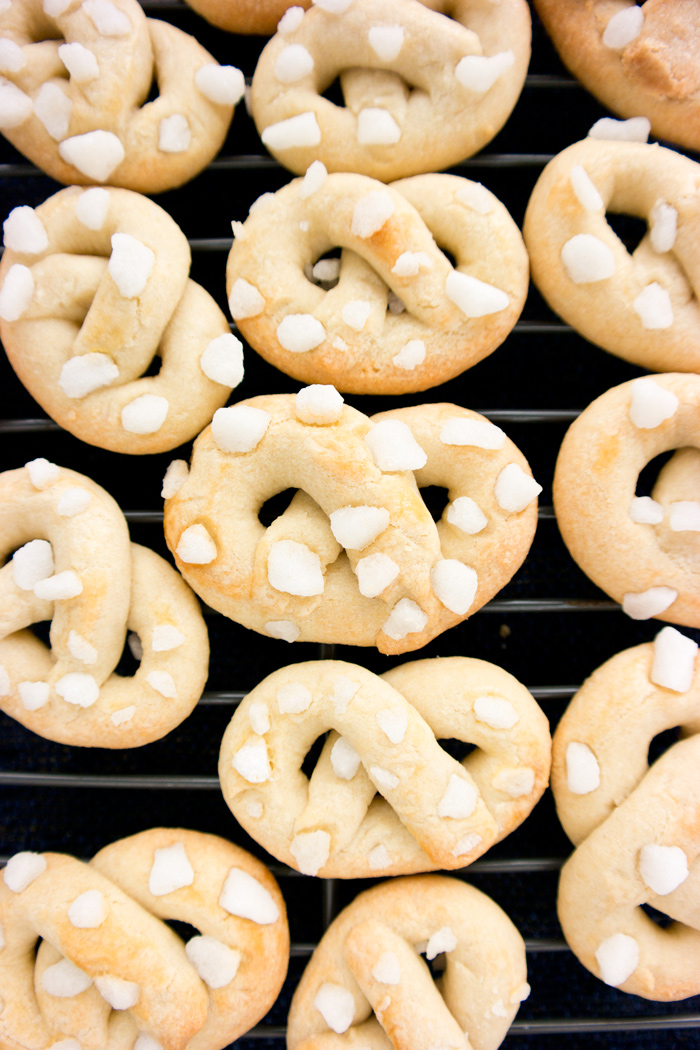 [social_share]
Thank goodness that in the middle of all this roofing non-sense I have these little Pearl Sugar Butter Pretzels. I was shopping this weekend and came upon a little box of "Pearl Sugar"*. I must live under a rock because this was the first I had ever heard of this. You can imagine my delight, I mean chunks of sweet, white, sugar! Count me in. So I decided to add it to the Pearl Sugar Butter Pretzels and it was a good call if I do say so myself which was adapted from the Sugar Pretzel cookie recipe in "Gourmet's Best Desserts".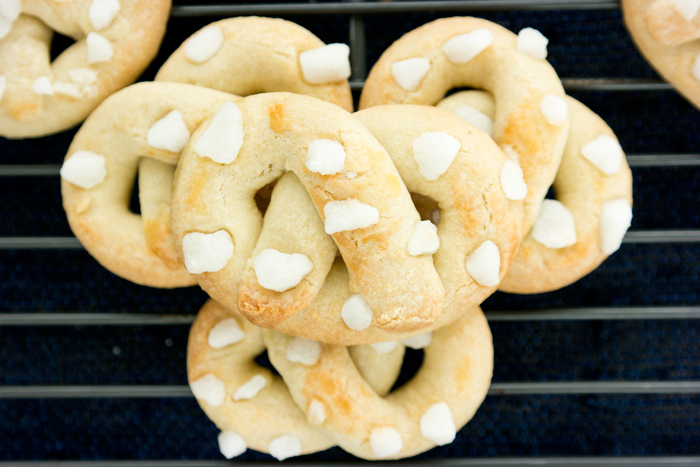 [social_share]
This cookie is best described as a butter cookie, soft and slightly sweet. It also has a slight almond flavor from the addition of almond flour and extract. It would make the perfect tea cookie or coffee cookie. The dough is only slightly sweet, saving all the fun for the pearl sugar. The cookie is going to melt in your mouth as you get a quick crunch of sugar which then immediately dissolves adding the right amount of sweet to the buttery flavor. And lets not forget the fact that it's twisted like a pretzel, how much fun is that?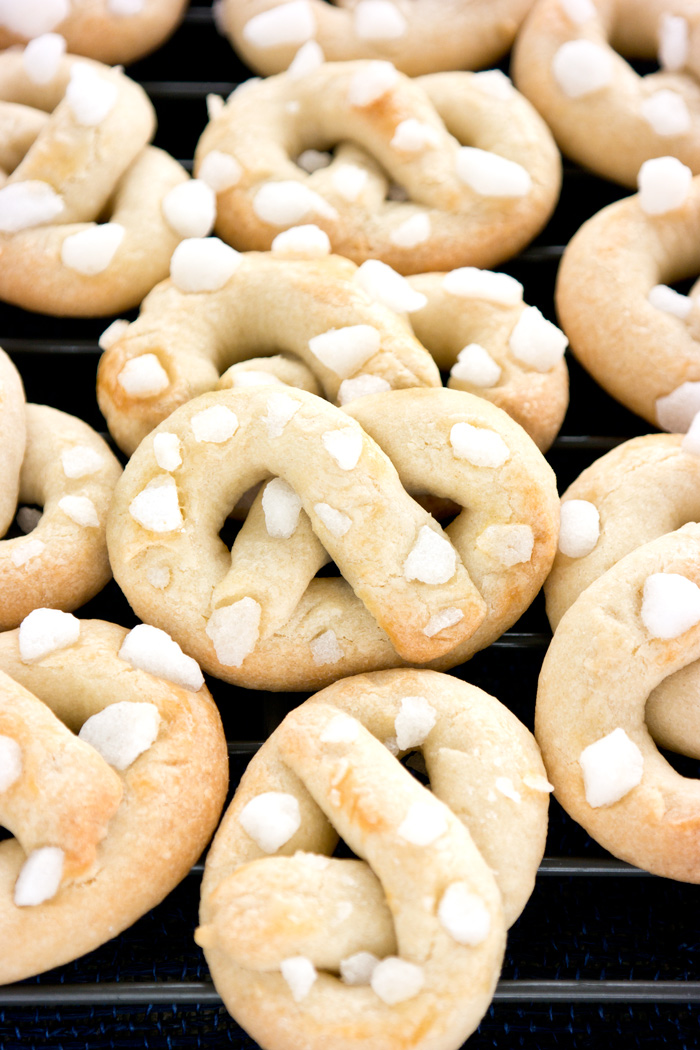 [social_share]
These Pearl Sugar Butter Pretzels would be the perfect anytime cookie and are a great addition to any cookie party platter.
Enjoy!
Stacey
*Please note that the link for pearl sugar is an affiliate link, meaning if you purchase using this link I get a small commission.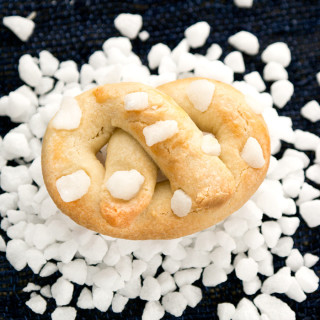 Pearl Sugar Butter Pretzels
Pearl Sugar Butter Pretzels. Soft butter cookies and pearl sugar twisted in a pretzel makes for one sweet little cookie.
Ingredients
1 3/4

cups

all purpose flour

1/3

cup

confectioners sugar

1/8

tsp

salt

1/2

cup

almond flour

2

large eggs

each beaten lightly in separate bowls

3/4

cup

butter chilled and cut into small chunks

1

tsp

almond extract

Pearl Sugar
Instructions
Pre heat oven to 375 degrees F

Line two baking sheets with parchment paper.

In a large mixing bowl add the flour, confectioners sugar, salt and almond flour, mix until well combined.

Make a well in the center and add one egg. Sprinkle butter and almond extract over mixture.

Mix until dough forms.

Separate into two dough disks. Wrap separately and chill for minimum 1 hour or until ready to use.

Roll one piece of dough into a log 1 inch in diameter on floured surface.

Cut into 13 pieces.

With lightly floured hands roll each piece into 5 1/2 inch rope.

Twist into pretzel shape and place on cookie sheet. Repeat until all cookies are made.

Using the second egg in the bowl, take a pastry brush and brush each pretzel with egg.

Add the pearl sugar. I pushed each piece in slightly.

Bake for 10-12 minutes or until golden.

Repeat with second batch of dough.

Place on rack and let cool completely. Store in airtight container.
Notes
If refrigerating dough more than one hour you may need to let dough rest on counter for 15 minutes to soften slightly.
If you cannot find pearl sugar you can use granulated sugar as well.