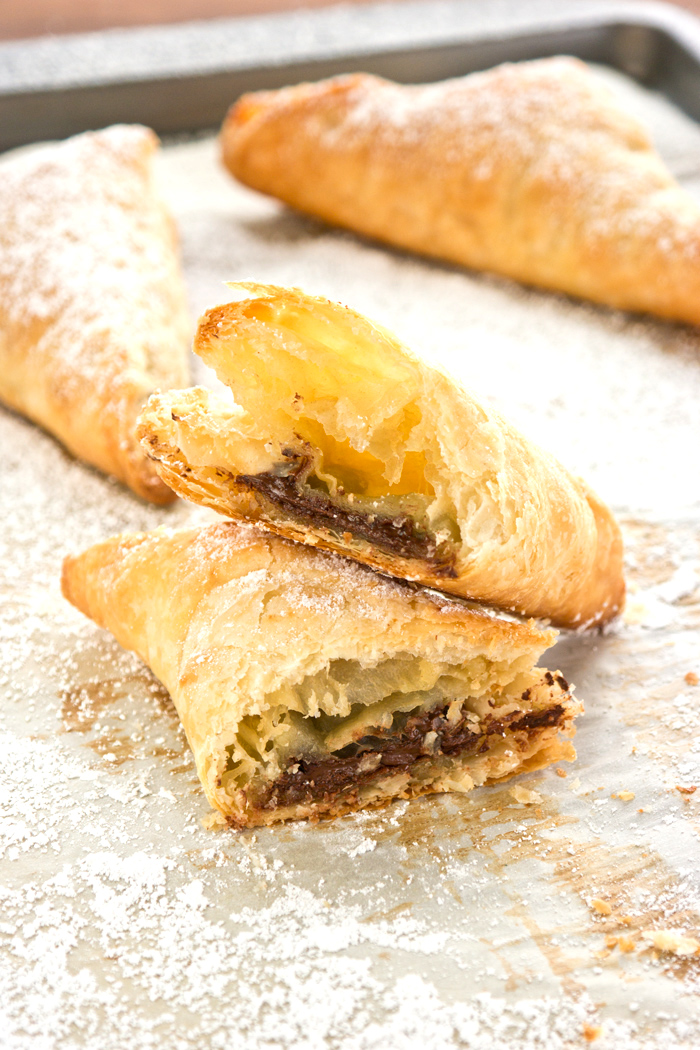 Chocolate Filled Pastry. This 3 ingredient treat is light, airy, crunchy and chocolate filled.
[social_share/]Yum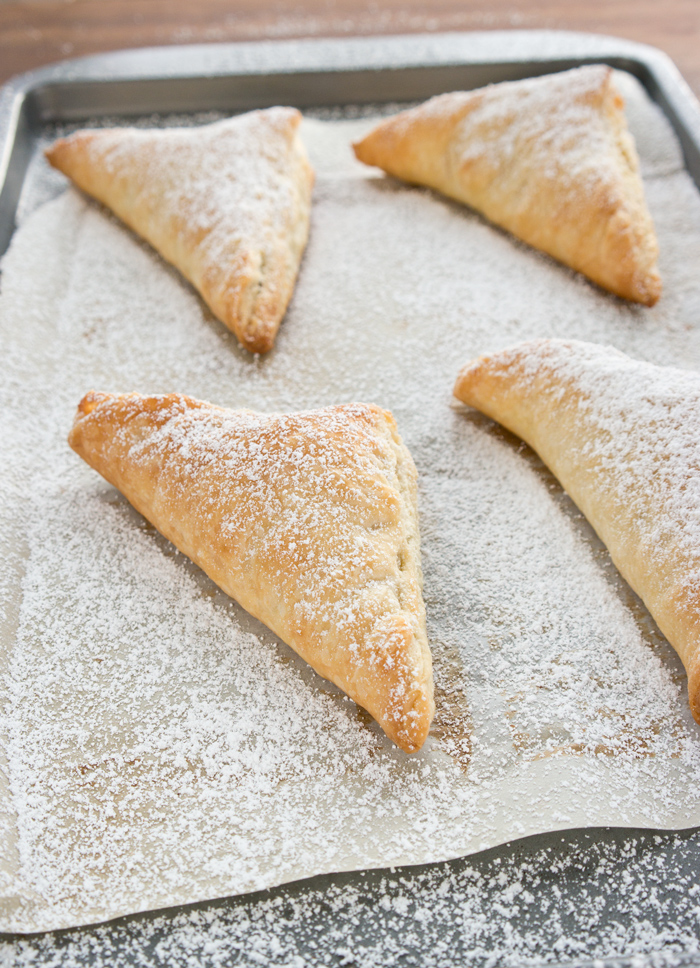 [social_share/]Yum

So as many of you know (because I mention it every so often), I live in a very small town. Certain delicacies I see on Food Network, Cook TV or in magazines aren't easily available out my way. Including french style pastries. What I love about a french style pastry is they are not too sweet. So it really does make a wonderful breakfast choice and does not have to be only categorized as a dessert.
[social_share/]Yum

I made these 3 ingredient, you heard me right, 3 ingredient, Chocolate Filled Pastries this weekend for my family. Their light, flaky, buttery, chocolate creaminess make me feel like I am eating a treat that someone spent hours preparing and in Paris no less. The dough is neutral so it takes on the flavor and direction of whatever you fill it with. It has a small hint of salt, it bakes up so light and airy, all these intricate layers of crunchy goodness. The chocolate melts to a thick and creamy filling which when combined with the flaky, crunchy pastry is a match made in heaven and thats just the texture. The flavor of the buttery pastry and smooth chocolate make me want to eat another one and guess what, without shame I did eat another one. Can you blame me? If I didn't eat it my husband would have, I saved him from himself, see how selfishless I am?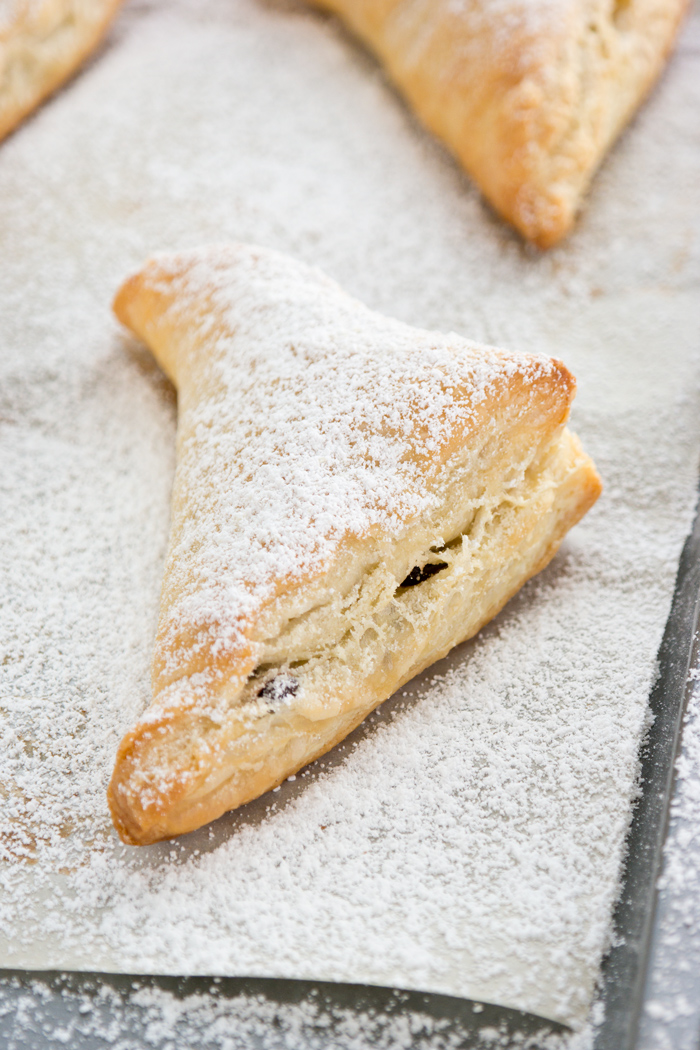 [social_share/]Yum

As you may have guessed it I used store bought puff pastry, one day I will attempt it from scratch but it's not today. The store bought works perfectly for this recipe and saves so much time, just don't tell your friends. I thawed and unrolled the pastry onto a floured surface, cut them in four squares, filled with chocolate chips, folded over and pinched the edges. Then popped them in the oven and in 16 minutes fresh, delicious, light and airy pastry with warm creamy chocolate filling. Sprinkle with a little powdered sugar (the third ingredient).
Now it was time to eat them and eat them we did, every last one of them. There were no leftovers here, so what did I do for breakfast the next morning? Made another batch and ate them all over again.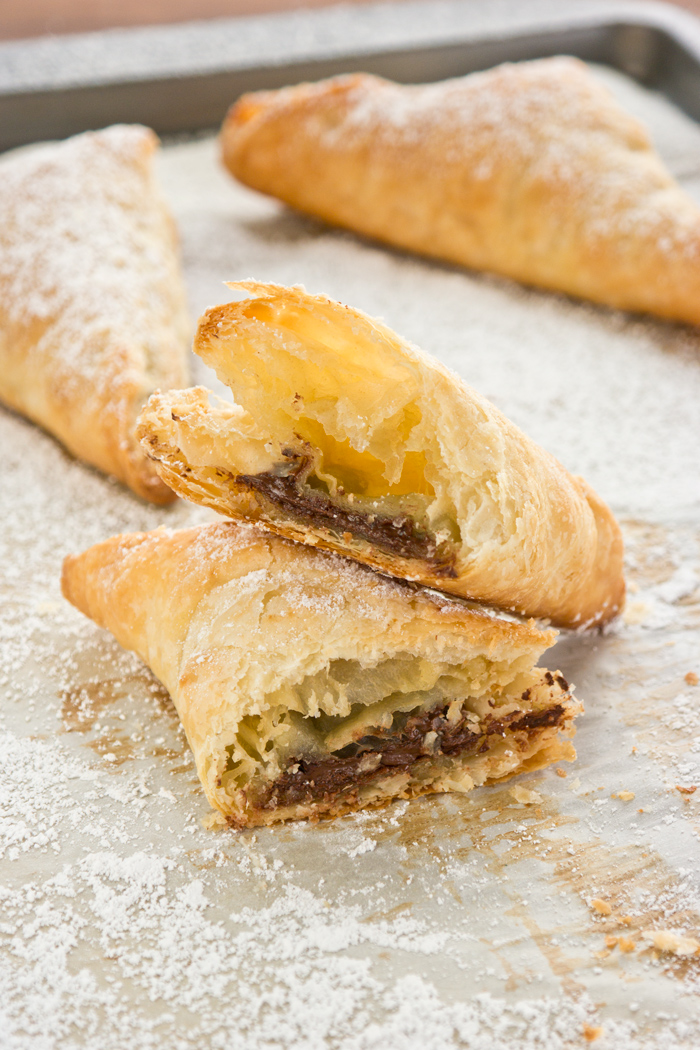 [social_share/]Yum

Chocolate Filled Pastry. With only 3 ingredients these light and airy, chocolate filled pastries are simple and delicious.
Enjoy!
Stacey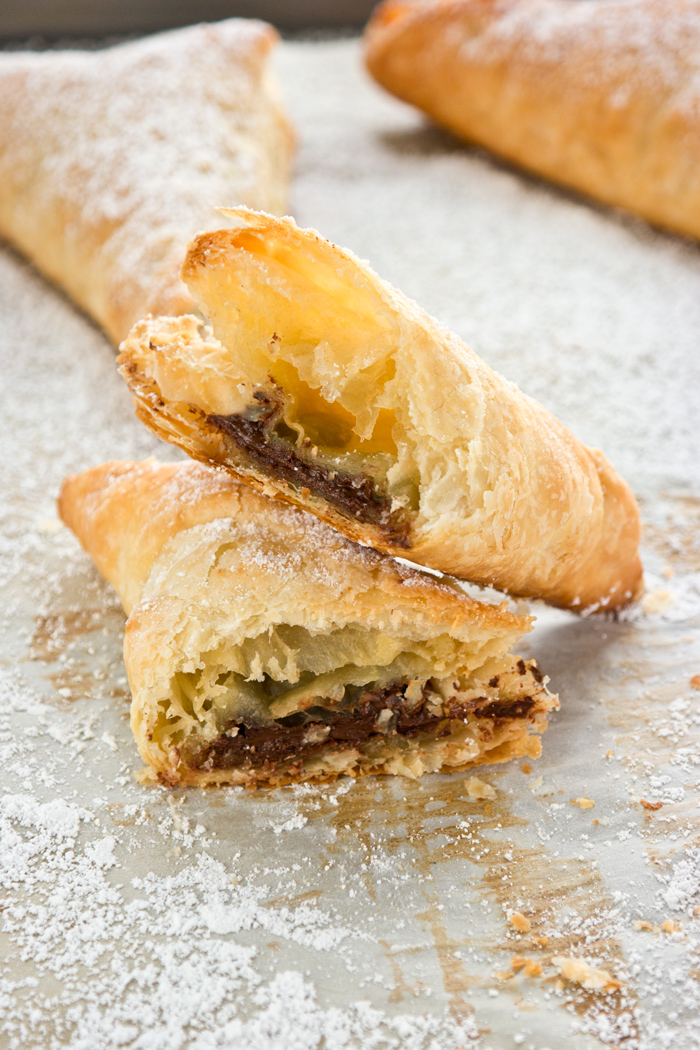 Chocolate Filled Pastry
Chocolate Filled Pastry. This 3 ingredient treat is light, airy, crunchy and chocolate filled.
Ingredients
1

package Peppridge Farm Puff Pastry sheets thawed

there will be 2 sheets (or brand of choice)

1

cup

semi-sweet chocolate chips

powdered sugar for dusting
Instructions
Preheat oven to 400 degree F.

Line 2 baking sheets with parchment paper.

On floured surface unroll pastry sheets and cut each sheet into four squares.

Fill half of each square with 2 Tbsp chocolate chips.

Pull corner over and pinch to closed edges.

Bake for 15-17 minutes, until golden brown on top.

Sprinkle with powdered sugar.
Notes
*Peppridge Farm Pastry give two sheets and makes 8 pastries.
**Recipe can be cut in half to yield four servings.
***Check manufacturers thawing instructions for pastry. Dough should be thawed and should be cold.