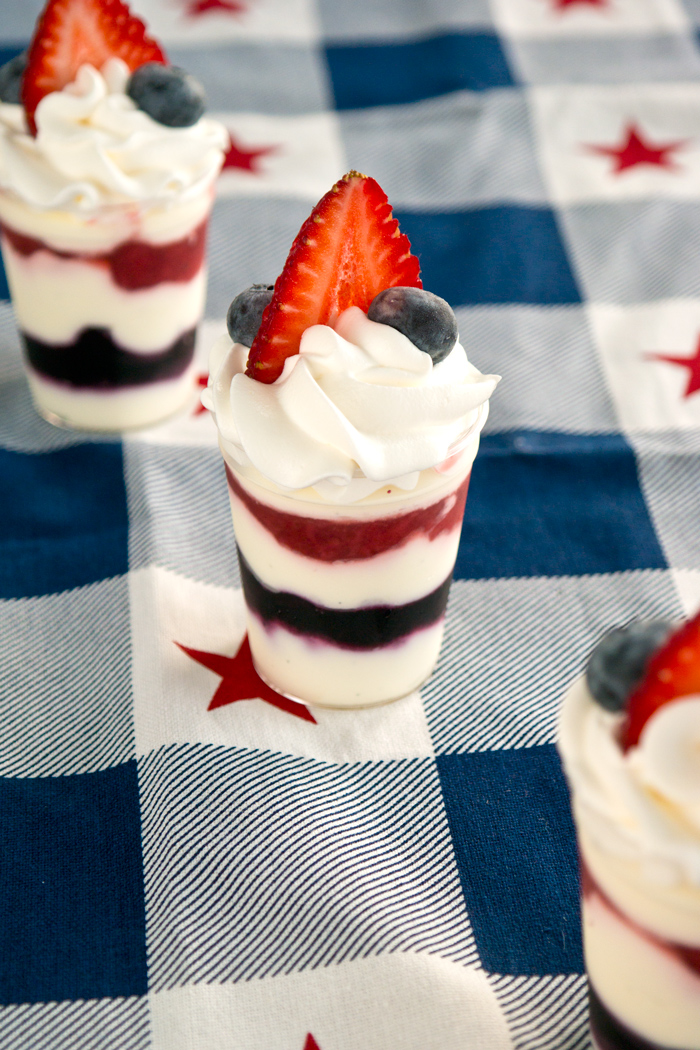 Bavarian Cream Parfaits. These sweet little parfaits are rich, creamy, berrylicious with a bit of fancy.
[social_share/]Yum

Every 4th of July I make a fancy dessert, usually a multi layered and tiered cake. After all we are celebrating the birthday of our country and all the men and women that keep us safe and free. But this year I wanted to do something a bit different. Fancy none the less and beautiful but just different. Remember a few weeks ago when I made the Key Lime Pie Shooters, everyone loved those and one of the reasons was how small and cute they are. So I wanted to make something similar for the 4th.
Bavarian cream, oh my gosh I could write a book on how rich and delicious it is. It is truly a special base for these little parfaits. The base is a creme anglaise recipe which is a thick, rich sauce made of egg yolks, sugar, milk, heavy cream and my personal favorite, lots of vanilla bean! What makes it the Bavarian Cream is the addition of whipped cream, so if goes from sauce to much lighter fluffier cream. Keep in mind though it is still softer and smoother than a typical whipped cream. It is so incredibly rich and delicious, I could eat it all by itself.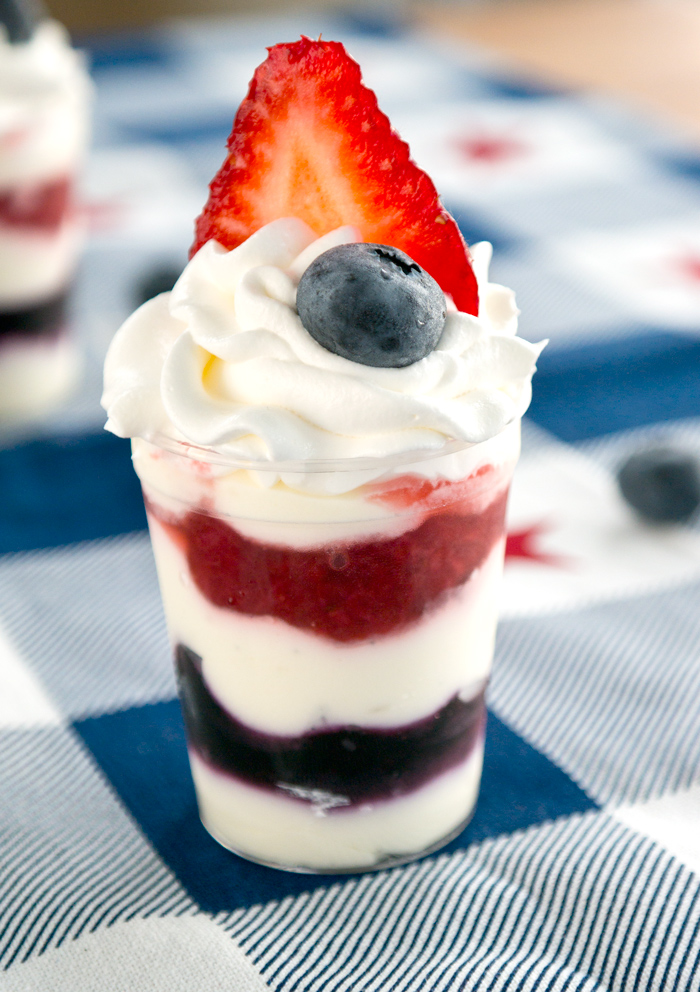 [social_share/]Yum

I started by getting all my ingredients in order and in the proper pans. The creme anglaise requires some attention and I want to make sure everything is in order so I am not distracted. In one pan I have my eggs and sugar, in another pan my dairy products and vanilla. I heat the milk, cream and vanilla as instructed, next its time to temper the egg mixture (tempering in this recipe is a matter of bringing the egg mixture to the right temperature slowly so the eggs don't cook but rather blend with the sauce). I have to admit I'm breaking a bit of a sweat just thinking about doing it, too much hot milk and I will cook the eggs, will I be able to stream in just a little milk? Will my arm be able to whisk fast enough? The first splash of milk goes in, not exactly a stream, "whisk, whisk, whisk..", I am this little voice is yelling in my head. This process repeats until all the milk is in, the eggs are perfectly tempered and I can't feel my arm from all the whisking, woo, we made it. But we're not done, now we have to cook the mixture until it smoothly coats the back of a spoon. "Whisk, whisk, whisk..", that annoying voice in my head keeps yelling, I wish it would shut up but the truth is I need it to keep me focused. I'm almost there, almost, almost…WHAT THE @#$% (sorry, I'm human, I do swear)? What are these small granular bits in my creme anglaise, NO,NO,NO, it CURDLED!! I'm still whisking trying to figure out what to do, the voice in my head now speechless, when I need it most none the less. I remembered reading a trick to save a curdled sauce, here goes, add cold milk and all the creme anglaise into the blender and blend like theres no tomorrow. No way, I'm still in disbelief, SUCCESS! Not sure if it was the grace of God, because believe me I was praying or this little trick but I was back in business. Returned it to a clean pan and shortly after heating it back up I had my sauce, it was cooling and all was well in the kitchen. After that experience, the rest was easy peasy, made my whipped cream and we're good to go. Mix the two by gently pouring the cold creme anglaise over the whipped cream and folding, I did this in small amounts to make sure it wasn't too soupy. I could always omit some sauce but can't take it back once mixed and soupy. Made my berry mixtures. Finally, I'm seeing the light at the end of the tunnel and my right arm is rejoicing, no more whisking.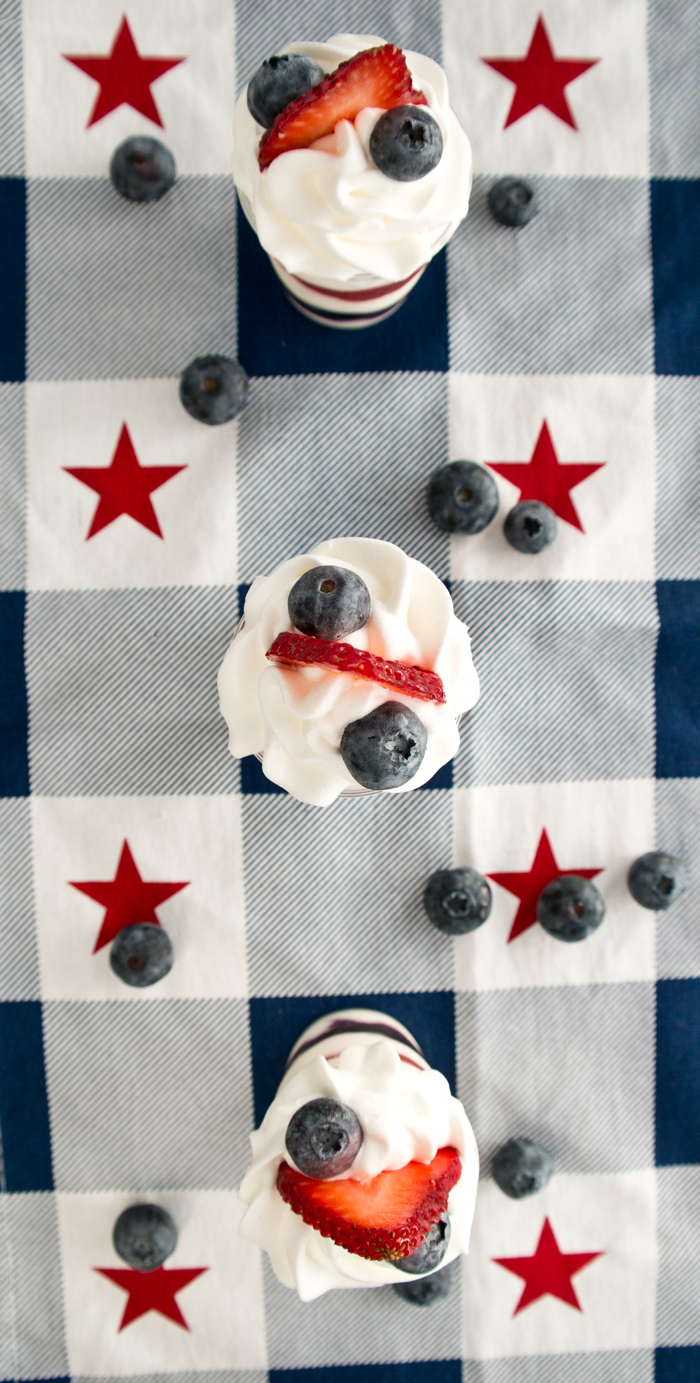 [social_share/]Yum

Time to assemble. I put the Bavarian Cream in a piping bag, no tip. I alternated between the cream, then the blueberry sauce, cream, strawberry sauce, cream and finished with whipped cream and berrys to garnish. BEAUTIFUL!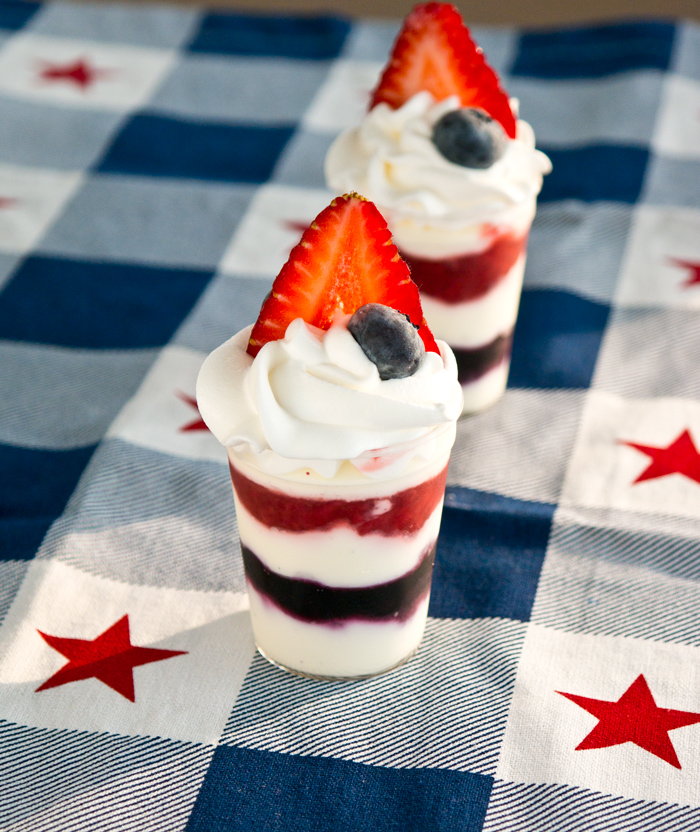 [social_share/]Yum

Fresh berries are always synonymous with summer and the 4th of July, add in some Bavarian Cream and you have even more to celebrate on this wonderful holiday or anytime!
Enjoy!
Stacey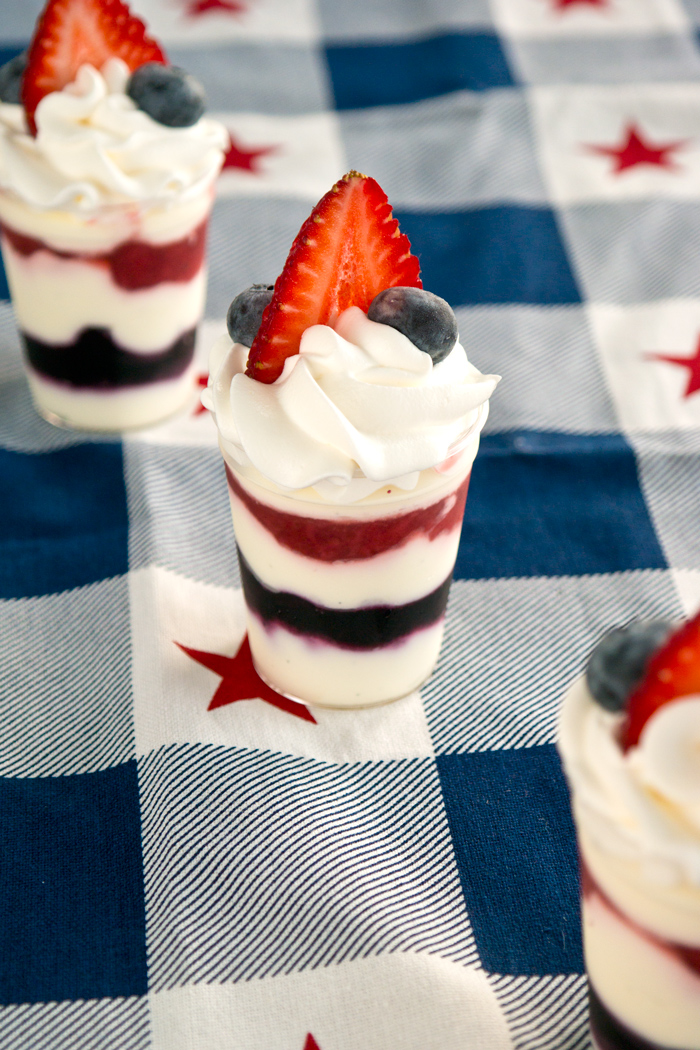 Bavarian Cream Parfaits
Bavarian Cream Parfaits. These sweet little parfaits are rich, creamy, berrylicious with a bit of fancy.
Ingredients
BAVARIAN CREAM:

2 1/2

cups

heavy cream

6

egg yolks

1

cup

sugar

1

cups

milk

Seeds from 1 vanilla bean

STRAWBERRY PUREE:

1

lb

strawberries

cleaned and cut up (plus extra for garnish)

1/2

cup

sugar

BLUEBERRY PUREE:

1

lb

blueberries cleaned

plus extra for garnish

1/4

cup

sugar

GARNISH:

Whipped cream

Strawberries

Blueberries
Instructions
BAVARIAN CREAM:

In a sauce pan beat the egg yolks with the sugar until they are pale yellow and have a thick, creamy consistency.

In a separate sauce pan, bring 1 cup milk, 1 cup heavy cream and the vanilla seeds to a boil in a saucepan, stirring occasionally to make sure the milk/cream does not scorch at the bottom of the pan.

Remove from the heat and slowly pour the milk into the egg yolks, stirring constantly.

Heat the mixture on medium/high, stirring constantly until back of spoon is coated (185 degrees F if using a thermometer).

Chill immediately.

Whip the remaining 1 1/2 cups whipping cream until it stands in soft peaks. Chill until needed.

Once both the whipped cream and bavarian cream are well chilled begin adding bavarian cream to the whipped cream bowl, fold mixture until completely mixed. Chill again.

STRAWBERRY PUREE:

Put strawberries and sugar in medium sauce pan on medium heat.

Mash a few times with potato masher to release juices, stirring occasionally.

As mixture starts to cook down mash again to release more juices.

Continue to cook down until thick, about 15 min.

Remove from heat, let sit and cool for about 20 minutes. Transfer to refrigerator to completely chill.

BLUEBERRY PUREE:

Repeat same steps from strawberry puree.

ASSEMBLY:

Line up your serving cups (I used 2oz dessert cups from GFS).

Put bavarian cream into piping bag (no tip required)

Starting with cream alternate layers, cream, blueberry, cream, strawberry, cream, whipped cream, garnish.

Chill until ready to serve.