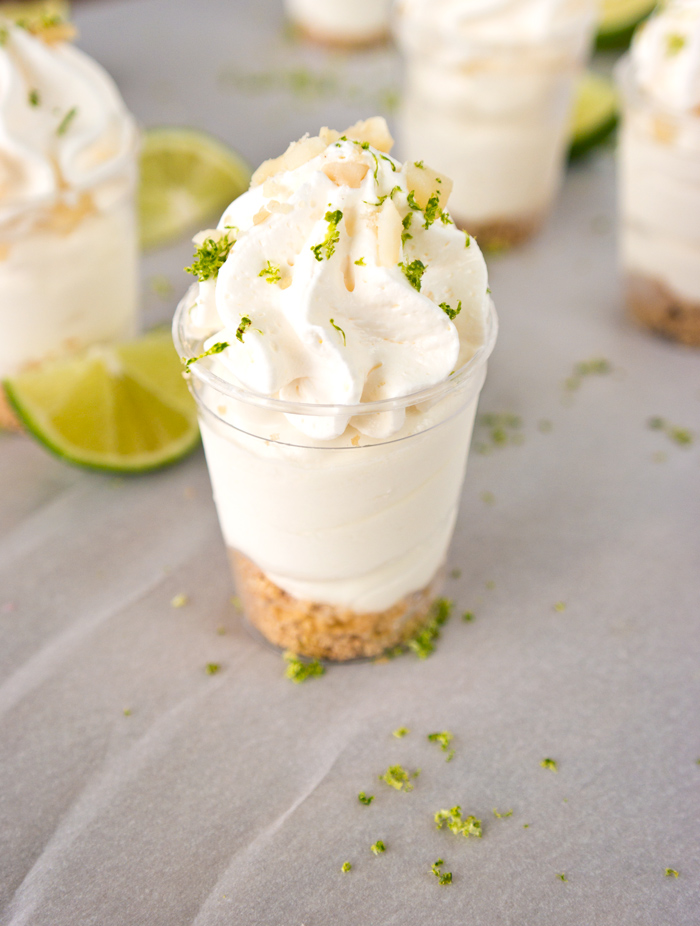 Key Lime Pie Shooters. This sweet, thick, rich and creamy dessert will also have you puckering.
[social_share/]Yum

Before I break into the saga that brings me to the Key Lime Pie Shooter recipe, Happy Fathers Day weekend! This goes out to all the great dads, step dads, soon to be dads and "acting" dads out there. A special nod to my husband who is an awesome father! Our daughter thinks the world of him, they're my two trouble makers, lol. And a nod to my own dad!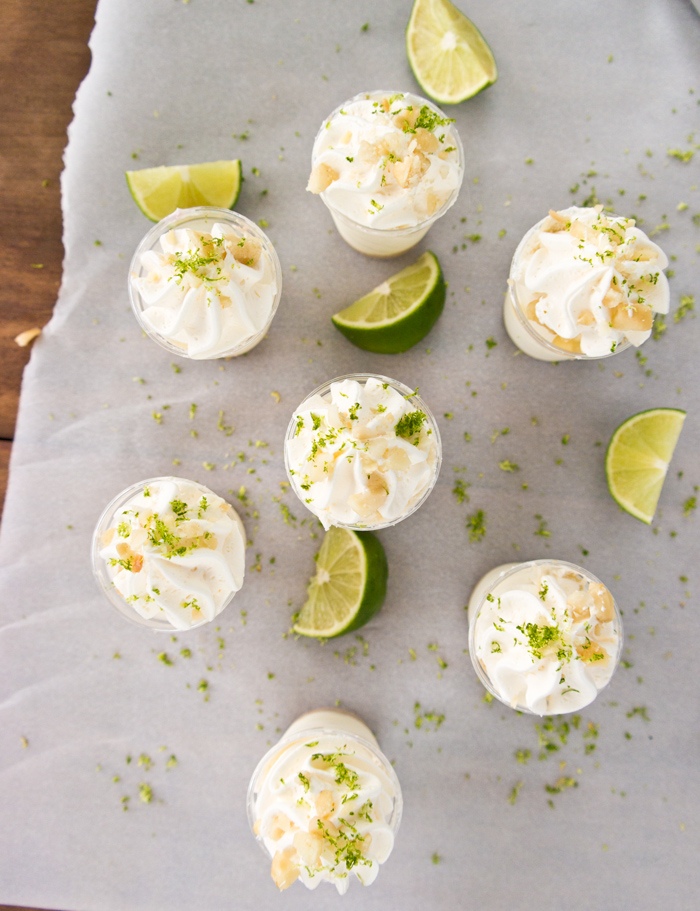 Back in the mid 80's, hard to believe that's about 30 years ago, my aunt made an awesome key lime pie. It didn't look like your average key lime pie, it stood a bit higher, was fluffy and lighter in color. The flavor was awesome! I remember as a kid wanting a second, third and fourth slice. Luckily my mom got the recipe and has been making it ever since. The recipe was written out on a old school recipe card, the kind no one really uses anymore and it even had a line for "From the kitchen of…". My closest thing to a recipe card is a pile of printed off recipes from the internet. On cleaning day I make the pile neat and tidy and they usually get put in a cupboard until further notice.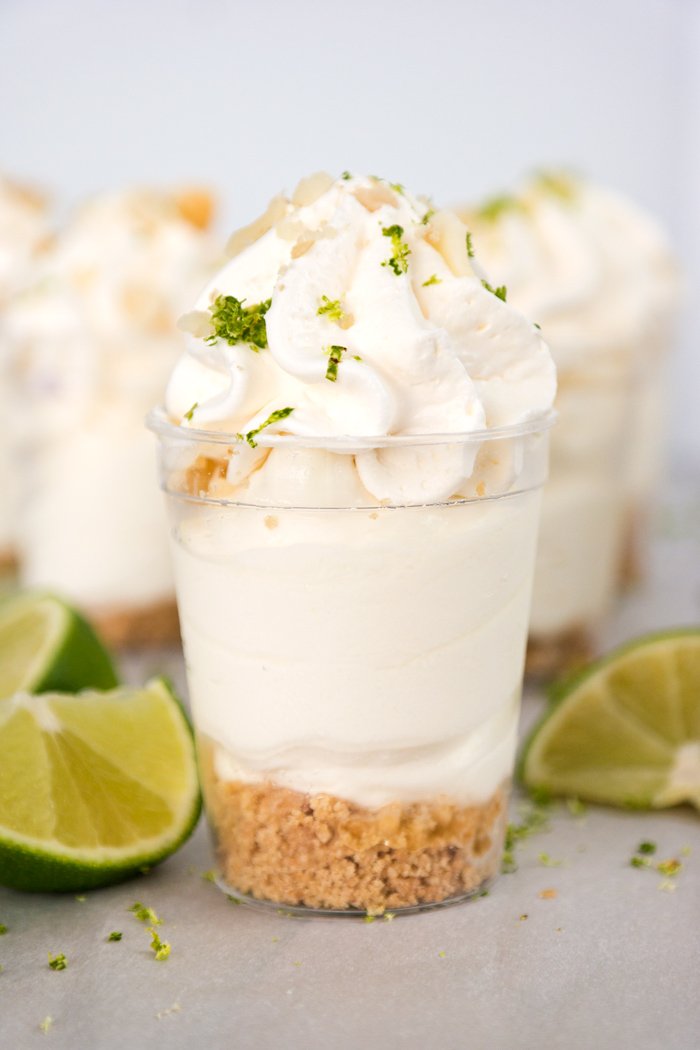 Years later I asked my mom where the recipe came from, thinking it was from a restaurant in the Florida Keys, she told me my aunt got it from a flyer at Publix grocery store. Thats right it was a recipe to promote the sale of everyday items. Here I thought it as going to be a fancy cook book or some fun story. At this point I still didn't know what the pie was made of, the center was thick, creamy and rich but you always puckered just the right amount from the ever present fresh key lime juice and it was all topped off with whipped cream and held by a graham cracker crust. At this point I had to know and I asked, what are the ingredients? I about hit the floor when she told me. I had a mix of emotions, part of me was sooo excited about how easy and accessible the pie really is. But there was a little part of me that was hoping for something more complex to explain how great this pie is. With out further waiting, see below, I'm showing you the actual recipe card. Can you believe it? Its so simple. Since learning this I have seen similar recipes but still not this one exactly unless I missed it.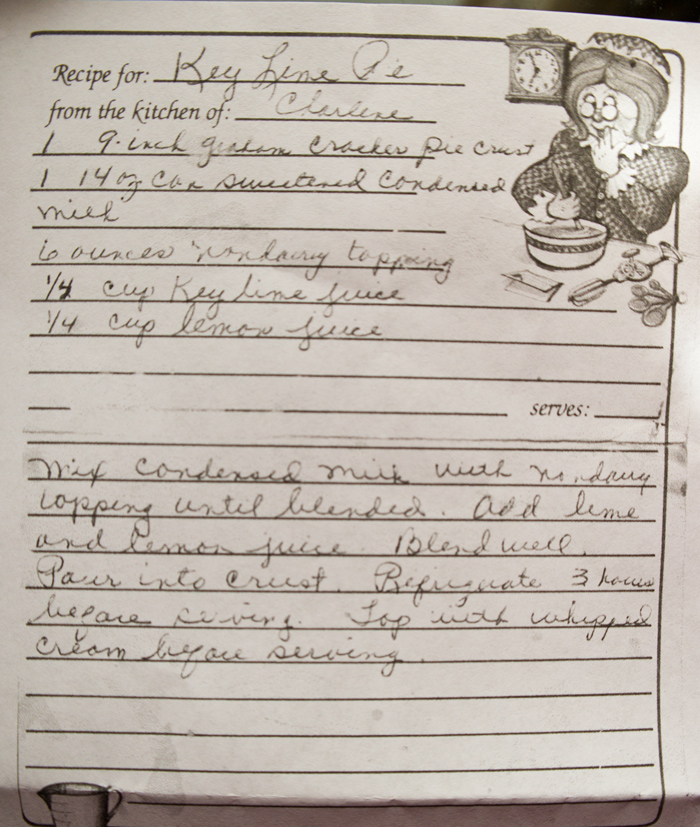 I had a crazy craving for this key lime pie but wanted to add a twist. I introduce to you…Key Lime Pie Shooters. I bought the pre made crust, all the ingredients you see listed with the addition of macadamia nuts and limes for zest. I could not find fresh little key limes at any of my grocery stores this time so I used Nellie and Joe's Key Lime Juice, its excellent! Now you'll see the recipe card states 6 oz non dairy topping, I used 8 oz for a little extra fluff. I followed the instructions, mixing the sweetened condensed milk with the nondairy topping, I used Cool Whip. Added in the two juices and mixed until completely blended, I didn't even get out the stand mixer for this, how nice it that! This is where you would pour the filling into the pre made crust. I instead broke the crust up and crumbled it. I put about a 1/2 inch at the bottom of each 2″ high cups, I piped the filling to about a 1/4 inch from the top and chilled for three hours. I then added piped whipped cream, macadamia nut crumbles and lime zest to top them off. In total I got 40 cups. The dessert cups came from Gordon Food Service and are 2 inches high and about 1.5 inches in diameter. Any food supply or catering supply should have this or something similar, don't forget the mini spoons to go with them.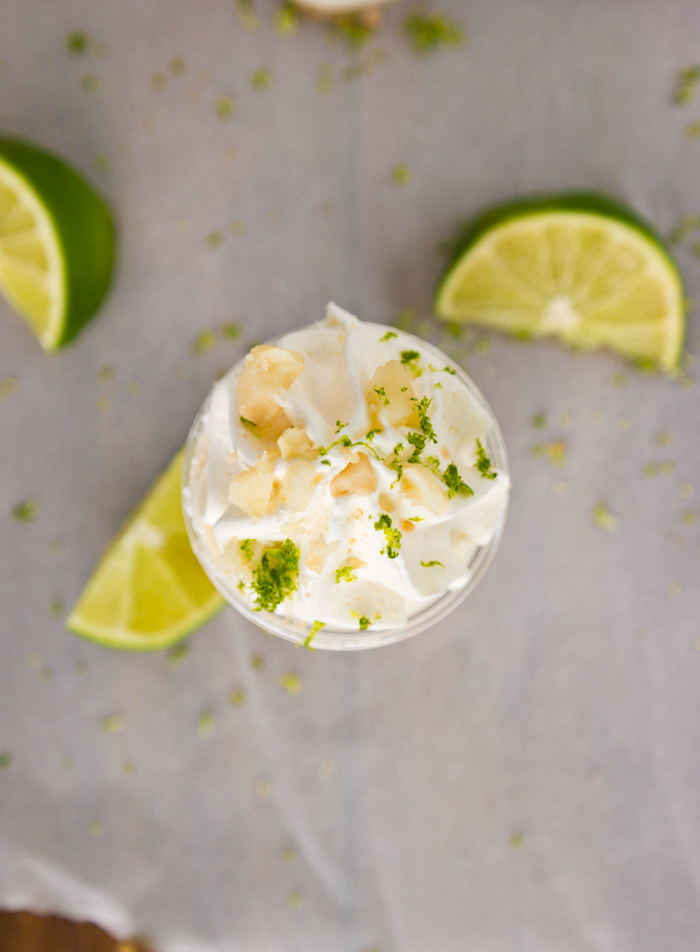 Everything you love in a key lime pie made from easy to find everyday ingredients and packaged into sweet little cups for easy eating. I dare you to eat just one…
Enjoy!
Stacey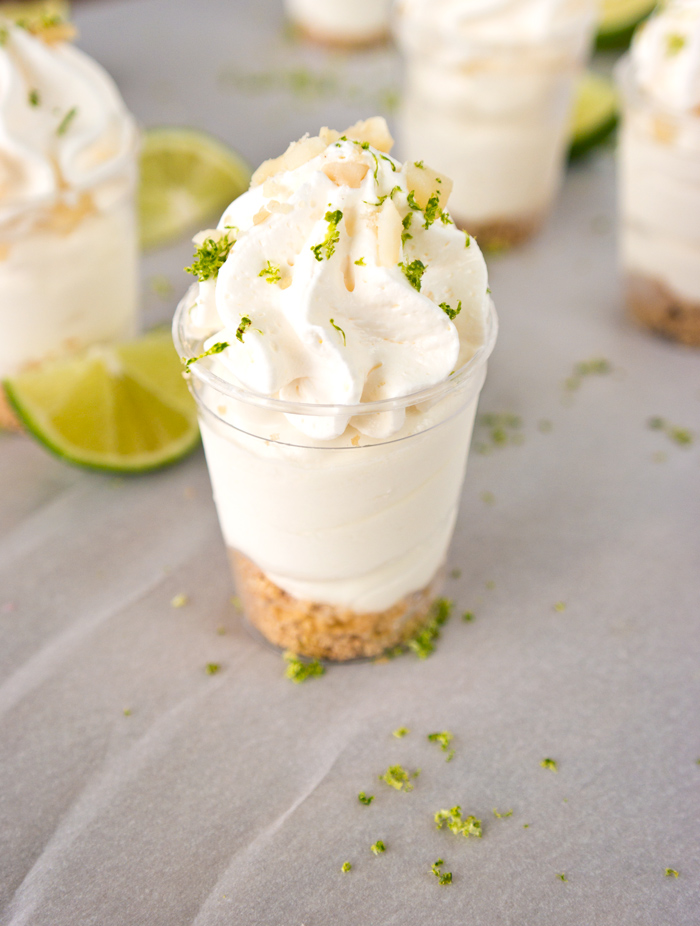 Key Lime Pie Shooters
Key Lime Pie Shooters. This sweet, thick, rich and creamy dessert will also have you puckering. Did I mention its "No Bake"?
Ingredients
1- 9

inch

graham cracker crust

1- 14

oz

can sweetened condensed milk

8

oz

non dairy whipped topping

such as Cool Whip

1/4

cup

key lime juice

if fresh is not available I used Nellie and Joes Key Lime Juice

1/4

cup

lemon juice

1/2

cup

crushed macadamia nuts for garnish

optional

lime zest from 4 limes for garnish

optional

Additional non dairy whipped topping for garish
Instructions
This will take about 30 minutes to complete plus 3 hour chill time represented under "cook time".

Arrange dessert cups on a tray(s).

Crumble crust and set aside.

Mix sweetened condensed milk, non dairy whipped topping together.

Add in key lime and lemon juice, mix until fully blended.

Add the crumbled pie crust into each dessert cup, about a 1/2 inch high.

Put filling into piping bag and pipe filling into dessert cups to about a 1/4 inch from top.

Chill for 3 hours.

Pipe additional whipped topping on top of filling, sprinkle with macadamia nuts and lime zest.

Refrigerate until ready to serve.