Fresh Coconut Dream Cake Pops! You heard it right, Fresh Coconut Dream Cake Pops! Remember that awesome Fresh Coconut Dream Cake I posted a few weeks ago. I didn't think any coconut dessert could be its equal, that is until I made these delicious cake pops out of the same cake!
[social_share/]Yum

Warning, this is more of a technique post than a recipe post. I was not planning on posting these cake pops because I had already posted the cake itself, the same cake used for these. These cake pops were a means to use up some fresh cake so I didn't have to freeze it. I like cake as fresh as possible. That got me thinking, could I turn the Fresh Coconut Dream Cake into Fresh Coconut Dream Cake Pops? Yup, I can and did. When I tasted these pops I just had to share, who knows maybe someone else has some of the Fresh Coconut Dream Cake left and needs a way to use it up or any other type of cake for that matter.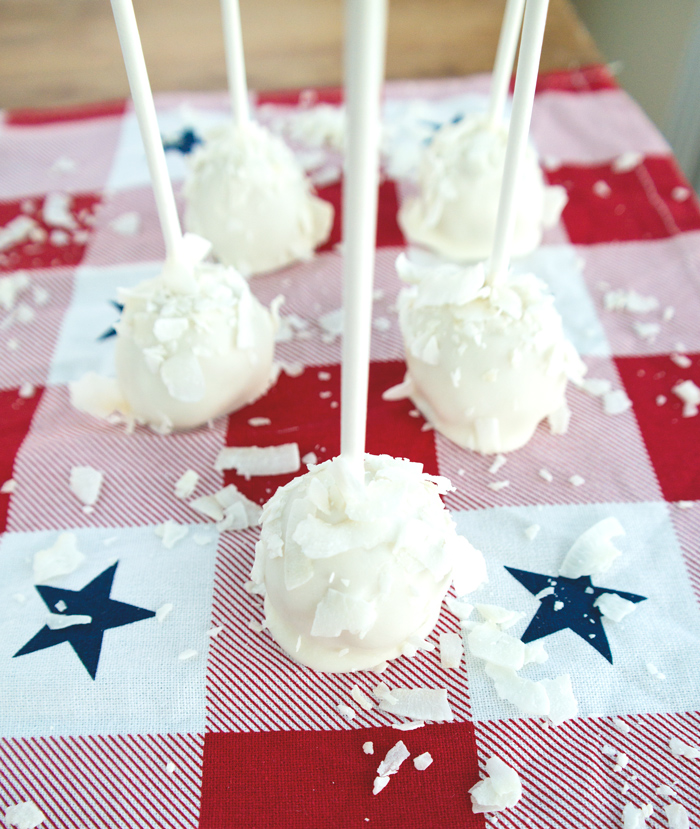 [social_share/]Yum

Here goes…I took a half of a 7″ prepared Fresh Coconut Dream Cake and cut it into 6 slices. I started by putting two slices in a large mixing bowl and mix with a large spoon, using the back of the spoon to mash the cake so the cake and filling/frosting were getting well mixed. Once all crumbled and mashed up I added the second piece, mix, third piece, mix, fourth piece, mix. I stop here, check the consistency, a bit too mushy so I cut frosting off last two slices of cake to firm up the mixture then proceed. The consistency was crumbly/mushy and it held a shape which is what was needed. I took a standard cookie scoop and made about 25 cake ball mounds on the cookie sheet. If you don't have a scoop, using a spoon, spoon out mix in 1.5 inch balls. I then rolled each mound between my palms to form a ball. Then put the tray in the refrigerator for about two hours. They need to be cold and firm.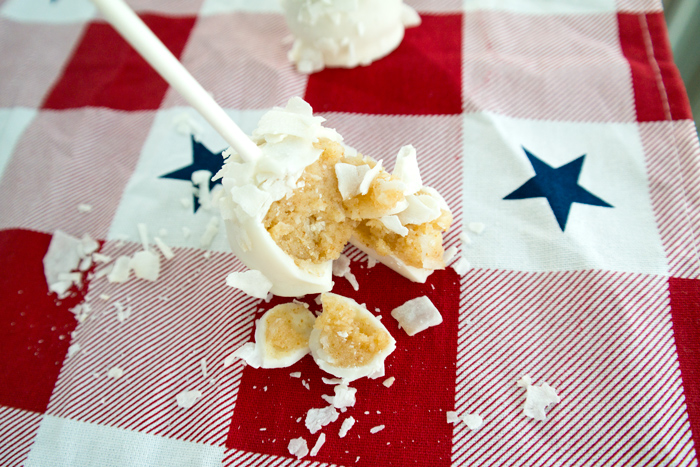 [social_share/]Yum

After two hours it was time to melt the candy coating. You can use chocolate but I chose candy coating because it is more consistent. I melt per manufacturers instructions and pour into deep bowl. Ideally you should be able to dunk the cake pop once to completely coat it. Having to dunk twice will run the risk of the cake warming up and falling off the stick. I get out my sticks. I dip the end of one in a little candy coating and insert into first cake ball no more than half way. Picking it up by the stick I dunk it into coating, as I pull it out there is extra coating dripping off, I let it drip for a moment and twirl it then lay it on the prepared cookie sheet. I used dried coconut flakes for garnish, so I dropped the flakes on while the coating is wet so they adhere. I repeat the process with the remaining cake balls. Note: if you notice the cake balls getting soft put them back into the refrigerator for 20 minutes or so to firm them back up. Once all done let cake pops set until completely dry. Keep in cool place until ready to serve.
[social_share/]Yum

These Fresh Coconut Dream Cake Pops are so delicious. They are a bite of coconut heaven. Creamy coconut filling, moist coconut syrup soaked cake, tangy cream cheese frosting drenched in coconut flakes mixed together into delicious cake pops! Added bonus, they make a nice presentation and are easy to eat. Did I mention how delicious they are?
Enjoy!
Stacey
Note: 1.)All of the above was done using half of a 7″ fully assembled/prepared cake. 2.)Using half of a prepared cake yielded 25 cake pops. 3.)Spoon method recommended. But if using a stand mixer you will need less frosting as the stand mixer will really mash the ingredients together more than hand mixing. Adjust frosting quantity accordingly. 4.) If you don't have "left over" Fresh Coconut Dream Cake already prepared for this and plan to make it specifically for these cake pops proceed cautiously. When making this whole cake prepared I always had some frosting, filling and simple syrup left over. So don't just add all your separate pieces into a mixing bowl or it will be a soppy mess. I would recommend fully assembling this cake so the right quantities are used. Recipe here: Fresh Coconut Dream Cake.