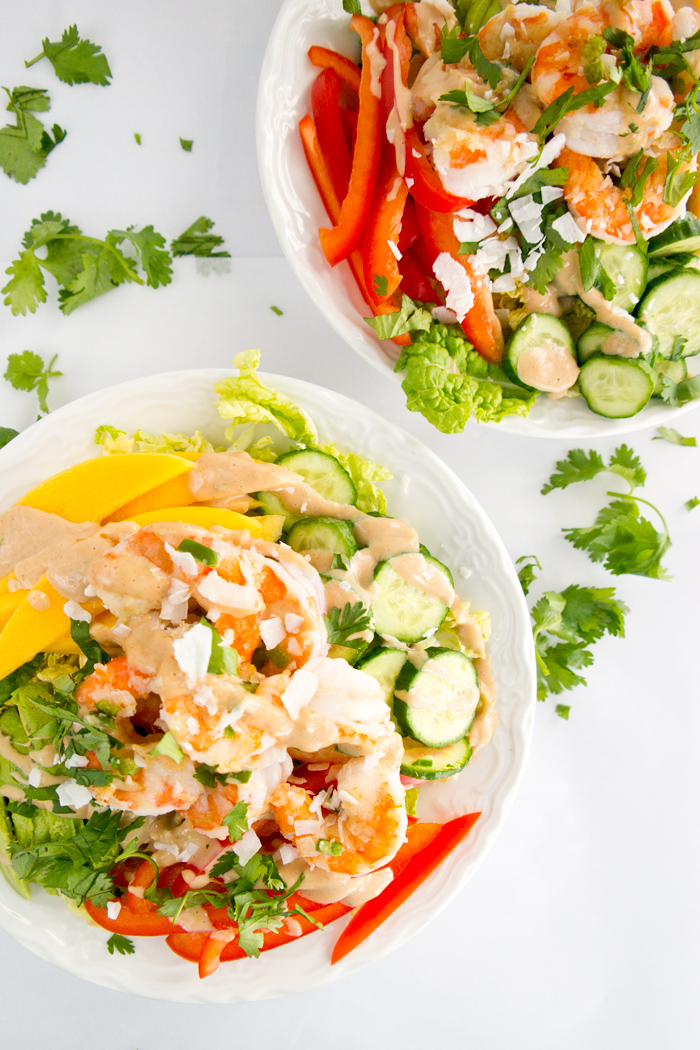 Ginger Shrimp Mango Salad With Satay Dressing. A wonderful mix of vibrant Thai flavors make this salad super flavorful, satisfying and filling.
[social_share/]Yum

Looking at these photos I am going to call this "Fresh and Fabulous Friday. Another Friday is upon us and I can hardly contain my excitement. I'm already dreaming of the moment I can log off from work and officially start my weekend! Maybe it's just me but on Friday's I don't mind when the alarm goes off, I want to start my work day so I can get it over with. I don't hate my job but that's just how it is on Friday. I'll be honest though, if I won the lottery I would quit and blog full time. My typical Friday work routine is to go through all my emails, make a "to do" list, then go through my requests, add more to my "to do" list. Then feverishly work my to do list in the hopes I don't get any more work, phone calls or IM's, lol. When the time comes I excitedly log off, my fingers trip over themselves as I close all my apps hoping no one grabs me one more time before it's too late. I hold my breath, when the laptop screen goes black I exhale as if I've crossed the finish line, lol, I made it. Nothing personal to my co-workers, I love ya all, I know you feel the same way, its all good.
Back to the purpose of this post, Ginger Shrimp Mango Salad With Satay Dressing. It's no secret I'm a huge fan of Thai cuisine. Sadly the closest Thai restaurant is 45 minutes from me. So I am left to my own devices if I get a craving for it and can't make the drive. Luckily our small town grocery store has some of the basics and I can make it work.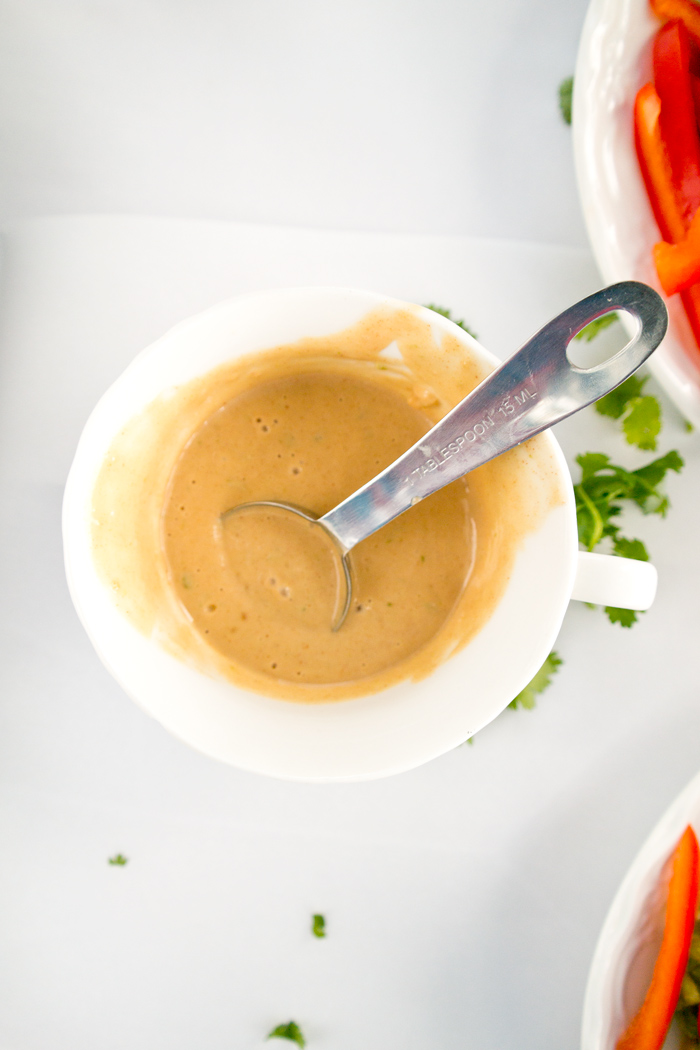 [social_share/]Yum

One of my favorite Thai sauces is the peanut sauce. It's a rich sauce used in many Thai dishes including chicken satay, a very popular appetizer. Peanut is one those flavors for me that makes me fell full longer, not sure if its because of the thick nature, the robust flavor or all of the above but I never eat a peanut dish and feel unsatisfied. This brings me to the Satay Dressing. I made a salad dressing very similar to a satay sauce. I started with peanut butter, coconut milk, siracha for some heat, honey for a bit of sweet and lime for a bit of balance. For additional flavor I added sesame oil. Though peanut is the main flavor to this dressing the other flavors are not ignored and lend an excellent balance to each other especially paired with the mango and shrimp.
I chose shrimp because it's my favorite meat for a salad. I could have left them plain however I love to layer flavors so I added ginger, jalapeño, and a bit of garlic to the sautee'. Oh how I do love ginger, talk about a fresh, clean and vibrant flavor.
I think the mango deserves its own separate line here. The mango is a star in this salad, I cannot imagine this salad with out it, with out it there would be something missing. The sweetness brought works divinely with the peanuts and the heat. It's also an excellent compliment to the shrimp. It's like a sweet, fresh kick.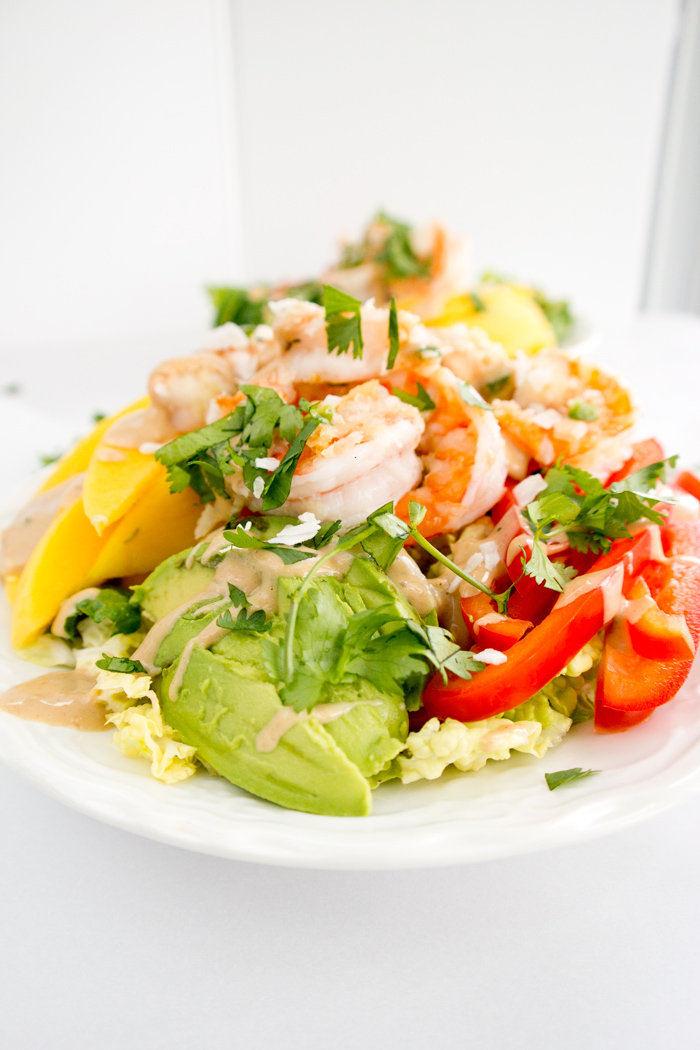 [social_share/]Yum

The veggies provide a fresh and crispy base, the avocado adds a cool and creamy texture. The cilantro brings a bright light to the table, I could eat cilantro all by itself. All these flavors combined lend to a wonderful crisp, fresh salad that is very reminiscent of the many Thai flavors I love. It's not just a salad its a full flavored, crispy, crunchy, sweet, gingery, spicy, peanutty meal with hints of coconut, lime and heat, kind of a meal in a salad. Does that make sense?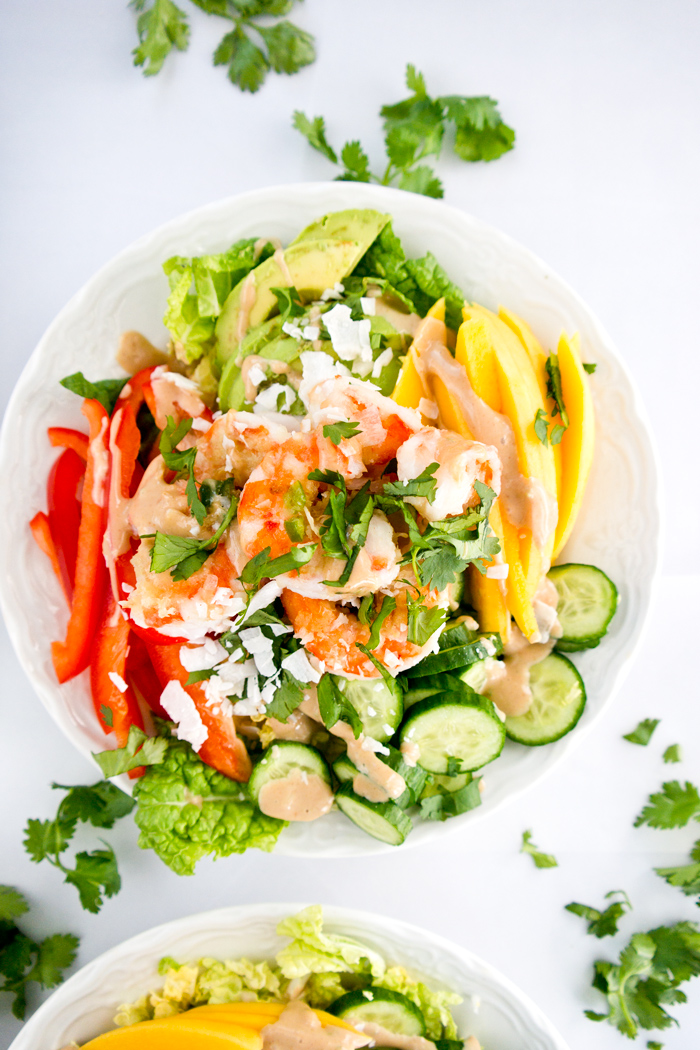 [social_share/]Yum

Well I'd love to keep talking about how much I love this salad but my "to do" list is calling and I fear growing. Happy Friday and have a wonderful and safe weekend!! Oh and don't forget to try this Ginger Shrimp Mango Salad With Satay Dressing, it's amazing!
Enjoy,
Stacey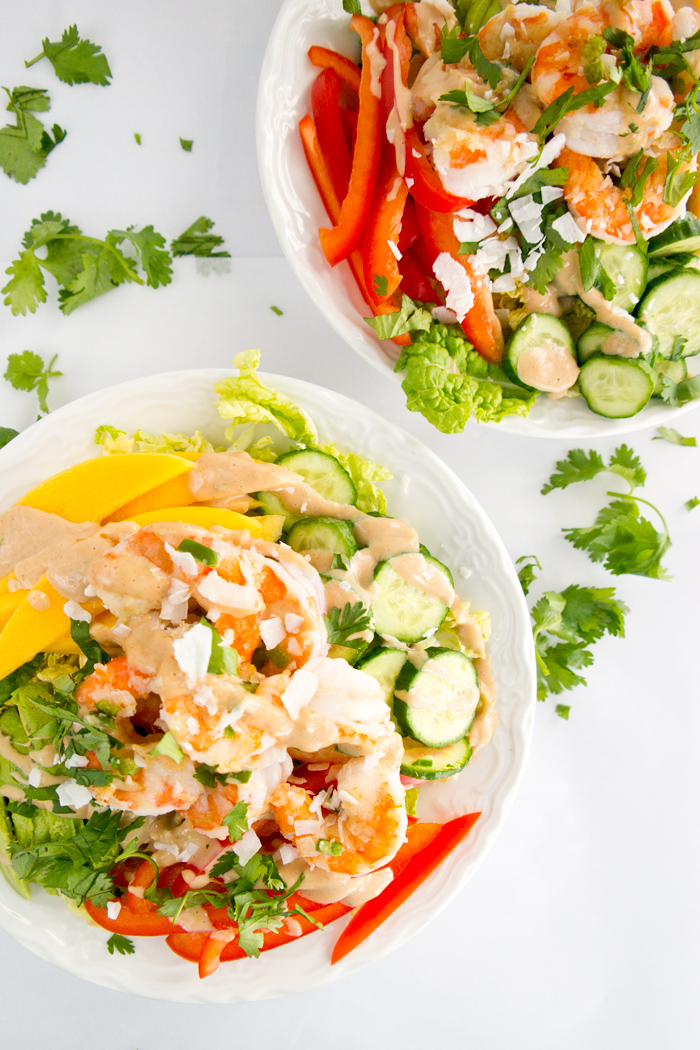 Ginger Shrimp Mango Salad With Satay Dressing
Ginger Shrimp Mango Salad With Satay Dressing. A wonderful mix of vibrant Thai flavors make this salad super flavorful, satisfying and filling.
Ingredients
SALAD:

4

cups

napa cabbage shredded

1

red pepper sliced

1/2

cup

sliced cucumber

1

avocado sliced

1

ripe mango sliced

1/4

cup

rough chopped cilantro

2

Tbsp

dried unsweetened coconut

garnish

SHRIMP:

1 1/2

Tbsp

coconut oil

1/2

lb

shrimp

peeled, cleaned and deveined.

2

Tbsp

grated ginger

1

Tbsp

crushed garlic

or very finely minced

1/2

jalapeño minced

DRESSING:

dressing is thick and creamy and should pour off spoon

6

Tbsp

creamy peanut butter

4

Tbsp

coconut milk

from a can

1-2

Tbsp

siracha sauce

this will be to taste depending on how spicy you like it

2

Tbsp

coconut oil

2

Tbsp

water

optional, for desired thickness

1

Tbsp

honey

2

tsp

sesame oil

pinch

of salt

pinch

of pepper

juice of one lime
Instructions
DRESSING:

Combine peanut butter, coconut milk, coconut oil, lime juice, sesame oil, salt, pepper and honey in a food processor or blender. Blend/process until well mixed.

Add in siracha, (quantity to taste, I used 2 Tbsp because I like spicy).

If dressing is too thick, slowly stream in water as you blend/process.

Set aside.

SHRIMP:

Heat sauté/fry pan on medium heat. Add coconut oil.

When fully heated add garlic, ginger and jalapeño, sauté for 30 seconds to flavor the oil.

Add the shrimp, cook for about 3 minutes each side or until done, shrimp should be opaque.

Note* ginger mixture might stick to shrimp, this is perfectly fine.

Set aside.

SALAD:

Divide and arrange in two bowls all the vegetables.

Arrange shrimp on top.

Drizzle dressing over each salad.

Sprinkle with cilantro.

Sprinkle with dried coconut (optional)
Notes
Spring onions would be a wonderful addition to this salad. (I'm allergic to onions so you won't see them in my recipes).
Refrigerate any left over dressing.