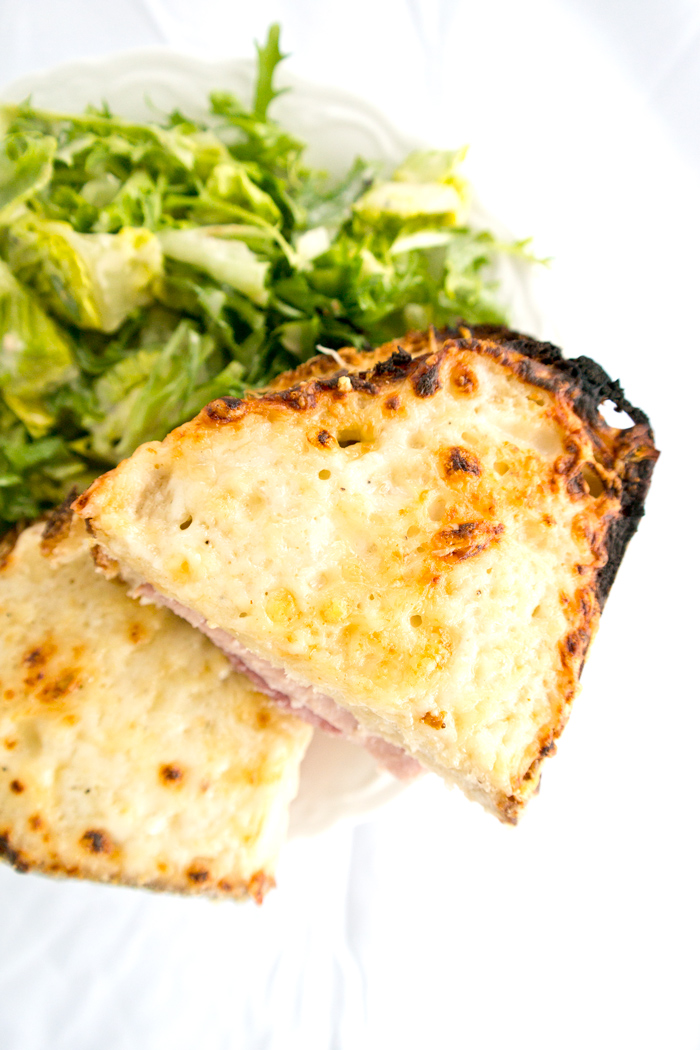 Croque Monsieur On Sour Dough. The ultimate french delicacy of crunchy, bubbly, cheesy, creamy and smoky flavors in one addicting sandwich.
[social_share/]Yum

So here's the back story for this sandwich. I had seen Croque Monsieur in magazines and thought, hmmm, french grilled cheese, what's the big deal? Don't get me wrong, I LOVE a good grilled cheese sandwich but the way the culinary world fawned over the Croque Monsieur I just couldn't figure it out, it's just cheese on top right? Wrong, it's soooooo much more.
You see the above thoughts were before I had really decided to investigate this sandwich. After seeing the movie "It's Complicated" a few weekends ago, there's a scene where Alec Baldwin's character devours this sandwich excitedly, I had to really know the details of this sandwich. As I started researching it I was starting to imagine the flavors and could begin to see that the french may be onto something, like they need me to tell them that, lol. But the only way to really know is to do a taste test, a challenge I am always up for.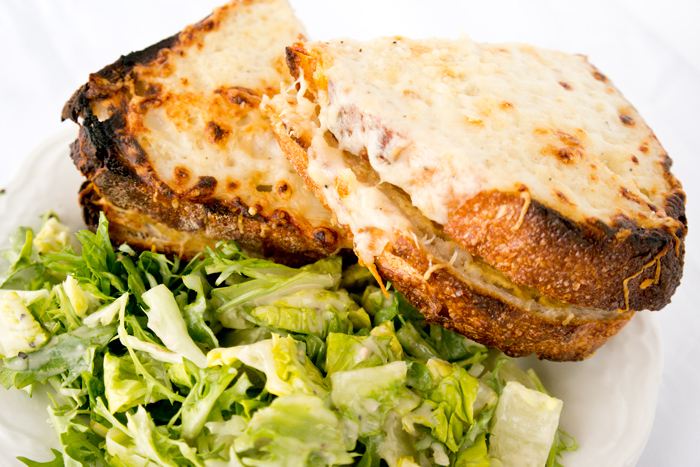 [social_share/]Yum

The real "knock this out of the ball park" secret to this sandwich is the Bechamel sauce. This sauce takes this sandwich from grilled cheese and turns it into french delicacy! Do not attempt to make this sandwich without it or there's no point, trust me, I wouldn't lie. Then we have our two cheeses, Gruyere and Parmesan. Then sophisticated Grey Poupon mustard. We have smoky ham and for the final key to the puzzle, crusty sour dough bread. The typical recipe calls for white crusty bread but sour dough is my favorite and I was not disappointed in my choice. You could use standard sandwich bread but for the full experience please get crusty bread, they way the cheese chars on it as it bakes even crispier is part of the whole experience!
I made the sauce, shredded my cheeses, toasted my bread in the oven. We're half way there. I spread one half of my bread slices with dijon mustard. I stack on the ham and sprinkle with Gruyere (Parmesan is in the sauce). Next I take the remaining slices of bread and top the sandwiches. I take the Bechamel sauce and generously smear on top of the sandwiches and sprinkle more Gruyere on top. Time to bake in the oven and then broil. These are some very pronounced cheeses, you will smell them cooking but its all good. Finally the timer goes off. I pull out the tray to reveal bubbly, cheesy, creamy, crusty, crunchy, smoky beautiful Croque Monsieurs.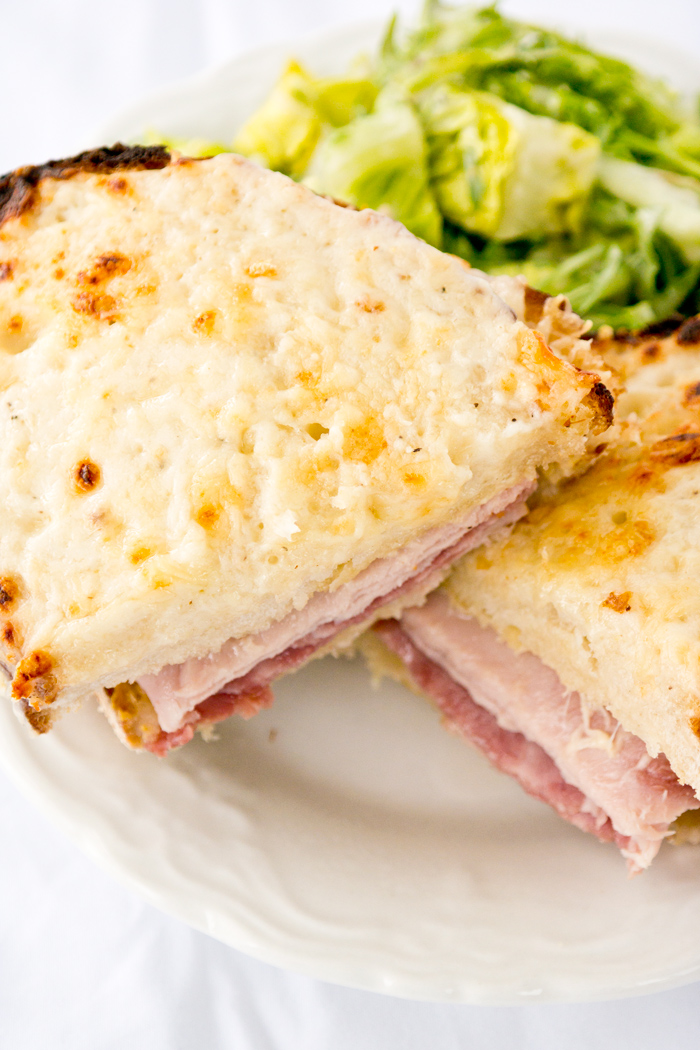 [social_share/]Yum

I cut my sandwich in half. I take the first bite, I am overwhelmed by the fabulous flavor combinations. The mildly pungent cheeses are balanced by this creamy Bechamel sauce, rounding the corner is the smoky ham and small bite from the dijon mustard. Each flavor plays together like a perfectly rehearsed orchestra, everything is in tune and music to my palette. This is NOT grilled cheese as I had originally thought. This is Croque Monsieur, which in french mean toasted cheese and ham sandwich, but lets not ruin this, it sounds so much more elegant in french. It has earned its fancy, shmancy title. I will proudly call it by its true name.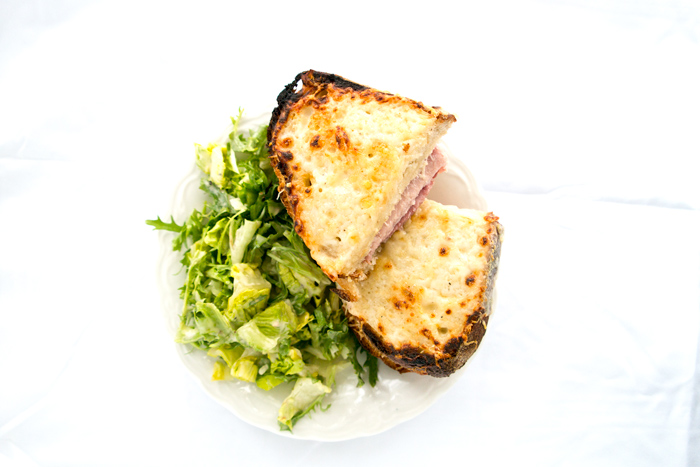 [social_share/]Yum

Make this sandwich once and you will never want a standard grilled cheese ever again.
Enjoy!
Stacey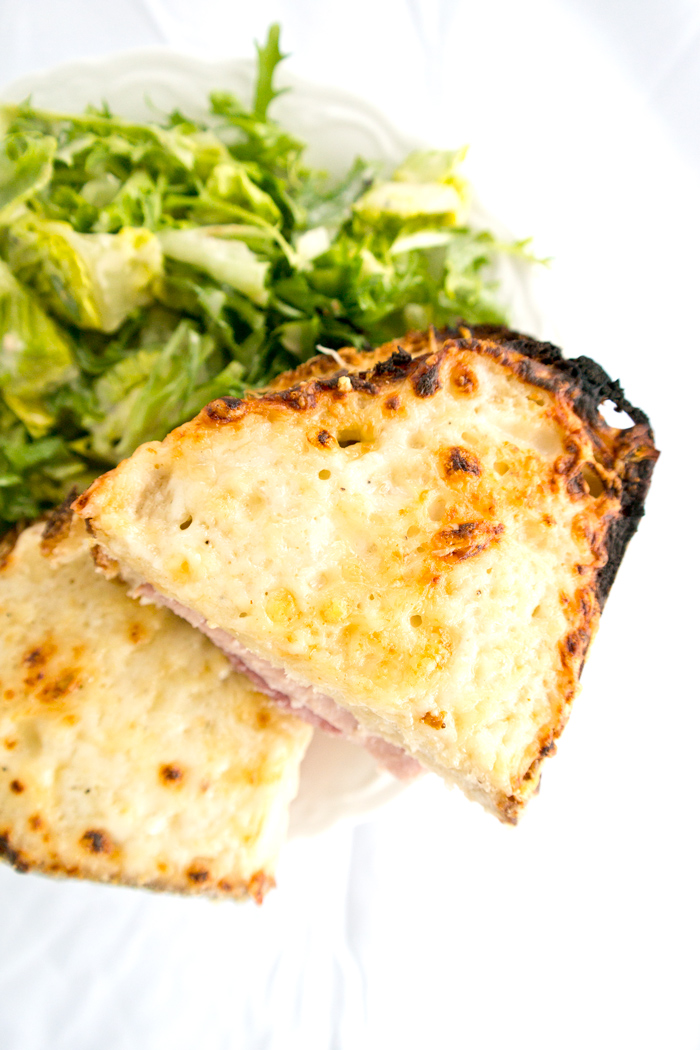 Croque Monsieur On Sour Dough
Croque Monsieur On Sour Dough. The ultimate french delicacy of crunchy, bubbly, cheesy, creamy and smoky flavors in one addicting sandwich.
Ingredients
8

slices

sour dough bread

8

slices

smoked ham

1/4

cup

parmesan cheese grated

3/4

cup

Gruyere grated

1

cup

hot milk

1 1/2

Tbsp

flour

1

Tbsp

butter

dijon mustard

pinch

salt

pinch

pepper
Instructions
Preheat oven to 400 degrees F.

Line baking tray with foil

In a small sauce pan melt the butter, then add flour all at once. Stir together for about 2 minutes.

Gently pour in the hot milk and whisk until thickened. Add all the parmesan and 1/4 cup Gruyere.

Continue to whisk until well blended, add a pinch of salt and pepper. Whisk again. Set aside.

Lay 8 slices of bread on baking tray.

Toast in the oven for 5 minutes, flip over and toast for another 2 minutes.

On half of the bread slices spread on dijon mustard.

Add two pieces of ham and sprinkle with Gruyere cheese.

Top each sandwich with remaining slices of bread and on top generously spread on Bechemal sauce top side up.

Sprinkle with Gruyere.

Bake for 5 minutes and then turn on the broiler for 4-5 minutes until cheese is melted and bubbly.