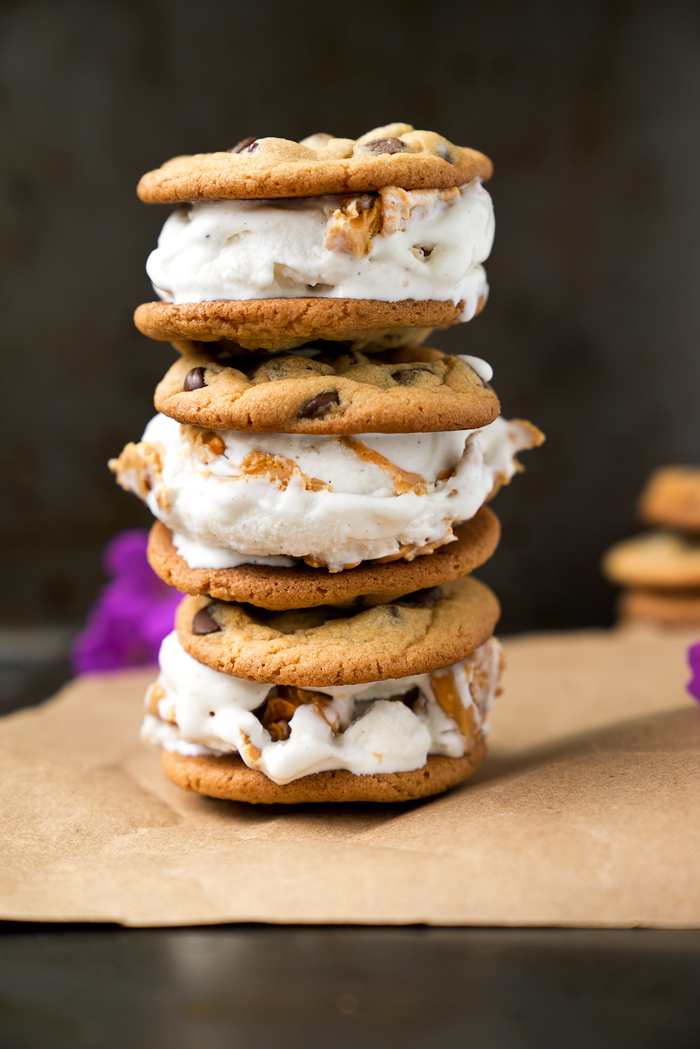 Peanut Butter Ripple Chocolate Chip Cookie Ice Cream Sandwiches. Smooth and creamy vanilla bean peanut butter ripple ice cream sandwiched between two of the best crispy edged, chewy centered chocolate chip cookies!!
[social_share/]Yum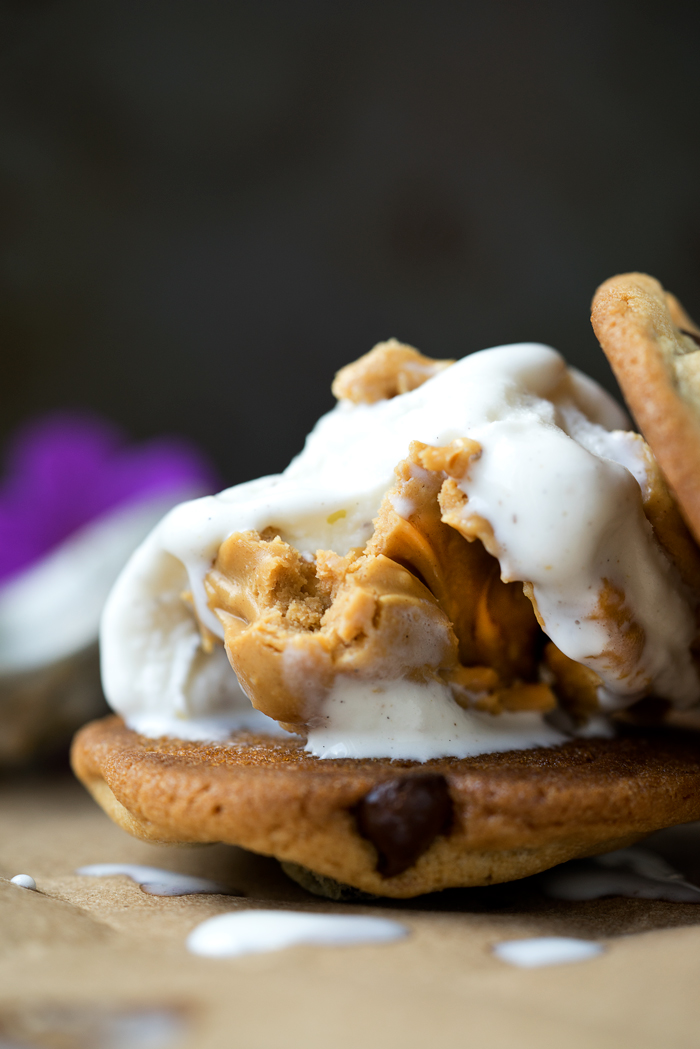 Ok, so the title, Peanut Butter Ripple Chocolate Chip Cookie Ice Cream Sandwiches, is a bit long. But have you ever had something so awesome that you can't conceive leaving out one bit of it? You want to sing to the world all the components that make your latest favored recipe so damn good!! Of course "Damn Good" seems to sum things up here just fine but you know I can't stop there.
Chocolate chip cookies are just the best. Not sure if it's the crispy edges, the chewy center or the fact that I grew up on them but I can never get enough and can never turn one down. This chocolate chip cookie recipe is my favorite. I worked at it until I got the right texture and flavor. I like a flatter profiled cookie for an ice cream sandwich so it sits sort of flat, with the exception of the chocolate chip lumps and bumps of course. This isn't a rule by any means just a strange quirk of mine.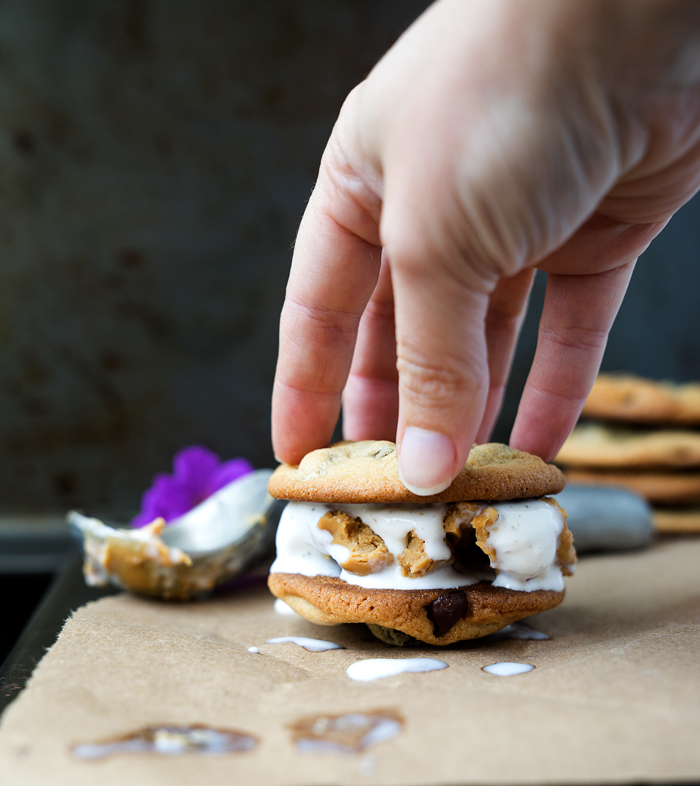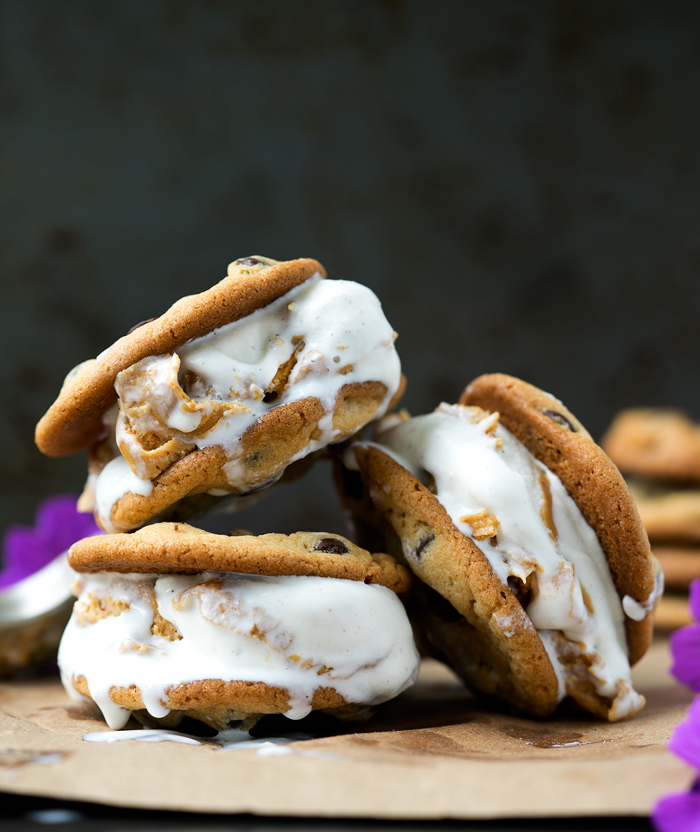 I think the marriage of vanilla and peanut butter is under rated and this Peanut Butter Ripple Ice Cream proves that. The ice cream base is vanilla bean, you can never ever go wrong with vanilla bean anything. With in the layers of ice cream are drizzles of sweet, creamy peanut butter. Both of these flavors together enhance one another and make for a truly addicting ice cream flavor! Note: the pb ripple doesn't actually get added to the ice cream until after it's frozen. So you can use your favorite vanilla bean ice cream or if you are looking for a good recipe try this one.
If asked what my favorite ice cream is my answer would be, "one that is starting to melt". I cannot really think of an ice cream flavor I don't like but when we discuss ice cream and love I immediately think, melty. So that's where I began when constructing these Peanut Butter Ripple Chocolate Chip Cookie Ice Cream Sandwiches. I left the ice cream out till it began to get soft and melty then gently scooped and sandwiched it between two of the best chocolate chip cookies.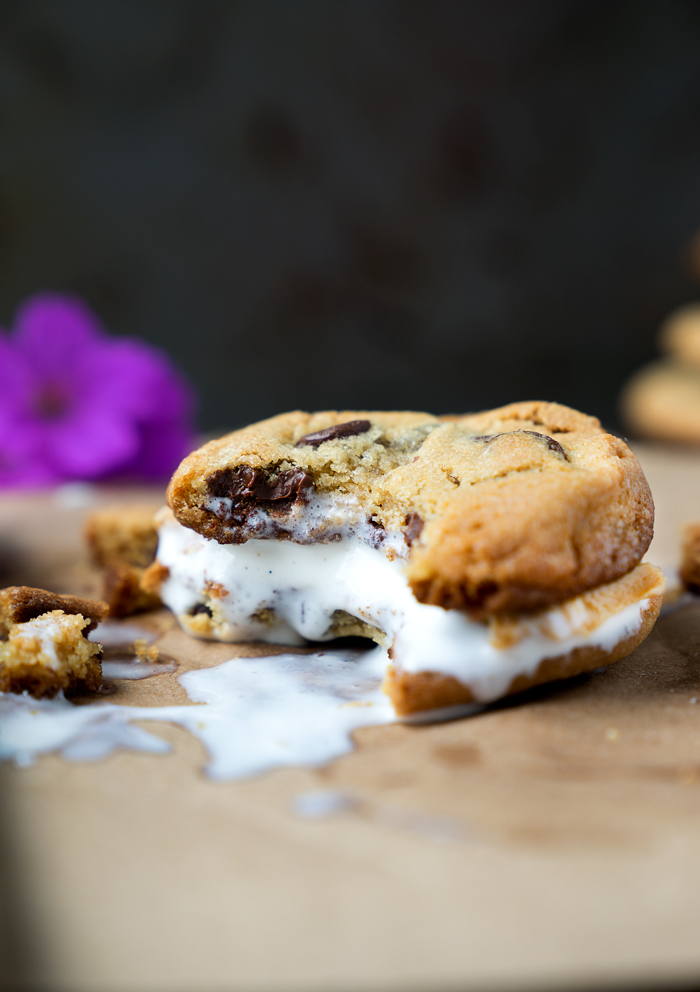 The only clean way to eat an ice cream sandwich is straight out of the freezer. But whats the fun in that? I suggest doing just as I describe above, get the ice cream softened, sandwich it between two cookies and go to town. Just have some napkins handy. Some of the best desserts are the messy ones.
Enjoy!
Stacey
FORGOT TO PIN IT? Here's your chance. Thanks.

Peanut Butter Ripple Chocolate Chip Cookie Ice Cream Sandwiches
Peanut Butter Ripple Chocolate Chip Cookie Ice Cream Sandwiches.
Author:
Stacey Thimmes - The Sugar Coated Cottage
Ingredients
COOKIES:
½ cup + 3 Tbsp all purpose flour
¼ tsp baking soda
¼ tsp baking powder
pinch of salt
¼ cup butter at room temp
¼ cup + 2 Tbsp brown sugar
2 Tbsp granulated sugar
2 Tbsp egg (beat one large egg and measure out 2 Tbsp)
1 tsp vanilla extract
½ cup chocolate chips
ICE CREAM:
1.5 quarts vanilla bean ice cream
½ cup creamy peanut butter
¼ cup powdered sugar sifted
Instructions
COOKIES:
Pre-heat oven to 350 degrees F.
Line baking sheet with parchment, set aside.
Add all dry ingredients to medium bowl, stir to combine.
In the bowl of a mixer fitted with paddle attachment add the butter, cream for about 30 seconds or until light and fluffy.
Add in the sugars and mix to combine.
Add in the egg and vanilla, mix to combine.
With mixer on low add in the flour mixture in small batches.
With mixer on medium speed mix until well combined.
Fold in the chocolate chips.
Using standard cookie scoop, scoop the cookies onto prepared cookie sheet.
Bake for 11 minutes or until light golden brown.
Let cool completely.
ICE CREAM:
Let ice cream set out until softened (NOT melted).
In the mean time, heat the peanut butter in microwave for about 30 seconds to soften it.
Stir or whisk in the powdered sugar until completely combined.
Scoop out, horizontally, half the ice cream into a bowl, set aside.
With the ice cream that is in the container, drizzle half the peanut butter mixture over it.
Pour the remaining ice cream over the first layer and spread out evenly.
Drizzle the second half of the peanut butter mixture over the remaining ice cream.
Freeze until fully set.
ASSEMBLY:
Match up cookies as best you can based on similar sizes.
Flip over one of the cookies in the pair.
Add a scoop of ice cream
Top with second cookie and enjoy!
Notes
When ready to scoop out ice cream scoop downward so you get a good mixture of peanut butter and ice cream.
Cookie recipe makes about 12 cookies, this recipe can easily be doubled if needed.
Sandwiches can be made ahead of time, take out of freezer 5-10 minutes before serving.