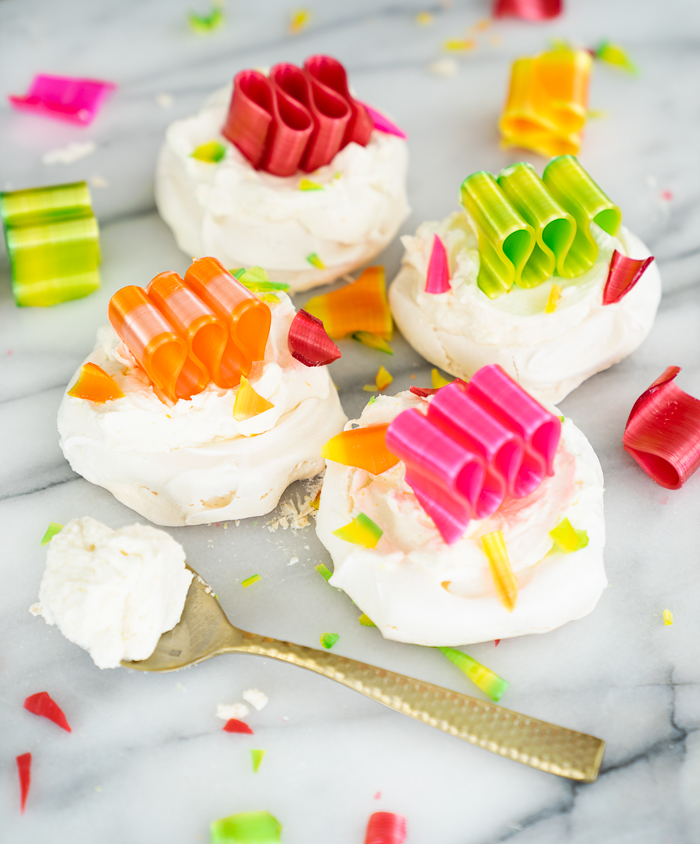 Orange Scented Mini Pavlovas. Crispy, chewy meringues with a dollop of orange scented whipped cream!
Everybody getting their last minute New Years Eve plans in order? We're going to have a quiet evening at home and Im happy about that. We'll have some appetizers, champagne and some of these Orange Scented Mini Pavlovas.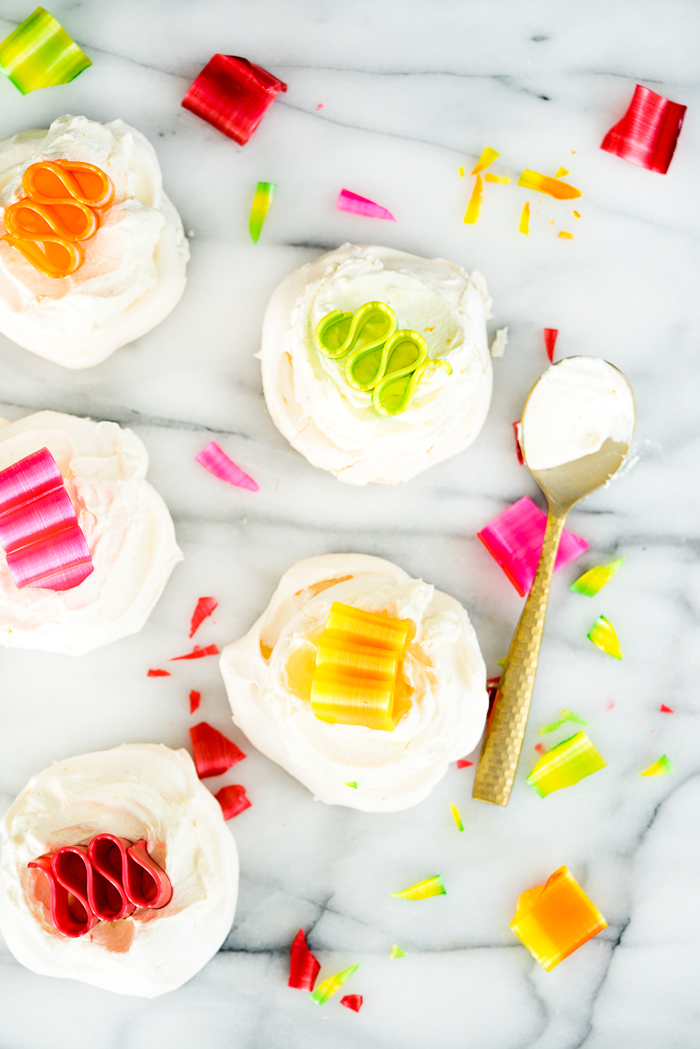 If you couldn't tell I have an obsession with ribbon candy!! I think it is one of the prettiest pieces of sugar art, it resembles glass and those colors are so intense and beautiful. So I did what any (not so normal) person would do, stacked it up, arranged it by color and photographed it lol. I also thought it would make a nice and colorful topping to these Orange Scented Mini Pavlovas. This is the time of the year where we all need to add some bright colors to our day.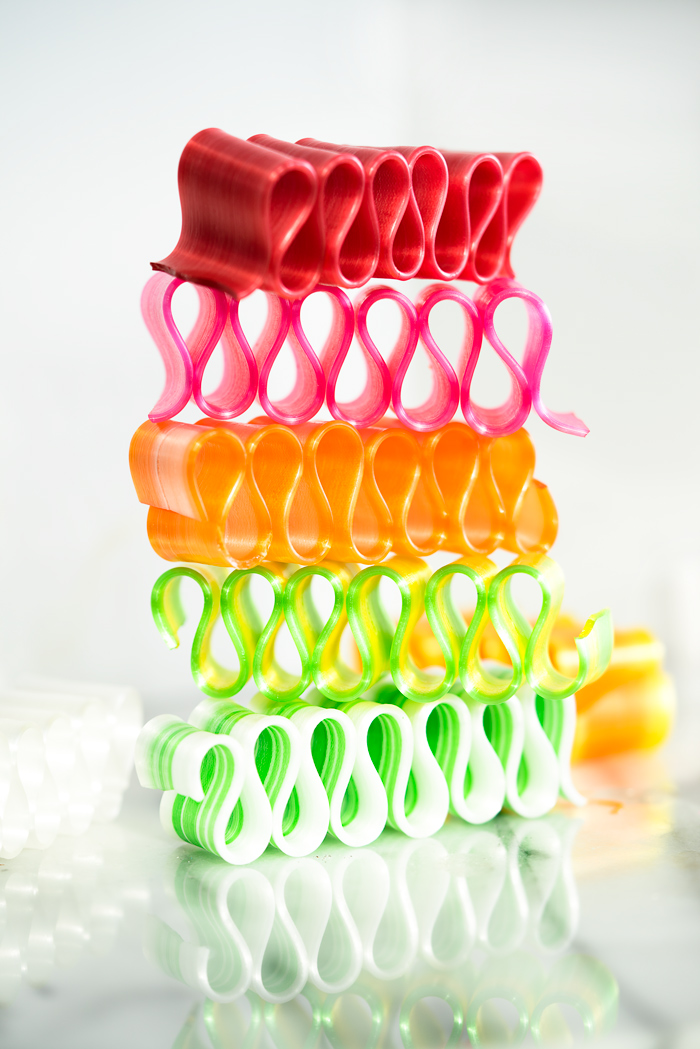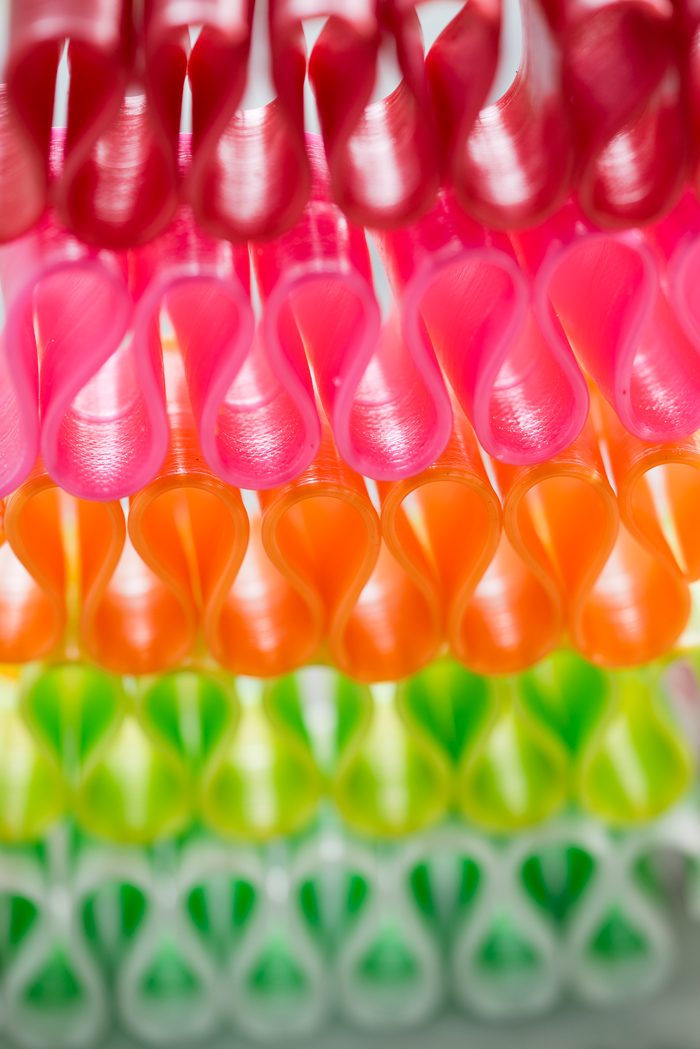 Among one of my other favorites are pavlovas. I know we see them a lot in the spring but after all the heavy food from the holiday I was ready for something light and airy. These meringues are perfectly crispy on the outside yet have a slight chewiness on the inside. The whipped cream adds a light, cool creaminess and the orange is just the burst of fresh flavor we all need.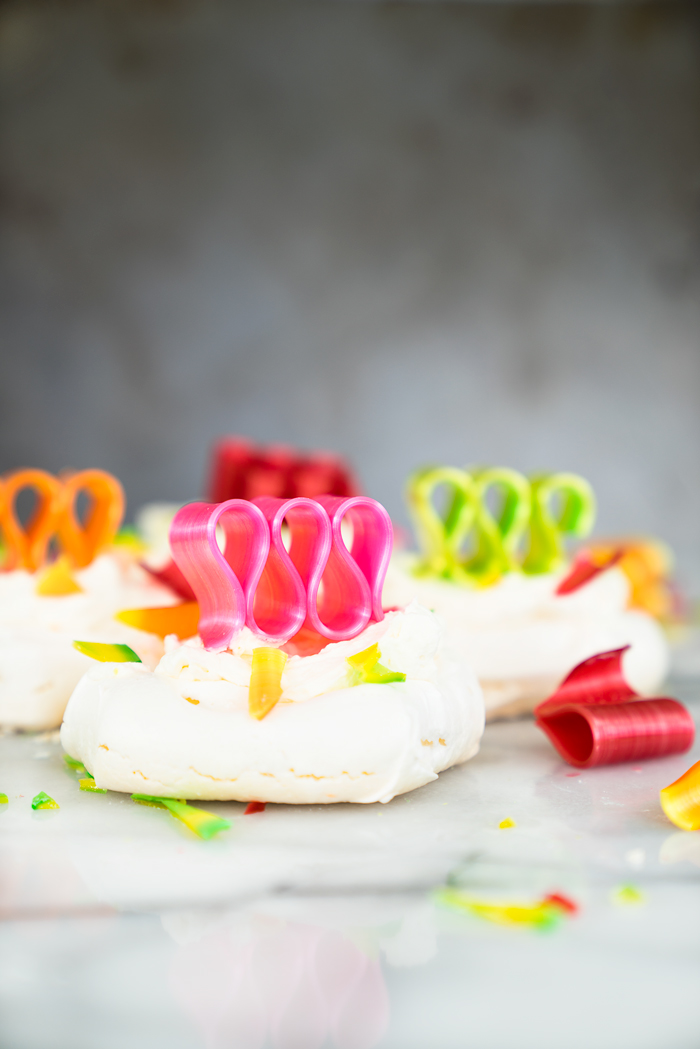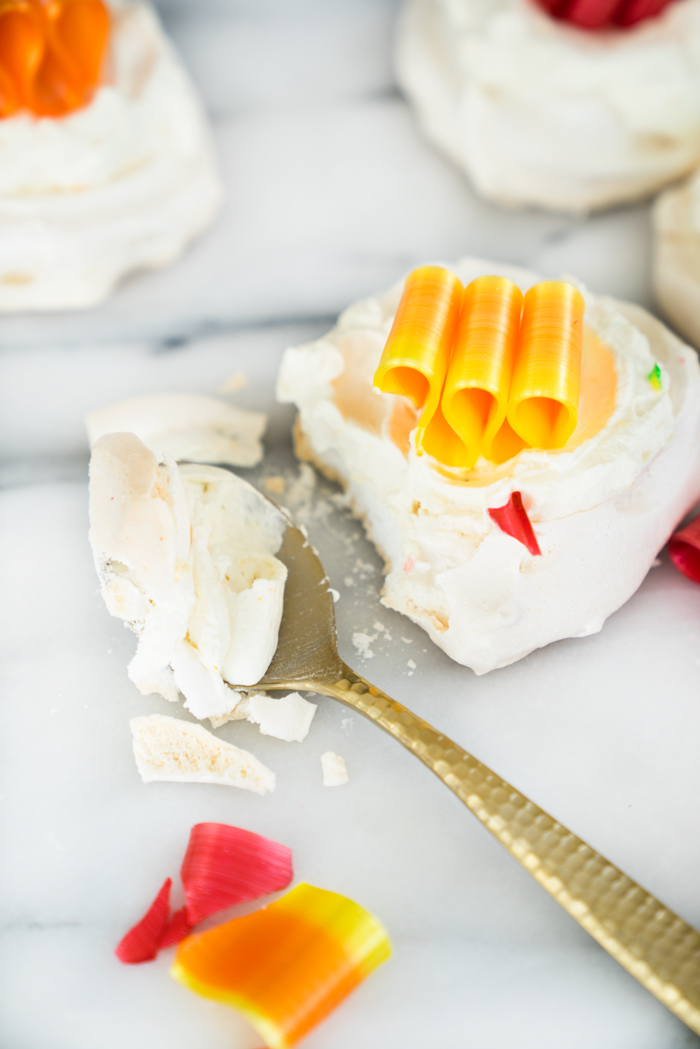 I hope you have a wonderfully safe and fun filled New Years Eve!! Maybe these Orange Scented Mini Pavlovas will make it on the menu!!
Enjoy!
Stacey
FORGOT TO PIN IT? Here it is! Thanks.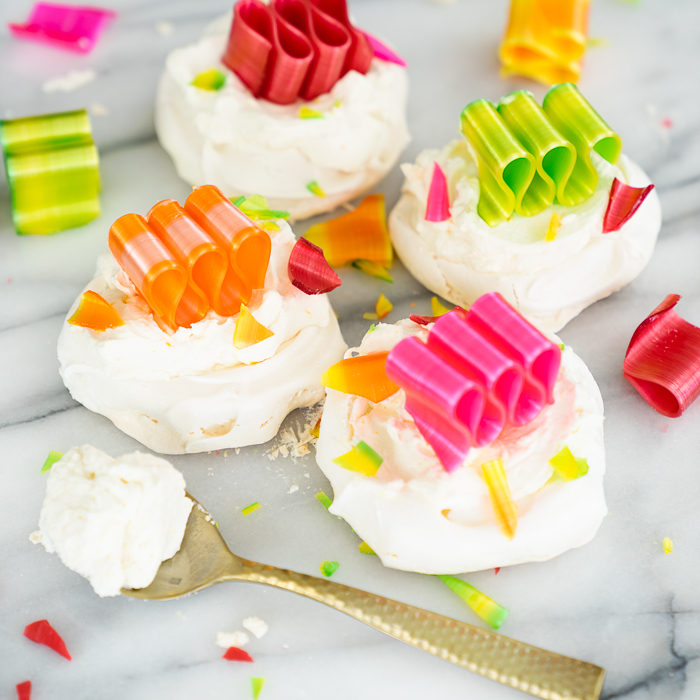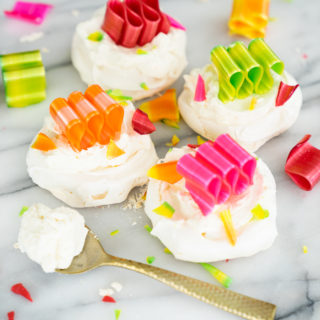 Orange Scented Mini Pavlovas
Orange Scented Mini Pavlovas. Crispy, chewy meringues with a dollop of orange scented whipped cream!
Ingredients
PAVLOVA'S:

4

egg whites room temperature

1

and 1/4 cups granulated sugar

2

tsp

white vinegar

1

tsp

cream of tarter

1

tsp

vanilla extract

WHIPPED CREAM:

2

and 1/2 cups heavy whipping cream

2

Tbsp

confectioners sugar

2

Tbsp

orange zest

GARNISH:

Box of ribbon candy

only use the fruit flavored and cinnamon ones
Instructions
Line 2 baking sheets with parchment.

Position oven rack to lower third of the oven.

Preheat oven to 250 degrees F.

Trace 3 inch circles on the parchment and then flip the parchment over so pencil/pen does not get on meringue, you will still see the circles through the paper.

Whip with whisk attachment the egg whites until glossy.

While still whipping slowly add in the sugar 1 Tbsp at a time.

Continue whipping until stiff glossy peaks form.

Sprinkle in the vinegar, cream of tarter and vanilla over the meringue mixture, fold into mixture until well combine.

Spoon mixture onto parchment into each circle, use back of spoon or offset spatula to smooth out and put a slight indentation in the center for the whip later.

Bake for 35 min, until dry to the touch but not brown. Turn off oven, DO NOT OPEN OVEN, leave to cool in the oven for 60 minutes.

Bring out of oven to complete cooling.

WHIPPED CREAM:

Add whipping cream and sugar to mixing bowl, whip with whisk attachment until whipped cream forms.

Add the orange zest, mix until combined.

ASSEMBLY:

Gently (meringues are fragile) loosen meringues from parchment.

Dollop a spoonful of whip on each one and garnish with ribbon candy or as desired.

Keep in cool place until ready to serve.
Notes
Meringues are highly fragile, keep that in mind when loosening from parchment, putting on the whip/garnish as well as moving them.
The ribbon candy box I have has fruit, cinnamon and peppermint flavored ribbons. For these pavlovas I avoided the peppermint ribbons, it wouldn't pair well with orange.
Recipe for the pavlovas adapted from Martha Stewart Living.
SaveSave
SaveSave
SaveSave
SaveSave
SaveSave
SaveSave
SaveSave
SaveSave
SaveSave