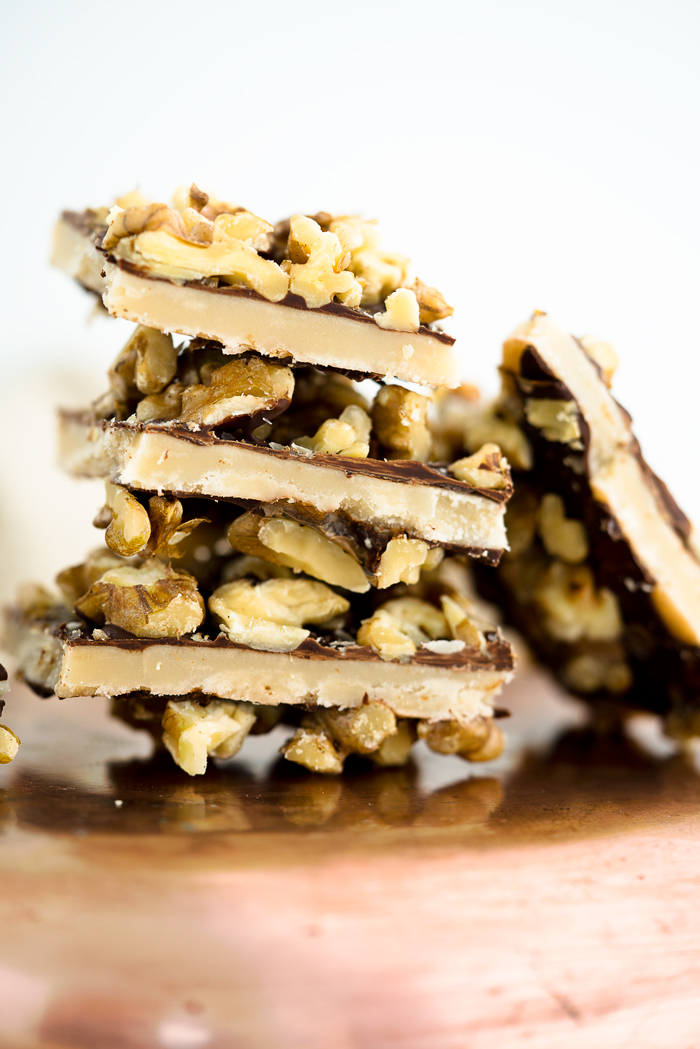 Chocolate Walnut Butter Crunch!! Buttery, crunchy candy center coated in chocolate and sprinkled with roasted walnuts.
Can you believe it? Christmas is over for another year but I'm pretty sure I will be wearing the extra calories on my hips for the next 6 months 😉 . I over indulged but aren't we suppose to at Christmas? I ate so many sweets that the only kind of food I am craving today is something spicy. My system is obviously searching for balance here so I'm thinking some Thai for dinner, anyone else with me?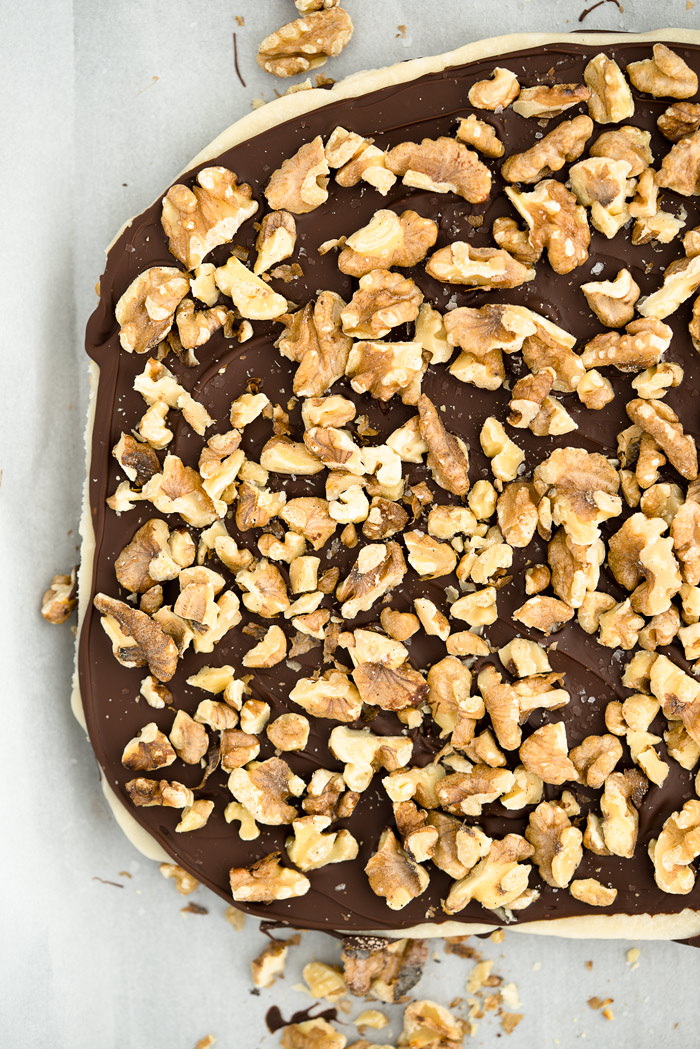 I had the best intentions to post this Chocolate Walnut Butter Crunch before Christmas but as life would have it I ran out of time and energy. So I am hoping some of you out there are still in the mood for something sweet, rich, buttery and crunchy and if not just pin it for later. If you're like me the cravings will be back in a few days.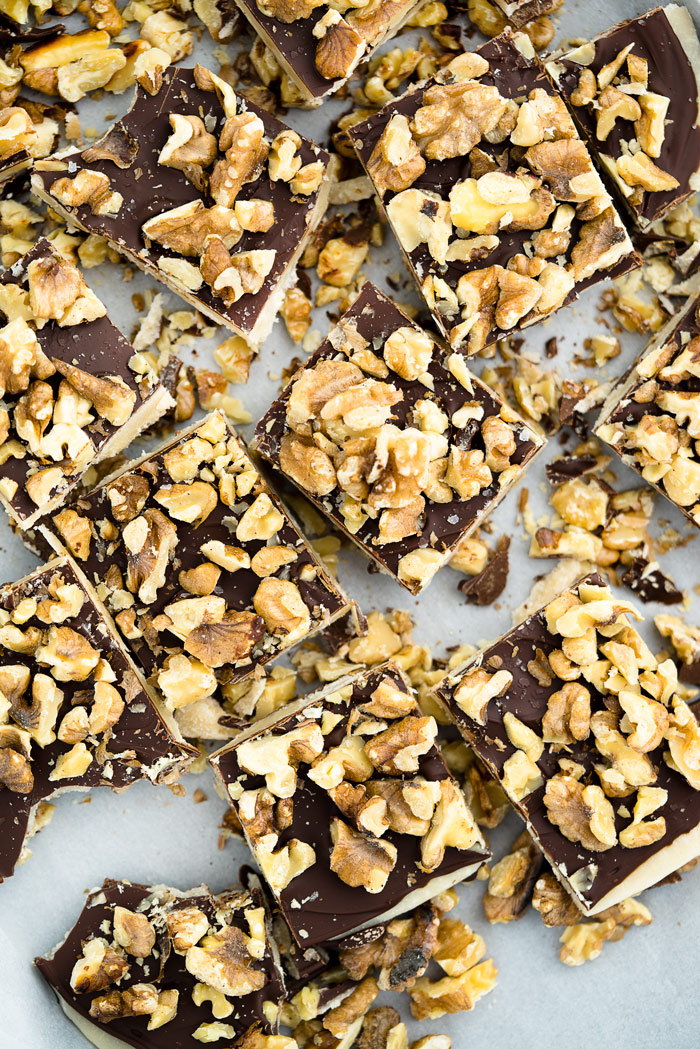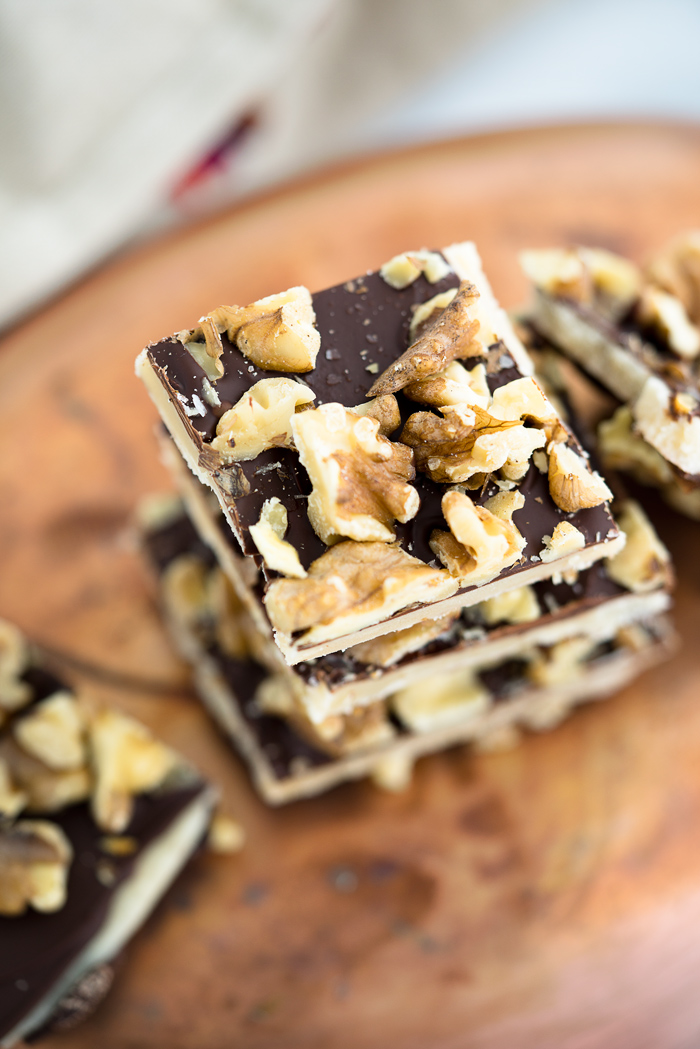 This Chocolate Walnut Butter Crunch is much like a toffee. Its buttery, brittle, sweet and crunchy as it then begins to melt in your mouth. I swiped over the top and bottom with some silky chocolate and then added some toasted walnuts and a sprinkling of sea salt (only on one side) for a little balance. The difference with this toffee is that it used granulated sugar rather than brown sugar thus lending to lighter color and a stronger buttery flavor.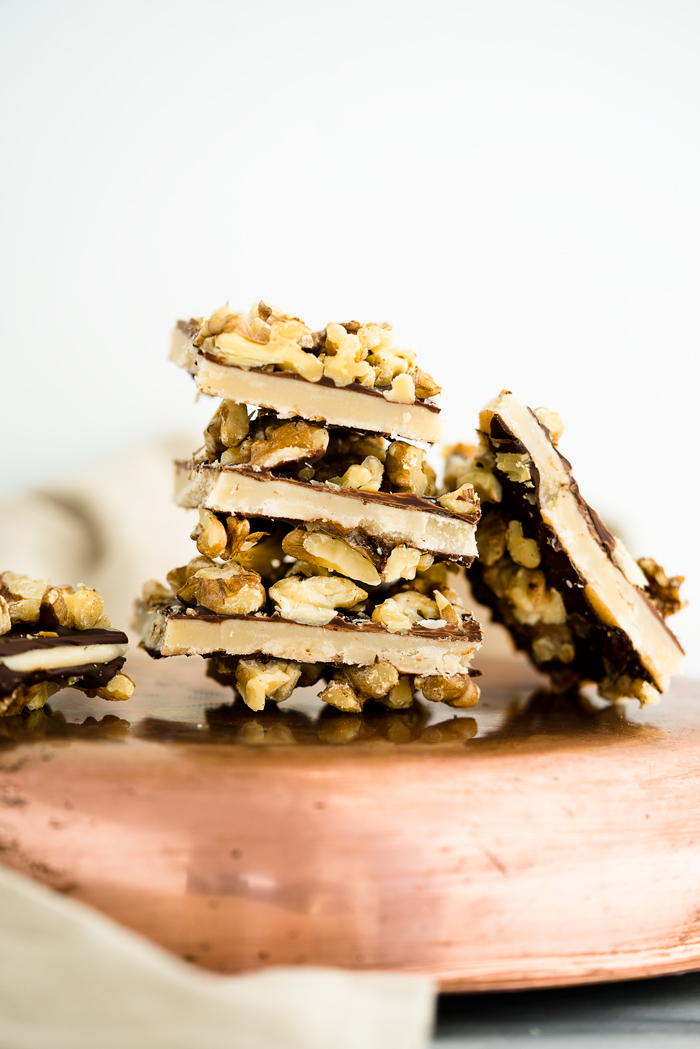 Hope you all have a wonderful holiday week and a happy new year!!
Enjoy!
Stacey
Here are some of the products used to make this treat. Whether you are interested in buying through the link or just want a visual of what to look for see below. (Please note some of the links below are affiliate links which means if you purchase from the link I get a small commission. I use these products and stand behind them which is why I chose to tell you about them. Thank you for your supporting this blog. )
FORGOT TO PIN IT? Here it is! Thanks.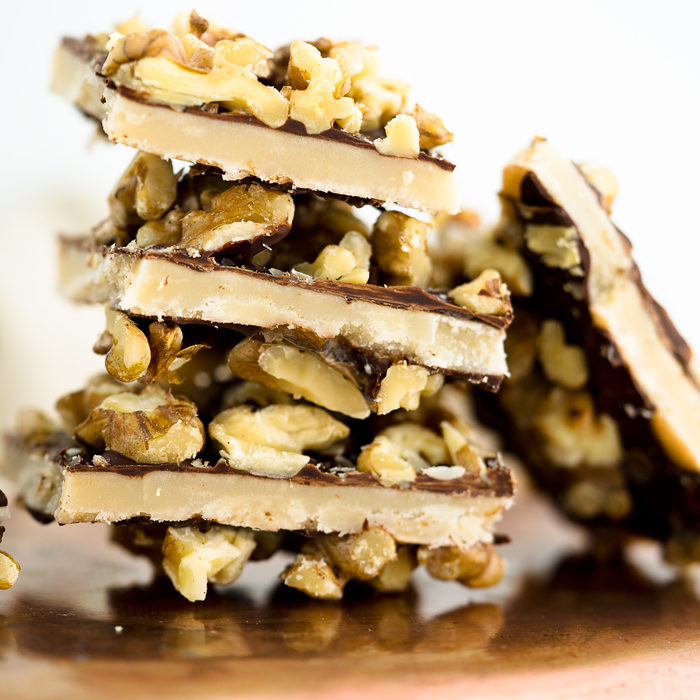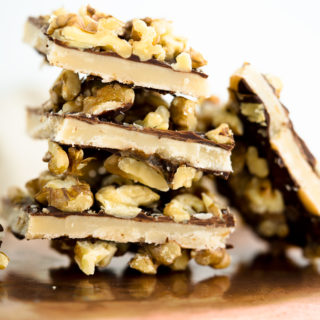 Chocolate Walnut Butter Crunch
Chocolate Walnut Butter Crunch recipe!! Buttery, crunchy candy center coated in chocolate and sprinkled with roasted walnuts. | thesugarcoatedcottage.com
Ingredients
1

cup

butter

1

cup

granulated sugar

3

Tbsp

water

2

tsp

vanilla extract

1/2

tsp

salt

3

cups

of chocolate

divided in half

2

cups

toasted walnuts rough chopped

divided in half

1

tsp

flake sea salt
Instructions
Line cookie sheet with parchment, butter it, set aside.

In a medium sauce pan add the butter, sugar, water, salt. Bring to a boil stirring all the time.

Continue to cook over medium heat until temp reaches 298 degrees F, continue to continually stir.

Remove from heat, add the vanilla, stir.

Pour onto prepared baking sheet. Let set/cool completely.

Blot toffee with towel to remove extra oil from surface.

Melt 1/2 your chocolate, spread over the top of the toffee, sprinkle with half the walnuts and sprinkle with sea salt. Let set completely.

When ready, melt the second half of the chocolate.

Flip over the toffee, blot with towel.

Spread with melted chocolate, sprinkle with remaining walnuts.

Let set completely.

When ready to break you can either break it in rough pieces or cut with a large knife, run the knife under hot water first to get the blade warm, dry off and cut.

Store in airtight container.
Notes
How long this takes to cook will depend on how long it takes to reach 298 degrees F or the hard ball stage. Each stove and pan is different so the timing will not be the same.
SaveSave
SaveSave
SaveSave
SaveSave
SaveSaveSaveSave
SaveSave
SaveSave
SaveSave
SaveSave
SaveSave
SaveSave
SaveSave
SaveSave