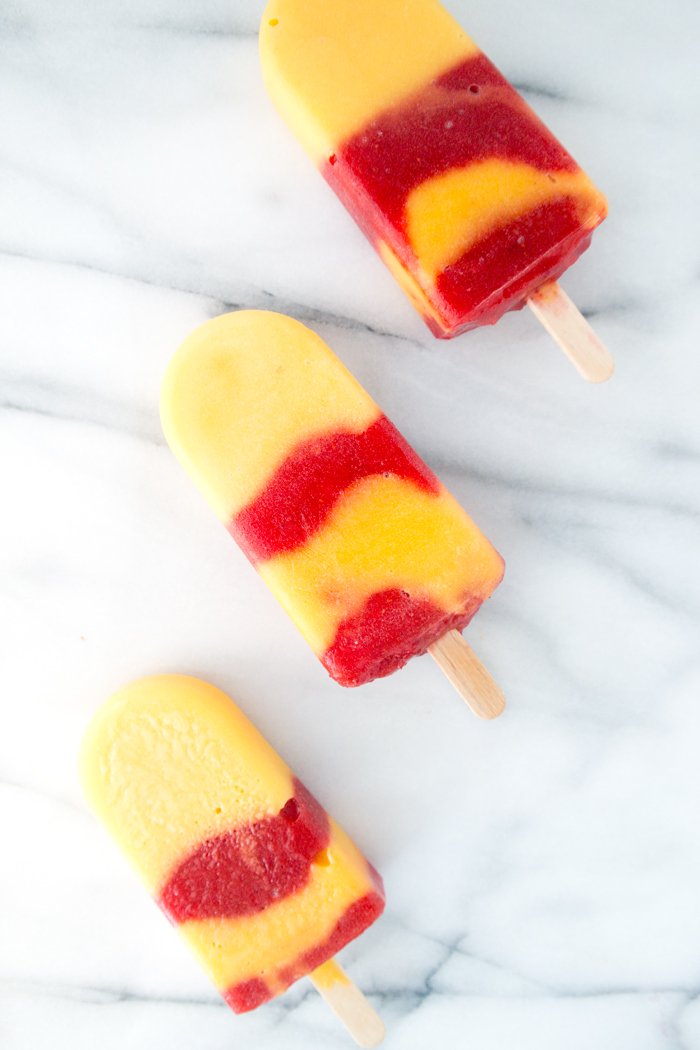 3 Ingredient Strawberry Mango Popsicles. A cool and sweet treat to beat the summer heat.

[social_share/]Yum

Ahhh popsicles, I can never get enough popsicles! Especially this time of the year when its hot and humid and all you want to do is cool down. And I don't know about you but eating them makes me feel like a kid again.
Speaking of being a kid again…When I was young my parents had a garden, it was decent size and had a fence all the way around it to keep the critters from eating all the fruits of my moms labor. The one thing she couldn't figure out was what was eating the strawberries off her plant. One day we were weeding, well to be honest I was playing, my mom looked over her shoulder to see our dog sticking his nose through the hole in the fence and with his top and bottom front teeth quietly nipping the strawberries off and eating them. We watched for a moment in disbelief as well as admiring his skill, he was a large Golden Retriever so it had to take him some practice to get this just right. Once the awww wore off my mom gave him an earful, lol.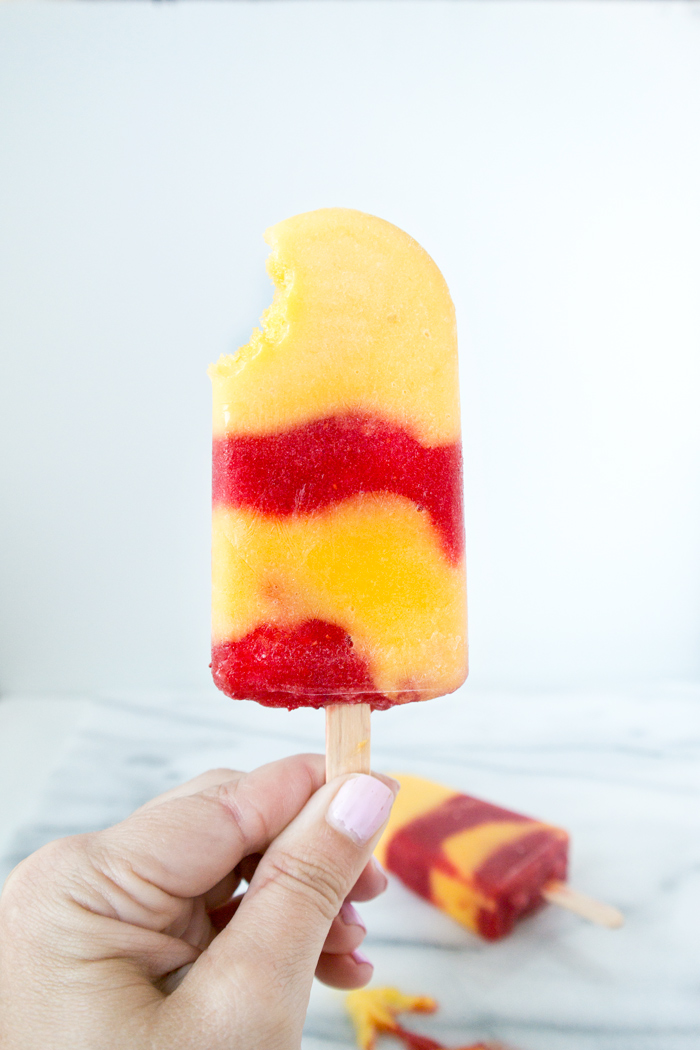 Like our childhood pet I have had a real craving, obsession, passion for strawberries this summer. I cannot get enough of them! I love how sweet and juicy they are along with little added pop of the seeds. I've been eating them as is, blending them in smoothies, making sorbet. Delicious.
Mangos I love just as they are usually. They have such a wonderfully unique and sweet flavor they really are a dessert all on their own.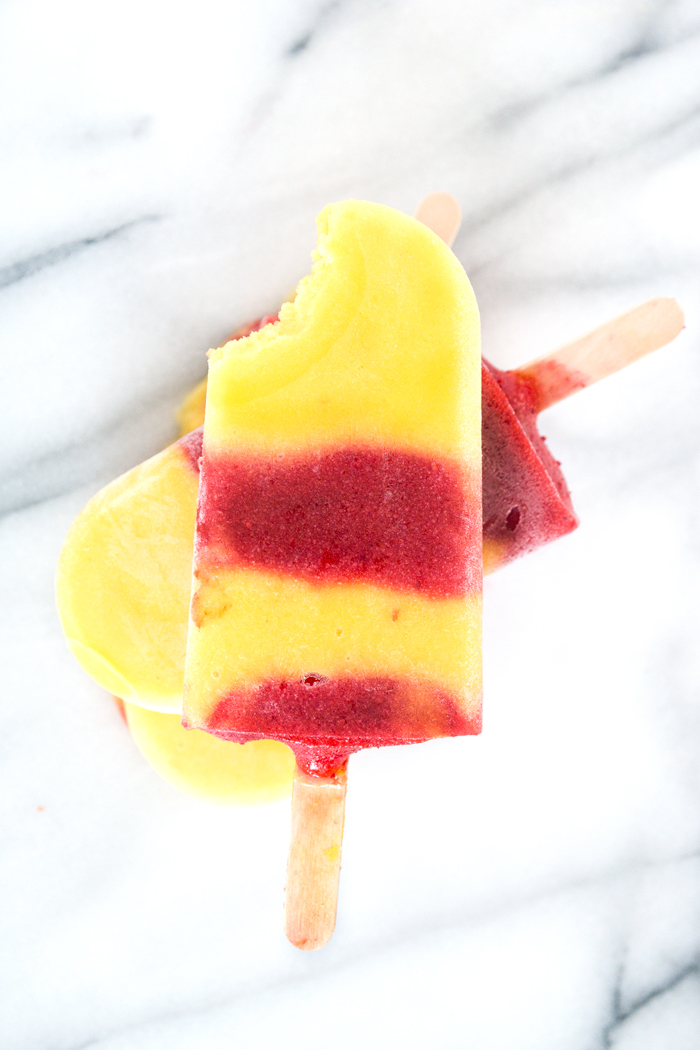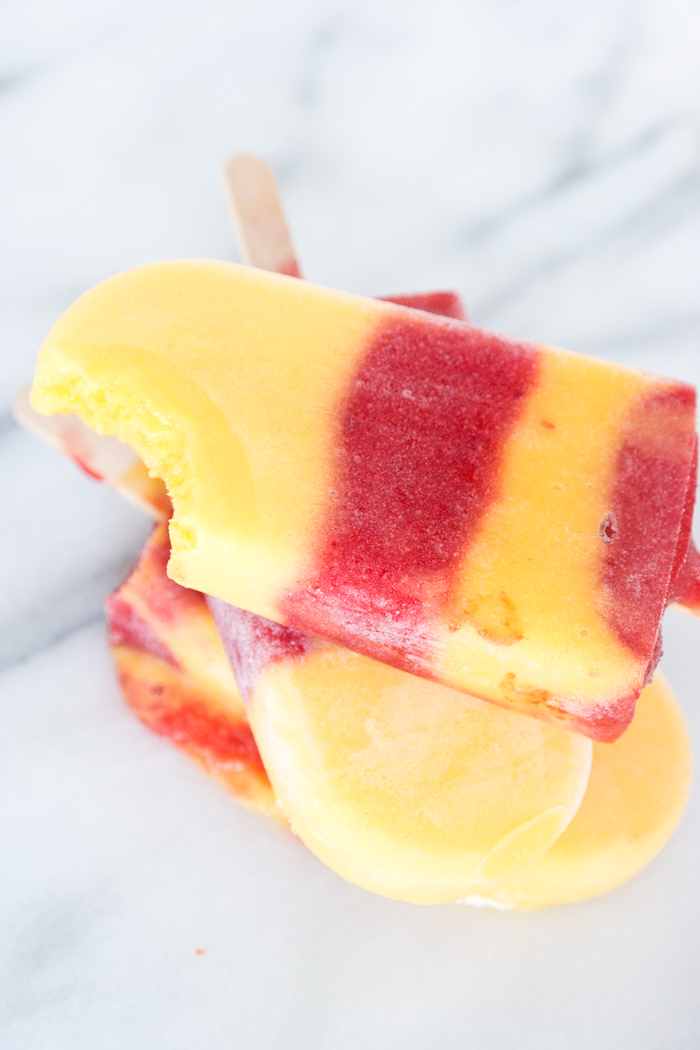 However, since I can never leave things well enough alone I started having daydreams of marrying the two fruits and thus the 3 Ingredient Strawberry Mango Popsicle was born. I don't know about you but in summer the simpler the better and 3 ingredients is all it takes to get these popsicles made, froze and ready to eat.
The bulk of the work is making two purees in the blender, one for the strawberry and one for the mango. If you have a high speed blender this should only take a few moments, for a standard blender maybe a little more time. Thats covers our first two ingredients, our third is Agave Nectar. These fruits are sometimes sweet enough all on their own but sometimes not, especially if its winter and you are using frozen fruit. I found mine needed a little added sweetness and started with 1 tsp and that was all that I needed but I recommend doing a taste test and increasing if needed. As a note you can use honey, stevia or sugar if you don't have agave nectar.
When filling your molds make sure each layer is completely frozen before adding the next puree, this will provide cleaner layers of frozen puree and more define colors.
Enjoy these simple to make 3 Ingredient Strawberry Mango Popsicles this summer or anytime!
Enjoy!
Stacey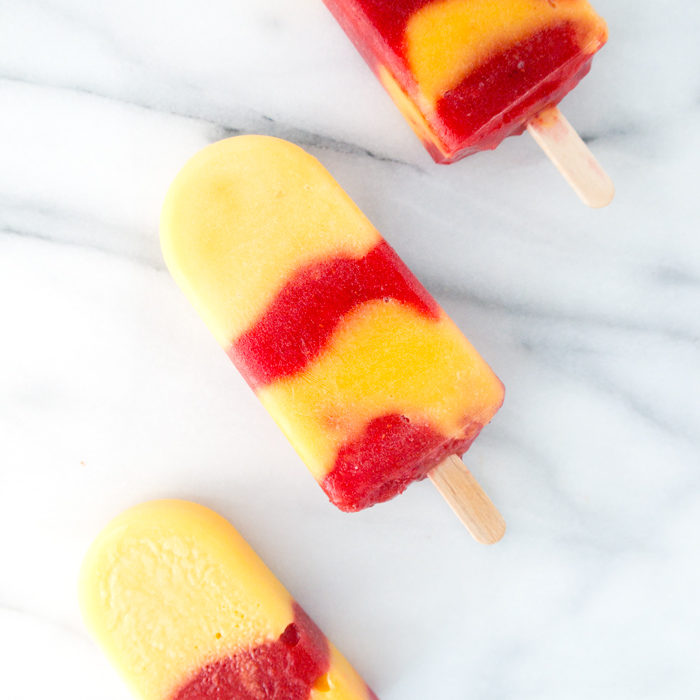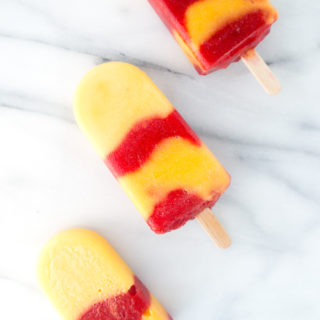 3 Ingredient Strawberry Mango Popsicles
3 Ingredient Strawberry Mango Popsicles.
Ingredients
2 1/2

cups

cleaned strawberries

2

Mangos

peeled and cut into pieces

2

tsp

Agave Nectar

give or take to personal taste
Instructions
Have popsicle molds near by

Puree your strawberries and 1 tsp agave nectar, adjust sweetness as needed.

Puree your mango and 1 tsp agave nectar, adjust sweetness as needed.

Starting with the mango, pour about an inch worth of puree into popsicle mold

Freeze for one hour, gently insert popsicle sticks. Freeze additional hour to lock sticks in place.

Add an inch or so of strawberry puree and freeze for two hours.

Continue alternating purees and freezing in between for two hours.

Freeze completely over night.
Forgot to pin it? Here's your chance. Take care.