Easy Weeknight Mostaccioli. Enjoy this easy to make comforting dish any day of the week.
[social_share/]Yum

It finally happened, my daughter at 4 years old finally tried mostaccioli and fell in love. Though I have tried to get her to taste it before she always resisted, it wasn't until she saw here cousins eating it that she decided to give it a whirl. Why is this such a big deal in our home? Because this means I have one more "one pot meal" I can quickly make up any day of the week. This means I will have leftovers for the next day which as some of you know taste better the second day as the flavors marinate. It also means that this "Easy Weeknight Mostaccioli" (as I'm calling it) has saved me a bunch of time and effort and in addition can feed an entire family. Now thats what I call a success.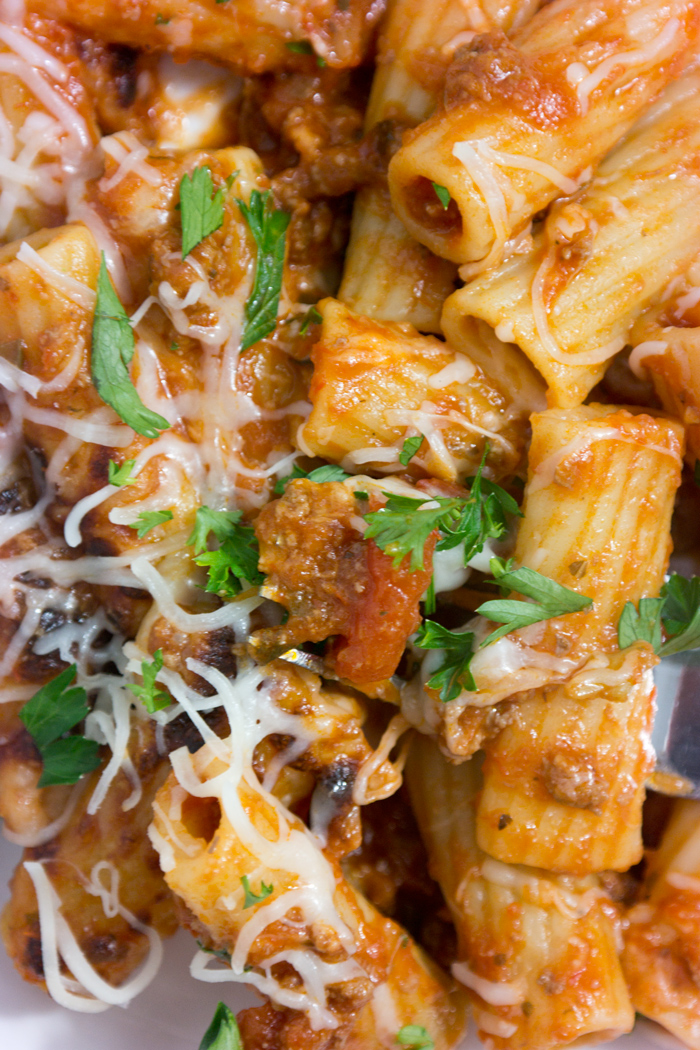 Why am I calling it "Easy Weeknight Mostaccioli"? Because weeknights are busy, there's work, kids activities and soon school work but I still want to provide my family with the comfort of a home cooked meal. I simplified this version of mostaccioli so that with only a few ingredients I could have a home cooked delicious hot meal on a weeknight without the need to bake for an extended period of time, time I don't always have.
In a stove top to oven pan, I started by sautéing minced garlic and green peppers in a little olive oil. I add in the ground sirloin and some italian seasoning. Salt and peppered the meat, cooked until browned and then added the jarred spaghetti sauce then let simmer. This is the base, you have now seasoned and flavored the meat which will in turn ramp up your store bought sauce and make it taste homemade.
Once the pasta is cooked and drained I add it to the sauce pan, mix to combine. I throw on some shredded mozzarella cheese and throw under the broiler for a few minutes to melt and blister the cheese. Anyone else just love the look and taste of blistered cheese? My tastebuds are singing…
Now some of you are looking at these photos thinking to yourself, "does she know she didn't really use mostaccioli noodles?". The answer is yes, let me tell you why. The store I went to only had the tiny mostaccioli noodles, I like the medium to large variety so I went with rigatoni noodles, they aren't cut on the bias like a penne or mostaccioli noodle but work just the same.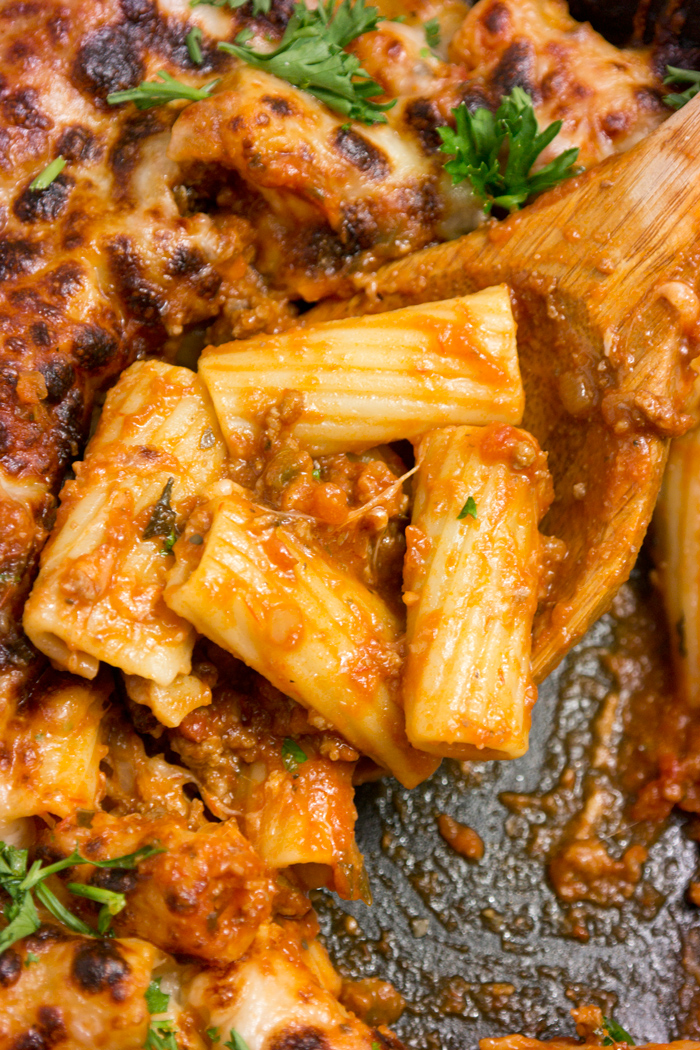 This Easy Weeknight Mostaccioli will become a family staple on those busy days when you still want a home cooked comforting meal but are short on time.
Enjoy!
Stacey
Forgot to PIN IT? Here's your chance!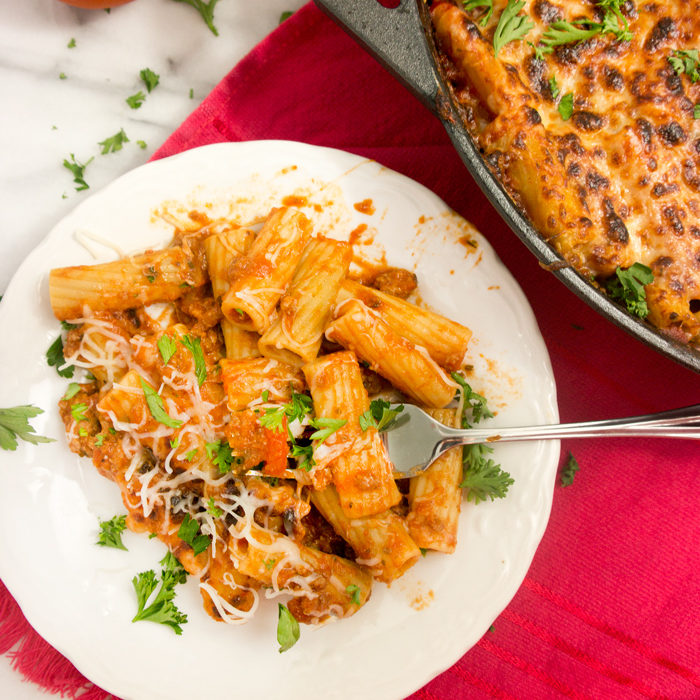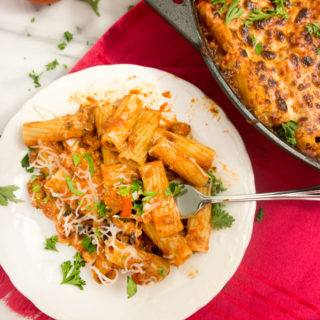 Weeknight Mostaccioli
Easy take on a comforting classic!
Ingredients
2

Tbsp

olive oil

1

Tbsp

minced garlic

1/4

cup

chopped green peppers

1

lb

ground sirloin*

1

Tbsp

italian seasoning

I used Mrs. Dash

1

tsp

salt

2

tsp

pepper

2

jars spaghetti sauce

I used Barilla Traditiional sauce

3/4

lb

dry mostaccioli or rigatoni noodles. **

2

cups

mozzarella

1/4

cup

chopped parsley
Instructions
In a large stove top to oven pan heat olive oil.

When oil is hot add minced garlic and green peppers, saute 2 minutes.

Add ground sirloin, salt, pepper and italian seasoning, cook until meat is browned.

Add both jars of spaghetti sauce.

Simmer for 15 minutes.

Cook pasta per manufacturers instructions and drain.

Add pasta to meat sauce, I would recommend adding pasta in small batches, stir well to combine.

Sprinkle mozzarella cheese over the entire pan of pasta and sauce.

Place under the broiler for 3-4 minutes, cheese will melt and blister quicky so keep an eye on it so as not to burn it.

Remove from oven, sprinkle with parsley. Serve with extra cheese if desired.
Notes
*I used ground sirloin because it has less grease when it cooks which means no grease floating on the sauce.
**When I mentioned the 3/4 lb of pasta, this is before cooking it, the box will usually be for 1 lb total dry pasta.
***The secret that makes this cook fast is that its all hot (pasta, meat and sauce) when it goes into the oven, so there is no extended bake time.
****If you wanted to prepare this the day before do all the steps up to sprinkling with cheese (don't add cheese) and refrigerate. When ready preheat oven to 350 degrees F, bake for 55 minutes or until sauce is bubbling. Add cheese and broil additional 3-4 minutes to melt and blister the cheese. When done sprinkle with parsley and serve.