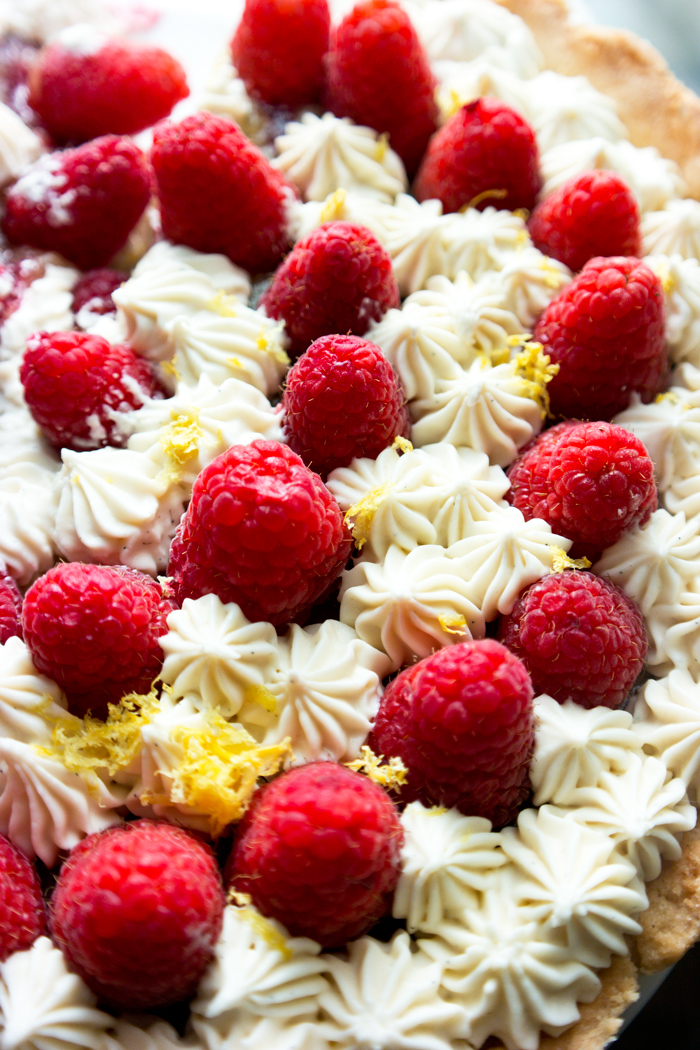 White Chocolate Raspberry Lemon Tart. This tart is like Christmas morning, all the preparing, anticipation, excitement and then over in a day. Just like the sad feeling you got as a child when you realized you opened your last present, the same feeling rushes over me as I realize I've eaten the last piece. This tart is one of those desserts you look forward to and eat all your veggies for knowing the best is yet to come.
[social_share/]Yum

It all started when I challenged myself to use ingredients I already had in the house to make dessert (I felt like I was in an episode of Chopped, lol). I had sugar cookie dough and vanilla buttercream left from the Vanilla Curd Buttercream Sandwich Cookies I posted Friday. I had frozen raspberries in the freezer, a jar of Dickinson's Lemon Curd and heavy cream. And last but not least I had a bar of Valrhona white chocolate just waiting to be eaten, not sure how it survived in the pantry this long to be honest, it's my lucky day.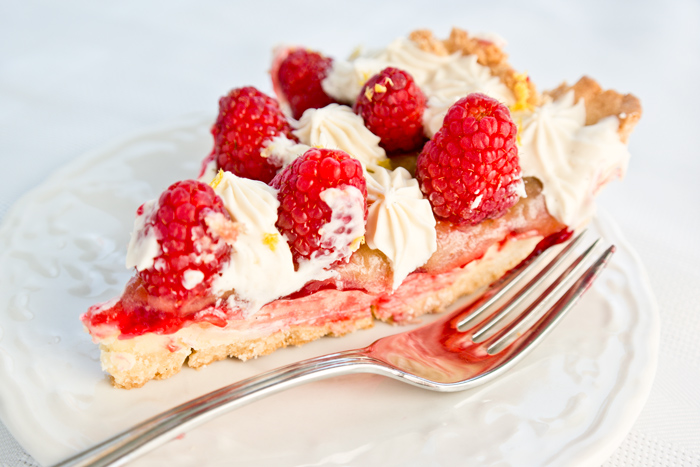 [social_share/]Yum

I take the sugar cookie dough and make a crust. I've never tried using sugar cookie dough as a crust but never the less I proceed. I roll out as much as I could but found placing the dough in the tart plate and pressing it in to form the crust with my hand and parchment paper worked best. Not sure if it would make a difference I poked holes into the bottom as I would a normal pie crust. Popped it in the oven and waited, peeking every so often to see if it was working. Wondering… is it staying in place? Sliding down the sides from the heat? Puffing up beyond use? Finally it was time to check it…Perfection! Golden brown, sugary, buttery and best of all CRUNCHY like a cookie.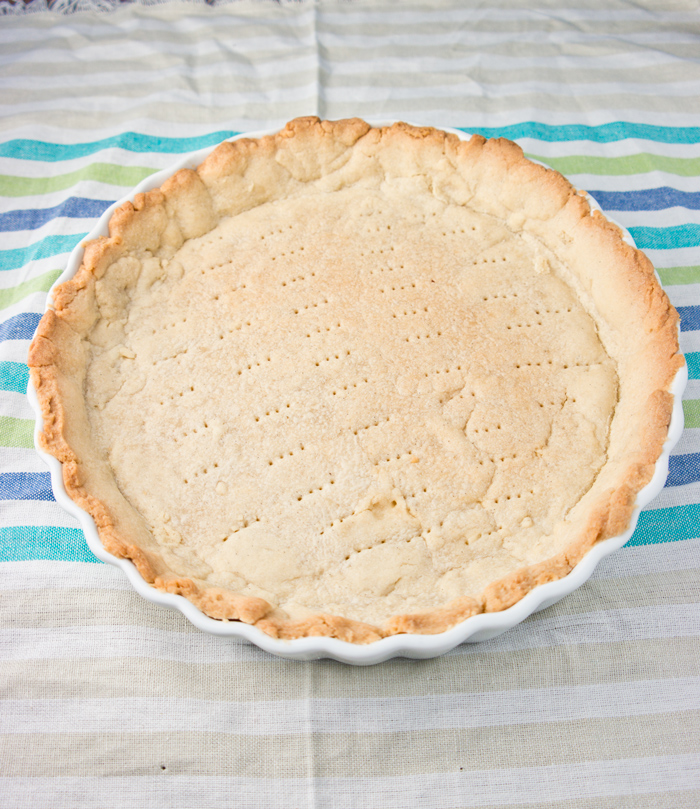 Time to make the white chocolate ganache. Not just any ganache but Valrhona! Chopped chocolate and put in bowl, heavy cream heated and then poured over chocolate. I mixed it and then left it to cool. Now just a quick note, I'm not a chocolate snob, I'm equal opportunity, I love it all but I do get excited when I get a chance to eat some of the coveted brands. Like so many women get excited over a fancy hand bag, I get excited over fancy chocolate.
Raspberries. Simple, add to sauce pan and add one cup of sugar. Simmer on low/med until reduced my half, strain out the seeds. Let cool.
Lemon curd. No challenge here, my lemon curd is in a jar, made by Dickinson's. It's like homemade and when I only need a small batch it saves a lot of time.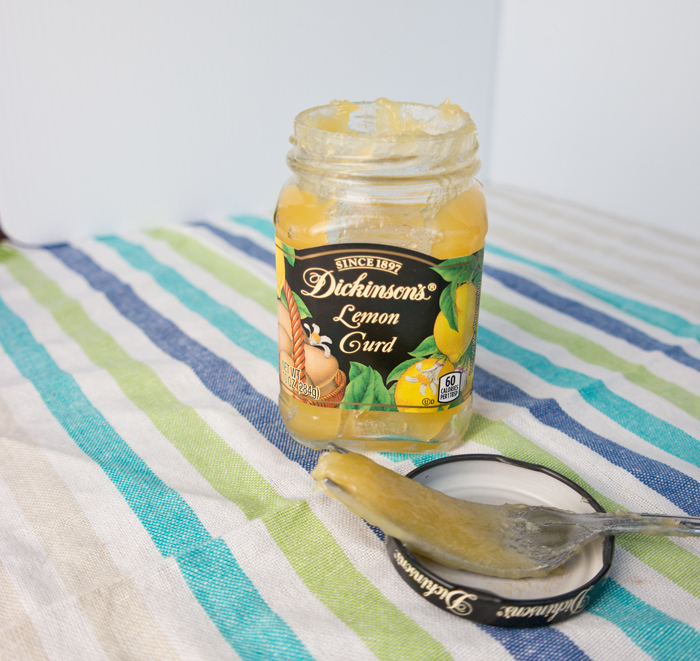 This is really starting to get exciting now, I have all these delicious components. Now I have to marry them to make something exceptional. I pour the ganache into the tart shell, spread evenly with offset spatula. Pour the raspberry purree over the ganache, repeat with the lemon curd. Decorate with fresh raspberries and pipe little stars of vanilla curd buttercream, sprinkle with fresh lemon zest.
It's done, I made a beautiful dessert with ingredients I already had. Now for the real test, tasting it!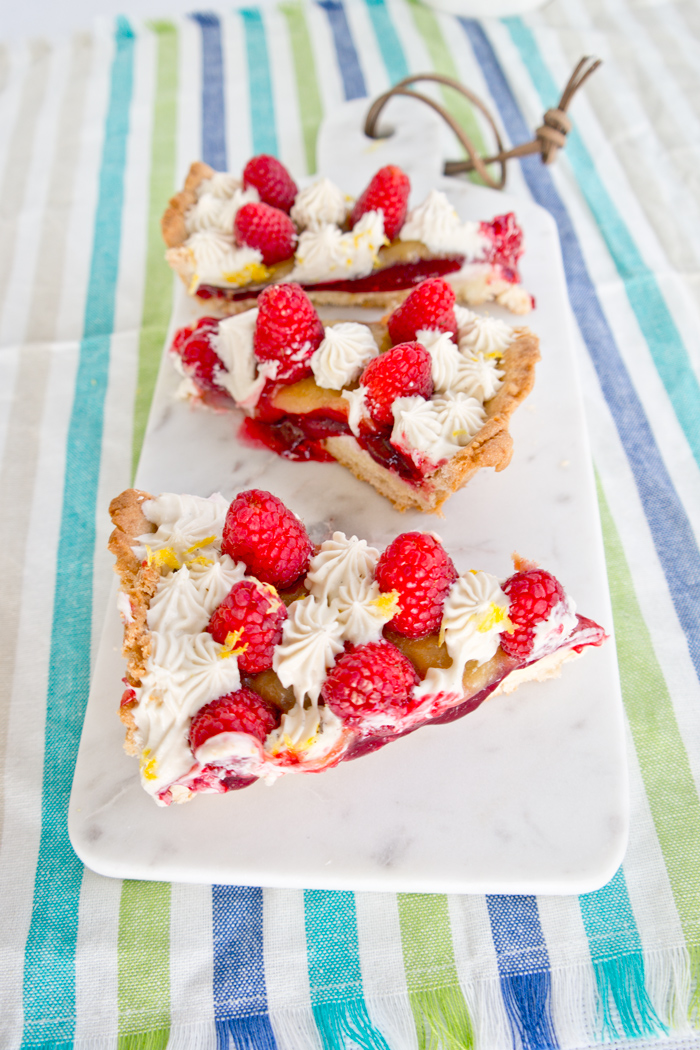 [social_share/]Yum

I take a large knife and cut the tart into a beautiful wedge. Keep in mind, you are technically cutting into a sugar cookie. Your going to need to put a little muscle behind it. Taking the first bite I'm speechless. At the risk of sounding cheesy (I know, your probably thinking we passed cheesy in the opening paragraph, lol), it was flavor fireworks. Sugary, buttery, crunchy crust, smooth creamy ganache, sweet berry goodness, vanilla from the buttercream but not letting the sweet side have all the fun the lemon curd brings the right amount of bright tartness to it all.
When you make this make sure you save yourself an extra piece, I have a feeling you'll wish you had once it's all gone.
Enjoy!
Stacey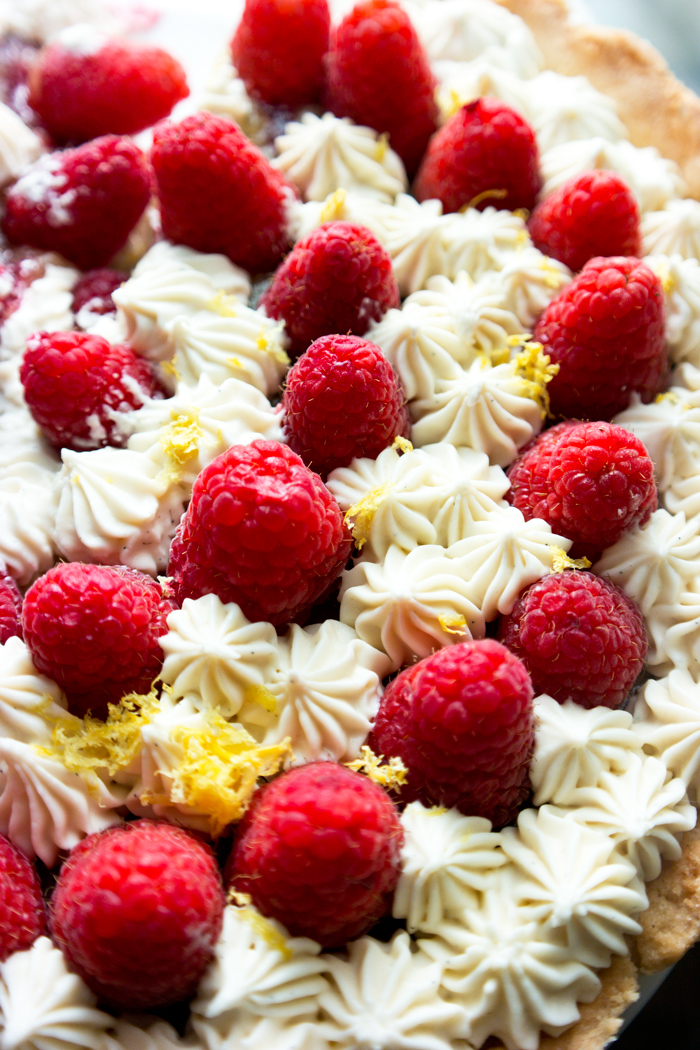 White Chocolate Raspberry Lemon Tart
White Chocolate Raspberry Tart. With its crunchy sugar cookie crust, sweet raspberry, creamy ganache and bright lemon zing this tart brings together wonderful summer flavors.
Ingredients
CRUST

aka Vanilla Sugar Cookie:

3

cups

flour

¼

tsp

salt

1

tsp

baking powder

1

cup

butter

1

cup

sugar

1

egg

1

tsp

vanilla extract

1

vanilla bean

VANILLA BUTTERCREAM:

½

cup

butter

2½

cup

confectioners sugar

2

Tbsp

milk

2

tsp

vanilla extract

1-

jar Dickinson's Vanilla Curd

in most grocery stores in baking aisle or jelly isle or brand of your

choice

WHITE CHOCOLATE GANACHE:

9

oz

of white chocolate

1/2

cup

heavy cream

RASPBERRY PUREE:

1 10

oz

bag of frozen raspberries

1

cup

sugar

LEMON CURD:

1

jar Dickinson's Lemon Curd or brand of your choice.

GARNISH:

Vanilla buttercream

2

containers fresh raspberries

2

Tbsp

lemon zest
Instructions
CRUST:

Pre-heat oven to 350 degrees. Prepare 10 in porcelain tart pan by greasing it.

Measure out all your dry ingredients and put them in one large mixing bowl, set aside.

Split the vanilla bean with a sharp knife and scrape out all the seeds, set aside.

Cream the butter and sugar together for about five minutes or until light and whipped.

Add in the egg, vanilla extract and vanilla bean seeds. Mix until well incorporated.

With mixer on slow add in dry ingredients one spoonful at a time.

Once all the dry ingredients have been added bring mixer up to medium speed and mix until dough is formed.

When done divide and shape dough into three rounds, wrap in plastic wrap and put in the refrigerator for a minimum of 15 minutes.* (see note)

When ready to make crust remove one dough disk from the refrigerator. Place one disk between two pieces of parchment paper to roll out your dough. Roll out dough into thin pieces. Lay in tart pan, cover entire bottom and sides. The pieces will not match perfectly and overlapping is ok. Next lay a piece of parchment paper in the tart pan and press dough to make even around the bottom and sides. Pinch off any extra around the top edge of tart pan if necessary.

Bake 20-25 minutes until done, when crust begins to lightly brown on bottom and edges. Check on the crust as each oven is different and cooking time may vary.

Take out of the oven, let cool.

VANILLA CURD BUTTERCREAM:

In a mixing bowl add butter, turn mixer on slow and slowly add confectioners sugar and milk alternating between the two.

Add the vanilla extract.

Mix on medium speed until nice and smooth, about 1-2 minutes.

Add jar of Dickinson's Vanilla Curd, continue to mix until well incorporated.

WHITE CHOCOLATE GANACHE:

Chop chocolate and put in bowl.

Heat heavy cream, when just about to boil pour over chocolate, let sit 3 minutes.

Stir in small circular motions until all blended. Let cool.

RASPBERRY PUREE:

Add raspberries to sauce pan and heat on low/med heat. Add sugar. Stir and let raspberries melt and start to liquify. Keep at a low simmer, stirring often.

Simmer until mixture is reduce by half.

Remove seeds by straining the mixture through a strainer over a bowl. Let cool.

ASSEMBLY:

Fill crust with white chocolate ganache, if ganache is soft chill for 15 minutes.

Spread on the raspberry puree, then spread on the lemon curd.

Line outer edge with fresh raspberries.

Followed by a row of buttercream stars. Repeat until entire tart is covered.

Fill in any empty areas with buttercream piped stars.

Sprinkle with lemon zest.
Notes
The crust recipe will give you three times what you need for the crust. However the quantities were not easily dividable by 3 and I did not want to run the risk of ruining the recipe. Dough can be refrigerate for 3 days or froze until needed.