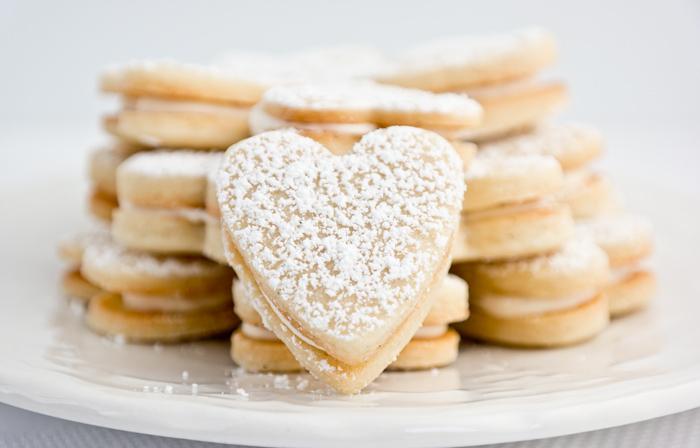 VANILLA BEAN, BUTTER AND SUGAR, OH MY!!! The only thing better than a sugar cookie is a sugar cookie with fresh vanilla beans. And the only thing better than buttercream is buttercream mixed with vanilla curd. And the only thing better than these two things alone is putting them together to create the best Vanilla Curd Buttercream Sandwich Cookie!!!!
[social_share/]Yum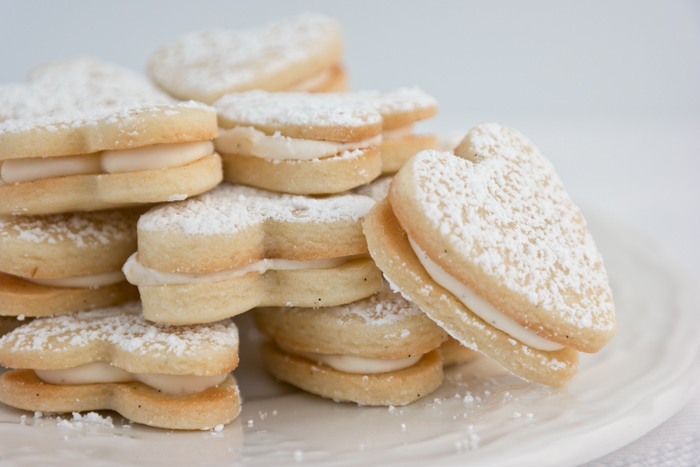 [social_share/]Yum

Trying not to eat these Vanilla Curd Buttercream Sandwich Cookies before and during the photo session proved to be quite a challenge. I wasn't the only one, I caught my husband sneaking them behind my back and he tried to deny it, lol. And my daughter tried to sneak one after seeing her dad do it, of course I gave into her, I'm such a push over. I made these "mini" in size because my daughter likes anything just her size. That makes these sweet little darlings that much easier to just pop one in your mouth and then a second and a third and….well you get the picture.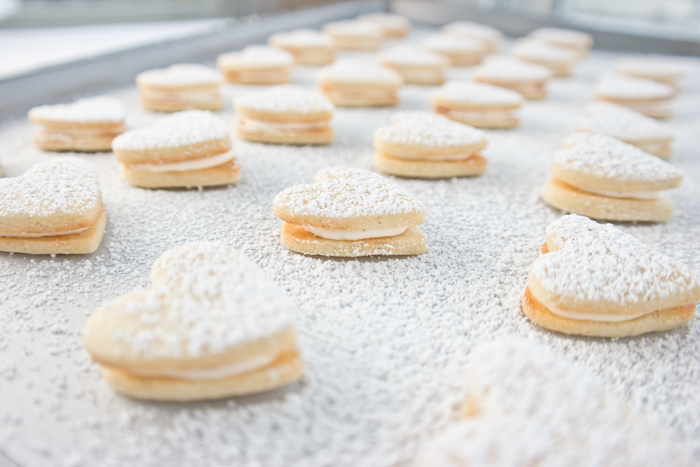 [social_share/]Yum

What makes this cookie really work is the sugar cookie dough was rolled out really thin, about 1/8 inch (give or take, I didn't get the ruler out). So when we sandwich the cookies together we are getting the right ratio of cookie to vanilla curd buttercream.
I used a pre-made vanilla curd, Dickinson's Vanilla Curd to be exact. I have made vanilla curd for cakes in the past but I only needed a small amount for these cookies. To save time I used one already made and the Dickinson brand really is just like homemade. They are not an affiliate I just really like and use this product. So you may be wondering, why the buttercream? Why not just use vanilla curd? Vanilla curd is amazing but its consistency is not stiff. By adding the buttercream we are giving the filling a bit more body and stability.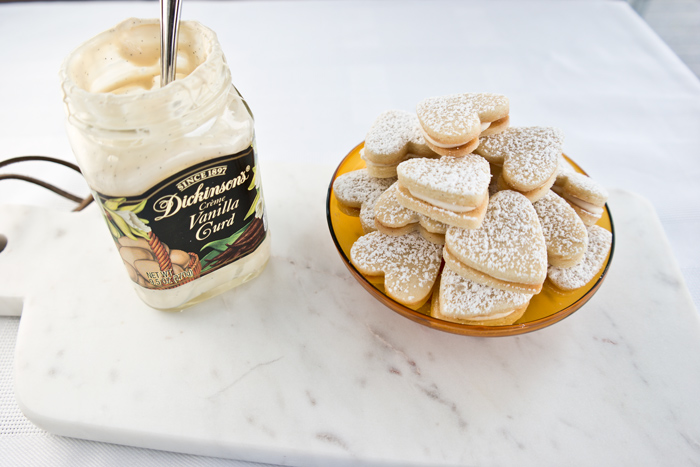 [social_share/]Yum

With each bite we have the buttery flakiness of the sugar cookie. We have the vanilla curd and buttercream mixture that melts in your mouth. All while tasting and smelling the sweet vanilla that enriches the whole cookie experience. Then we're left with the feeling of wanting, no NEEDING, another one.
Make these once and they just might become a staple in your home.
Enjoy!
Stacey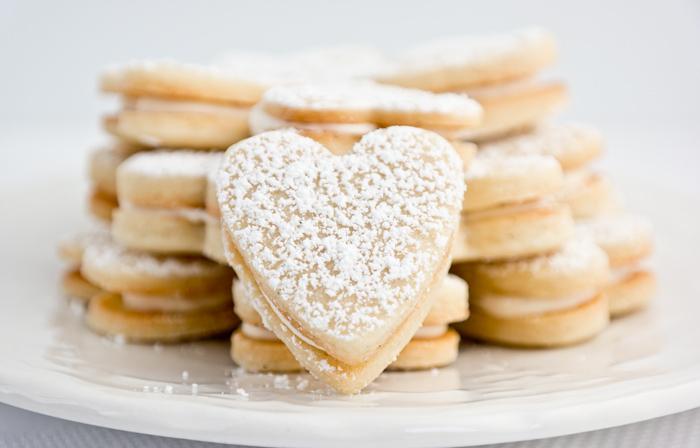 Vanilla Curd Buttercream Sandwich Cookie
Vanilla bean, butter and sugar, oh my!! These Vanilla Curd Buttercream Sandwich Cookies are sweet, buttery and wrapped in vanilla flavor.
Ingredients
VANILLA SUGAR COOKIE:

3

cups

flour

1/4

tsp

salt

1

tsp

baking powder

1

cup

butter

1

cup

sugar

1

egg

1

tsp

vanilla extract

1

vanilla bean

VANILLA BUTTERCREAM:

1/2

cup

butter

2 1/2

cup

confectioners sugar

2

Tbsp

milk

2

tsp

vanilla extract

VANILLA CURD:

1-

jar Dickinson's Vanilla Curd

in most grocery stores in baking aisle or brand of your choice
Instructions
VANILLA SUGAR COOKIES:

Pre-heat oven to 350 degrees. Prepare baking sheets by lining with parchment paper.

Measure out all your dry ingredients and put them in one large mixing bowl, set aside.

Split the vanilla bean with a sharp knife and scrape out all the seeds, set aside.

Cream the butter and sugar together for about five minutes or until light and whipped.

Add in the egg, vanilla extract and vanilla bean seeds. Mix until well incorporated.

With mixer on slow add in dry ingredients one spoonful at a time.

Once all the dry ingredients have been added bring mixer up to medium speed and mix until dough is formed.

When done divide and shape dough into three rounds, wrap in plastic wrap and put in the refrigerator for a minimum of 15 minutes.

When ready to make cookies remove your dough disks from the refrigerator. Place one disk between two pieces of parchment paper to roll out your dough*. Roll out to about an 1/8 of an inch, using cookie cutter* cut out shapes and transfer to parchment lined baking sheet.

Bake 4-6 minutes until done, when they begin to lightly brown on bottom. Watch each batch, since they are thin they can burn quickly.

Take out of the oven, let cool. Repeat with rest of dough.

VANILLA CURD BUTTERCREAM:

In a mixing bowl add butter, turn mixer on slow and slowly add confectioners sugar and milk alternating between the two.

Add the vanilla extract.

Mix on medium speed until nice and smooth, about 1-2 minutes.

Add jar of Dickinson's Vanilla Curd, continue to mix until well incorporated.

ASSEMBLY:

Lay out your sandwich cookie pairs. Using a piping bag (tip is optional, I used Wilton #12) filled with Vanilla Curd Buttercream, pipe one side of the sandwich cookies for each pair. Then take the other cookie and lay on top to form a sandwich. Press very gently to make the cookies stick but now so hard that filling oozes out.

Sprinkle with powered sugar to garnish (optional).
Notes
Cookie cutter - I used a 1 x 1.5 inch heart cookie cutter. The baking times are fit for this size cookie. If using a different size adjust baking time as needed.
Dough disks may be hard to roll out at first, if so let sit for 10 (give or take) minutes and try again until soft enough to roll out.
You will have extra Vanilla Curd Buttercream left. Refigerate for up to 1 week for another use.