Today is filled with fond memories of a fun weekend with the family, great weather and great food. Seem's like only 5 minutes ago I was wishing everyone a TGIF and now we're here again on Monday. Wow how fast the weekend flies by. To celebrate the wonderful spring weather (and to balance out the sinful Peanut Butter Chocolate Pie I've been eating since Friday) I made a Shrimp Lime Slaw Tostada on a sprouted tortilla.
[social_share/]
This dish has all the yummy veggies, protein, sprouted grain and healthy fats one could ask for in a lunch. Plus it's just awesome tasting! It has plump shrimp that snap in your mouth with each bite, creamy guacamole (my version), sweet sour lime slaw, a bit of bite from the jalapeno. All rounded out with hints of garlic, red pepper, chili powder and cilantro. Did I mention it tastes amazing?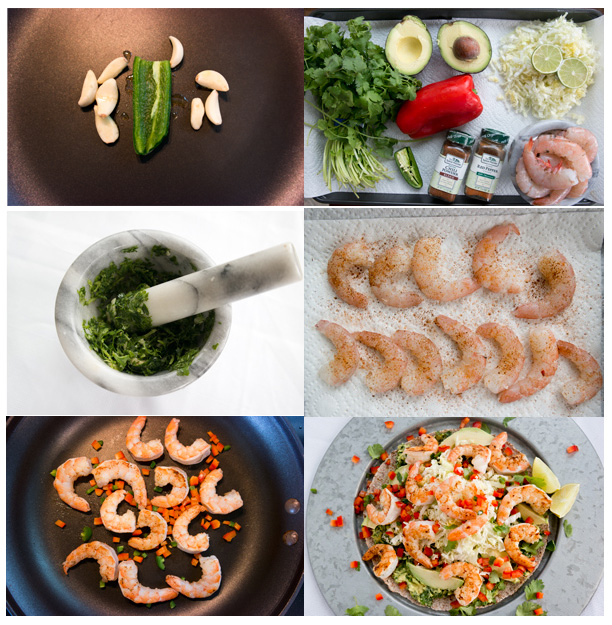 I started by roasting my garlic and half of jalapeño, I then blended it with cilantro and lime juice. I unfortunately do not have a coveted Vitamix ( I will one day…) so I had to use a blender, not great, I'll admit it but it did enough, it blended everything in a chop and I finished mashing the mixture with a pestle and mortar (the marble bowl and stick in the photo above). I add this to mashed avocado and there's the guacamole. I finely shredded napa cabbage and chopped jalalpeno, red pepper and cilantro, threw it in a bowl and added the sweetened (using liquid stevia) lime juice and mixed. I seasoned the shrimp with crushed red pepper and chili powder and sautéed with a sprinkling of red pepper and jalapeno.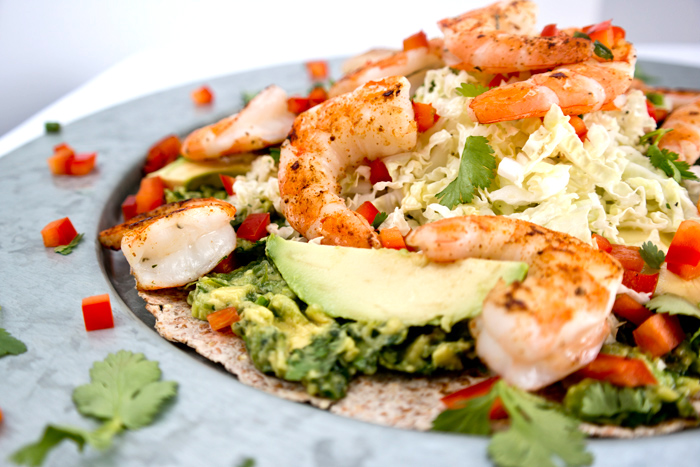 [social_share/]
I used a sprouted grain tortilla, I know, I know, you might be thinking, "sprouted grain? Really? We were doing soooo good, why the sudden detour…?". BUT, but, but, they really are Good! I wouldn't lie to you (and you can certainly use flour or corn if you choose). I put mine in the oven to crisp. To assemble I lay the tortilla on the plates and smeared the guacamole over the tortilla, then added avocado wedges. I heaped the lime slaw on top and arranged the shrimp over the top. I sprinkled with extra jalapeño, red pepper and cilantro. And then….ate every single bite as if it was my first and last meal, I have no shame. Nothing dainty about this girl at meal time.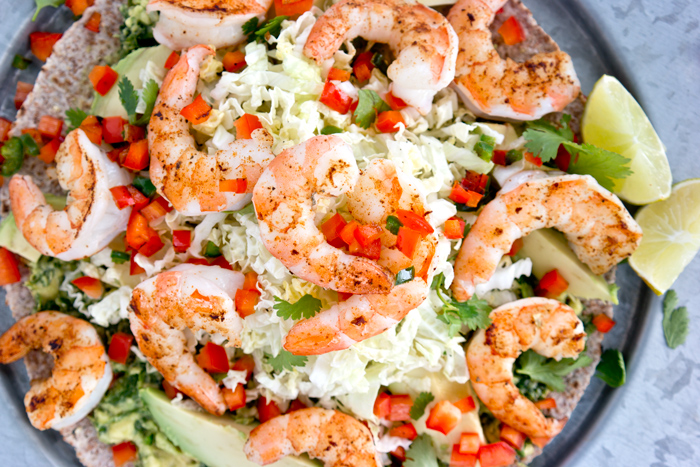 [social_share/]
Awesome, fresh, clean eating at its most flavorful! Make this for family, friends, neighbors or just yourself. The only thing missing in this post is an ice cold Corona and lime to wash it down! Why didn't I think of that sooner…well there's always next weekend!
Enjoy!
Stacey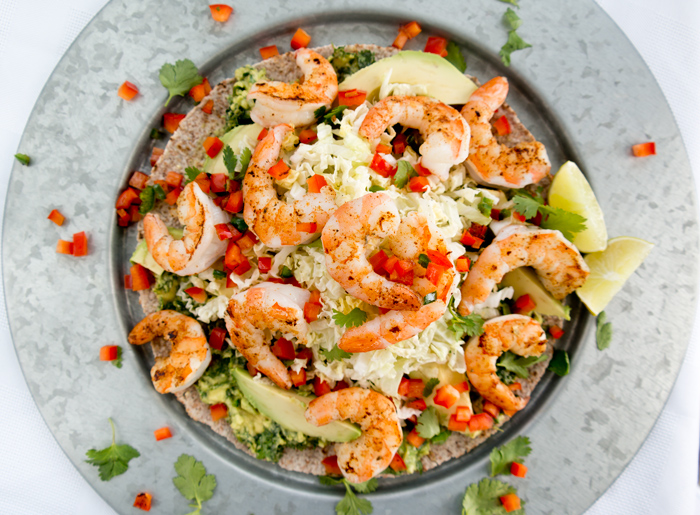 Shrimp Lime Slaw Tostada on Sprouted Tortilla
Shrimp Lime Slaw Tostada on Sprouted Tortilla. Awesome, fresh, clean eating at its most flavorful!
Ingredients
1

lb

shrimp

cleaned and shelled

Sprouted grain tortilla

2 large or 4 small

1

and 1/2 avocado

6-8

cloves

garlic

1

jalepeno + 1 Tbsp for garnish

3

Tbsp

extra virgin olive oil

3

limes

1/2

head napa cabbage

2

eye dropper fulls of Stevia*

1

and 1/2 cups cilantro + 1/4 cup for garnish

4

tbsp

red pepper

the vegetable + 1 Tbsp for garnish

1

tsp

+ crushed red pepper

the seasoning/spice

1

tsp

+ chili powder
Instructions
GUACAMOLE: Roast garlic and 1/2 of the jalapeño in fry pan with 1 tsp oil. About 4-5 minutes on medium heat stirring occasionally.

When done put in blender, add juice from one lime, cup cilantro and 3 Tbsp evoo. Blend as good as you can, it will be a rough blend we just want the flavors to combine (if you are using a Vitamix it will blend a lot smoother which is fine to).

Finish with a pestle and mortar by mashing all the large pieces to combine the flavors, add to bowl and mix in 1/2 of large avocado, mash together. Done.

LIME SLAW:In small bowl add juice of 2 large limes (if limes are small use 3).

Add two droppers of Liquid Stevia (or 1 Tbsp honey).

Pinch of salt and pepper to taste, mix well to combine.

In large bowl add Napa cabbage, 1/2 cup chopped cilantro, 1 Tbsp chopped jalapeño and 2 Tbsp chopped red pepper.

Pour on dressing and toss to combine.

SHRIMP: Lay raw, peeled, deveined shrimp on a flat surface (see photo in above post) and sprinkle with crushed red pepper and chili powder.

Heat non stick pan on med/high heat.

Add shrimp, 1 Tbsp of jalapeño and 2 Tbsp red pepper, cook about two minutes on each side, remove pan from heat.

ASSEMBLY: Heat tortilla in oven at 350 degrees for 4-5 minutes to make crispy. Watch to avoid burning.

Spread guacamole evenly over tortillas.

Slice remaining avocado and scatter over guacamole.

Heap lime slaw on top and arrange shrimp on and around the slaw.

GARNISH (optional): Sprinkle with remaining chopped red pepper, jalapeño and cilantro.
Notes
*Stevia is an all natural sugar alternative. Liquid stevia comes in a small bottle with an eye dropper, it is 10x sweeter than sugar. If your bottle does not have the dropper start with 1/2 tsp and add to taste. If using powdered stevia packet start with one packet add more if needed. If using honey start with 1 Tbsp, if more is needed add to taste. If using sugar start with 2 tsp add more to taste.
*This recipe will make two large tortillas or 4 small tortillas.