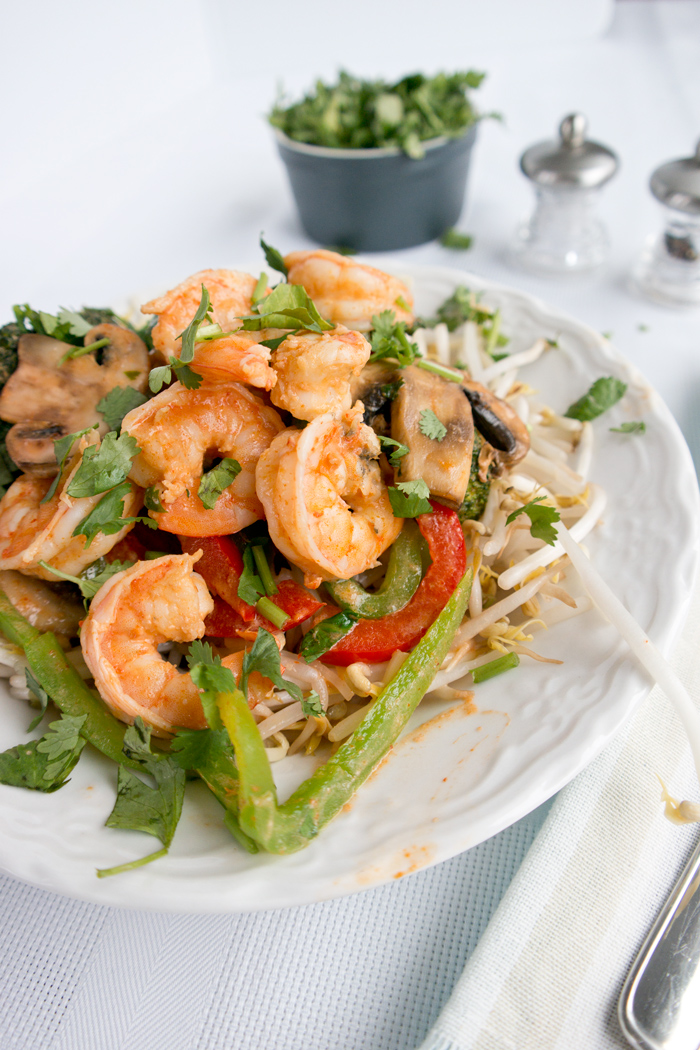 Well as you can see from my last two posts I may have indulged a bit too much but can you blame me? Now its time to get back to some clean eating. In an effort to balance out my carb intake I made this delicious Coconut Curry Shrimp On Bean Sprouts. I have to admit I was a bit nervous. Thai is one of my absolute favorite cuisines and my favorite part of eating thai food are the sauces. I would usually sop up every last bit with white steamed rice. Pure comfort food in my book! So did I really want to take the chance of making something so comforting to me low carb?
[social_share/]Yum

I bought really fresh ingredients. I like a little crisp left to my veggies. The most important item to get fresh is the bean sprouts, they need to be firm and crunchy if we're going to pull this off.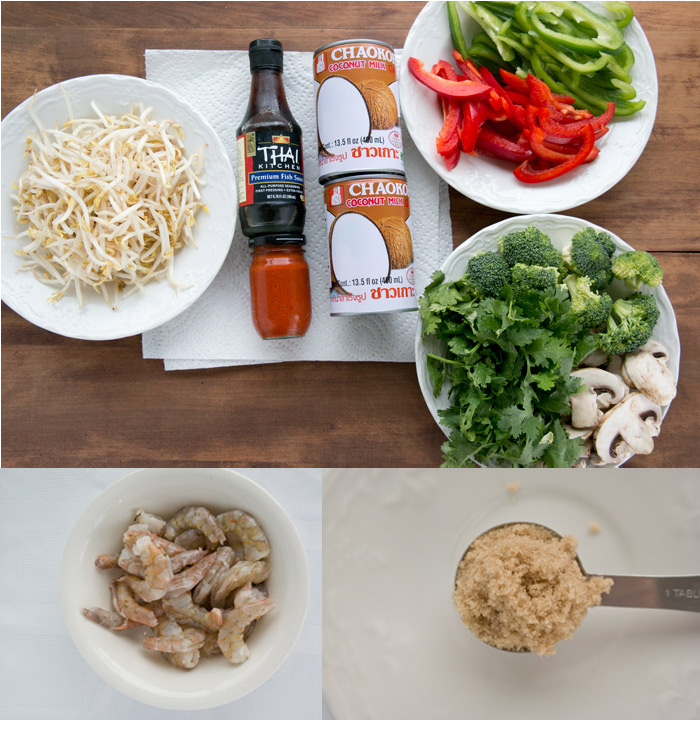 You can really choose any veggies but I like red and green peppers, mushrooms, broccoli and cilantro for garnish. I also throw in cilantro stems, you know the bottom parts of the cilantro leaves we rarely use? It adds a nice freshness to the sauce.
When choosing a coconut milk I shake each can, if I hear no movement I put it in the cart. If I hear sloshing around I put it back. This is personal preference of course and either would work. But I like the thicker coconut milk because it will be a bit creamier. Once the veggies heat up they will begin to release a small amount of juices to the sauce, if the coconut milk is already watery, the sauce will be even thinner.
Then we have our shrimp, peeled and cleaned, gosh I don't like this part but its worth it. Do not try to substitute precooked shrimp for this recipe, they need to absorb the flavors as they cook.
I chose red curry, pre made and waiting for me in the asian aisle at the grocery store.
Fish sauce, again in the asian aisle. I can tell you this, just the right amount can bring a meal together, too much is just, well, too much. Fish sauce adds a salty pungent taste which can really compliment a sweet dish but too much will be too salty, too pungent and fishy.
Last but not least a little bit of sweetness from some brown sugar.
[social_share/]Yum

I start adding my coconut milk to the pan, I add the curry paste and brown sugar. As its simmering I can start to smell the flavors mixing. I add the shrimp and then shortly following the veggies.
Ok here goes, I'm trying to be excited about my rice alternative but I have to admit, its not easy for me to get excited over bean sprouts. Remind me why I'm not eating rice again…oh I remember, those addicting Vanilla Curd Buttercream Sandwich Cookies and that tempting White Chocolate Raspberry Lemon Tart. As I begin to spoon the mixture over the bean sprouts I start to wonder…were the above mentioned indulgences really worth sacrificing rice for? YES!
Of course "there's safety in numbers" so I had to make sure my mom shared the experience with me. We took the first bite both acknowledging the exquisite blend of flavors by nodding and looking at each other with our mouths full. And with a bit of dismay we were really thrilled with our bean sprouts. They added a surprising crisp but light crunch to the meal and a really nice clean freshness to the savory sauce. You have the mild but ever present coconut flavors, the thai essence of red curry, the brightness from the cilantro, the tender yet crisp veggies, the snap of the shrimp and to think bean sprouts would be tying this all together. Amazing!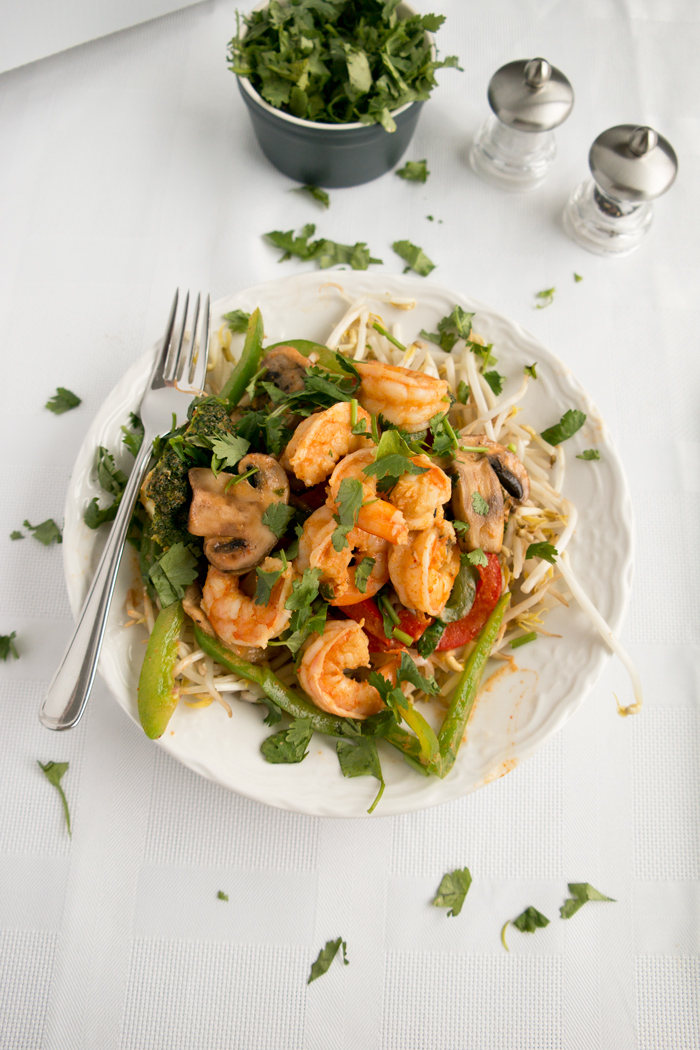 [social_share/]Yum

So back to my original question at the beginning of this post (if you don't remember, "So did I really want to take the chance of making something so comforting to me low carb?"), the answer is yes, yes, yes, yes. I would certainly make this again and definitely eat it again! And you should know, I don't post anything I wouldn't eat again.
If you're looking for a yummy way to enjoy coconut curry while trying to stay low carb give this recipe a try. Even if you aren't watching your carbs go for it. It's just that delicious.
Enjoy
Stacey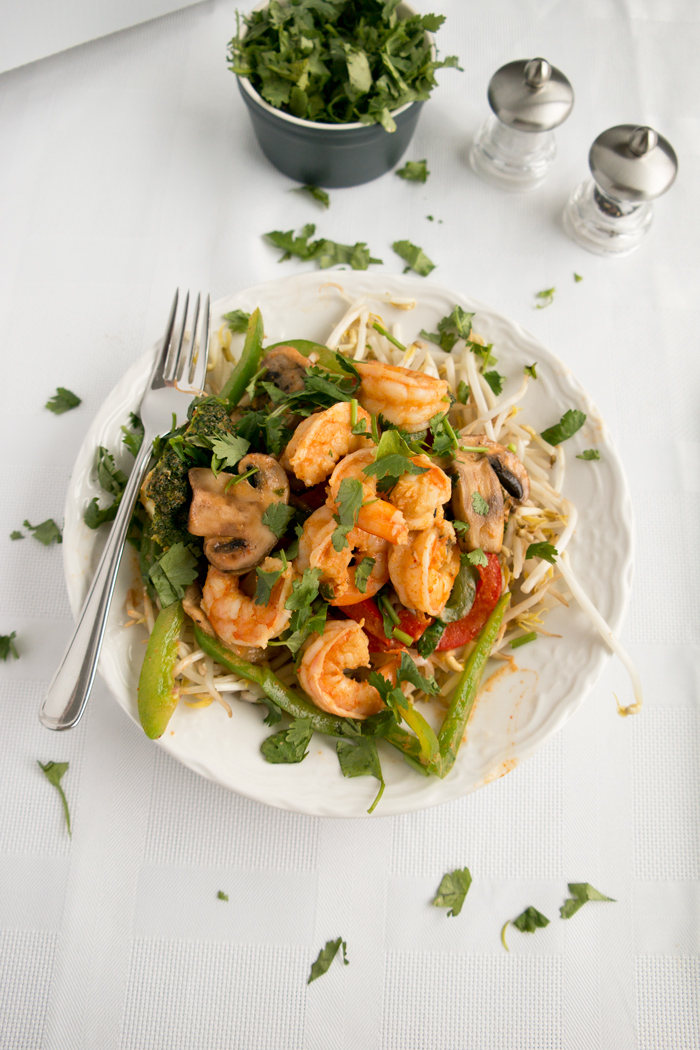 Coconut Curry Shrimp On Bean Sprouts
This savory, sweet, spicy and fresh meal is satisfying and low carb.
Ingredients
1

lb

shrimp

peeled, cleaned and deveined

2

cans coconut milk

4

cups

bean sprouts

1

red pepper sliced

1/2

green pepper sliced

1/2

cup

mushrooms sliced

1/2

cup

broccoli cut into small pieces

1/4

cup

cilantro stems chopped

4

Tbsp

thai red curry

1

tsp

fish sauce

1.5

Tbsp

brown sugar

1/2

cup

cilantro leaves for garnish
Instructions
Prep: Divide bean sprouts into four bowls.

In a large non stick fry pan add both cans of coconut milk and bring to simmer on med heat.

Add your red curry, brown sugar and cilantro stems, let simmer 5 minutes.

Add the shrimp, bring back to a simmer.

Add fish sauce, stir well.

Add your veggies (the pan will be very full), simmer, stir and move veggies around about 5 minutes.

With large spoon or ladle scoop the mixture over the bean sprouts.

Sprinkle with cilantro.