[social_share]Yum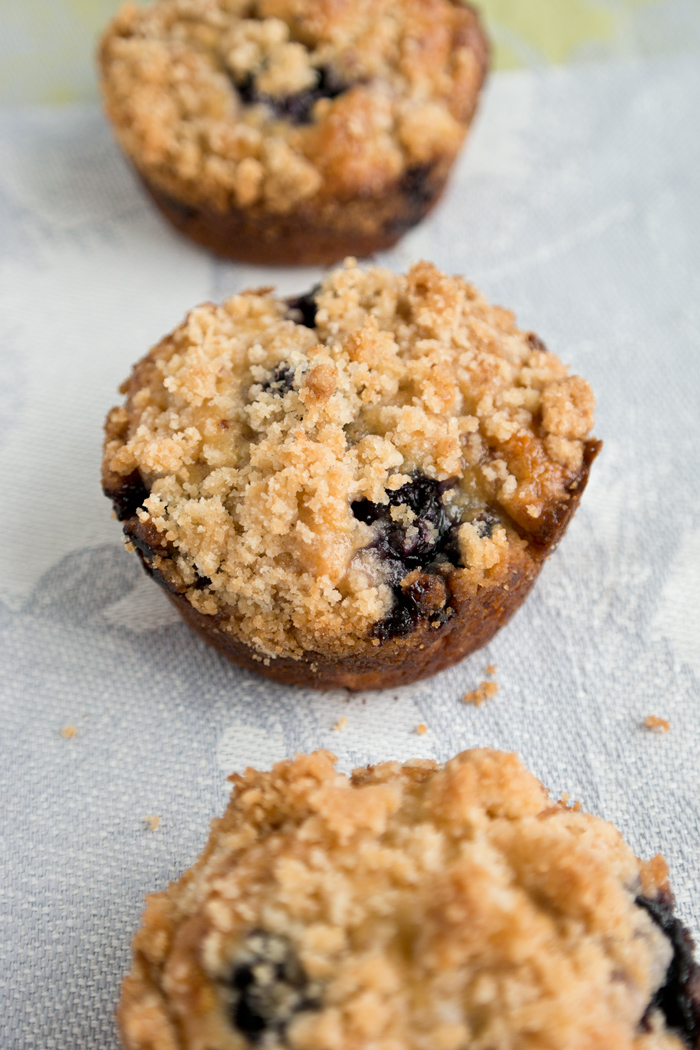 My family can't wait for the weekend mornings. We always have a lot planned just like everyone else but we don't set alarms or make any appointment like commitments. We just wake up when we're ready, to be more accurate, when our daughter is ready, which is always about 2 hours sooner then we are, like 6:45am'ish. But I would rather be woke up by her then by my alarm.
On these mornings its fun to have a special treat made for breakfast that we can all just grab at our leisure. The Blueberry Almond Muffins are perfect for just that and are really delicious. We can eat 'em on the couch, the deck, in bed, anywhere. They are a delicious meal on their own or they are a great side to eggs and bacon.
These muffins have two secret ingredients: 1. sour cream – this gives a really moist muffin 2. almond pastry filling – this is a sweet, sticky blend of almonds and sugar. Its delicious and adds a great almond flavor to these muffins. It comes in a can in the bakery aisle and the one I found is made by Solo brand. You find it in danishes, etc. but I thought it would be a great pairing with blueberry. (This is not an affiliate, I just like to provide everyone the exact product I use and a visual so when you're shopping you know what to look for.)
[social_share]Yum

I start by mixing all my wet ingredients in one bowl and dry ingredients in another. But I have not added the blueberries or almond to either yet. I gently fold the dry ingredients into the wet ingredients until fully combined. It's important not to over mix a muffin batter, it will get tough. Next I add in the almond pastry filling and fold again to incorporate. Last but not least I gently fold in the blueberries. I fill the muffin tins (lined with paper cups). I then take the streusel mixture and crumble over each muffin.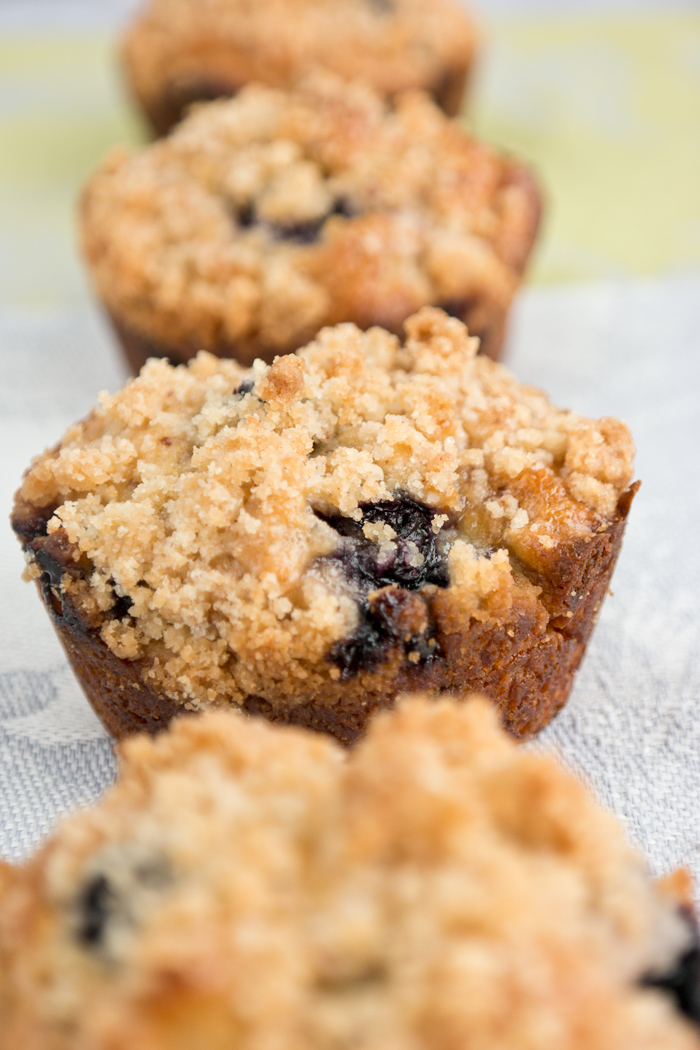 [social_share]Yum

As these were baking my husband and daughter came downstairs to see what smelled so good. These made the house smell wonderful. All three of us were watching and waiting for the timer to go off.
Finally the time came. Each of us were just like excited little kids pulling the paper off, we each took our first bite, my daughter was the first to voice how good they were. My husband is a man of few words but when he got up for a second and then a third I knew he liked them. I had to agree with both of them, these were really delicious and a great flavorful way to start our day. A great streusel topping, plump juicy blueberries and almond filling in the batter make these a winner!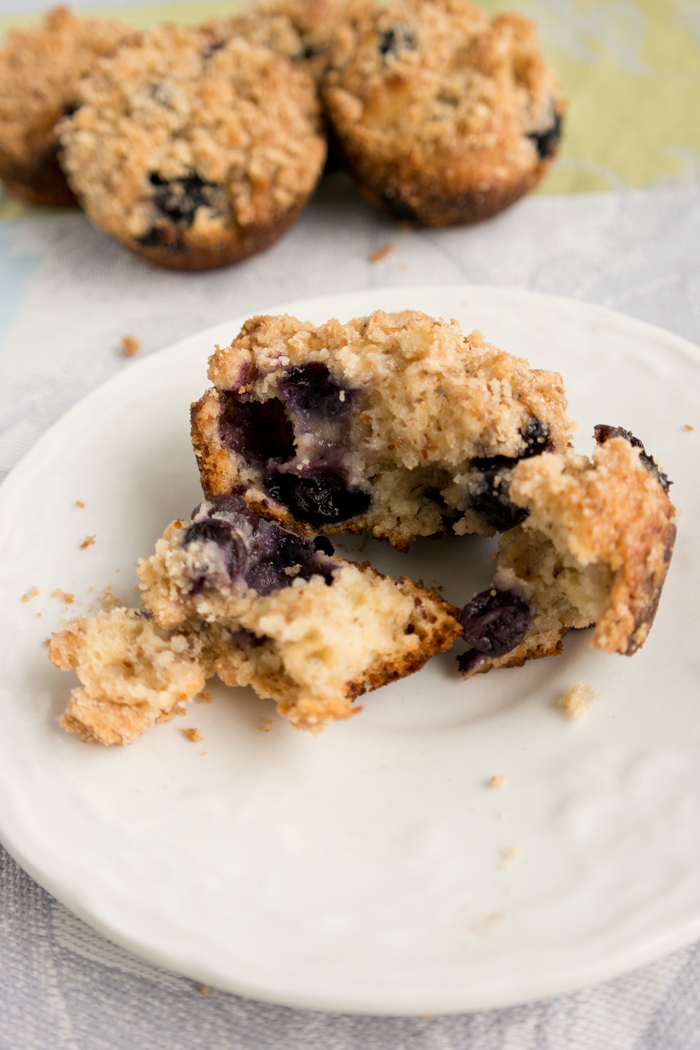 [social_share]Yum

Enjoy these for breakfast or as an anytime snack.
Enjoy!
Stacey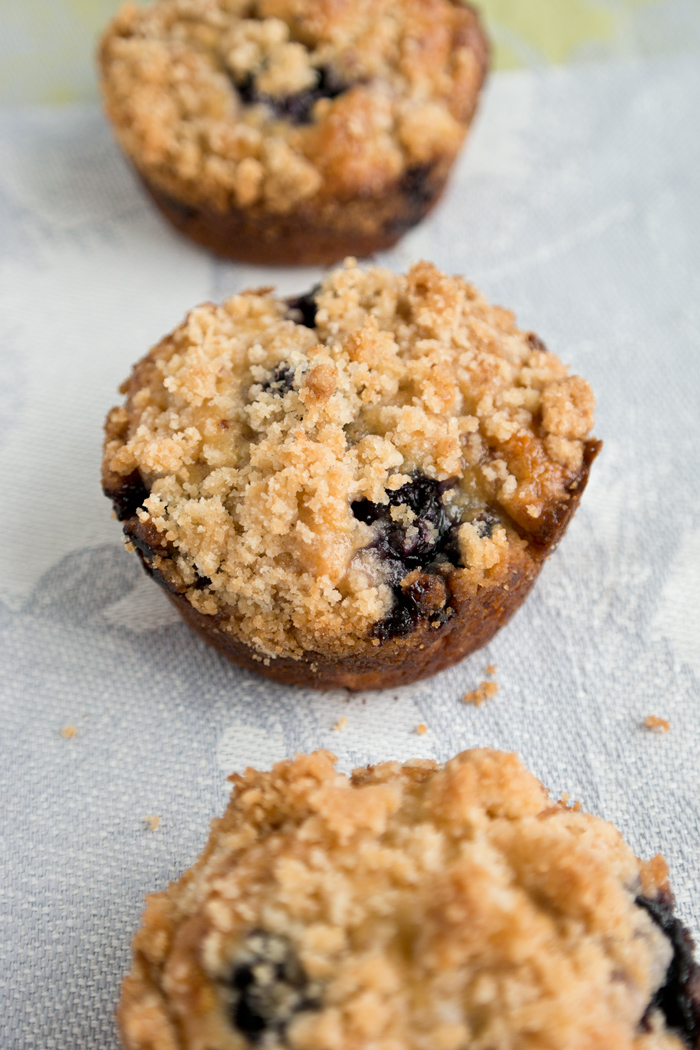 Blueberry Almond Muffins
A delicious and flavorful way to start your day. A great streusel topping, plump juicy blueberries and almond filling in the batter make these a winner!
Ingredients
MUFFINS:

1

cup

all purpose flour

1/4

cup

brown sugar

1

Tbsp

baking powder

pinch

of salt

1/2

cup

+ 2Tbsp sour cream

1

tsp

vanilla extract

1/2

tsp

almond extract

2

Tbsp

vegetable oil

1

egg

1

cup

blueberries

3/4

can almond pastry filling

or 9 oz, I used Solo brand 12.5 ounces

STREUSEL:

1/4

cup

flour

2

Tbsp

butter melted

2

Tbsp

brown sugar

2

Tbsp

white sugar

1/4

tsp

cinnamon
Instructions
MUFFINS:

Pre heat oven to 350 degrees. Line muffin tin with paper cups.

Place flour, brown sugar, baking powder and salt in bowl.

In separate bowl put in the sour cream, vanilla and almond extracts, vegetable oil and egg. Mix until blended.

Add the dry ingredients to the sour cream mixture. Fold batter until we'll blended.

Add in almond pastry filling and fold until well incorporated.

Fold in blueberries. Scoop into muffin tins, fill each half way.

Top with streusel, using all of it.

Bake 30-35 mins, until toothpick inserted in center comes out clean. Let cool 10-15 minutes.

STREUSEL:

Add flour, sugars and cinnamon to the melted butter. Mix until you have a crumbly mixture.