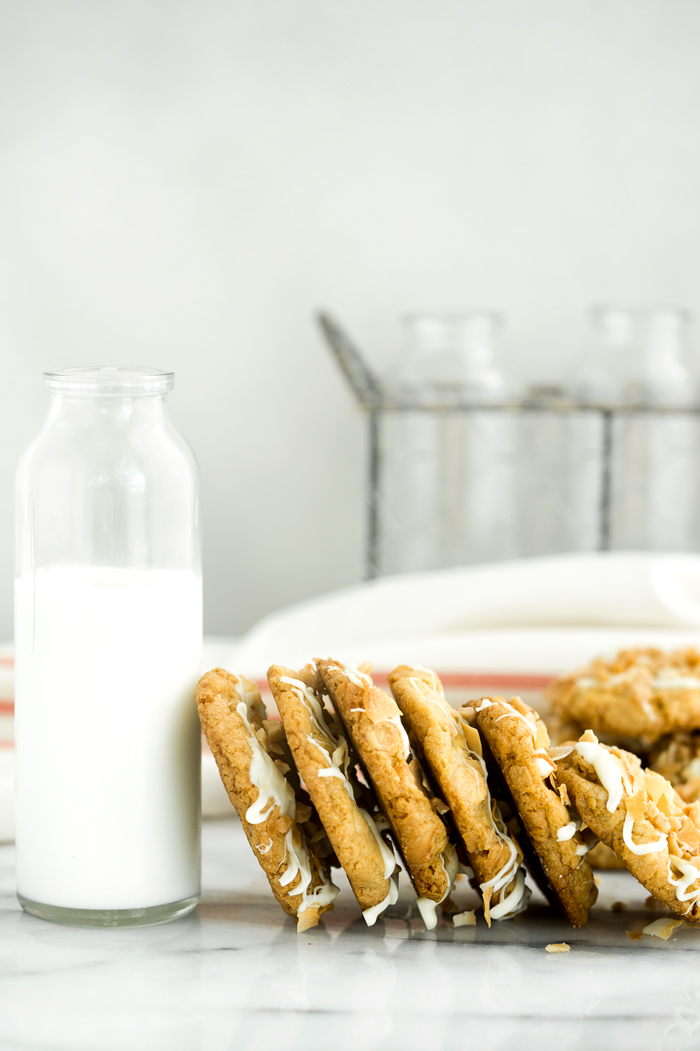 White Chocolate Coconut Toffee Cookies. The name pretty much says it all… YUM!
When I was a child I really didn't like coconut, I didn't like the rich flavor, the texture, whatever it was you just couldn't convince me. Fast forward to my late 20's and I started to like it, fast forward to now and I can't imagine a world without it.
My mom has always been obsessed with coconut. In fact she always jokes that she craved coconut all the time while she was pregnant with me. To this day the obsession is going strong, she even gets coconut flavoring added to her iced coffee, ewww, I cant handle that one. But in desserts bring it on or in this case a cookie and I'll take a dozen. Don't judge, it's Friday which is as good a reason as any to eat a dozen cookies 😉 .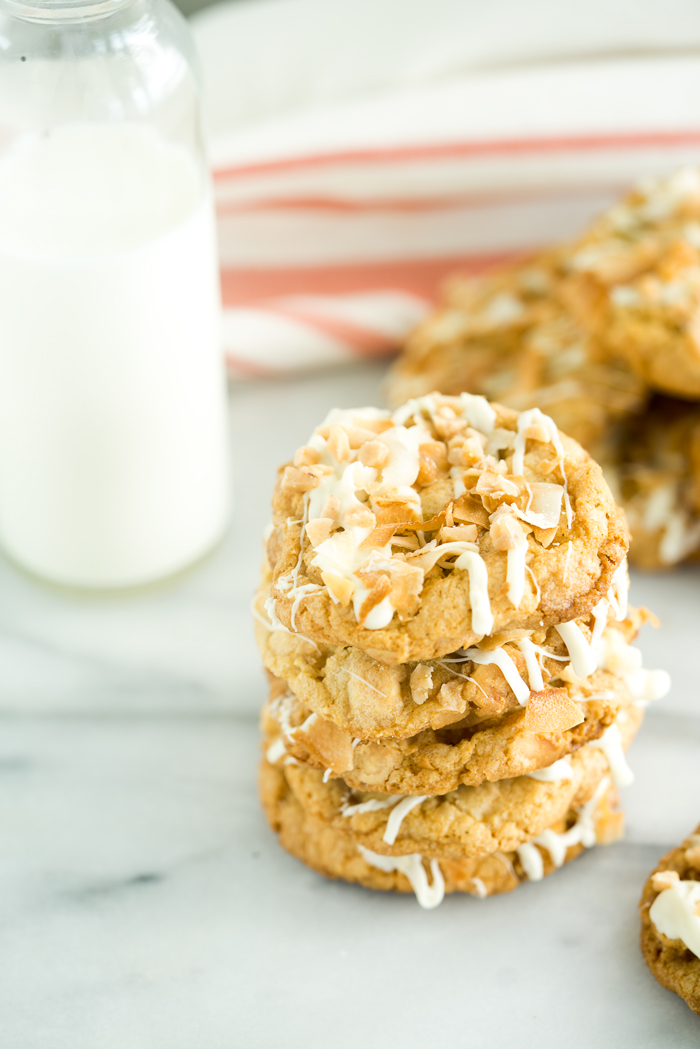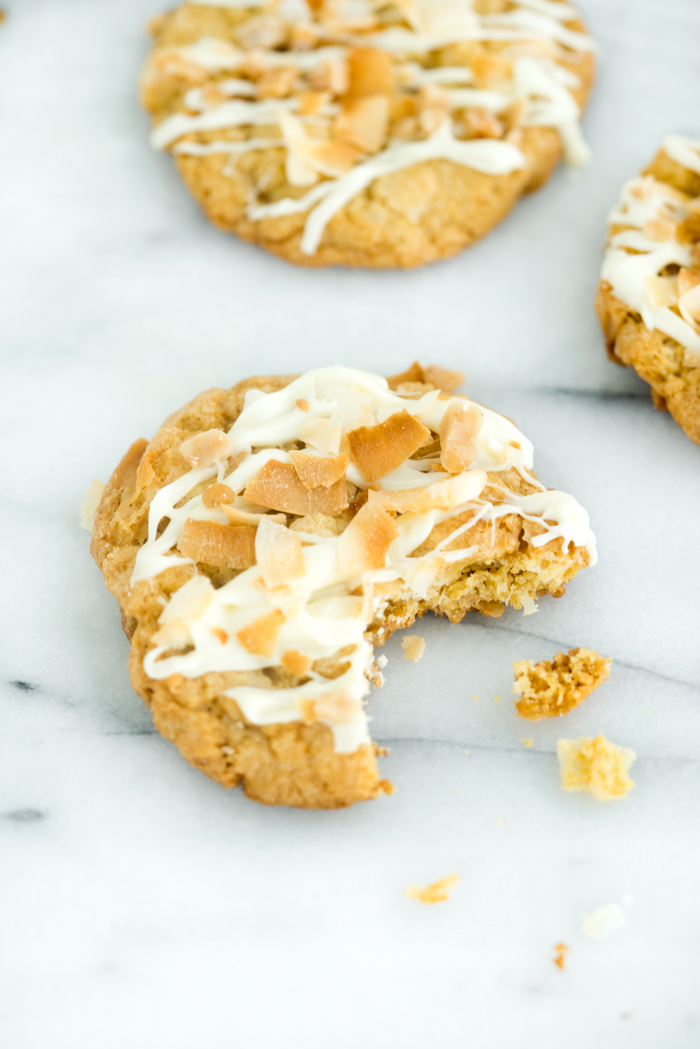 I had a different post planned for this week but decided to pull this one ahead probably because I started to crave these and didn't have any in the house so might as well gush about them and look at pretty pics of them.
Why I'm Obsessed and You Will Be To:
Coconut – Sweet, flaky, flavorful with a hint of the tropics.
White Chocolate – sweet, creamy and melt in your mouth richness.
Toffee – Buttery, sweet and the right balance of something extra to the mix.
Cookie – A wonderful cookie base that bakes up with crispy edges and a slightly chewy center.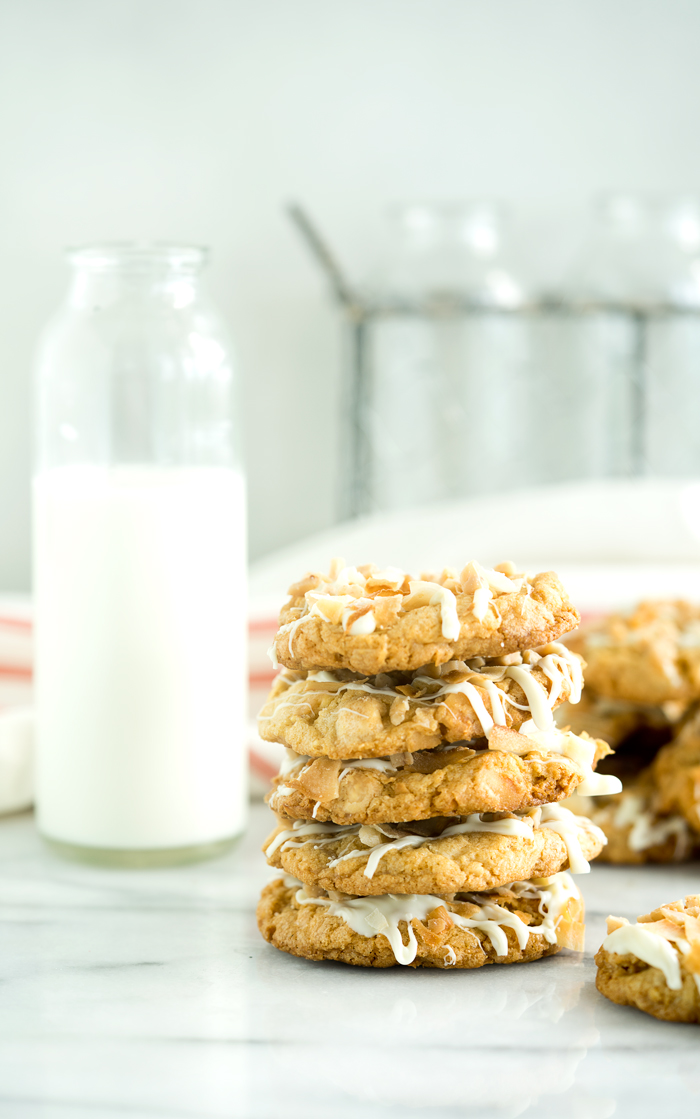 For the topping I drizzled each cookie with extra white chocolate and then sprinkled on toasted coconut and toffee bits. It's worth the extra time and effort and I almost want to say dont even think about leaving this part out. However, I also know these cookies are awesome even without the garnish because I ate about 4 before garnishing them lol. So garnish or no garnish make these cookies!
Enjoy!
Stacey
Other coconut recipes you may like:
Coconut Cream Tart with Raspberry Whip
These are the items that helped make these cookies you can purchase from the links below or just see what to look for at the grocery store, I think it helps to have a visual before going shopping. (please note that these are Amazon affiliate links which means if you buy any of these from them I get a small commission at no charge to you.)
PIN IT FOR LATER! Thanks 🙂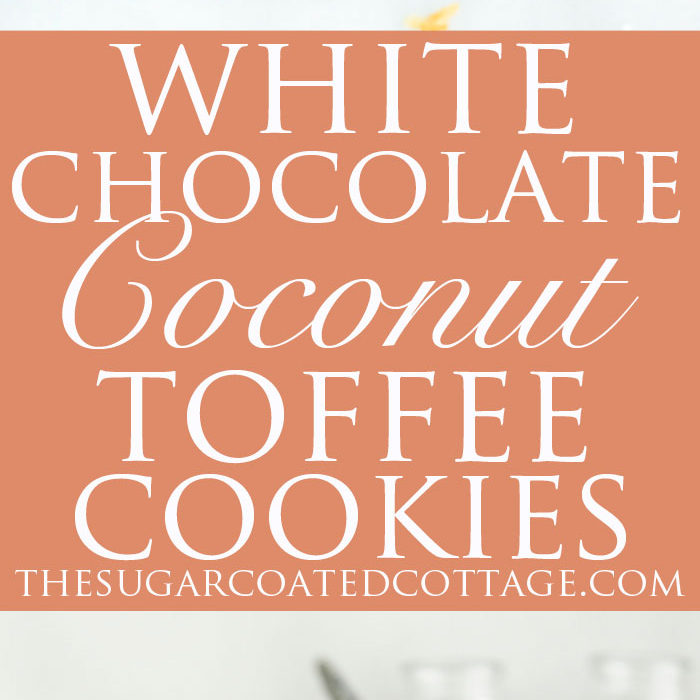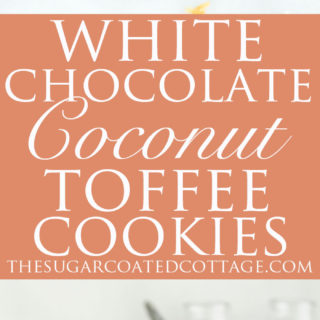 White Chocolate Coconut Toffee Cookies
White Chocolate Coconut Toffee Cookies. The description pretty much says it all... YUM!
Ingredients
COOKIES:

1 1/4

cups

all purpose flour

1/2

tsp

baking soda

1/2

tsp

baking powder

1/4

tsp

salt

1/2

cup

unsalted butter

1/4

cup

granulated sugar

3/4

cup

light brown sugar packed

1

large egg

1

teaspoon

vanilla extract

3/4

cup

white chocolate chips

3/4

cup

flaked unsweetened coconut

1/2

cup

toffee bits

GARNISH

optional:

1

cup

white chocolate melted

1/2

cup

toasted coconut

1/2

cup

toffee bits
Instructions
Preheat oven to 350 degrees F.

Line 2 cookies sheets with parchment paper, set aside.

In a large bowl add the flour, baking soda, baking powder and salt.

In the bowl of a mixer cream the butter until light and pale.

Add in the sugars and continue mixing, about 1 minute.

Add the egg and vanilla. Mix well to combine.

Slowly add in the flour mixture with mixer on low until all incorporated.

Bring mixer to medium speed and mix 30 seconds until dough forms.

By hand mix in the white chocolate chips, coconut and toffee*.

Using 1 1/2 inch cookie scoop, scoop out each cookie and place on tray 2 inches apart.

Roll each scooped cookie into a ball, this helps achieve a uniform shape and size.

Bake 11-12 minutes or until crackled and golden brown.

Repeat with remaining batter.

Cool completely.

GARNISH:

Drizzle one cookie at a time with white chocolate and sprinkle on the coconut and toffee. Let rest until white chocolate is set.

If toasting your own coconut - preheat oven to 350 degrees, spread on parchment lined baking sheet. Bake for 1-2 minutes, don't forget about it, it burns fast.
Notes
Toffee bits - I noticed that if I baked these cookies on the longer side (11 min) the toffee bits that were on the bottom started to burn a little, if I baked them on the lower side (9 minutes) no issue. Now this isn't a huge deal to me but thought it worth mentioning because each oven and cookie sheet is different and could affect this. One work around would be to sprinkle the toffee on top of the dough mounds and gently press them into the dough before baking then there won't be any toffee on the bottoms.