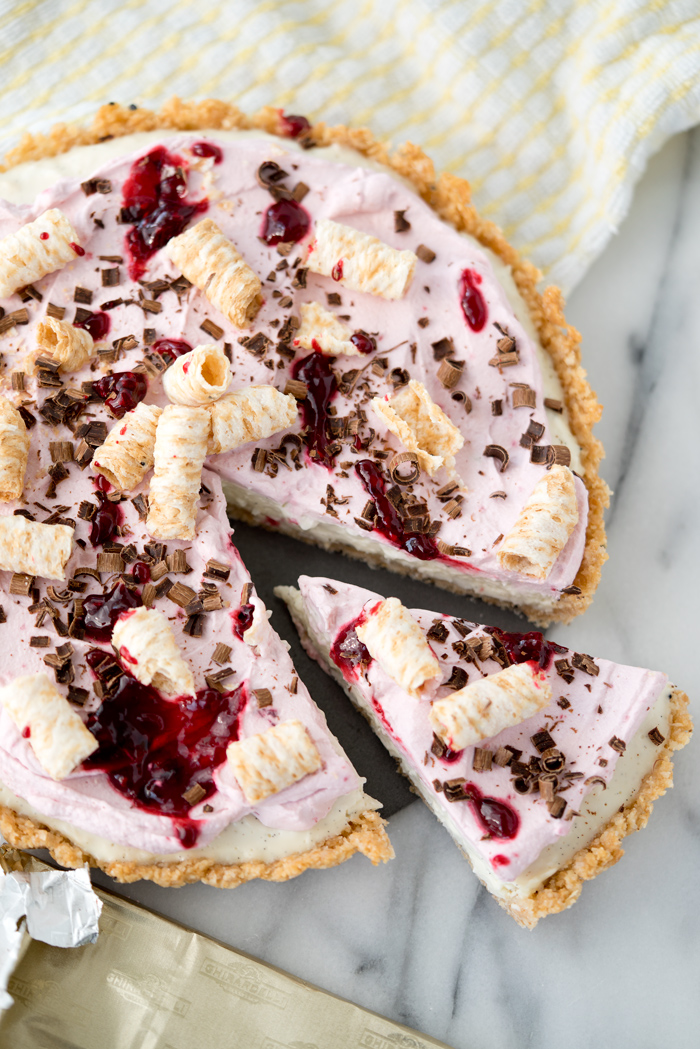 Coconut Cream Tart with Raspberry Whip. Dreamy coconut, crunchy coconut cookie crust and sweet raspberry whipped cream. The perfect tart for any occasion. [social_share/] Yum
I hate to dine and dash so to speak but the truth is I'm short on words this week so let's just get to the good stuff shall we!
This little tart all started with a cookie. My mom found these great "Crispy Coconut Rolls" (available at Amazon and World Market) and we were instantly addicted! We both agreed they would make a great crust so off I went brain storming. Since they were coconut cookies my brain went right to coconut cream, so obvious right?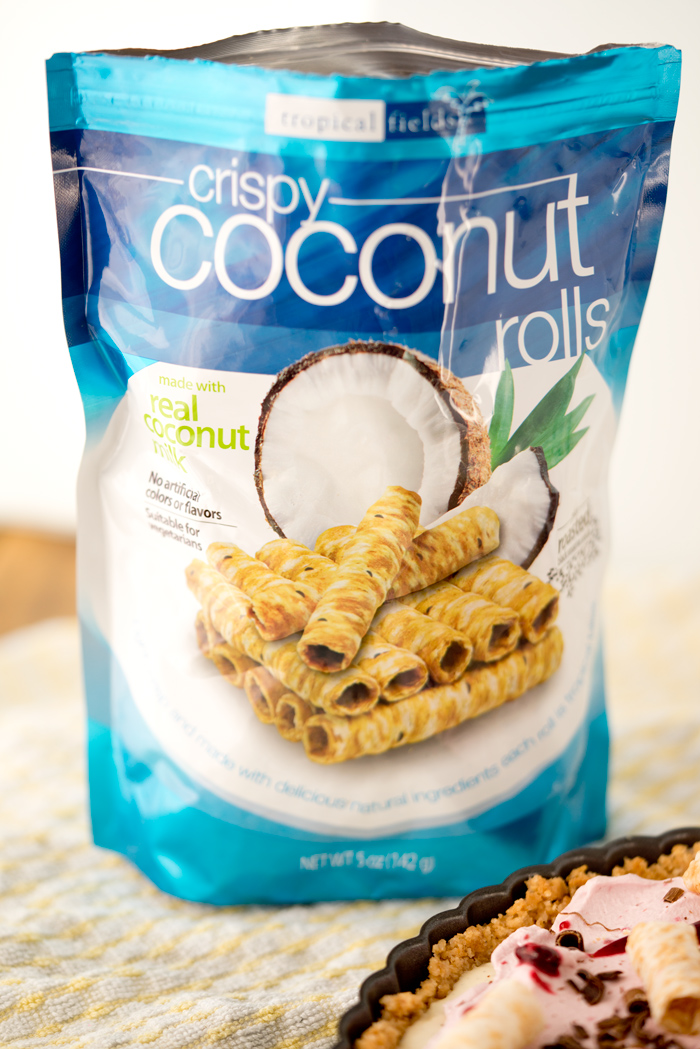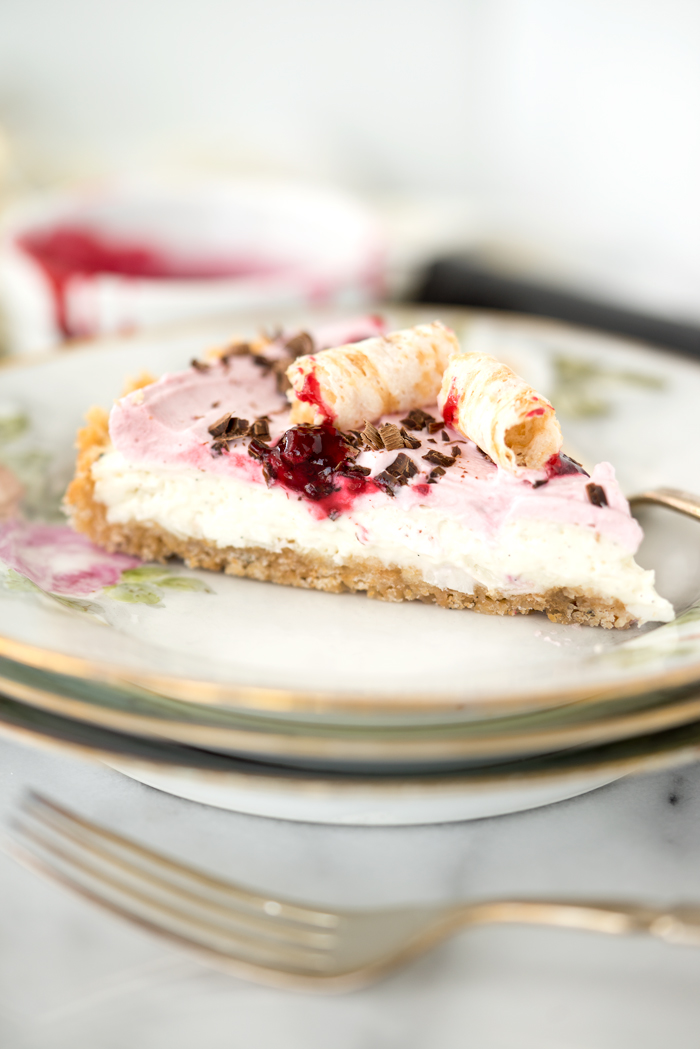 For the crust I used a standard graham cracker crust recipe, only I subbed the graham crackers with the coconut cookies. The crust turned out to be magnificent, crunchy and coconutty. Just as I had imagined it. The coconut cream filling is smooth and creamy, with the added texture of real coconut flakes mixed in. The flavor enhancer to the coconut was the use of real vanilla bean seeds! Not only do I love the flavor but I love to see those little seeds all over.
For the topping I used a raspberry flavored whipped cream. It just sounded good 🙂 . And I was right!
Now lets talk about the garnish. I find coconut to be super rich, so I took to dark chocolate shavings to help balance the richness. The dark chocolate adds that little hint of bitter needed. I used crumbled coconut cookies (do not put on until ready to serve, they do get soggy when on the tart for long period of time). Finally I drizzled on a bit of raspberry puree.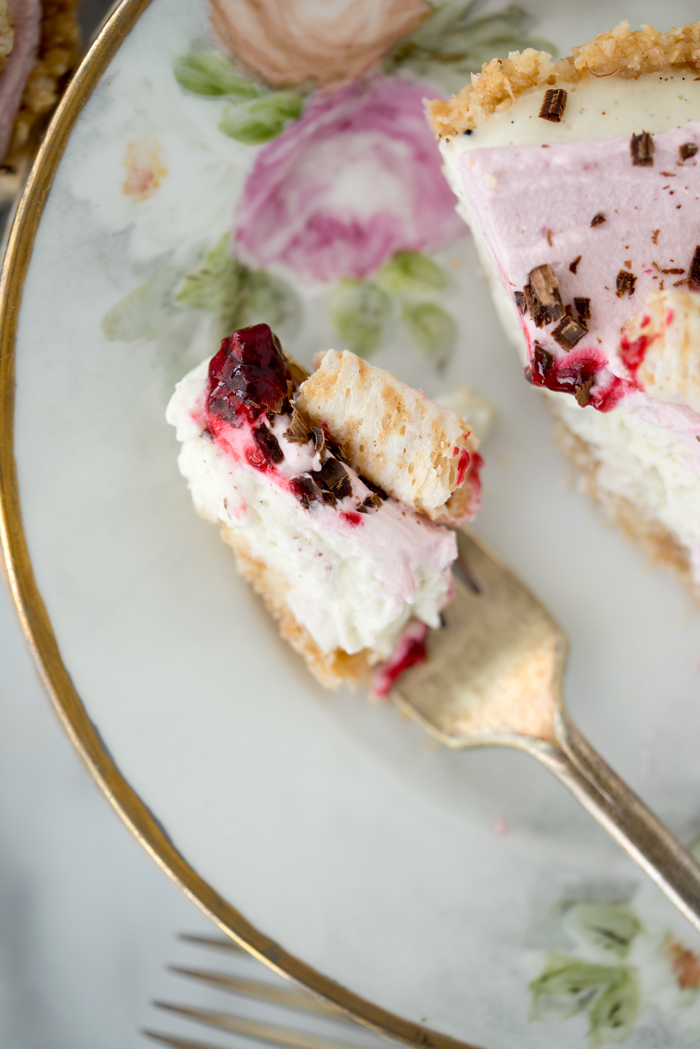 Enjoy!
Stacey
FORGOT TO PIN IT? Here's your chance! Thanks.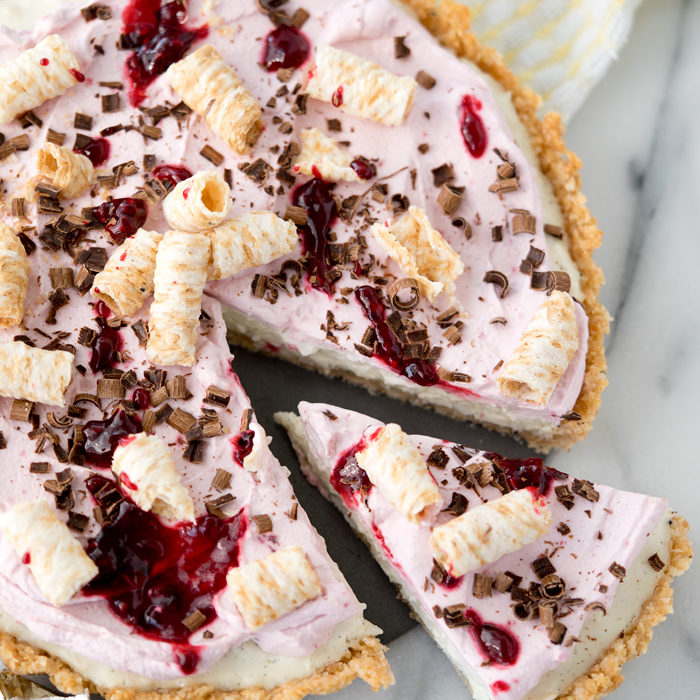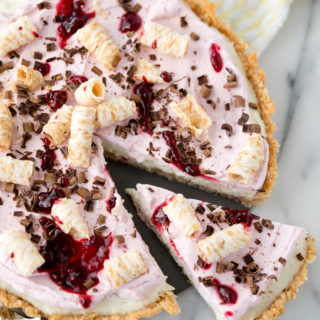 Coconut Cream Tart with Raspberry Whip
Coconut Cream Tart with Raspberry Whip. Dreamy coconut, crunchy coconut cookie crust and sweet raspberry whipped cream. The perfect tart for any occasion.
Ingredients
CRUST:

1 1/2

cups

finely crushed Rolled Coconut Cookies

or graham crackers.

6

Tbsp

butter melted

1/3

cup

sugar

2

pinches

of salt

FILLING:

1

can full fat coconut milk

1/2

cup

flaked coconut

1

egg

4

Tbsp

sugar

4

Tbsp

corn starch

2

tsp

vanilla extract

seeds from 1 vanilla bean

RASPBERRY WHIP:

3/4

cup

heavy cream

2

Tbsp

raspberry puree or raspberry jam

seedless

1

Tbsp

powdered sugar

GARNISH:

Dark chocolate shavings

take a vegetable peeler run over edge of dark chocolate bar for shavings

Crumbled Rolled Coconut Cookies

Drizzle of raspberry puree or jam

if too thick add a little water and mix.
Instructions
Pre heat oven to 350 degrees.

Mix the cookie crumbs, butter, sugar and salt together in a bowl.

Pour into 8" round tart pan.

Press with back of hand or cup into tart pan and up the sides as well.

Make sure crust is pressed firmly into place. Bake for 25 minutes.

When done remove from oven to cool.

FILLING:

In sauce pan add the coconut milk, vanilla bean seeds, egg, sugar and cornstarch.

Simmer until mixture thickens, 7-10 minutes, whisking regularly. (see notes)

Once thickened, set aside to cool 10 minutes.

Add in the coconut and vanilla extract, stir, pour into crust.

Cool completely in refrigerator, minimum 4 hours.

WHIP:

Add heavy cream and sugar to mixing bowl, whip until soft peaks form.

Fold in the raspberry puree or jam.

GARNISH:

Spread the whipped cream over the top of the tart.

Sprinkle with crumbled cookies and chocolate shavings. Note: don't sprinkle with cookies until ready to serve or the cookies will get soggy.

Carefully remove from pan and serve.
Notes
Cookies can be crushed finely in a food processor or put cookies in a ziploc bag and crush with a rolling pin.
To make chocolate shavings take a vegetable peeler, run the blade over edge of dark chocolate bar making shavings.
To make 1 1/2 cups crushed cookie crumbs took one whole bag of cookies. If you are going to garnish the top of the tart with broken cookies you will need to buy two bags.
If the coconut cream thickens too fast and curdles (thick and lumpy) pour the hot mixture into a blender and blend on high for 2 minutes, it should go back to normal and you can proceed with the instructions.