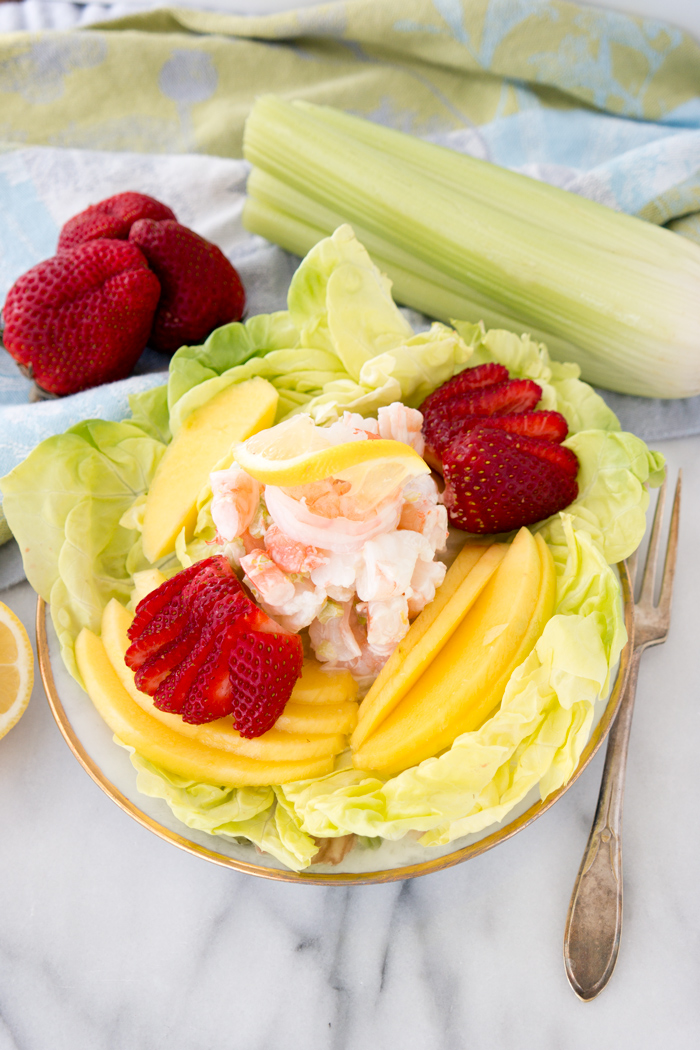 Simple Lemony Shrimp Salad. Plump shrimp and diced crunchy celery all enrobed in a bright lemony dressing.
[social_share/] Yum

Is "Lemony" really word? I'm not sure but in the world of food I tend to make up a lot of words to describe how good something is and today that word is "Lemony".
This Simple Lemony Shrimp Salad is easy to make. Its super light and fresh and makes the perfect meal for all you shrimp and lemon lovers out there like myself. And when I say simple I mean simple!! We're talking chilled, cooked shrimp, diced celery, some lemon zest, lemon juice and mayonaise. That's it.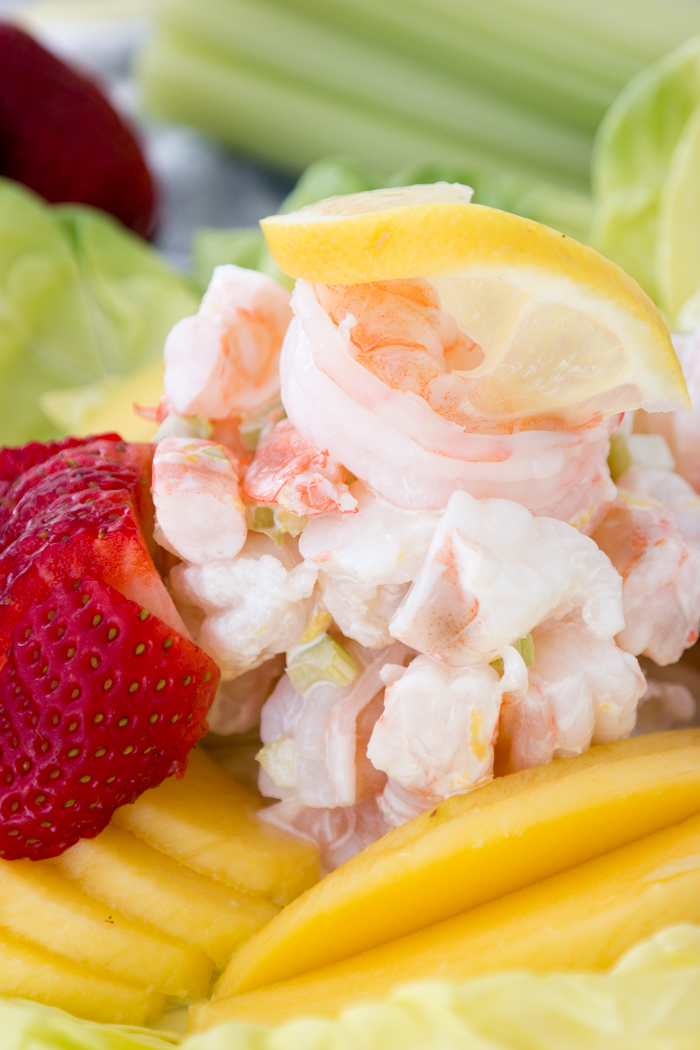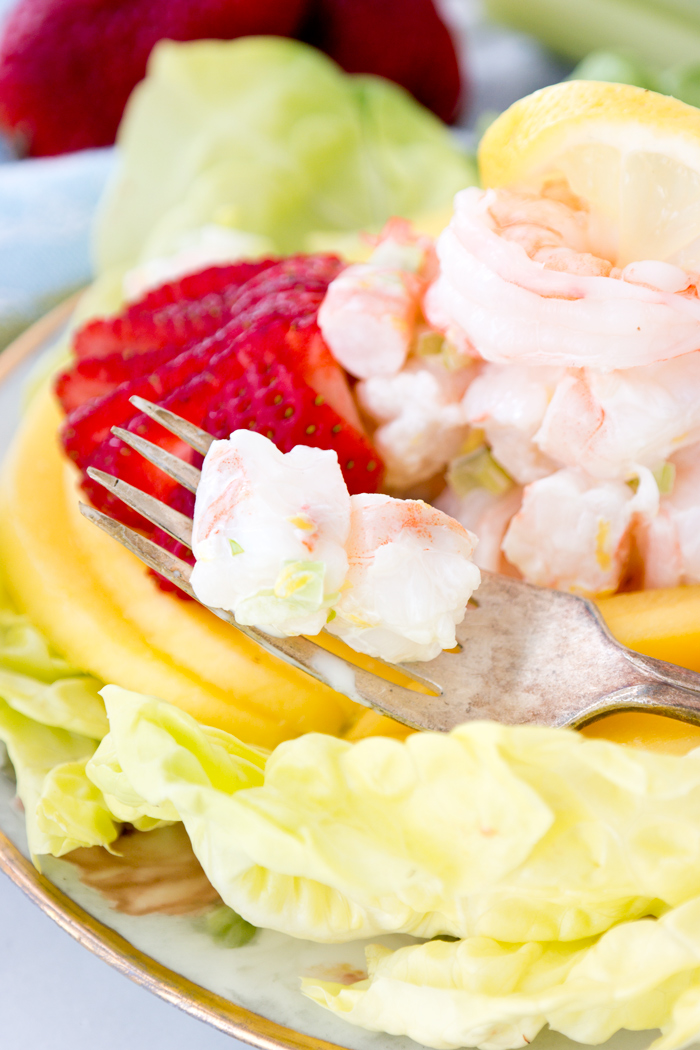 When it comes to salads with mayo everyone has an opinion. My dad likes so much mayo you don't see what you're actually eating, lol. I tend to like mine on the lighter side, I still want to see the food beneath the coating of mayo based dressing. So that is how I approached this salad and the addition of the lemon juice and zest lightens the dressing right up not to mention adds a wonderfully bright flavor to this salad. Not pucker worthy mind you, that would be too much lemon but just enough! The celery, diced finely, adds a nice crunch and is that perfect balance between the lemony dressing and plump shrimp. Speaking of shrimp, a good shrimp should be firm, plump and snap in your mouth with each bite! I like to ice my cooked shrimp before cutting them up and adding them to the salad. This salad is best served cold and having ice cold shrimp really makes a difference.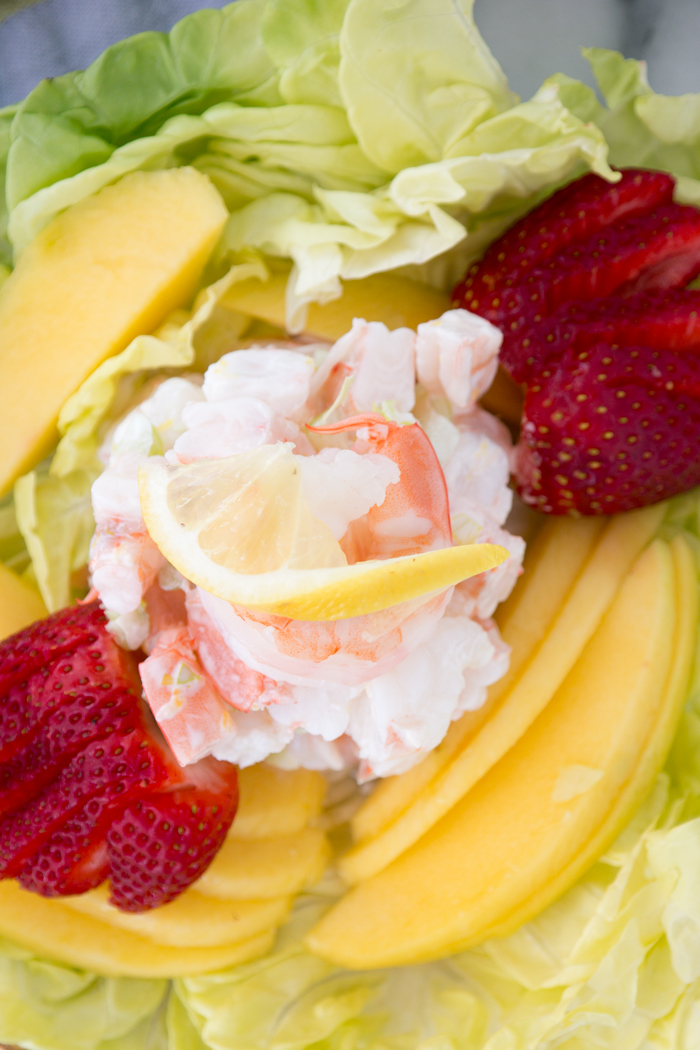 So next time you're in the mood for shrimp, salad, lemons or all of the above give this Simple Lemony Shrimp Salad a try!!
Enjoy!
Stacey
FORGOT TO PIN IT? Here's your chance! Thanks.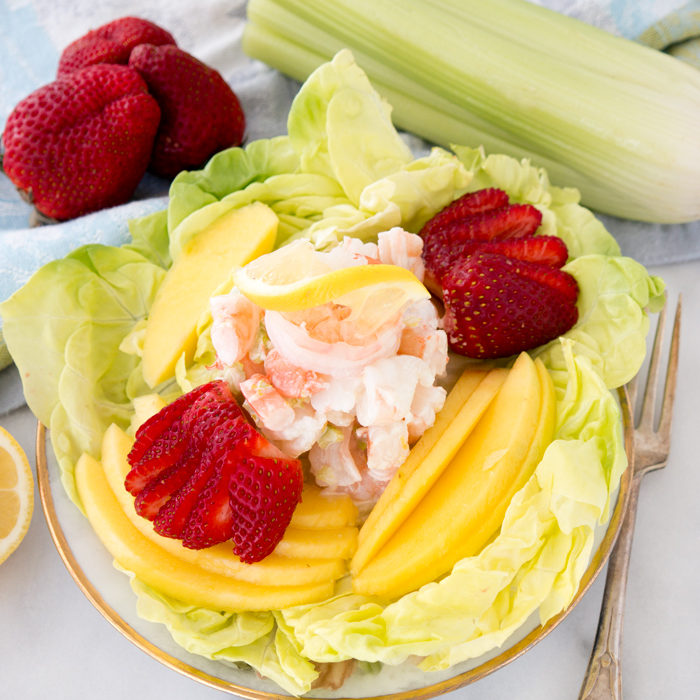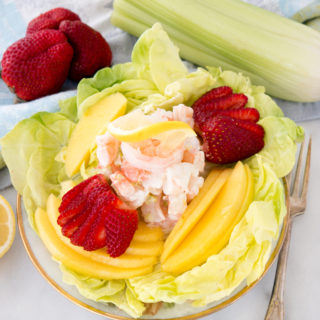 Simple Lemony Shrimp Salad
Simple Lemony Shrimp Salad. Plump shrimp and diced crunchy celery all enrobed in a bright lemony dressing.
Ingredients
1

cup

cooked shrimp chilling in an ice bath

this is 11-12 medium shrimp

2

Tbsp

diced celery

2

Tbsp

mayonnaise

1

Tbsp

lemon juice

2

tsp

lemon zest

garnish as desired

this is optional
Instructions
In a medium bowl add the celery, mayonnaise, lemon zest and lemon juice. Whisk to combine, set aside.

Remove shrimp from ice bath, gently dry them off.

Roughly cut the shrimp, I cut each shrimp into fours. You want the shrimp in chunks.

Add the shrimp to the dressing, stir to combine, chill for 15 minutes (or more if making ahead of time).

Garnish plate (optional) as desired and serve (I used lettuce, mango and strawberries) and serve.
Notes
This recipe is for one serving, but you can certainly double the recipe for two servings or quadruple the recipe for four servings.
I did not salt and pepper this salad but that can be changed per your taste. My shrimp were already salty enough and I didn't feel the pepper was needed.
To save time you can buy cooked shrimp for this salad.