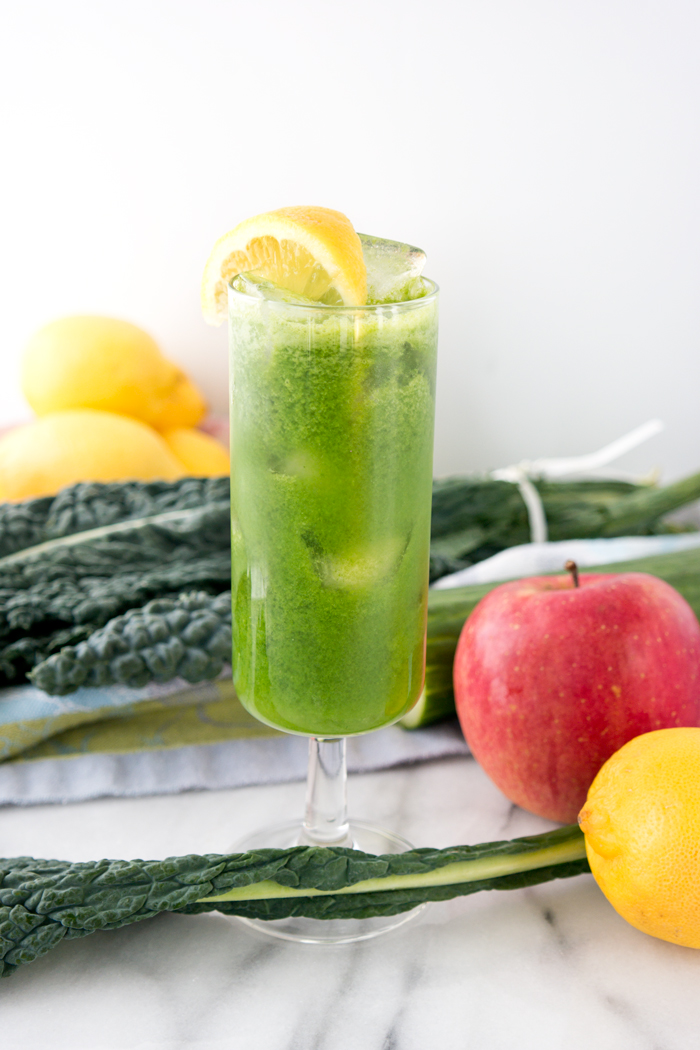 Green Detox Juice! Fuji apple, cucumber, kale, lemon and ginger!! Because we all have to detox every now and then!!
[social_share/] Yum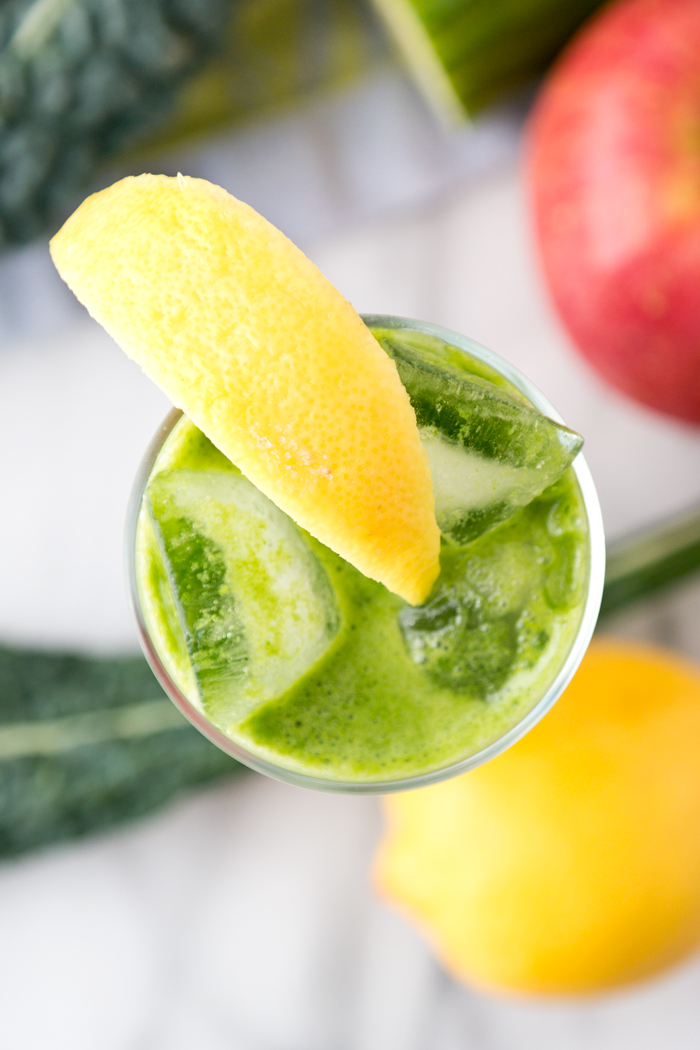 What the What? Where are the desserts?! is probably what you're thinking right about now. Detoxing has not crossed the face of this blog ever so why now? And why so green? Well, for the last month I hit a funk in the recipe and cravings department. It was like my taste buds just weren't feeling anything.
While on vacation I had my notebook ready to go for all the wonderfully sinful dessert ideas I knew were going to pop into my head once I relaxed. But to my surprise only "good for you" healthy things started coming out onto the notepad. Was it the salty, humid air? The warm sunshine filled days? The sound of the ocean crashing against the sand? The smell of the chlorine in the pool, maybe the fumes? The fact I was in a swim suit everyday and shorts/tanks every night? The fact everything was in bloom and colorful? I really have no clue but I'm leaning towards the chlorine fumes and decided to roll with it.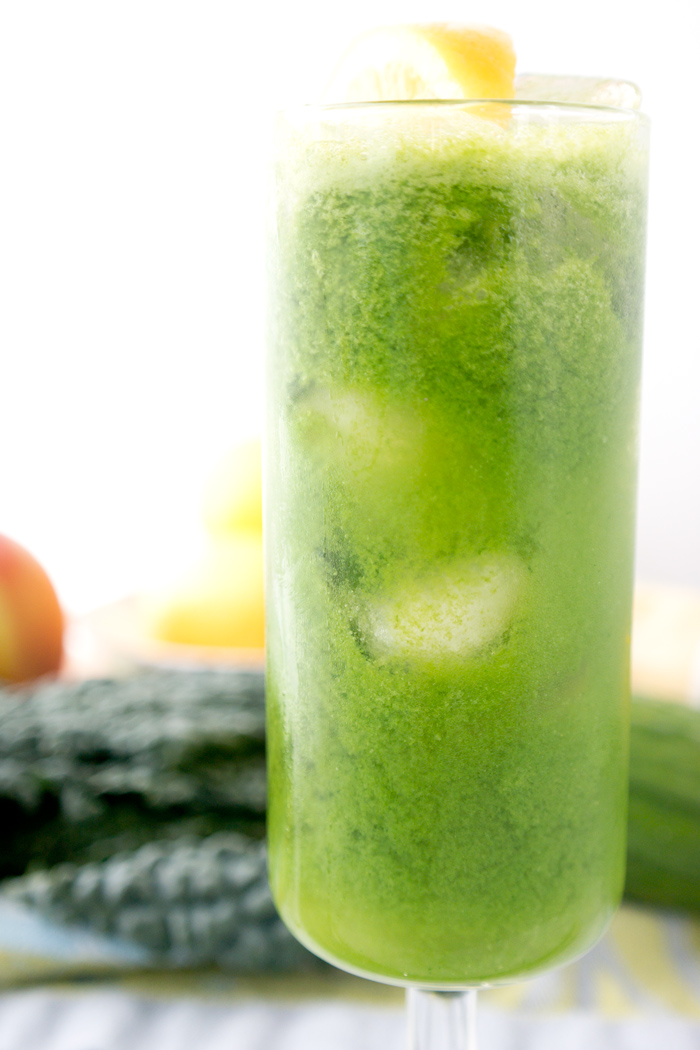 South Florida has a wonderful array of restaurants, many of which include juice bars (something my small town would laugh at). One morning at breakfast we happened upon a wonderful joint and instead of the usual cravings for pancakes and omelets I was craving juice, veggie juice to be clear. I went for it and seriously I could not get enough. I chose a culmination of ginger, cucumbers, apple, lemon and kale. Since being home I am still craving this juice and decided to make one of my own.
First I had to find and then wash off the old juicer, lets just say it was a little dusty. Then I had to assemble all my ingredients, Fuji apple, cucumber, kale, lemon and ginger. I buy my ginger in a tube, it saves me a lot of time and it tastes identical to fresh grated. I then remembered to go back and forth between juicing the juicy veggie/fruits with the not so juicy. Lets take kale for instance, not overwhelmingly juicy, so I would juice that first then juice a slice of cucumber to keep the juicer flowing.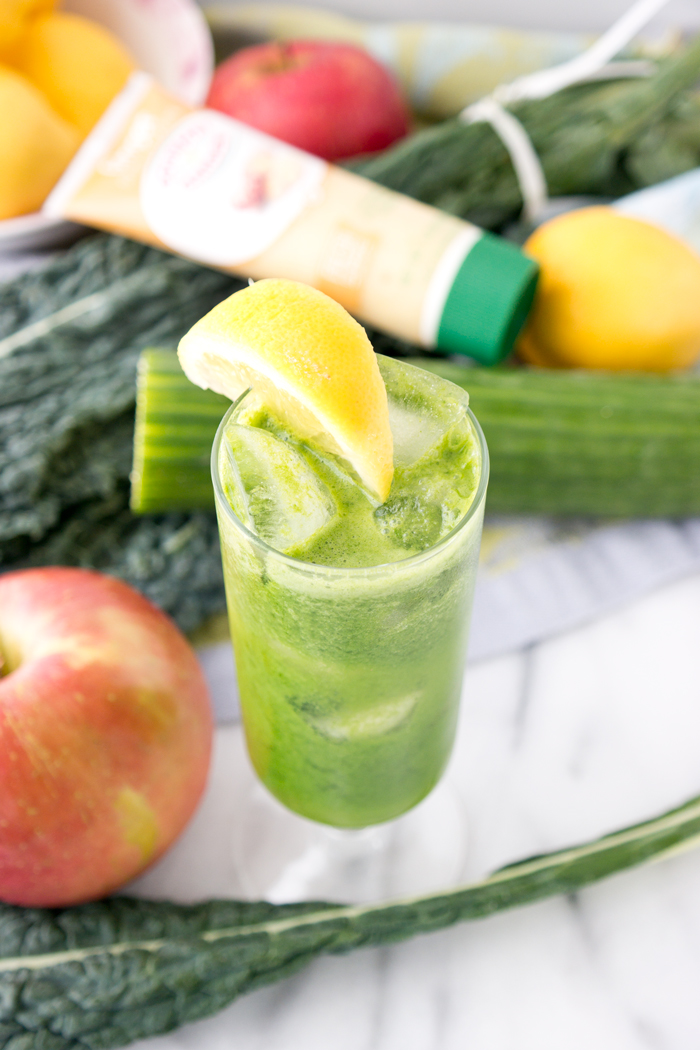 The Fuji apple was selected for a reason, though it adds a slight sweetness it is also a tart apple so it balances nicely. The cumber is a super form of hydration and freshness. The lemon (with peel) is like adding a tart burst of sunshine into the glass. The kale adds super nutrients to the mix and the ginger is a slight bite that aids with the digestion. All together you have a bright, sweet, tart, juice that is so delicious and good for you! And one note…DON'T forget the ice!! The ice just adds to the bright freshness and would not be the same at room temp.
Bottoms up! Enjoy!
Stacey
FYI – if you're in the market for a juicer and are not sure where to start look here, https://www.reviews.com/juicer/ .
FORGOT TO PIN IT? Here's your chance. Thanks.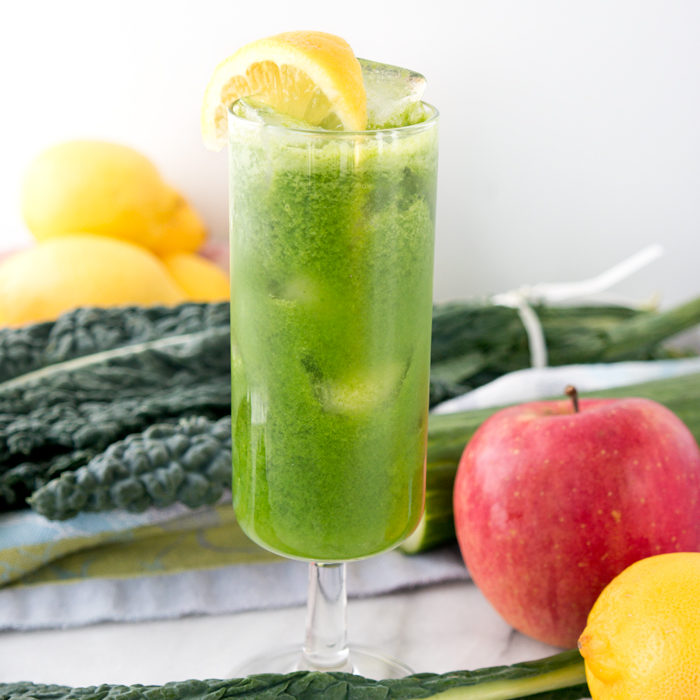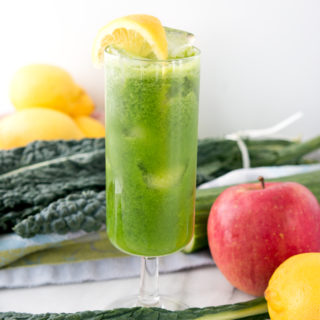 Green Detox Juice
Green Detox Juice! Fuji apples, cucumber, kale, lemon and ginger!! Because we all have to detox every now and then!!
Ingredients
1/2

of one large Fuji apple cut into slices that will fit into juicer.

2

large dinosaur kale leaves

1

cup

cut up cucumber

1/2

of lemon including peel

1/2

Tbsp

ginger. If using ginger from a tube this can be stirred into the juice since its already grated.
Instructions
Juice all ingredients, per manufactures instructions, in juicer.

Stir and then pour over ice.

Garnish with slice of lemon (optional).
Notes
~Notice I used a juicer, though some fiber from the ingredients gets through it makes for a much smoother juice. You could use a high powered blender but the consistency will be much thicker, you may opt to strain it.
~I used dinosaur kale (all green), if you cannot find this you can use any kale but the it may affect the color slightly
SaveSave
SaveSave
SaveSave