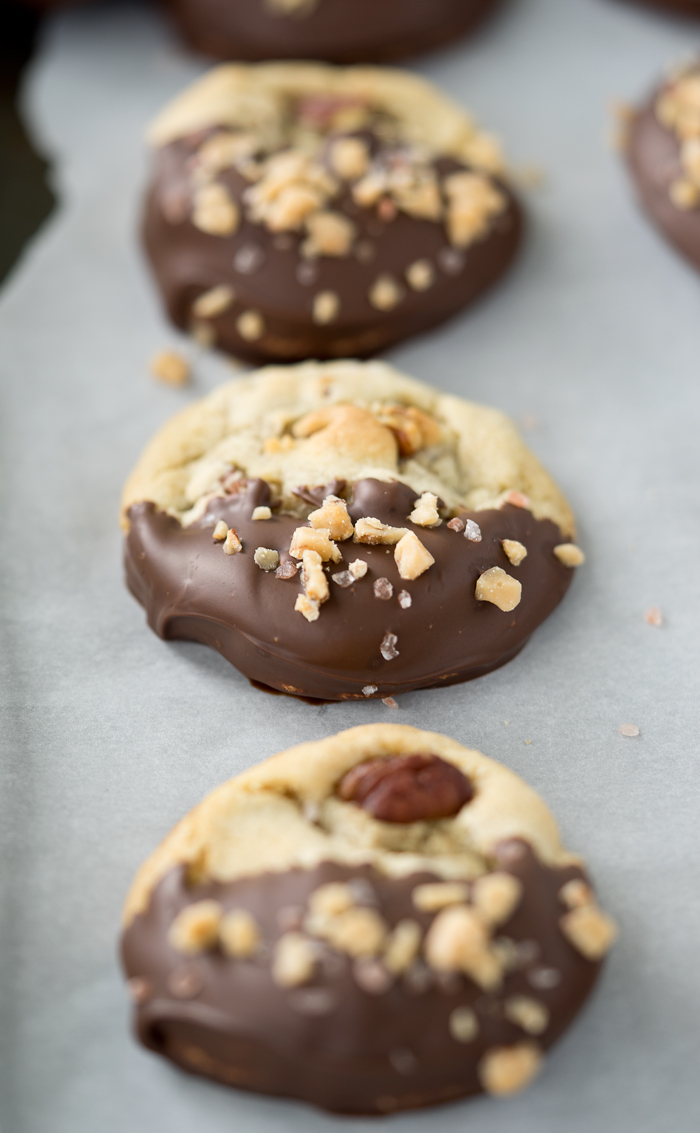 Salted Toffee Pecan Chocolate Chip Cookies. Himalayan Salt, Crunchy Pecans, Sweet Buttery Toffee and Chocolate makes these cookies a home run! [social_share/] Yum
My hubby drives all day long for work and to pass the time he calls into radio stations to win whatever contest they are running at the moment. Now you may be thinking he wins on the spot, not the case. Rather they take his name and put it in a drawing and you have to be present on the date/time/location of the drawing to accept the prize if your name is called. Well last night we attended one of those drawings, it was to win a trip for four to Disney World, in addition just for calling in we received free passes to see an early premiere of the new Pirates of the Caribbean movie! Don't ask me why but I just knew we were going to win this one. We all gathered into the theatre patiently awaiting 7pm, the anticipation growing as each minute passed. Finally the time had come…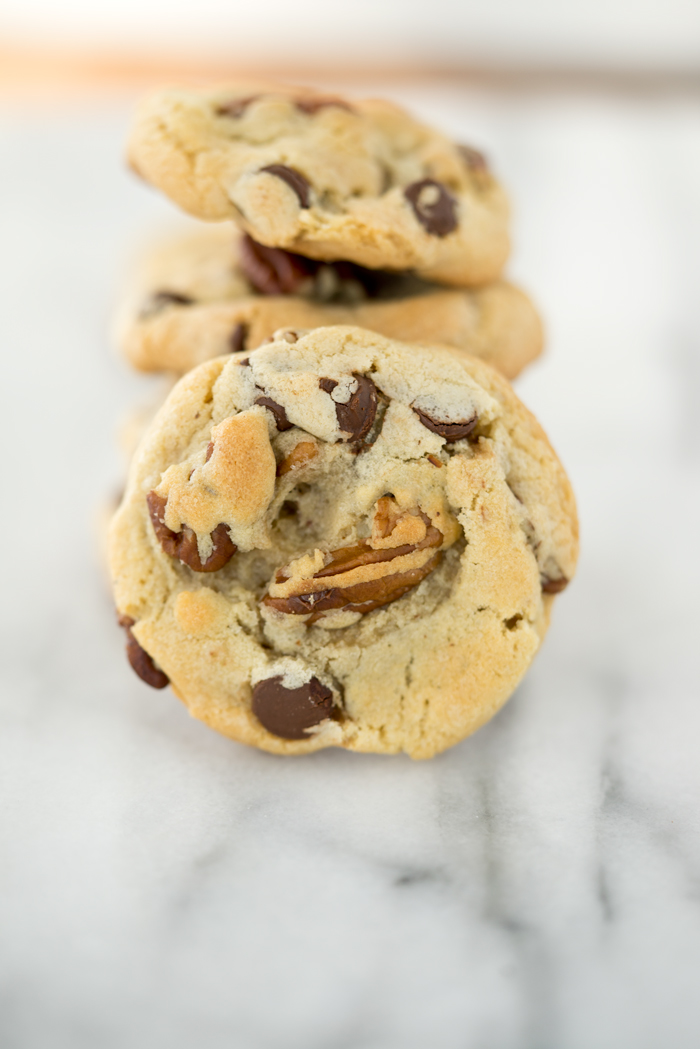 ….the DJ's had to drag it out just a few more minutes with witty jokes. Then it was time, as the announcer mixed the names up over and over again he grabbed the winning ticket. It felt like slow motion as he raised the ticket up and began to read the name and in the blink of an eye it was all over. That winning feeling in my gut must have been popcorn cravings because we did not win, lol, we will not be Disney bound anytime soon. But on a good note the movie was really good and the popcorn was excellent and its really all about the popcorn right?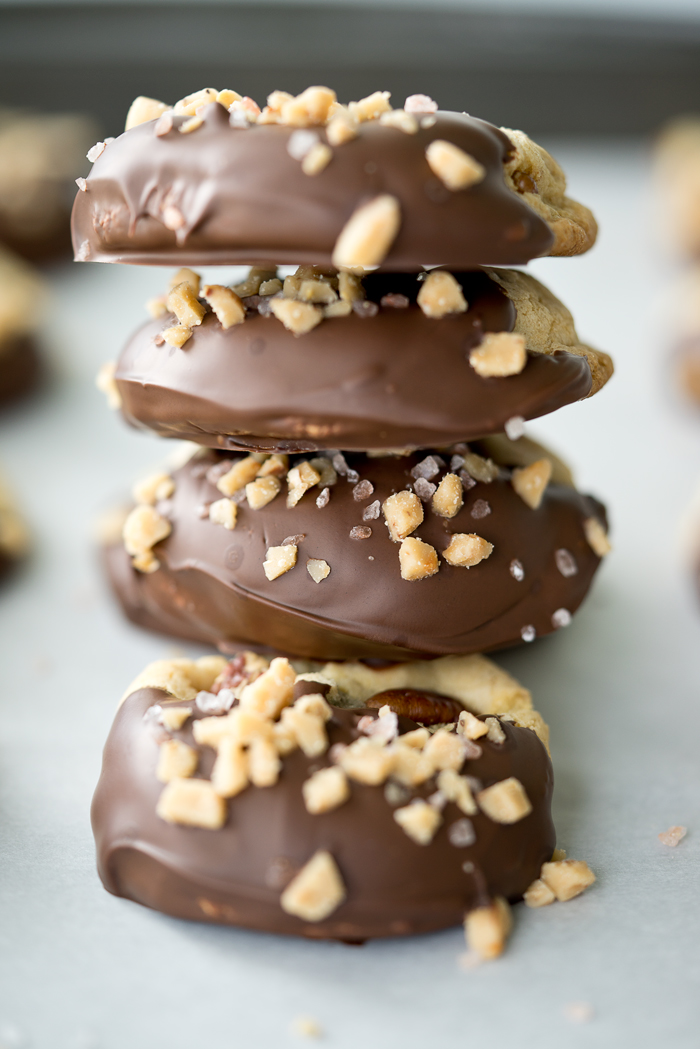 Now on to a not so subtle change of subject…Salted Toffee Pecan Chocolate Chip Cookies. Now thats a mouthful! But an oh so good mouthful. I have a ton of favorite things and this little cookie holds a lot of them! I have to admit I was a little late to the salted sweets game when it first came about some years ago. However in time I have learned to absolutely love the combo! Chocolate chip cookies are one of my favorites to experiment with. I love to adjust the ingredients, add ingredients, dip them in chocolate like you see here. I think its one of the most transitional cookies out there and yet even in its simplicity is still one of my all time favorites.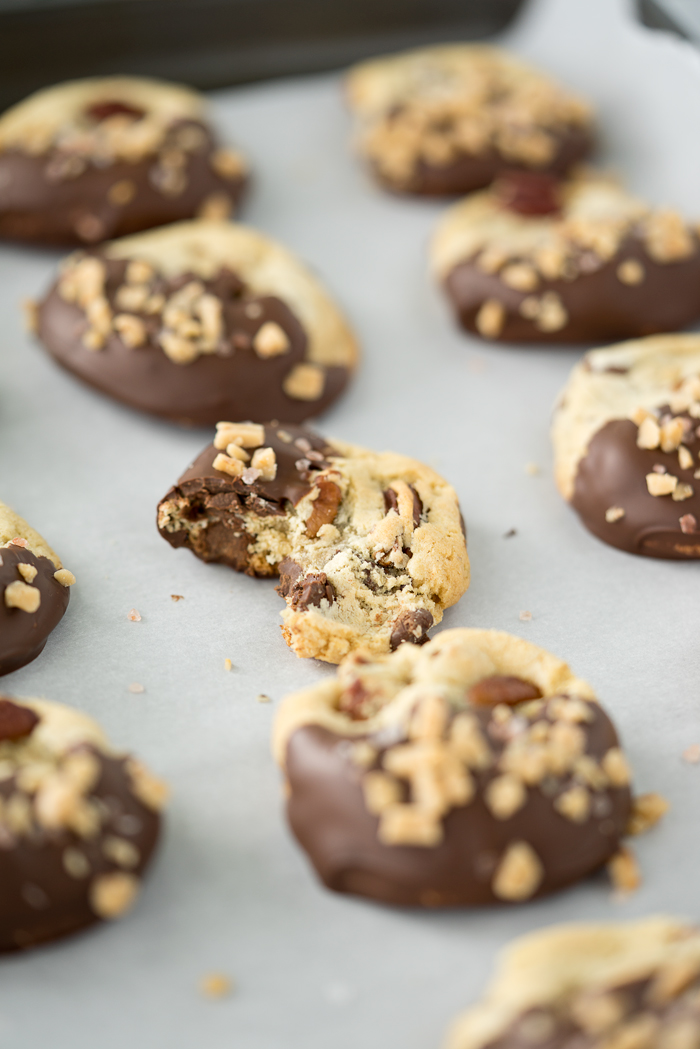 For this cookie I added crunchy pecans, then dipped each cookie in chocolate. I then sprinkled the chocolate side with toffee bits and then a fine sprinkling of Himalayan salt. In each bite you get the crunch of the pecan, snap of the silky chocolate, butteriness of toffee and savoriness of the salt. The cookie itself is crunchy, golden brown on the edges and slightly chewy on the inside. Its one of those well rounded flavor and texture experiences that checks all the boxes!!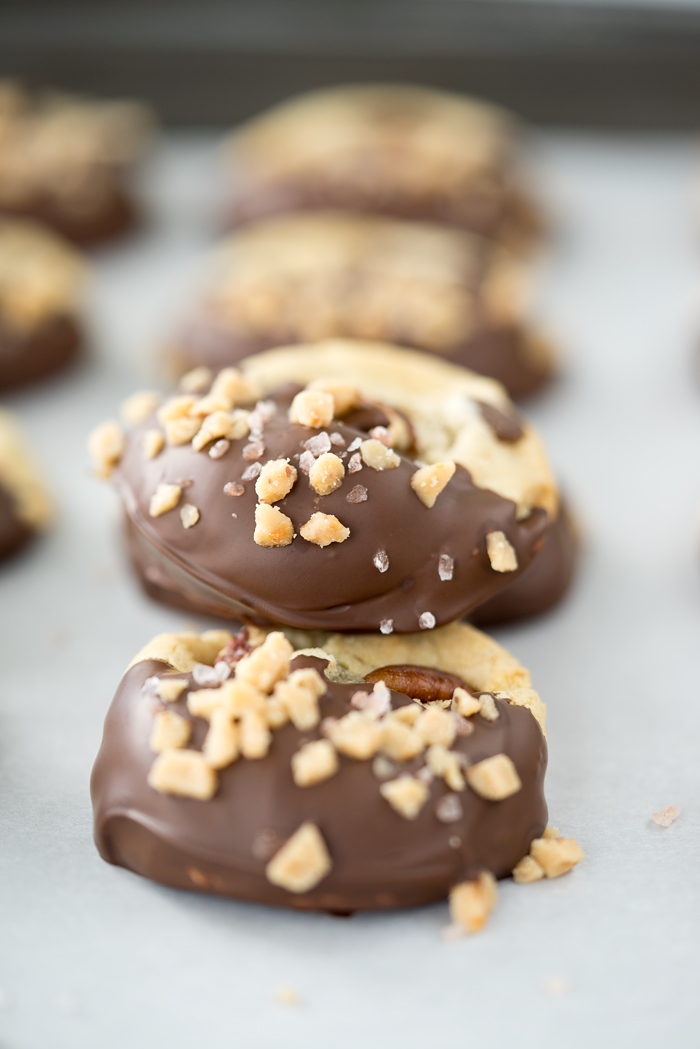 So if you love the sweet, salty, crunchy, chewy combo like I do these Salted Toffee Pecan Chocolate Chip Cookies are a must!!
Enjoy!
Stacey
FORGOT TO PIN IT? Here's your chance. Thanks.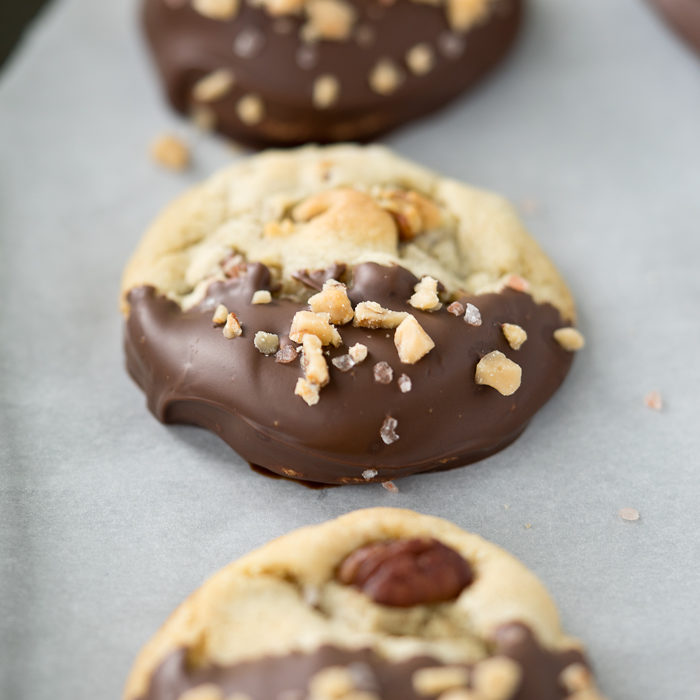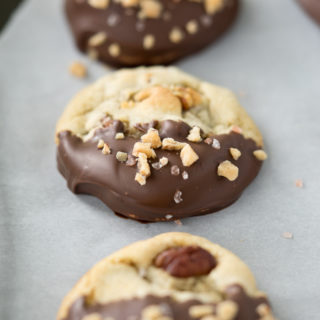 Salted Toffee Pecan Chocolate Chip Cookies
Ingredients
COOKIE:

1 1/3

cups

all purpose flour

1/2

tsp

baking soda

1/2

tsp

baking powder

3/4

tsp

salt

1/2

cup

butter

at room temperature

1/2

cup

granulated sugar

1/2

cup

light brown sugar

firmly packed

1

large egg

2

tsp

vanilla extract

1

cup

chocolate chips

3/4

cup

rough chopped pecans

DIPPING:

2

cups

chocolate chips

1/2

cup

toffee bits

see notes on where to buy

2

Tbsp

Himalayan Salt
Instructions
Preheat oven to 350 degrees F.

Line cookie sheets with parchment paper.

In bowl combine flour, baking powder, baking soda and salt. Set aside.

In large mixing bowl cream butter and sugars together until light.

Add egg and vanilla, beat until smooth.

With mixer on low, gradually add in flour mixture until combined.

Stir in the chocolate chips and pecans by hand until evenly distributed.

Using cookie scoop scoop and drop cookies on parchment lined cookie sheet.

Roll each dough mound into a ball.

Bake 10-11 minutes or until golden brown on edges and tops. (see notes regarding my crazy habit).

Repeat until all the cookies are baked.

Cool completely.

DIPPING:

Melt the chocolate in small bowl or dish, ideally it should be deep enough that all the cookies can be dipped. So a smaller/deeper dish is best. I used a glass 2 cup liquid measuring cup with handle.

Have your toffee and salt ready.

Begin by dipping first cookie in chocolate half way.

Lay on parchment lined baking sheet.

Sprinkle with toffee and lightly sprinkle with salt (see notes).

Repeat until all cookies are dipped and sprinkled.

Keep in cool dry place to set.
Notes
1.Toffee bits - you can make your own if you wish or buy them in the grocery store, Heath makes a good one (they call it "brickle") and they can be found by the chocolate chips in the baking aisle.
2. When cookies come out of the oven I have a crazy habit of tapping on top of each one with a few fingers (very lightly, cookies are hot!), it helps the dough collapse and then you see all the mounds of what is underneath the dough. Its totally optional and does not affect the flavor.
3. If salt is not your thing on a cookie you can omit it (but I wouldn't 🙂 ).