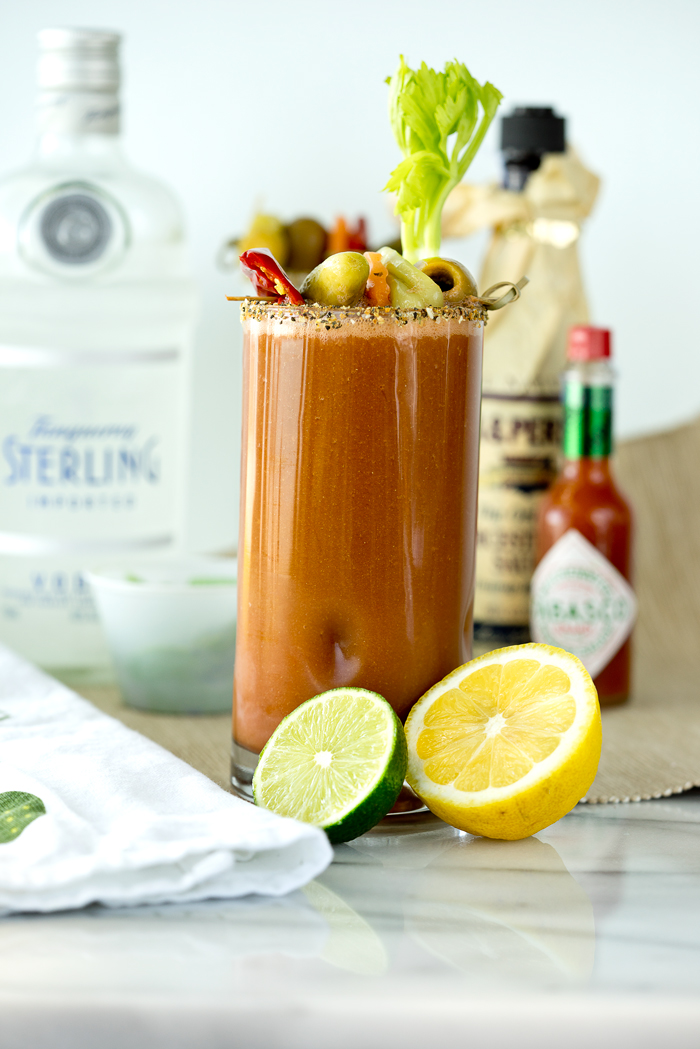 Wasabi Bloody Mary. If you like spicy like I do then this will be your new favorite way to have a Bloody Mary!!
[social_share/] Yum

I'm not sure if it's because the unofficial start of summer is here or the fact I had to go back to my big girl job after a nice long weekend but I have been craving Bloody Mary's. Not just any kind of Bloody Mary but a Wasabi Bloody Mary!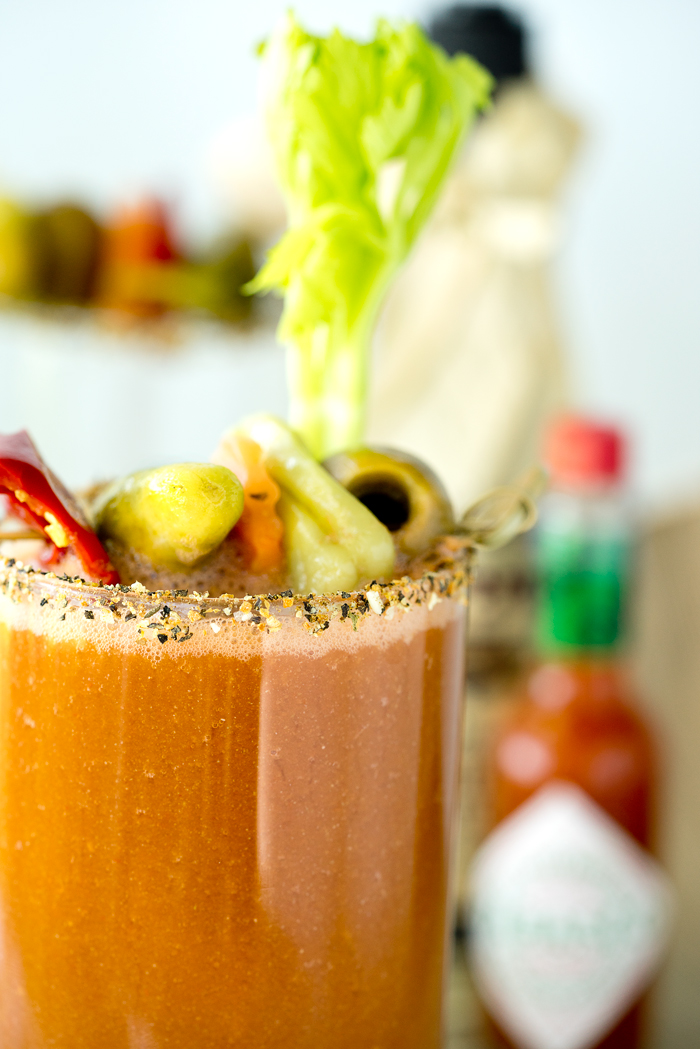 Personally I like a slightly thicker and heavy on the spice Bloody Mary! And please don't forget the skewer of condiments to go with my stalk of celery. The last two Bloody Mary's I ordered came with a measly stalk of celery! Correct me if I'm wrong here but I feel like the garnish should be just as much a part of the Bloody Mary experience as the drink itself, I don't ask for much, maybe a few olives, pickle, slice of lime.  And one more vent…please don't give me the biggest, toughest, stringiest stalk of celery you can find! Ok I'm done…
For me the spicier the better and this Wasabi Bloody Mary delivers. I do love the standard horseradish variety, no complaints. However the addition of wasabi makes this Blood Mary something special. It elevates the heat and spice profile and gives a unique yet complimentary flavor pairing to the traditional ingredients. I feel more satisfied after drinking one and if you're like me, you'll want another!!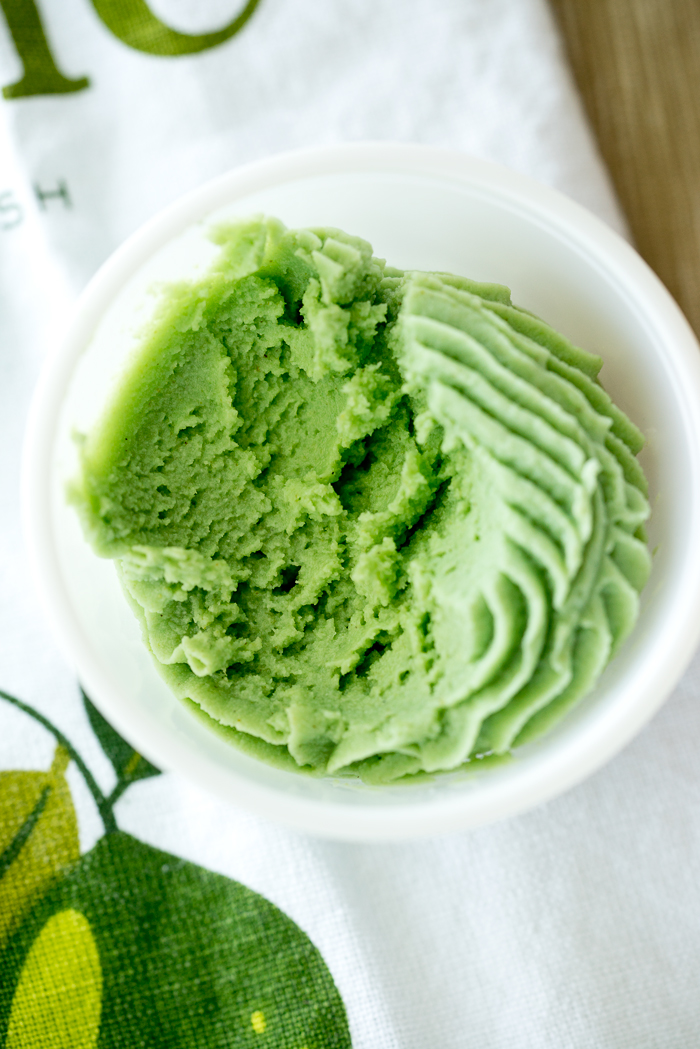 Lets talk about the rim, we cannot forget the rim. My favorite rim pairing for a Bloody Mary is Lemon Pepper and Celery Salt. It flavors each sip beautifully and acts as an additional flavor enhancer.
Now the garnish. Celery is a must, I prefer one of the long middle stalks with leaves on it. They are tender and less stringy. The skewer can really be anything you'd like it to be. I chose mini kosher dill pickles, large martini olives, and some hot peppers and carrots from a spicy marinated veggie salad available in the deli.
I used a blender to mix the drink, I didn't trust my shaker skills (or lack of) to get that wasabi thoroughly mixed. I love spicy but not in the form of a large gob of wasabi in one sip, lol, I'd be crying for an hour.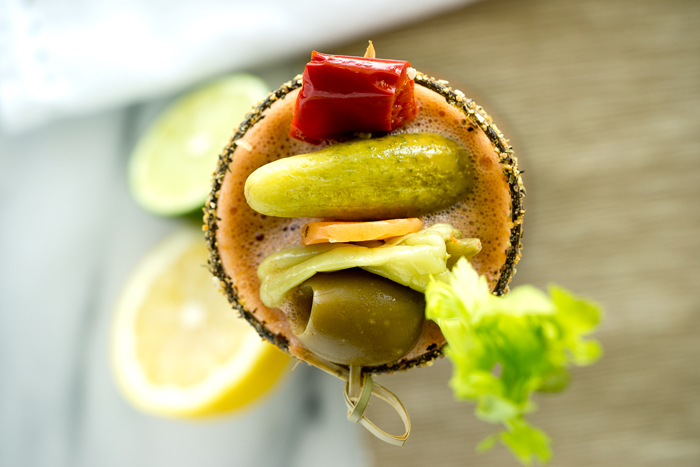 If spicy drinks are your thing like they are mine then add this one to your must have list this summer!!
Enjoy!
Stacey
UPDATE 4/26/18: This made it onto the Drizly Ultimate Bloody Mary round up. This round up will make you thirsty and ready for the weekend. Check it out below!!
FORGOT TO PIN IT? Here's your chance!! Thanks.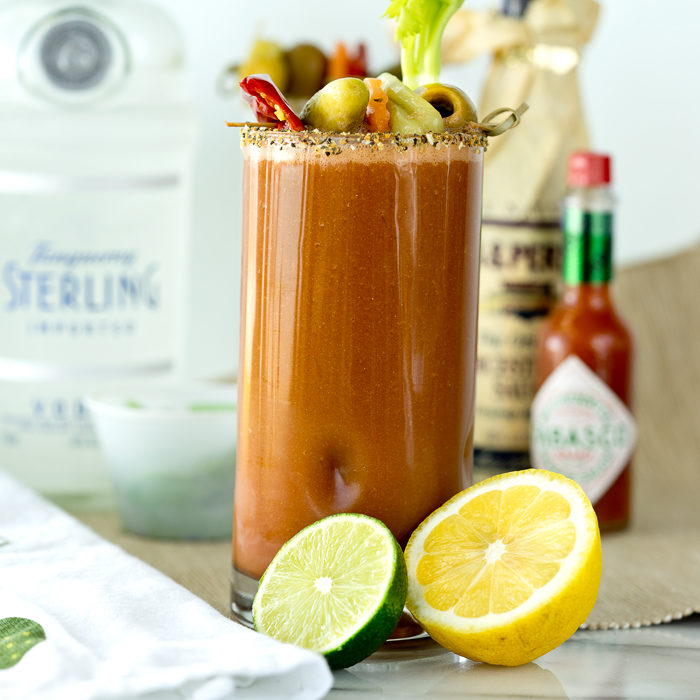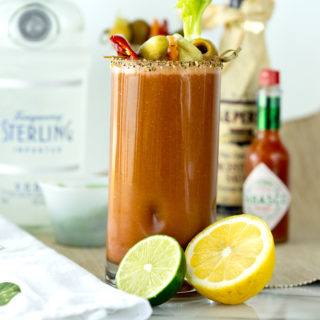 Wasabi Bloody Mary
Wasabi Bloody Mary. If you like spicy like I do then this will be your new favorite way to have a Bloody Mary!!
Ingredients
DRINK:

11

oz

V8 Tomato Juice

2 small cans.

Juice of 1/2 lemon

Juice of 1/2 lime

keep other half for going around the rim of your glass

2

dashes of Tabasco

4

dashes of Worscestershire Sauce

I like Lea&Perrins

1-2

tsp

of Wasabi *see note.

I prefer 2 tsp but its super spicy.

4

oz.

Vodka

I like Tanqueray Sterling but any Vodka will do

RIM:

1

tsp

Lemon Pepper

1/2

tsp

celery salt

GARNISH:

up to you

I used mini kosher dill pickles

martini olives and peppers/veggies from spicy marinated veggie salad.

2

stalks celery from center of the head

preferably with leaves for presentation.
Instructions
RIM:

In a shallow dish, like a tea cup saucer, mix the lemon pepper and celery salt.

Go around the rim of each glass with a lime.

Then dip the rim in seasoning mixture going all the way around.

Set aside.

DRINK:

In a blender add in the V8 tomato juice, lemon and lime juices, Tabasco, Worcestershire, Wasabi and Vodka.

Blend for 30 seconds, just enough to really disperse the wasabi.

Add ice to each glass to the top, pour wasabi bloody mary evenly into each glass.

Add the celery stalk and garnish.

Serve
Notes
Wasabi - Try to get fresh Wasabi if possible. You may have to go to a sushi restaurant to get some or if your grocery store sells sushi they may have an extra side. The wasabi in the tube (pre packed in the asian section of grocery store) has more heat and not as much wasabi flavor (in my opinion), keep that in mind when measuring.