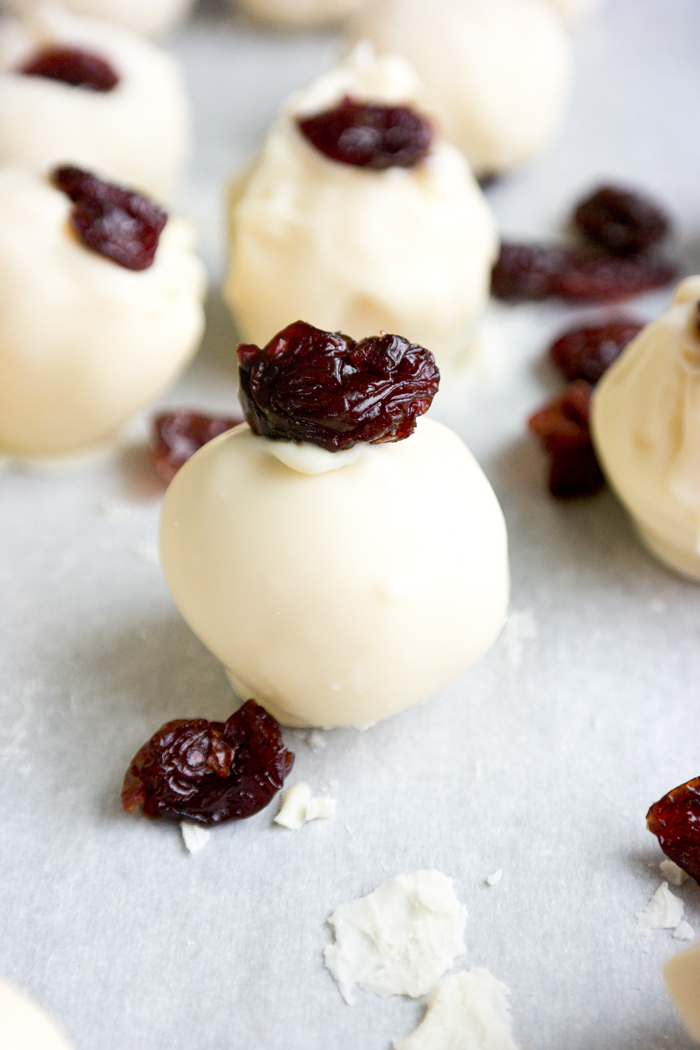 White Chocolate Cherry Truffles. Smooth creamy center, lovely cherries and a hint of Kirsch make these truffles dreamy.
[social_share/] Yum
Happy New Year!! Can you believe we are almost half way through January, where is this month going? I thought things slowed down in January. The snow is rolling in so I have been checking travel sites for deals to warmer climates. Though I love those travel sites they sure know how to mess with a persons head, one day the same vacation will be $$ and the next this much $$$. I wanted my mom to see one I was looking at and it was an extra $300 per person on her computer, WTH is that about?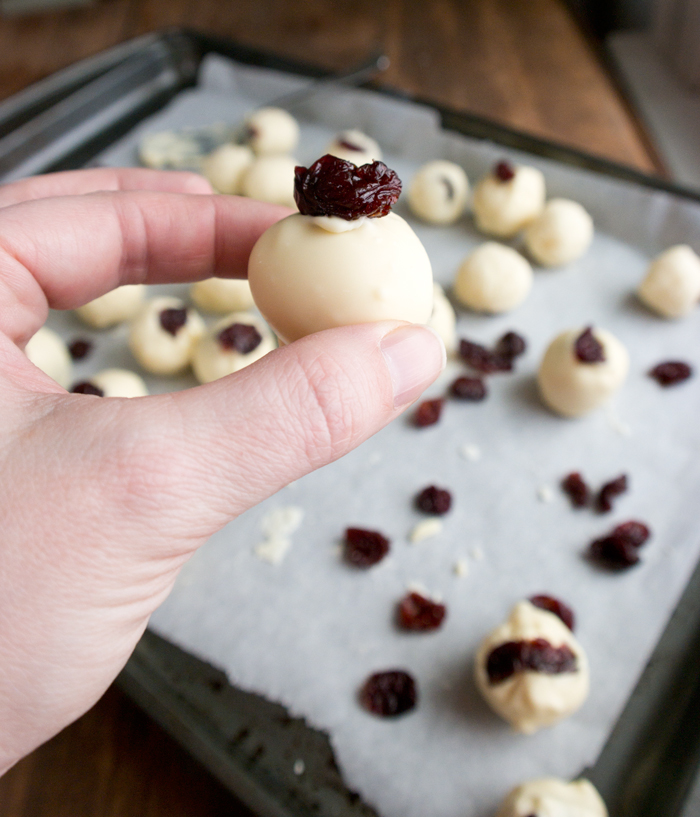 [social_share/]
You would think with a possible vacation coming up I would lay off the sinful desserts but the more I refrain the more I dream about them, it's a sickness I swear, lol. One nice thing though about trying to refrain is I begin to dream about all the wonderful treats I am missing out on and then I begin to crave delectable goodies and then I make them again. This pattern has brought me here today with these deliciously rich and creamy White Chocolate Cherry Truffles.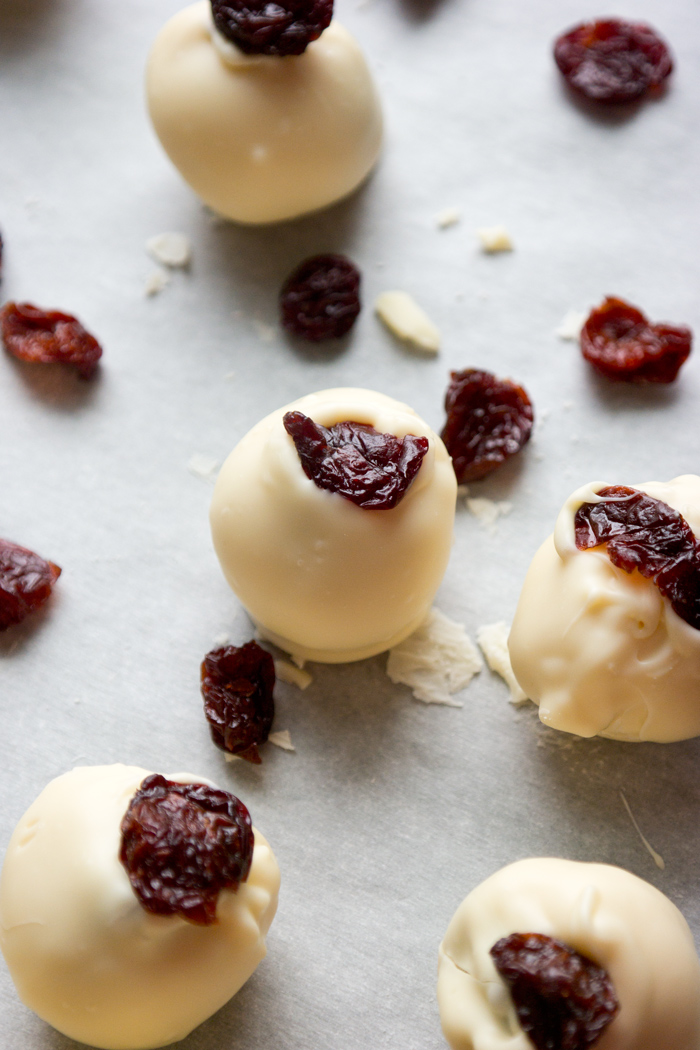 [social_share/] I've said it before and I will say it again, the way most females get excited over a jewelry box is how I get excited over a truffle box. The excitement of not knowing what the flavors will all be and of course the finding out is the best part. That first bite of the outer shell snapping as you continue tasting the smooth and creamy flavored center. Its an entire experience and one I could repeat for a lifetime happily.
For these White Chocolate Cherry Truffles I started with the ganache, white chocolate, heavy cream and Kirsch (cherry flavored liquor). Stuffed in the center is a Michigan Dried Cherry (any dried cherry will do). Then each truffle is enrobed in a silky coating of white chocolate and then garnished with another dried cherry. The White chocolate is always sweet and creamy, the dried cherry adds a little tart and the Kirsch adds a little sophistication.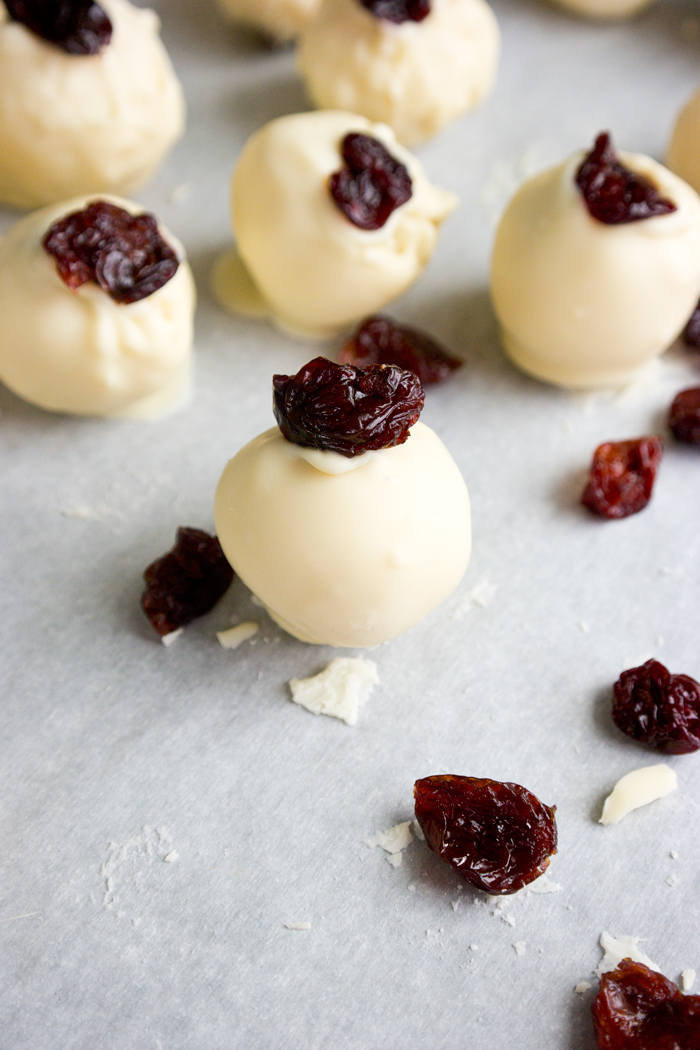 [social_share/]
Whether you're looking for a treat for yourself or friends these truffles are a fabulously rich dessert that everyone will love. Enjoy! Stacey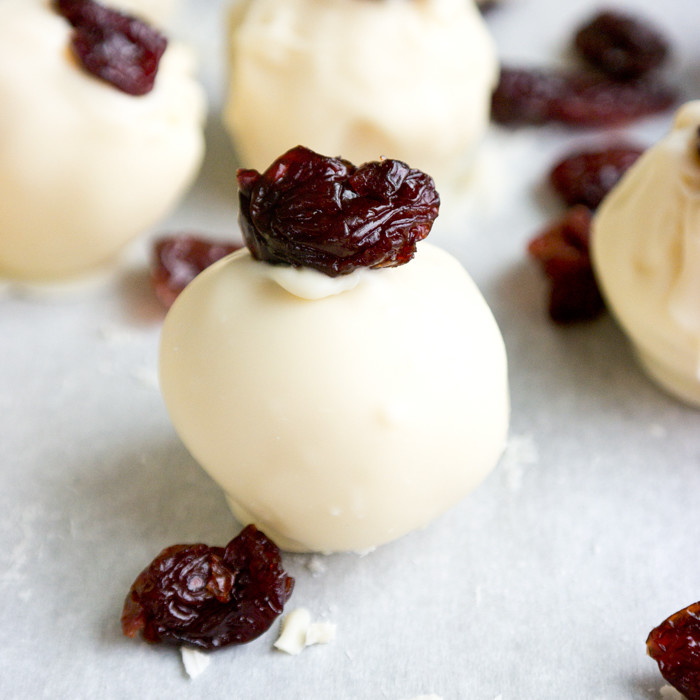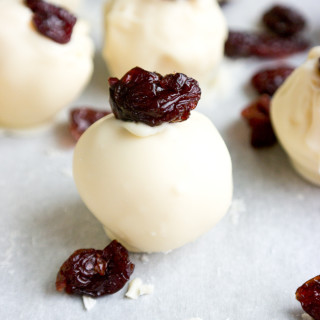 White Chocolate Cherry Truffles
White Chocolate Cherry Truffles. Smooth creamy center, lovely cherries and a hint of Kirsch make these truffles dreamy.
Ingredients
GANACHE:

12

oz

white chocolate finely chopped or chips

1/2

cup

heavy whipping cream

2

Tbsp

Kirsch liquor

30

dried Michigan cherries

or dried cherry of choice

COATING:

1

lb

white chocolate melted

30

dried cherries
Instructions
GANACHE:

Put chocolate in medium bowl.

Heat heavy cream to just about boiling.

Pour heavy cream over chocolate, let sit 30 seconds.

Stir is small circular motions until cream and chocolate are fully combined.

Add in Kirsch and stir until well combined.

Let cool completely.

COATING/ASSEMBLY:

Using a small scoop, (I used scoop size 100 which is equivalent to a scant Tbsp) scoop small balls of ganache and lay on parchment line cookie sheet.

Repeat until all ganache is scooped.

Next press a dried cherry into each and with cold hands roll each into a ball.

Let set in refrigerator for minimum of 20 minutes, couple of hours is best.

When ready take truffles out of refrigerator 5-10 minutes before coating.

Melt chocolate in small bowl.

Using a fork dip each truffle, making sure completely coated and lay on parchment lined cookie sheet.

Add one dried cherry to top before chocolate dries.

Repeat until all truffles are made.

Store in cool dry place in airtight container or refrigerator.