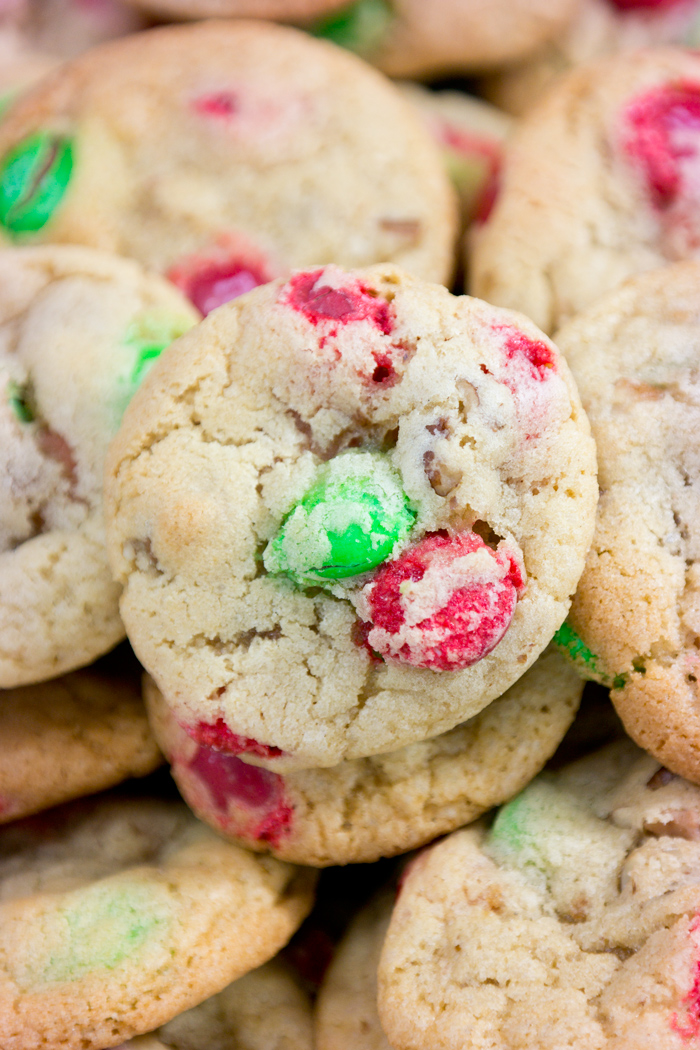 Mini M&M Pecan Cookies. Mini crispy edged, chewy center cookies with candy coated m&m's, sweet pecans and a hint of sea salt.
[social_share/] Yum
It's almost here, Christmas. Forget the count down, its more like a tizzy to get the menu finalized and the last few gifts bought. Wrapped is another story, that will probably be Christmas Eve once the little one is in bed.
Before I get into these great little cookies let me tell you how they came about. These were never going to be a post, I took the week off at work so I kept my daughter home with me for some quality time. She wanted to make cookies and when we were at the store asked if we could get m&m's for our cookies. No problem I thought this will be a fun baking day for us. We got home and proceeded to mix the ingredients, add the m&m's and at the last minute I decided to add finely chopped pecans (bought for a different recipe of course, lol). I took a taste of the dough and to my surprise I started to know this was not going to be an ordinary cookie.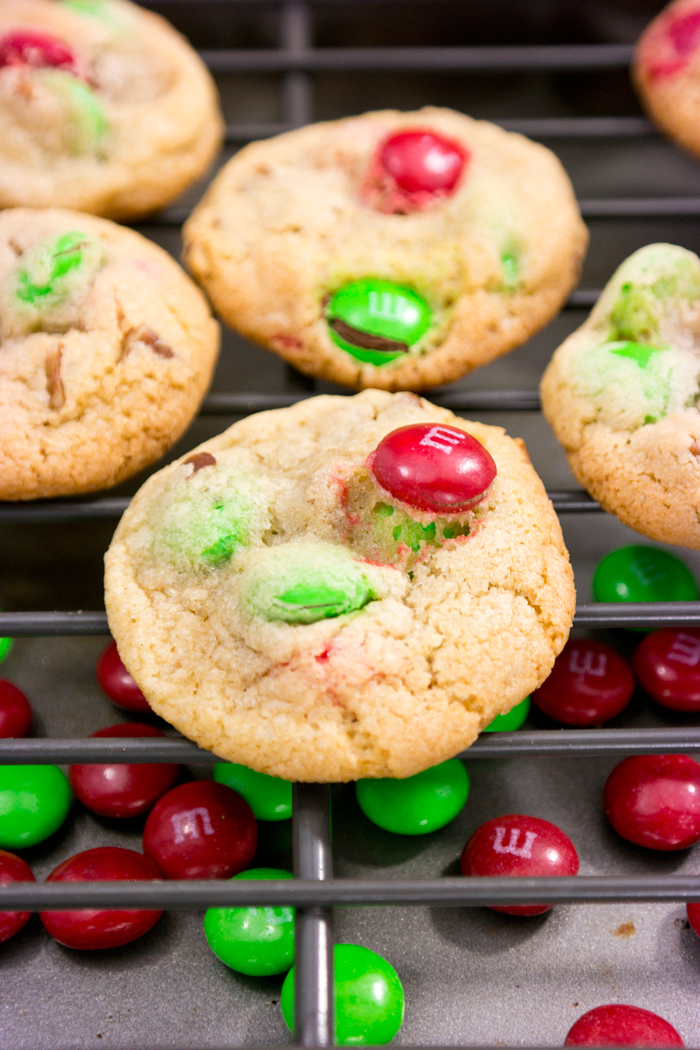 [social_share/]
Using a small cookie scoop I scooped out 60 little cookies in batches, watched them as they baked to make sure they weren't over baked and pulled them out at just the right moment. I like a cookie with a crispy edge and chewy center. Now the chewy center shouldn't be raw dough but at the same time not baked enough to be crunchy. The secret is to bake the top of the cookie while leaving the center soft. Of course this is personal taste.
By now I am in the kitchen on my own, my baking buddy got bored and started to watch Doc McStuffins. The first batch of cookies is now cool and I take a bite of the first one, holy moly, seriously one of the best cookies I have ever eaten! Just like I wanted, crisp edges, chewy center, that little snap of the candy shell of the m&m's, the melting of the chocolate as I chew and last but not least the sweet pecans give a mild nutty flavor while quietly dissolving into the other wonderful flavors. Wanna know my last little secret for this cookie, a little extra sea salt. This made all the difference in the world. It was enough to balance the cookie but not too much that my three year old noticed.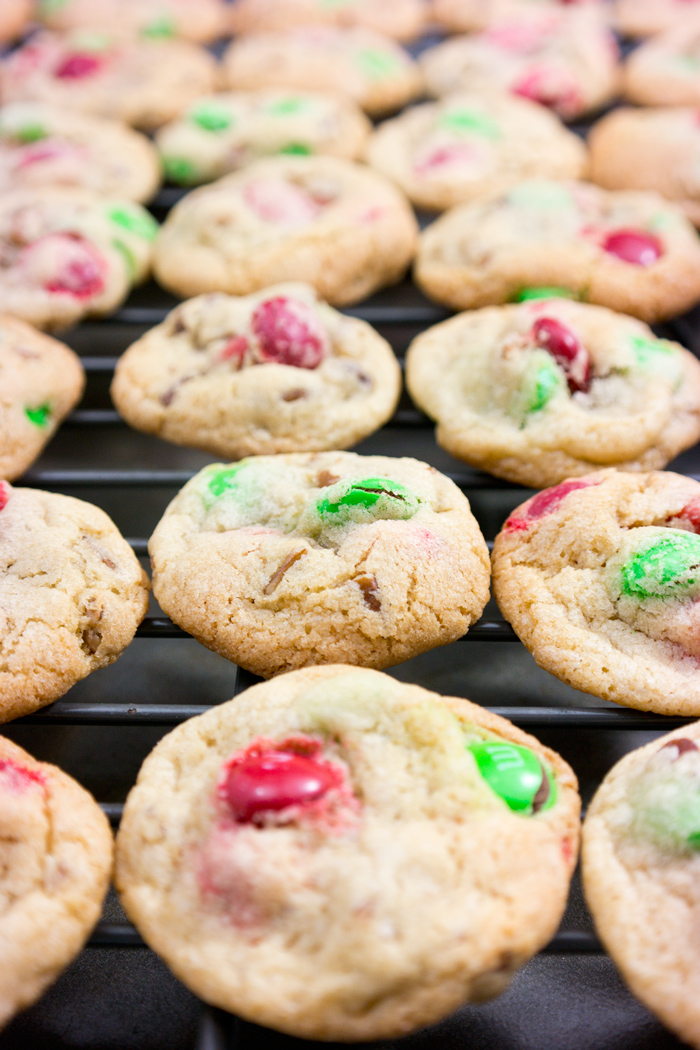 [social_share/]
Are these the most decadent, complex, cookies out there, NO! But thats the great thing about these little gems, what looks to be an ordinary cookie will actually blow your mind when you taste them.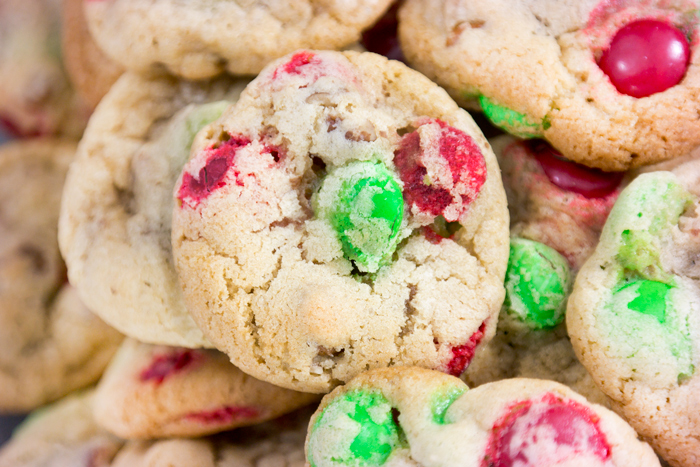 [social_share/]
These could be one of the best staple cookie recipes out there but I'll let you decide that for yourself.
Enjoy!
Stacey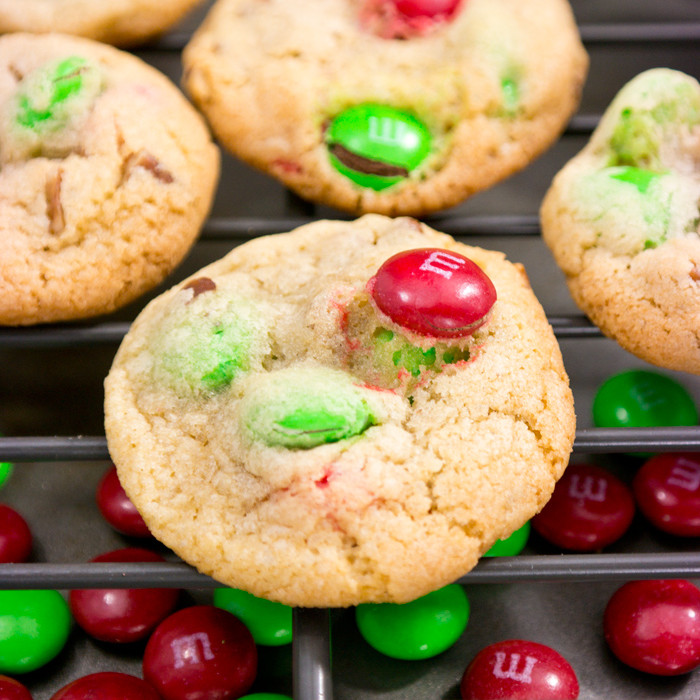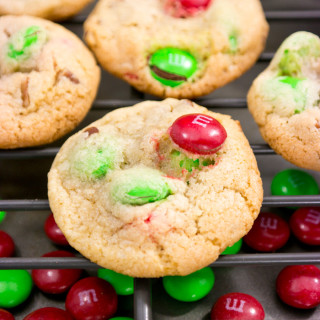 Mini M&M Pecan Cookies
Mini M&M Pecan Cookies. Mini crispy edged, chewy center cookies with candy coated m&m's, sweet pecans and a hint of sea salt.
Ingredients
1 1/3

cups

all purpose flour

1/2

tsp

baking soda

1/2

tsp

baking powder

3/4

tsp

salt

1/2

cup

butter

at room temperature

1/2

cup

granulated sugar

1/2

cup

light brown sugar

firmly packed

1

large eggs

2

tsp

vanilla extract

1

cup

m&m's

1/2

cup

finely chopped pecans
Instructions
Preheat oven to 350 degrees F.

Line cookie sheets with parchment paper.

In bowl combine flour, baking powder, baking soda and salt. Set aside.

In large mixing bowl cream butter and sugars together until light.

Add egg and vanilla, beat until smooth.

With mixer on low, gradually add in flour mixture until combined.

Stir in the m&m's and pecans by hand until evenly distributed.

Using cookie scoop (I used scoop size 100 equivalent to scant Tbsp), scoop and drop cookies on parchment lined cookie sheet.

Roll each dough mound into a ball.

Bake 6-8 minutes or until golden brown on edges and tops.

Repeat until all the cookies are baked.

Cool before eating.