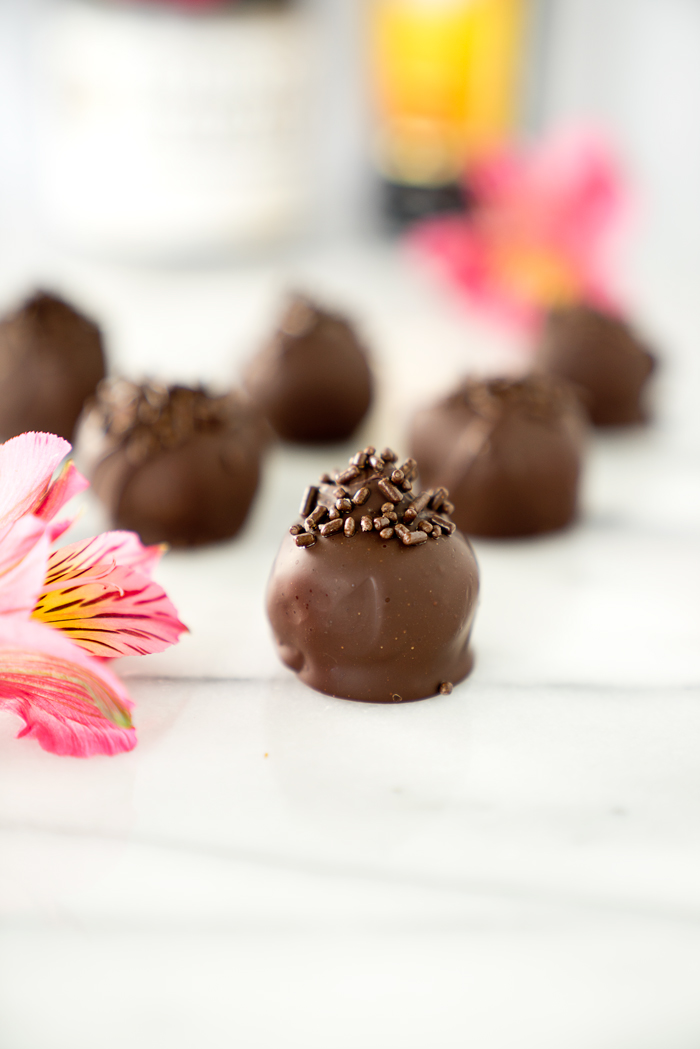 Robust Chocolate Espresso Truffle. Give me a box of truffles over a box of jewelry any day.
It's been a busy week!
Hubby won tickets to the U2 concert this past Sunday from Detroit radio station. We were in total nose bleed section but we were there and the show was awesome. Im a huge U2 lover and Joshua Tree is one of my favorite albums.
I was selected as a finalist in TheFeedFeed and Ghirardelli S'mores Recipe Contest for these. So Please go and vote (for me please 😉 , what can I say, Im shamelessly promoting myself ). I'm in the ranks with some pretty cool people so its super exciting.
Hurricane Irma. Can't pull myself away from the weather channel. I have family in South Florida that are staying (argh!) so I can't help but worry!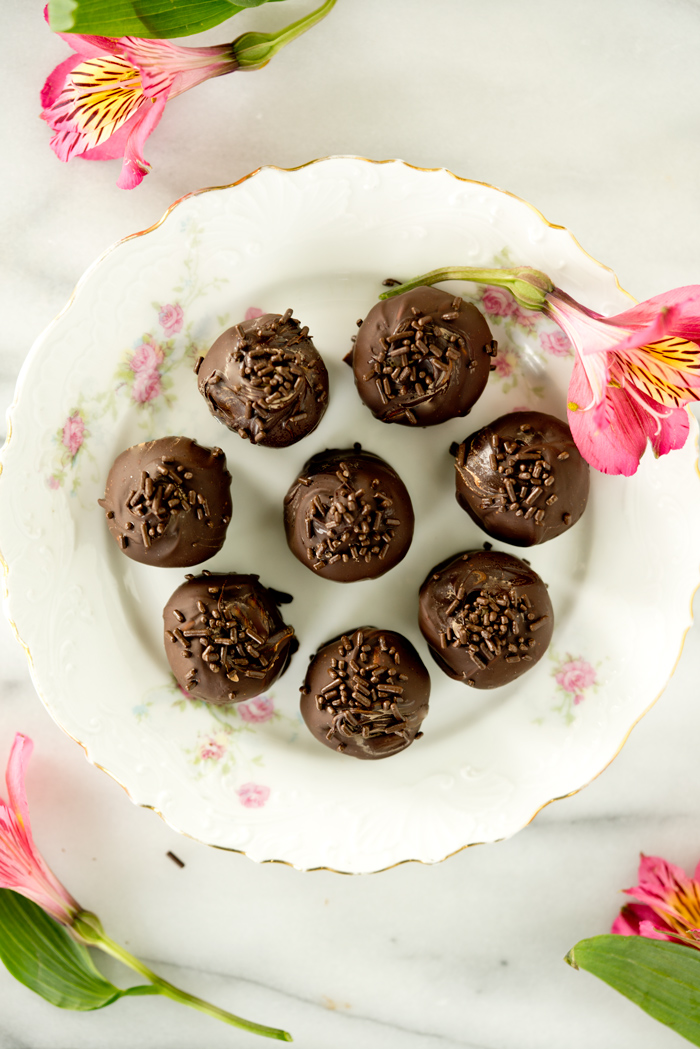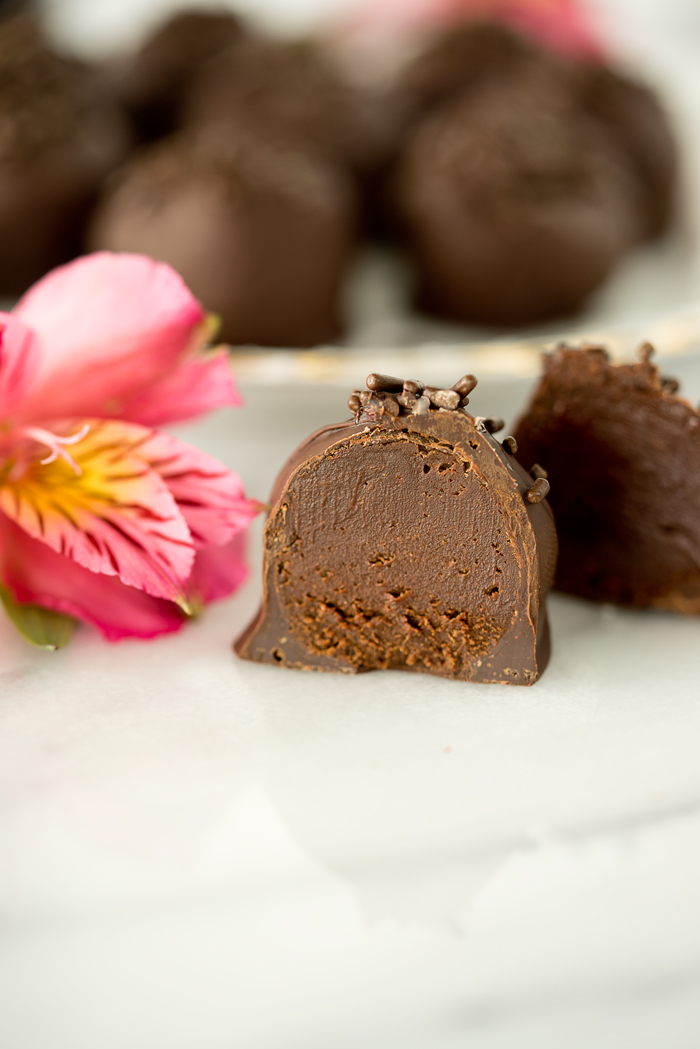 These little Robust Chocolate Espresso Truffles have been keeping me preoccupied. Not only do I love them but I love the process of truffle making. This is the type of week where I appreciate having a project that takes a little more focus and a few extra steps. Dipped truffles take a little practice but are so worth it!
The chocolate aroma is heavenly and that strong but sweet espresso center is the stuff dreams are made of. Truffles have a special place in my heart! Chocolate coating that snaps on the outside, smooth, creamy, espresso flavored center on the inside. Everything your chocolate and espresso loving heart could ask for!! I've said it before and I'll say it again, give me a box of truffles over a box of jewelry any day!
Note – You may have heard of Chocolate Tempering. It is the process in which you melt/cool/rewarm your chocolate to very specific temperatures and it gives the perfect sheen and snap when you bite into it. I did temper my chocolate but its not an easy process and if you look closely at the over head shot you can see where my melted chocolate began to lose its temper causing some lighter colored streaks, also known as "blooming". Its not a big deal it just effects the appearance. If interested more in tempering check out this link with instructions to get you started. Tempering is completely up to you and is not necessary.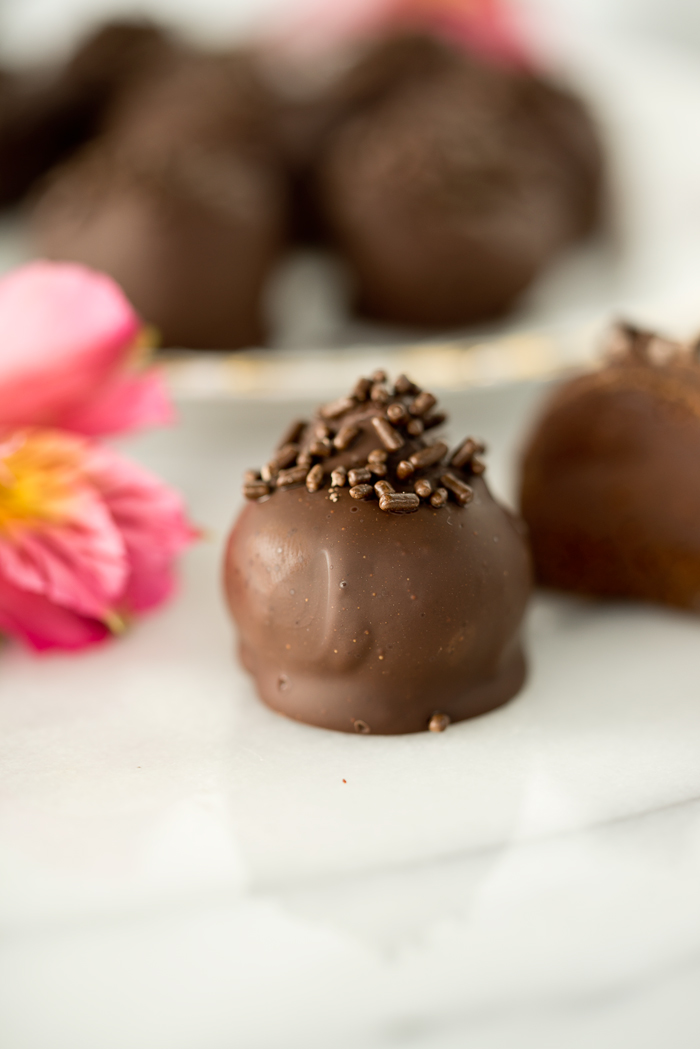 Enjoy!
Stacey
Here are some of the products that helped me make these Robust Chocolate Espresso Truffle.
King Arthur Espresso Powder – This is my preferred espresso powder.
Small Scoop – This was helpful in getting a more uniformed scoop for each truffle. Amazon sells them in a set, I used the smallest with the red handle.
Wilton Chocolate Jimmies – This is what I used to garnish the truffles with, they have a nice chocolate flavor that blended well with the truffle itself.
Please note some of the links above are affiliate links which means if you purchase from the link I get a small commission. I use these products and stand behind them which is why I chose to tell you about them. Thank you for your support.
FORGOT TO PIN IT? Here you go! Thanks. Yum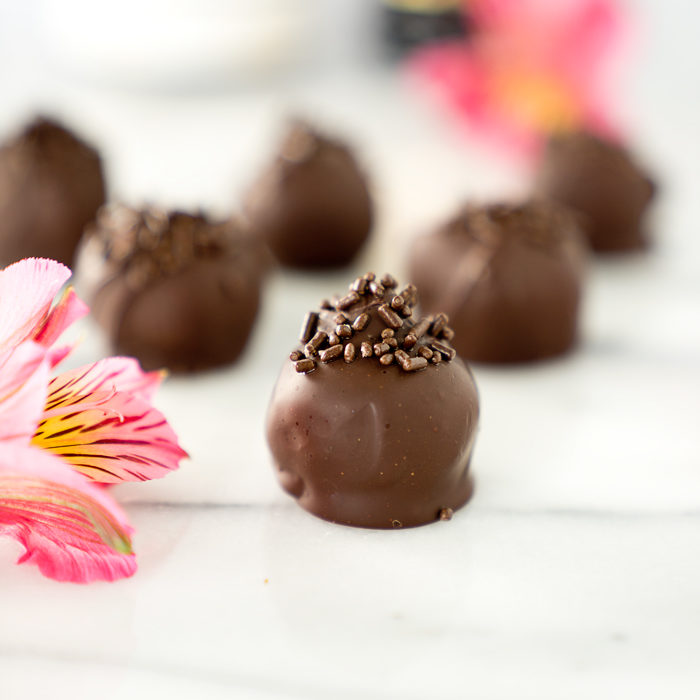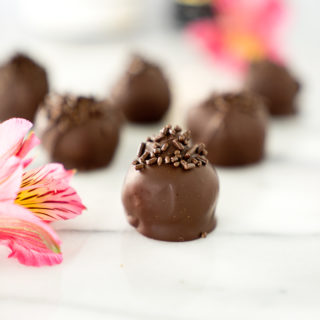 Robust Chocolate Espresso Truffle
Robust Chocolate Espresso Truffle.
Ingredients
TRUFFLE CENTER:

9

oz

semi-sweet chocolate

1/2

cup

heavy cream

2

tsp

espresso powder

2

Tbsp

coffee liqueur

I used Kahlua

TRUFFLE COATING:

2

cups

semisweet chocolate for dipping

Wilton Chocolate Jimmies

sprinkles
Instructions
Prepare cookie sheet by lining it with parchment paper, set aside.

Place 9 oz chocolate in medium bowl, set aside.

In small sauce pan put the heavy cream and espresso powder.

Stir until almost to boil and espresso has been dissolved.

Once almost to a boil, remove from stove top and pour over the bowl of chocolate.

Let sit for 2 minutes, then begin string in small circular motions until heavy cream mixture and espresso become completely combined.

Add the Kahlua and continue stirring until completely combine.

Let mixture sit until at room temp and completely cooled.

Using small cookie scoop, scoop a heaping scoop of truffle mixture and roll into ball. Set on cookie sheet.

Repeat will all the truffle mixture. It helps to run you hands under cold water every 5-7 truffles this keeps hands from getting too warm and melting the truffle mixture when rolling into ball. Make sure though to dry your hands completely, water can cause chocolate to seize.

Let set at room temp for about 30 minutes, this will allow for the truffle to set.

Melt your 2 cups chocolate in a shallow bowl. Make sure its not too hot or it will melt the truffle center.

Proceed to dip each truffle one at a time. You can use truffle fork or standard fork with long tines.

Make sure each truffle is coated, pull out of chocolate and wipe bottom of fork against side of bowl to remove excess chocolate.

Gently place on parchment lined cookie sheet.

Sprinkle with sprinkles, let set completely.

Store in cool/dry place.
Notes
If you don't have the small cookie scoop I mentioned you can use a teaspoon measuring spoon.
SaveSave SaveSave SaveSave SaveSave SaveSave SaveSave SaveSave SaveSave SaveSave SaveSave SaveSave
SaveSave
SaveSave
SaveSave
SaveSave