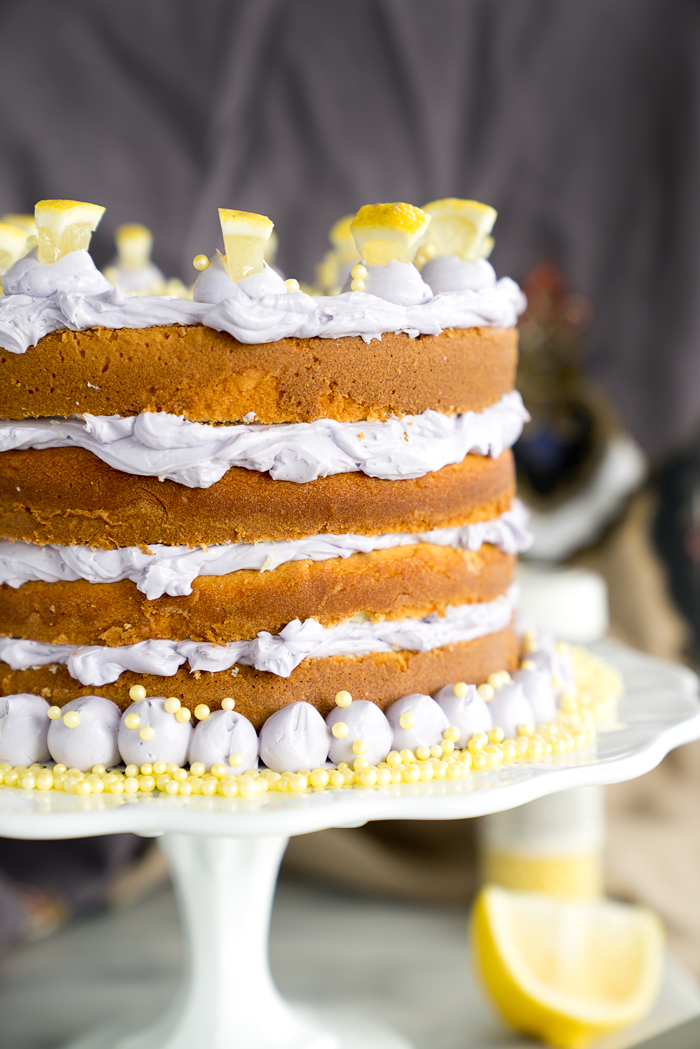 Luscious Lemon Lavender Cake. Bright lemony cake with a hints of lavender.
Did August even happen? I'm not sure where it went as I sit here pondering that we are now in September. We have about 20'ish days left of summer but last night it got down to 41 degrees which makes for a chilly morning. I've even switched the iced coffee for the hot coffee.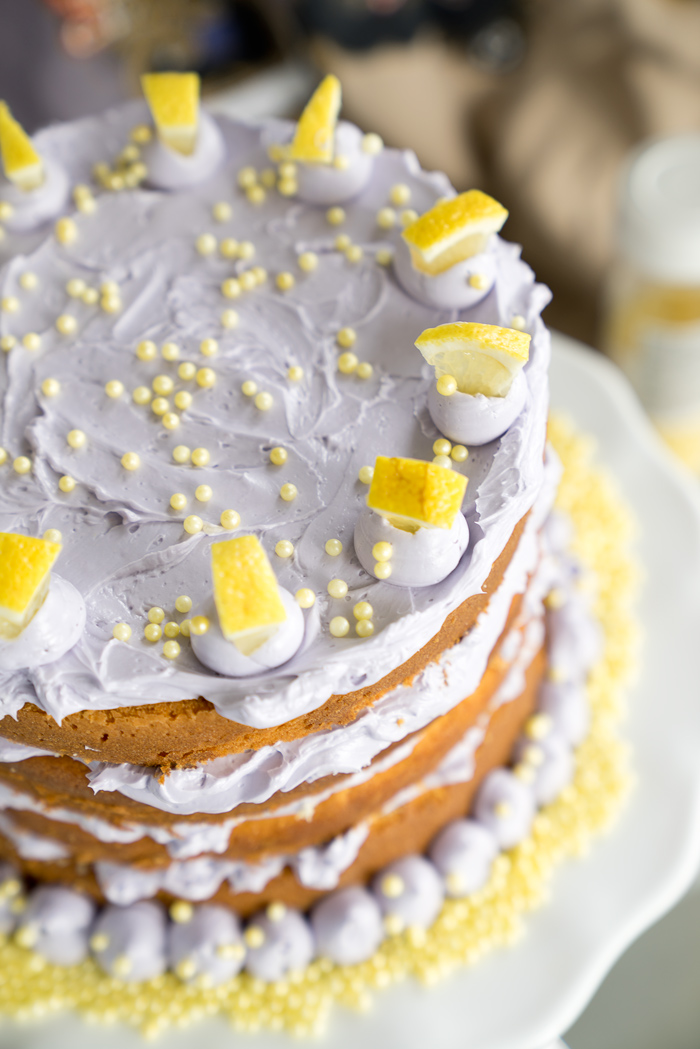 I couldn't resist doing one more summery inspired recipe. I have seen lemon and lavender make its rounds and I was curious. Isn't lavender a flower after all? At first thought I imagined perfume tainted cake but thousands of folks can't be wrong right? My imagination must be out of wack, well it always has been but thats a whole post in itself and I'll spare you 😉 .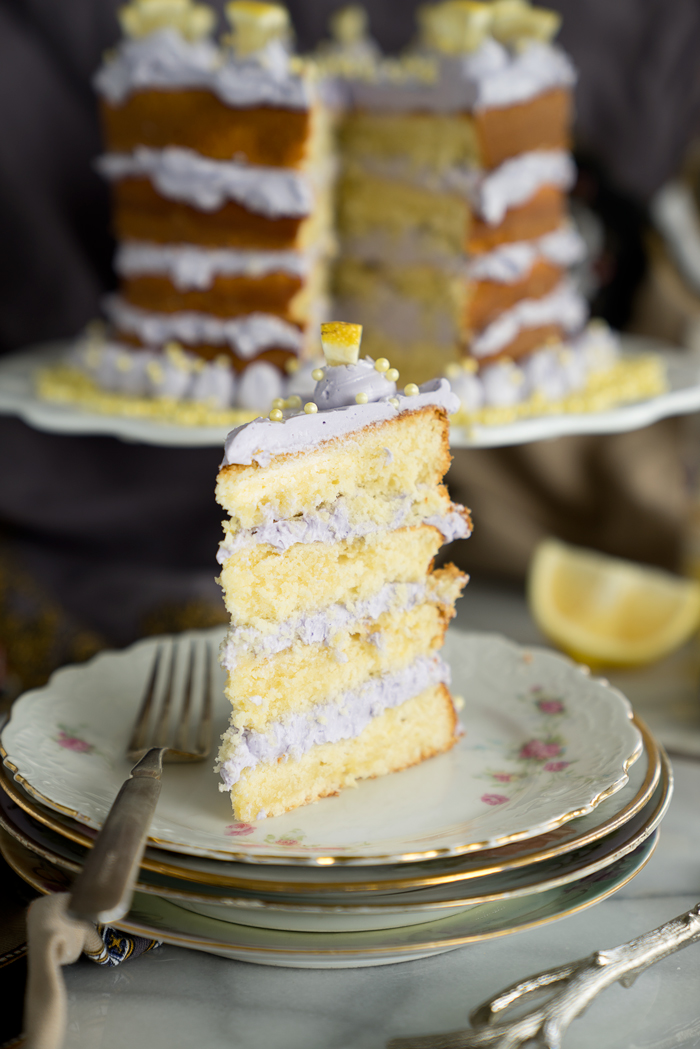 None of the stores in my area (small town USA) carries food grade lavender buds. However my grocery store had Lavender Extract Paste. Of course I took the bait, it was so pretty in the package and the box said "gourmet" so it must be good right?
So off I went, I started with the cake adding the lemon zest, this is exciting stuff for me because lemon zest = happiness. Now the lavender box had instructions on how to substitute for vanilla but I found I needed a much greater quantity than suggested. Next the swiss meringue buttercream, now there is no lemon in the buttercream, I let the lavender have full flavor control here.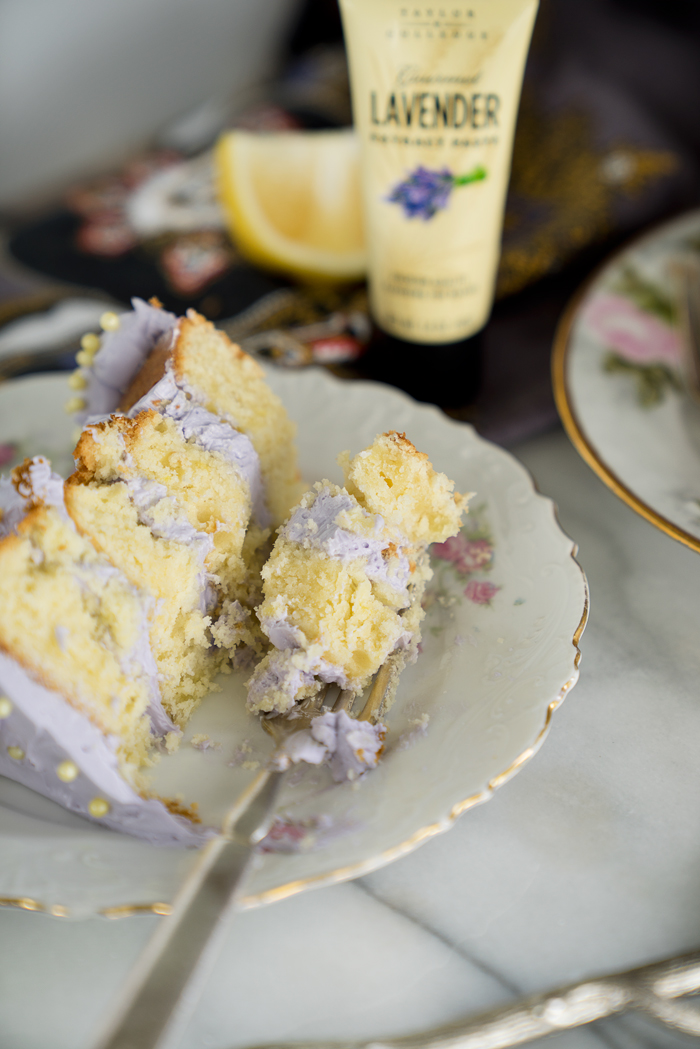 The result was perfect for my first experience with lavender and I couldn't be happier. The best way I can describe it is a wonderfully bright lemony cake with a delightful hint of lavender. The lavender is not over powering or strong in this cake but just right. The lavender is not perfume like at all (like I originally feared) but rather a nice light floral flavor. Combined with the lemon its a nice sophisticated cake.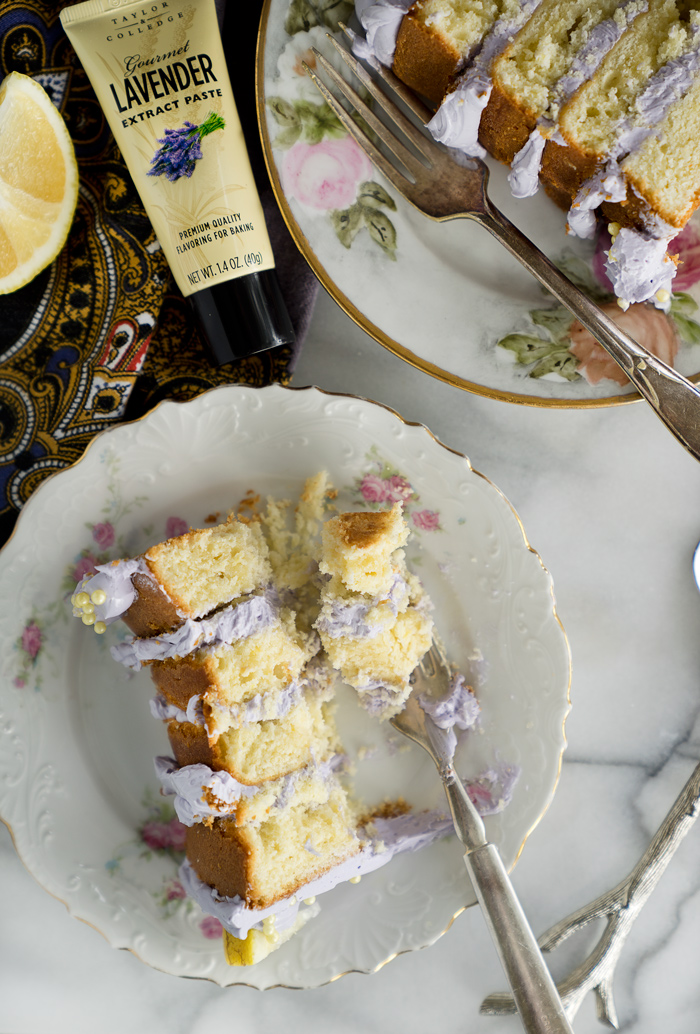 If you have been wanting to experiment with lavender but weren't sure how, this Luscious Lemon Lavender Cake is a great way to get your feet wet.
Enjoy!
Stacey
Here are some of the products I used to make this cake. They may be helpful to you as well or just to take a look.
Taylor and Colledge Lavender Extract Paste – this is how I was able to introduce the lavender flavor into this cake/frosting. It is a very delicate flavored extract that does not over do it.
Wilton Food Colorings – This box includes a variety of colors that I use often. For this recipe I used Wilton Violet coloring.
King Arthur Unbleached Cake Flour – I use King Arthur products regularly including the is flour
Please note some of the links above are affiliate links which means if you purchase from the link I get a small commission. I use these products and stand behind them which is why I chose to tell you about them. Thank you for your support. 
FORGOT TO PIN IT? Here you go! Thanks. Yum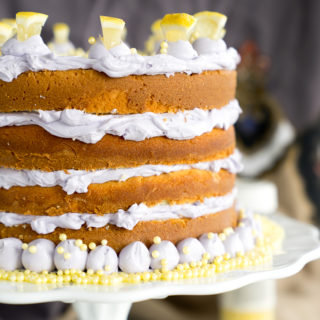 Luscious Lemon Lavender Cake
Luscious Lemon Lavender Cake. Bright lemony cake with hints of lavender.
Ingredients
CAKE:

3

cups

cake flour

1

Tbsp

Baking powder

1/2

tsp

salt

1

cup

butter

room temp

1 1/2

cups

sugar

4

large eggs

room temp

4

Tbsp

lemon zest

1

Tbsp

Lavender Paste

1

cup

milk

BUTTERCREAM:

5

eggs whites

1

cup

+ 2 Tbsp granulated sugar

4

sticks butter

or 2 cups room temp, cut into Tbsp size chunks.

1

Tbsp

lavender Paste

Violet food coloring
Instructions
Pre heat oven to 350 degrees

Grease and flour 2- 7" pans, set aside

CAKE:

In medium bowl add the flour, salt, baking powder, stir, set aside.

In bowl of mixer cream the butter and sugar until light and fluffy, about 3 minutes.

Add in the eggs 2 at a time, continue mixing.

Add in the lavender extract and lemon zest, continue mixing.

With mixer on low add the flour mixture and milk by alternating each. Mix until fully combined.

Pour into prepared cake pans.

Bake 49 minutes or until toothpick inserted comes out clean.

Cool completely.

BUTTERCREAM:

In medium sauce pan add the egg whites and sugar.

On medium heat you are going to whisk egg mixture until sugar is completely dissolved (you can test it by rubbing a small amount between your fingers to test it, it should be completely smooth).

Transfer to mixing bowl and with whisk attachment whisk on high until stiff peaks form and mixture is cooled.

On low speed add the butter one piece at a time. Mix until well combined.

Switch to paddle attachment, add lavender and food coloring, mix until smooth and glossy.

ASSEMBLY:

Cut each cake horizontally so you have a total of 4 layers.

Put a small dollop of frosting on cake board/cake plate so the cake sticks.

Put on the first layer, Cover tope with frosting, repeat with remaining three cake layers.

Decorate as desired with buttercream, lemon slices and yellow sprinkles.

Refrigerate until ready to eat.
SaveSave SaveSave SaveSave SaveSave SaveSave SaveSave SaveSave
SaveSave
SaveSave
SaveSave