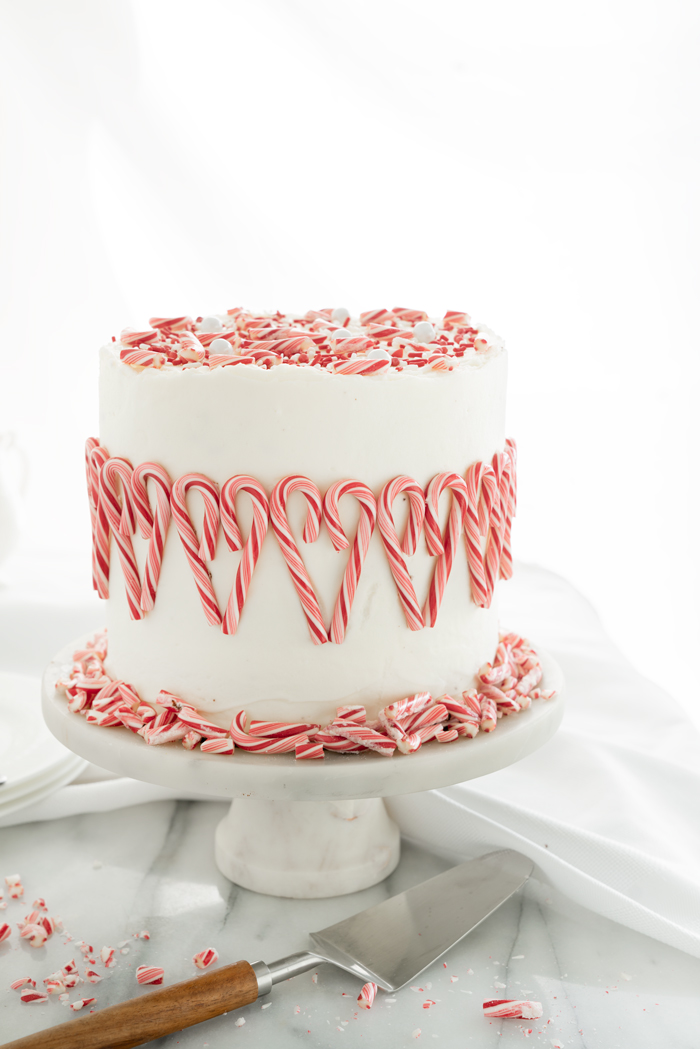 Peppermint Cream Cheese Buttercream Chocolate Cake. Moist delicious chocolate cake filled and coated in peppermint cream cheese buttercream!
Wondering what to do with all those left over candy canes? Have left over cream cheese and butter in the fridge from all those rich appetizers you made for the holiday? Or heck, do you just want an amazingly rich and delicious dessert? Than look no further, this Peppermint Cream Cheese Buttercream Chocolate Cake is just what you need!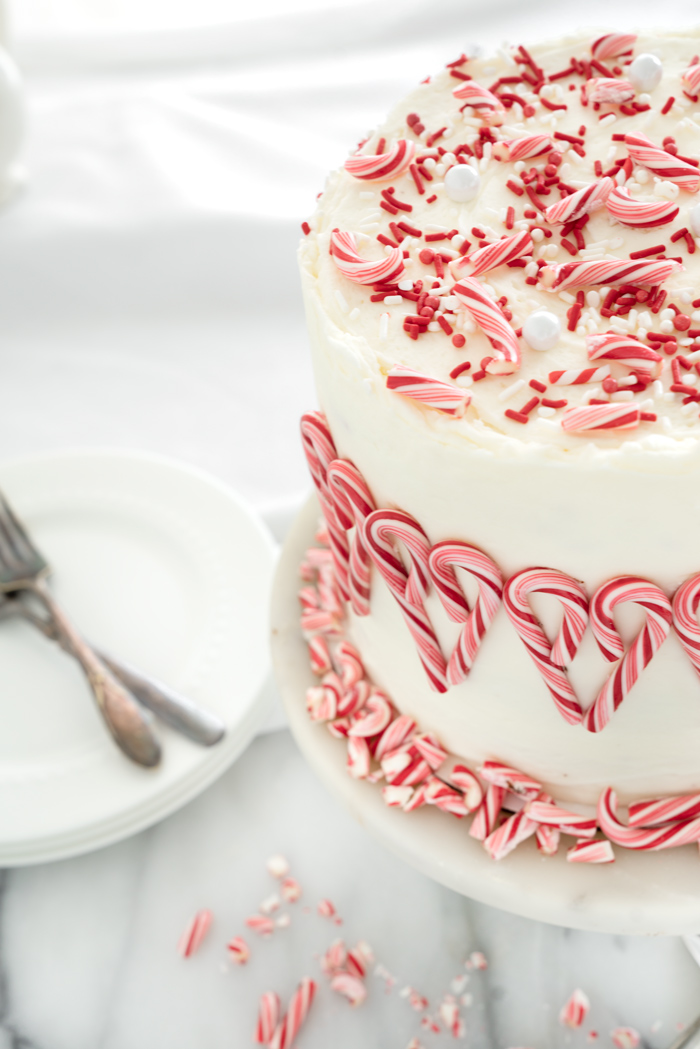 What Makes This Cake So Amazing?
My favorite chocolate cake of all time….Hershey's Chocolate Cake. As a recipe developer I love coming up with my own recipes but sometimes you have to tip your hat and give credit where credit is due. The Hershey's chocolate cake is by far my favorite chocolate cake. Rich, moist, delicious.
Cream Cheese Buttercream with hints of peppermint. Sweet, tangy and now a bit cool and pepperminty, it's the perfect compliment to the perfect cake
Cute little candy canes arranged to look like sweet little hearts. Completely optional but almost too sweet to pass up.
Sprinkles – For the top of the cake along with broken candy canes I used "Peppermint Party Sprinkle Mix" from SimplySucre for a little glam.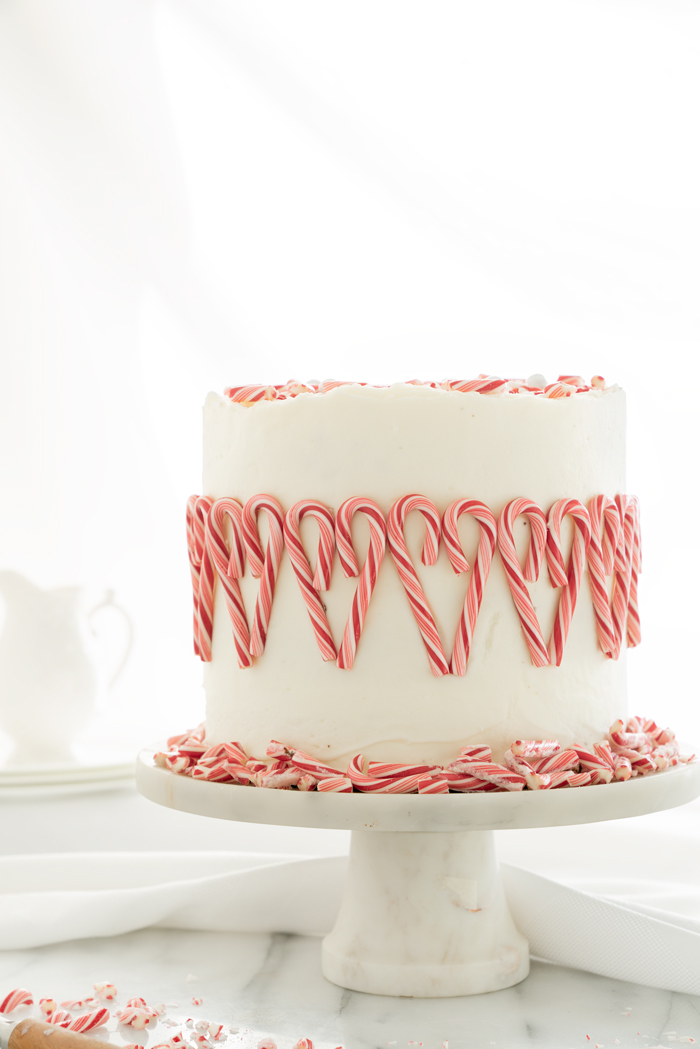 Tips and Hints To Making This Cake:
The chocolate cake batter is on the watery side, this is completely normal.
This cake batter can be cut in half if you wish for a 2 layer cake.
Regarding the peppermint flavoring – I chose to only flavor the buttercream for this recipe. Peppermint can get over powering fast so less is more. We want to enjoy the taste of peppermint but don't want to start breathing cool minty air through our nose lol, if this has ever happened to you then you know what I'm talking about 😉 .
Buttercream – your cream cheese and butter should be room temp or you'll end up with small clumps of cream cheese in your buttercream which is not ideal.
Dare I even suggest this next one?…. If you don't like peppermint (you're probably not reading this lol) you can omit it. Then you'll have a deliciously chocolatey cake with sweet tangy cream cheese buttercream. Still fabulous!
Cream cheese buttercream doesn't pipe well which is why I didn't pipe on this cake due to its softer nature. It sets fast, meaning it will begin to crust over (like American buttercream). If decorating with the candy canes, gently press them into the buttercream before it sets, same with the sprinkles on top.
I had a little left over chocolate buttercream that I added as a filling in the middle. If interested in doing the same this is the buttercream recipe I used, you can cut this recipe in half and refrigerate any left over for another use.
So there you have it! All the delicious details of this amazing Peppermint Cream Cheese Buttercream Chocolate Cake and tips for you to make it on your own!
Enjoy!
Stacey
PIN IT FOR LATER! You'll be glad you did 😉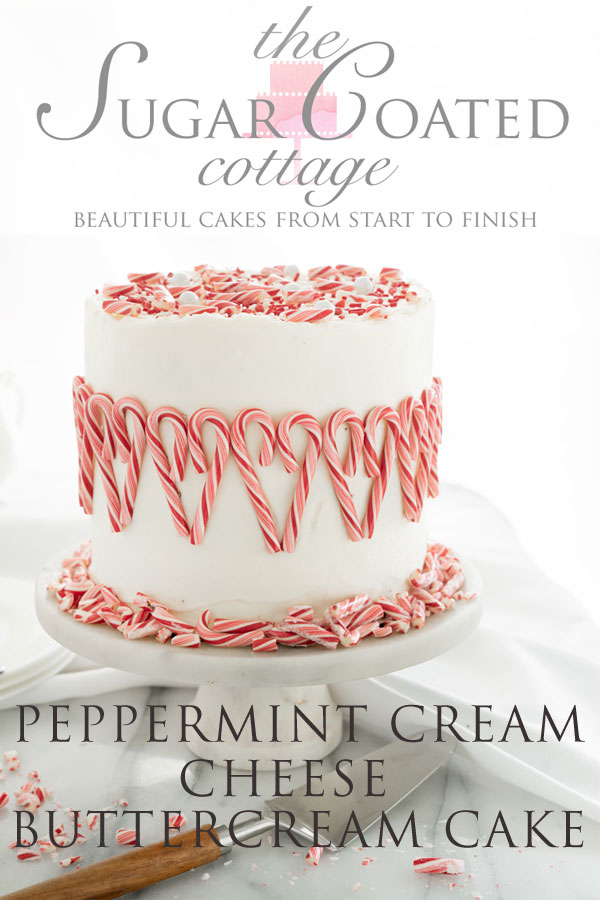 Raspberry Chocolate Cake
Peppermint Cream Cheese Buttercream Chocolate Cake. Moist delicious chocolate cake filled and coated in peppermint cream cheese buttercream! #cake #buttercream
Ingredients
CAKE:

3

cups

sugar

2 1/2

cups + 2 Tbsp

all purpose flour

1

cup + 2 Tbsp

Hershey's Cocoa

2 1/4

tsp

baking powder

2 1/4

tsp

baking soda

1 1/2

tsp

salt

3

eggs

1 1/2

cup

milk

room temp

3/4

cup

canola oil

1

Tbsp

vanilla extract

1 1/2

cup

boiling water

BUTTERCREAM

You will need 2 batches of the below buttercream recipe for this cake. One raspberry batch and one chocolate batch.

5

egg whites

1 1/4

cup

granulated sugar

1

lb

unsalted butter

room temp

1/2

Tbsp

vanilla extract

1

tsp

salt

1/2

cup

raspberry preserves

Used for the Raspberry buttercream batch. I used Bonne Maman

8

ounces

semi sweet chocolate

Used for the chocolate buttercream batch. Chocolate should be melted and cooled.

GARNISH

Haribo berry candies

2 bags
Instructions
CAKE:

Heat oven to 350 degree F.

Grease and flour 4 x 7 inch cake pans, line bottom with parchment. Set aside.

Combine sugar, flour, cocoa, baking powder, baking soda and salt in bowl of mixer.

Add in the eggs, milk, oil and vanilla, beat medium speed for 2 minutes. Scrape sides of bowl as needed.

With mixer on medium speed (reduce to low speed if too much splashing occurs) slowly stream in the boiling water. Continue to mix until completely combined. Scrape sides and bottom of bowl as needed. Batter will be watery.

Pour into prepared cake pans, only fill pans 1/2 way, and bake 30-35 minutes or until toothpick inserted comes out clean.

Let cool completely.

BUTTERCREAM:

BUTTERCREAM:

In large sauce pan add the egg whites and sugar.

On medium heat you are going to whisk egg mixture until sugar is completely dissolved (you can test it by rubbing a small amount between your fingers to test it, it should be completely smooth).

Transfer to mixing bowl and with whisk attachment whisk on high until stiff peaks form and mixture is completely cooled (if not completely cooled your butter will melt). You may have to let mixture sit for 20 minutes until completely cooled.

On low speed add the butter in small chunks one piece at a time.

Bring mixture up to high speed and continue to mix until well combined, scraping down sides of bowl as needed.

Add in the vanilla extract and salt, mix to combine.

For the raspberry buttercream: Add in the raspberrie puree now, mix well to combine, scraping down sides of bowl as needed.

For the chocolate buttercream: Add in the chocolate now, mix well to combine, scraping down sides of the bowl as needed.

ASSEMBLY:

Cut any humps off each cake layer that may have formed in baking.

Place first cake layer on cake board, secure it in place with a dab of frosting underneath.

Spread even layer of butter cream on top of the cake layer smooth with offset spatula.

Repeat with the next 2 cake layers. From the pictures you will see I used 2 layers of raspberry buttercream filling and 1 layer of chocolate filling.

Add the top cake layer and crumb coat the cake with buttercream.

Refrigerate at least 60 minutes.

Add final coat of raspberry buttercream. If adding the chocolate buttercream bottom refrigerate cake 60 minutes, then proceed with spreading on the chocolate buttercream as high up as you would like to go and then using an offset spatula or scraper smooth it out.

Keep in cool place and bring to room temp before serving.