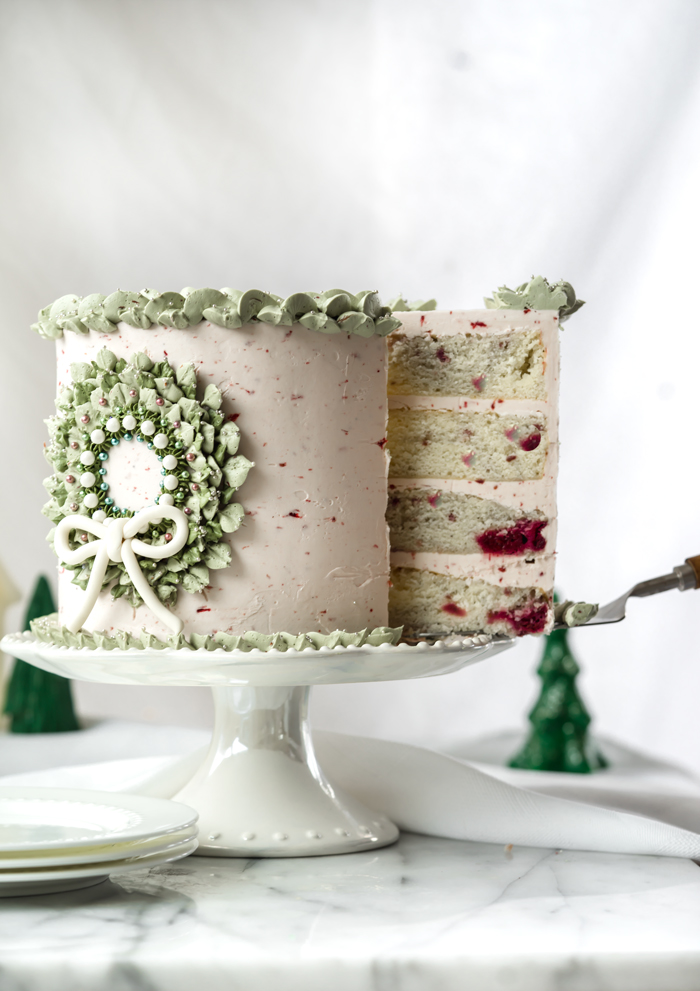 Raspberry Almond Cake. Sweet tart raspberries folded into an almond flavored cake and coated in raspberry almond buttercream.
This post is in partnership with Nielsen-Massey Vanillas. I'm always happy to work with Nielsen-Massey and since the holidays are all about baking it's a match made in heaven.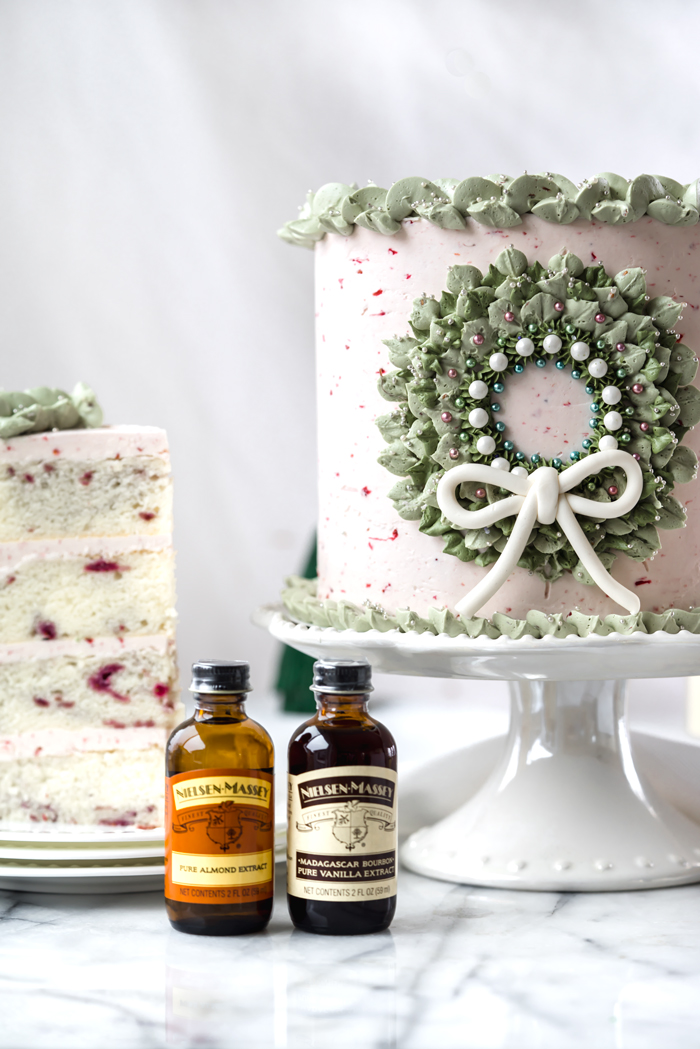 I had one of those rare moments every parents dream of, an empty house. That means the kitchen is all mine, the tv is all mine and I can bake, bake, bake, bake, bake. My favorite part of making delicious cakes is my daughters face when she comes home and see's the finished product. For a fleeting moment I'm a hero, a baking super ninja and a decorating artist in her sweet little mind. But as wonderful as all that is, watching her giggle and jump as I cut her slice and then watching her dive into the first bite is the most cherished sight for a baker (and mom) to see. That is why the best quality ingredients are so important. Nielsen-Massey Vanillas allows me to to provide the best in flavor to everyone who eats my cakes and as a baker it's a wonderful feeling when you know that you can trust your ingredients.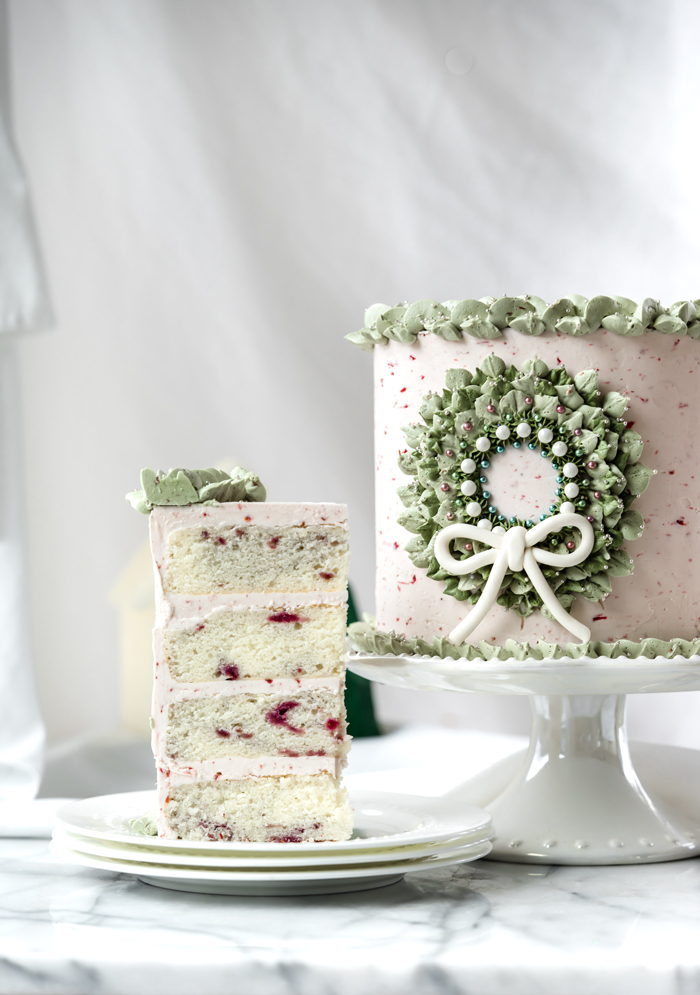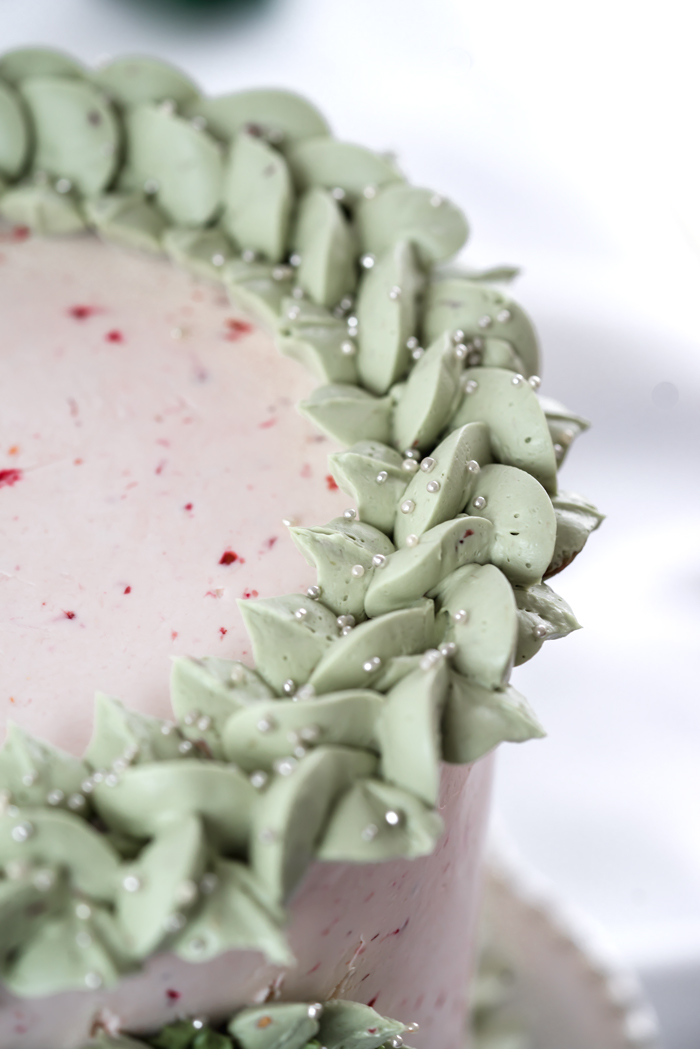 Nielsen Massey Vanillas are my go to company for extracts and flavorings because of their high quality and since I'm especially sentimental this time of year I love that they are family owned. This holiday they are offering a Nielsen-Massey Holiday Flavors Bundle which includes Madagascar Bourbon Vanilla Extract, Pure Almond Extract and Pure Peppermint Extract and you can choose between 2 oz and 4 oz bottles. They make wonderful gifts.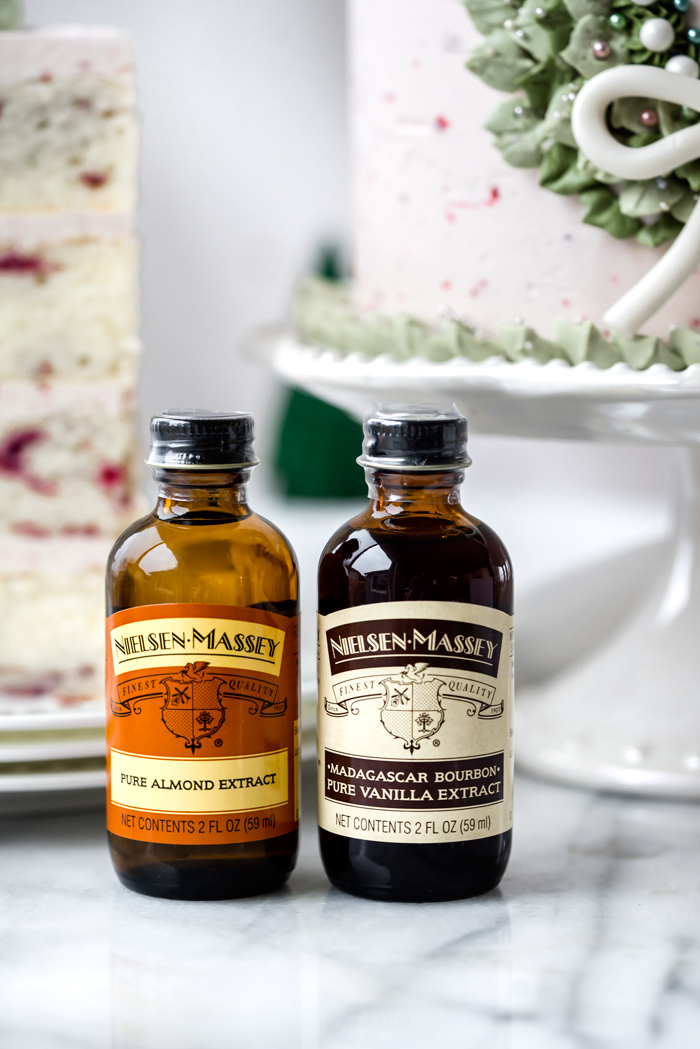 Let's talk cake now. Even though it's soon to be winter I still love a little fruit in my desserts to add a little freshness. Here I added raspberries to my cake batter, cant get good fresh ones? No worries, thawed frozen raspberries work well here. In fact that is what I used. Make sure you thaw them and bring them to room temperature in a strainer over a bowl. I discard the juice.
To add a little intrigue to the raspberry and vanilla flavors I used almond extract in addition. The almond extract really made the berries and vanilla flavors pop!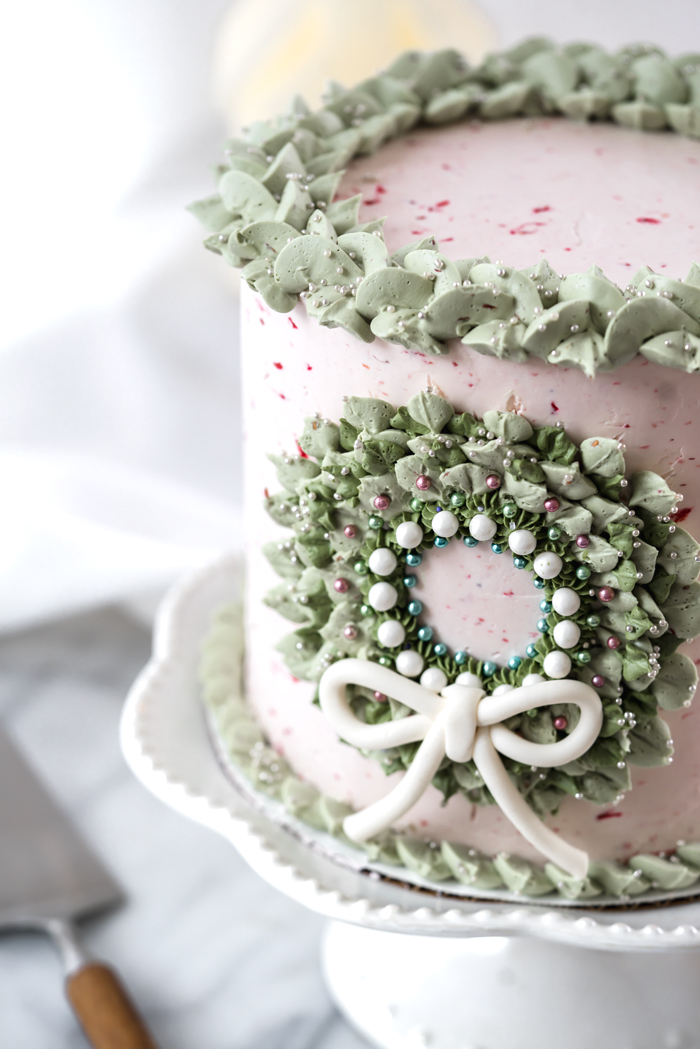 Just a quick note, when adding the berries to your cake batter it is best to fold them in. If you were to use the mixer it could smash the berries enough that you won't see them in the cake.
For the holidays I loved the streaks of reddish pink in the buttercream, pair it with some subtle green coloring and you have a holiday color scheme ready for your holiday feast.
Enjoy!
Stacey
(This post is sponsored by Nielsen-Massey Vanilla's. All opinions are 100% my own. I personally use their products and love them. Thank you for supporting the brands that make The Sugar Coated Cottage possible.)
PIN IT FOR LATER! You'll be glad you did. 🙂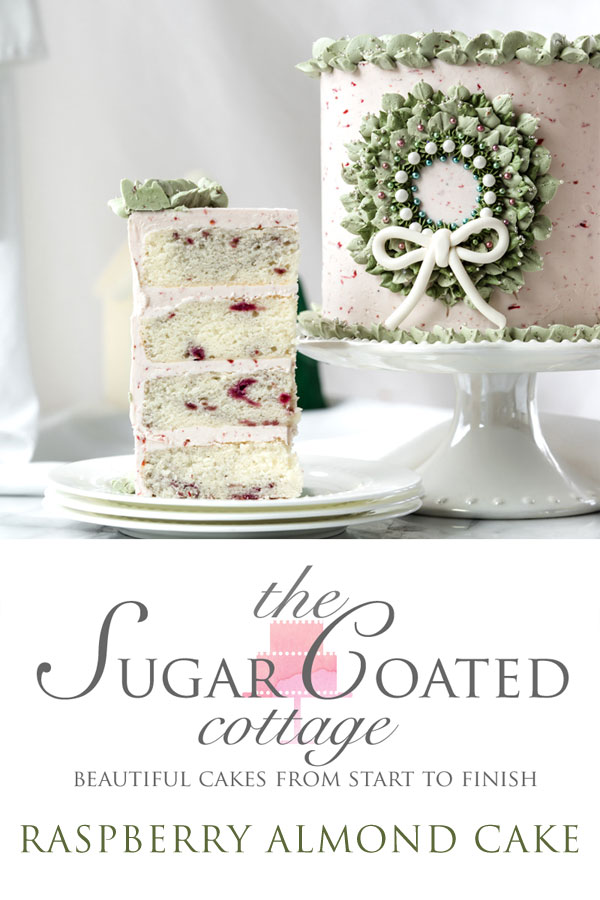 Raspberry Almond Cake
Ingredients
CAKE

3 1/3

cup

all purpose flour

3 1/3

tsp

baking powder

1 1/2

tsp

salt

1/3

cup

canola oil

3/4

cup

unsalted butter

room temp

2 1/4

cup

granulated sugar

5

large egg whites room temp

1

tsp

Nielsen Massey vanilla extract

1

tsp

Nielsen Massey almond extract

1 1/2

cup

milk

room temp (2% or whole milk will work)

1/2

cup

raspberries

if frozen, thawed and room temp

BUTTERCREAM

You will need 2 batches of the below recipe for this cake. I make one batch for filling and crumb coating and second batch for final coat and decorating.

5

egg whites

1 1/4

cup

granulated sugar

2

cup

unsalted butter

room temp

1

tsp

salt

1

tsp

Nielsen Massey almond extract

1

tsp

Nielsen Massey vanilla extract

1/2

cup

raspberries

if frozen, thawed and room temp
Instructions
CAKE:

Preheat oven to 350 degrees.

Grease and flour 4 x 7 inch cake pans, line bottoms with parchment paper.

In medium bowl add the flour, baking powder, salt. Stir with whisk to mix, set aside.

In bowl of mixer fitted with the paddle attachment mix butter until pale yellow.

Add in the sugar and oil, mix on medium/high until light and fluffy. Add in the vanilla and almond extracts.

Lower speed and add egg whites one at a time, mixing well after each adition and scraping down sides of the bowl as needed.

Next while alternating add in the flour mixture and milk. Be sure to end with flour. Mix until just combined, do not over mix.

Fold in the raspberies.

Pour batter into prepared pans.

Bake 40 minutes or until toothpick inserted into center comes out clean.

BUTTERCREAM:

In large sauce pan add the egg whites and sugar.

On medium heat you are going to whisk egg mixture until sugar is completely dissolved (you can test it by rubbing a small amount between your fingers to test it, it should be completely smooth).

Transfer to mixing bowl and with whisk attachment whisk on high until stiff peaks form and mixture is completely cooled (if not completely cooled your butter will melt). You may have to let mixture sit for 20 minutes until completely cooled.

On low speed add the butter in small chunks one piece at a time.

Bring mixture up to high speed and continue to mix until well combined, scraping down sides of bowl as needed.

Add in the vanilla extract, almond extract and salt, mix to combine.

Add in the raspberries, mix well to combine, scraping down sides of bowl as needed.

ASSEMBLY:

Cut humps off of cake layers if necessary. Put a small smear of buttercream onto your cake board/plate (this will help keep the cake in place). Place the first cake layer on the cake board/plate.

Spread a large dollop of buttercream on top and spread evenly to the edges of the cake. Place next cake layer on top and spread with buttercream.

Repeat with with remaining cake layers until all are stacked.

Once all the layers are in place apply a crumb coat of buttercream around the top and bottom of cake. Refrigerate at least 45 min. (Crumb coat gives a nice smooth base to work with when ready to apply final coat of buttercream and decorate).

Make your second batch of buttercream if needed. Apply final coat of buttercream.

Decorate as desired. I used Wilton large leaf tip #366 and small leaf tip #352 for the wreath and border. I used Wilton "Juniper Green" gel coloring and added it to the raspberry buttercream (no need to make a white batch of buttercream just to color it green).

Enjoy!
Notes
If using frozen raspberries like I did, thaw and bring to room temp in a strainer over a bowl. You can discard the juice.