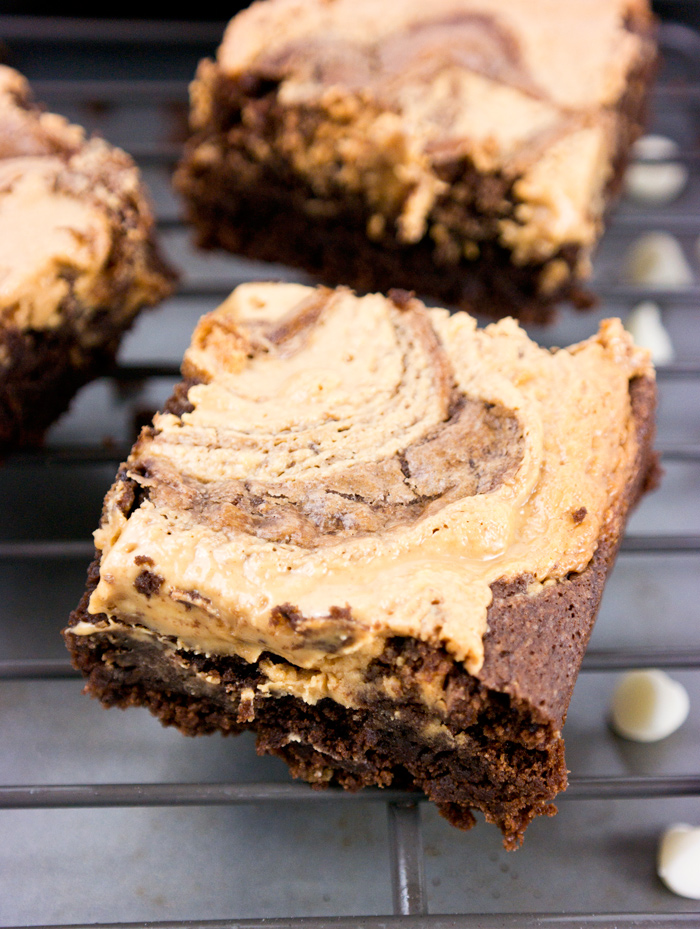 Peanut Butter Ganache Brownies. Smooth creamy peanut butter ganache on top of fudge like, chocolatey brownies.
[social_share]Yum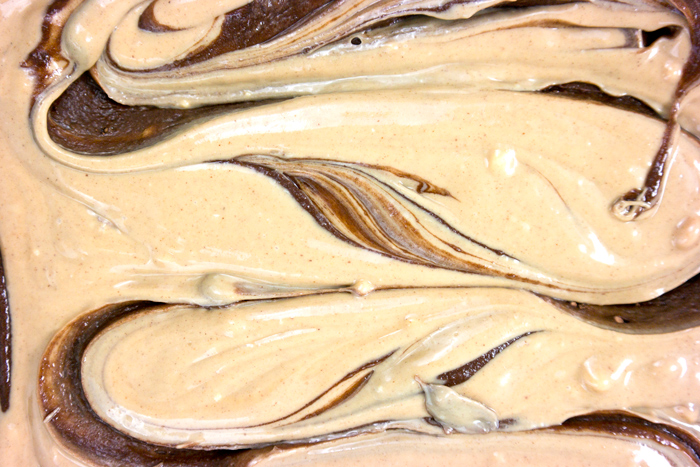 As mentioned in a few of my posts now, my brother and kids are here visiting from Europe. Their trip here is coming to an end in a few days and we're already getting sad. One of the foods my brother indulges in when he is here is peanut butter. He likes American peanut butter best, in addition to eating it everyday while he is here he also packs a container to go back home with him. Some things never change. I can remember as kid we would come home from school and ask my mom for a snack and she would give us each a spoonful of peanut butter, it did the trick! Little did she know she was encouraging his (our) peanut butter loving addiction, lol.
As a special treat I thought I would make my brother and his kids a dessert/snack that indulges their love of peanut butter and chocolate. Yes I will be eating my share as well, I can't give them all away. So I made these awesomely delicious and decadent Peanut Butter Ganache Brownies! These brownies are slightly crunchy on the outside and fudgy on the inside, a fudge like brownie is personally my favorite kind. Swirling around on top is a smooth creamy peanut butter ganache made with roasted peanuts and white chocolate. All of this is baked together so the flavors, though separate, combine just enough to balance each other perfectly. The best part, the peanut butter ganache stays creamy!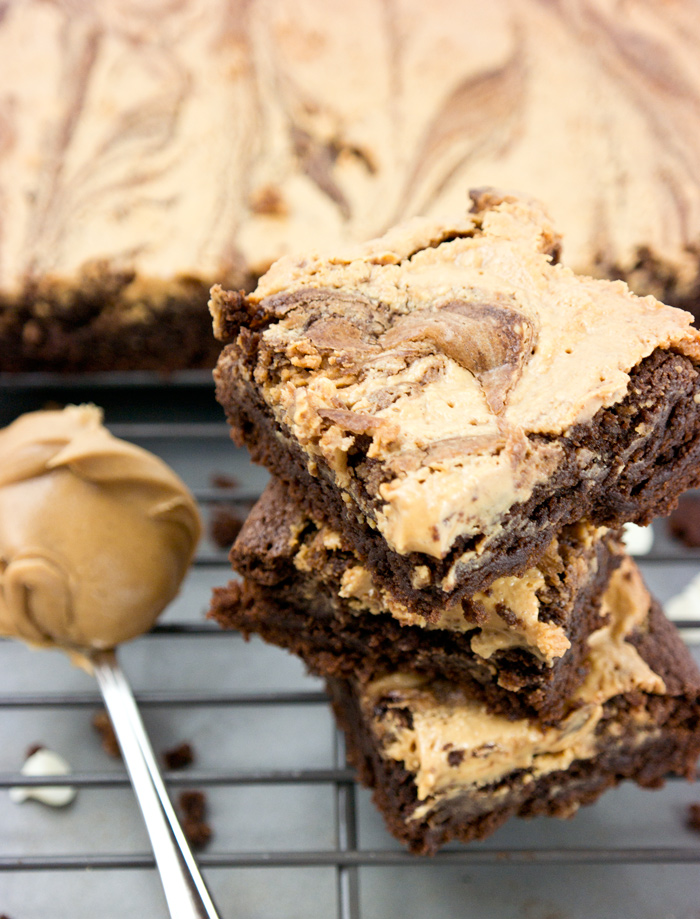 [social_share]Yum
First I make the brownie batter, Mmmm, brownie batter, who needs to bake it? I could eat brownie batter just the way it is. I love how thick and rich the batter is, just from the feel and texture of the batter you know you're making something really delicious. Also I love how easy brownies are to make, no stand mixer, no problem, brownies can be mixed by hand. Pour the batter into the pan, done.
Next we're onto the "icing on the cake" so to speak, the star of the show, peanut butter ganache. I made a really simple ganache, white chocolate + peanut butter. Now I used the word simple only in technique. The flavor though is far from simple. We have smooth, creamy, dreamy white chocolate and smooth, roasted peanut butter. The sweet, white chocolatey flavor blending with the savory peanut butter makes this a match made in heaven. Who say's jelly is peanut butters best friend? I drizzled the peanut butter ganache over the brownie batter, then with a spatula I swirled the peanut butter ganache into the brownie batter. I felt like a kid playing with her food. Then the little voice of reason came out in my head, "that's enough, don't over do it", so I stopped.
As these were baking I was like a gitty little kid, I couldn't wait for them to be done! It was really hard to eat my lunch, salad and chicken, while I was waiting for these to complete baking. It's hard to switch gears from thick rich brownie batter and peanut butter ganache to chicken and salad, lol. But just like my mom always taught me, "eat all your meat and veggies and you can have dessert".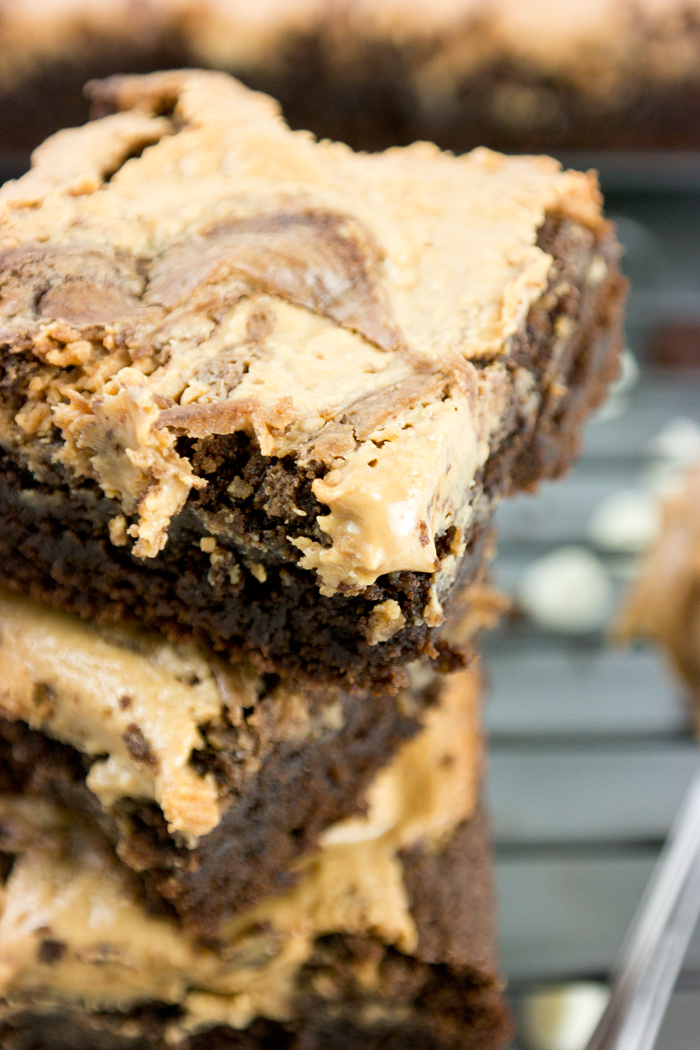 [social_share]Yum
These brownies looked just as pretty coming out of the oven as they did going in. Peanut butter and chocolate swirl baked perfectly in place. In case you are wondering, I did eat all my chicken and salad. For no other reason than this moment, the moment I could have a Peanut Butter Ganache Brownie square.
Thick and rich chocolate meets smooth, creamy peanut butter ganache! I think I just heard the peanut butter say, "Jelly who?".
Enjoy!
Stacey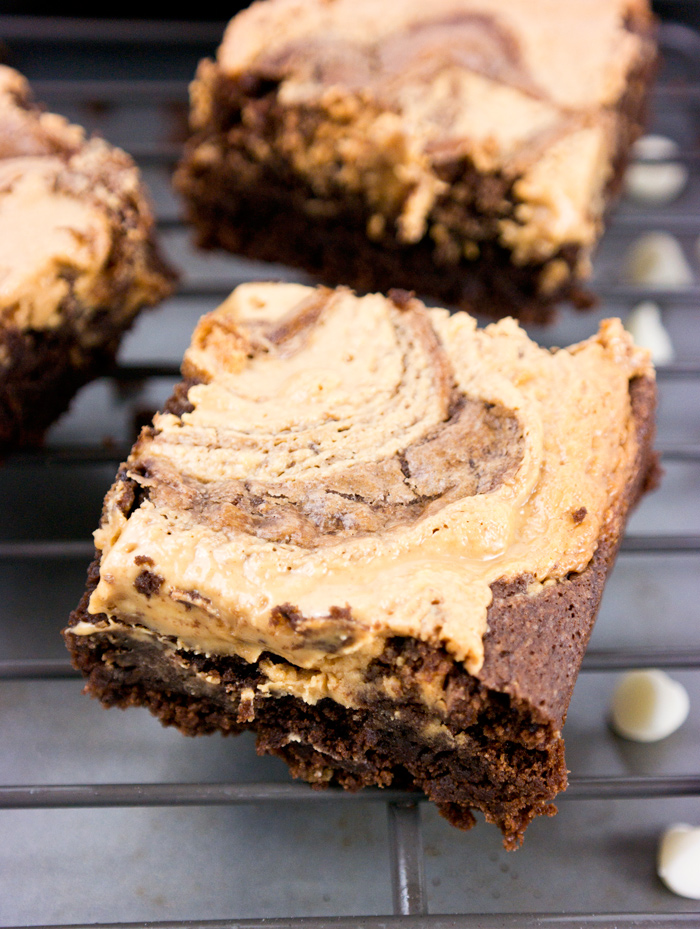 Peanut Butter Ganache Brownies
Peanut Butter Ganache Brownies. Smooth creamy peanut butter ganache on top of fudge like, chocolaty brownies.
Ingredients
BROWNIE:

1 2/3

cup

granulated sugar

3/4

cup

butter melted

2

Tbsp

milk

2

large eggs

3

tsp

vanilla

1 1/3

cups

all purpose flour

3/4

cup

cocoa powder

1/2

tsp

baking powder

1/2

tsp

salt

GANACHE:

1/2

cup

white chocolate chips

1/2

cup

creamy peanut butter

I used Jif
Instructions
Pre heat oven to 350 degrees F.

Line 8x8 baking pan with parchment, leave a little hanging over sides to lift brownie out.

In large mixing bowl add the sugar, butter, milk, eggs and vanilla. Mix to combine.

In medium bowl add the flour, cocoa, baking powder and salt, Stir to combine.

Add flour mixture to sugar mixture, mix until well blended.

Pour into baking pan and smooth out evenly.

In medium bowl melt peanut butter and white chocolate together, stir until smooth and creamy.

Pour over brownie batter, swirl the peanut butter and brownie mixture together with tip of spatula.

Bake for 20 minutes, then lay aluminum foil over pan to prevent ganache from getting too brown.

Bake for additional 10-15 minutes or until wooden toothpick comes out a little sticky.

Cool completely, when cool transfer to cutting board and cut into 2x2 squares.
Notes
Peanut butter ganache will remain soft after baking.
This brownie is very rich, I would recommend cutting in 2x2 inch squares.