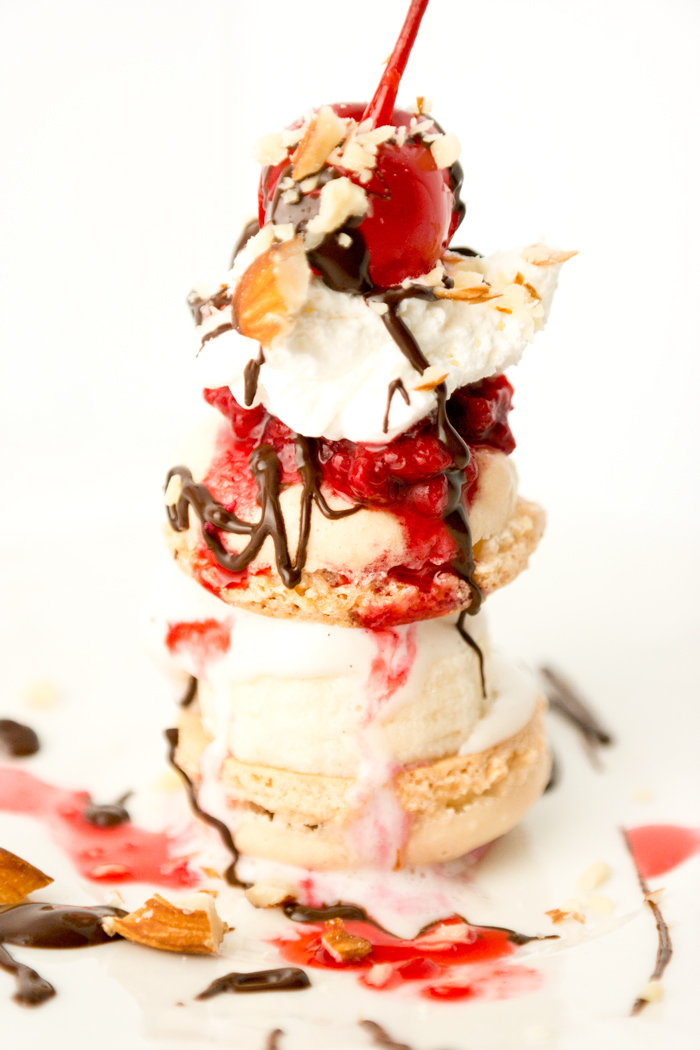 Banana Split Macarons! French classic meets an American classic. Macarons + Bananas + Vanilla Bean Ice Cream!
[social_share]Yum
No, no, no, no, tell me it isn't really August already. I was having so much fun in July. August is still a great summer month but for those of us who suffer the long cold winters we know that August is the unofficial last month of summer. August is the month where everyone will start taking their last vacations before the kids go back to school, take there boats out for one last run and visit the cottage a few more weekends before closing things up until next summer. So have a few more camp fires, did someone say s'mores? Go for a few more swims and bake in the sun a few more minutes. That's what the family and I are doing, trying to cram as much of summer as we can into what's left. My brother and kids are still here so we've been roasting marshmallows, playing outside in the sprinkler and eating really good summer time food, bbq, ice cream, coleslaw, potato salad, yum!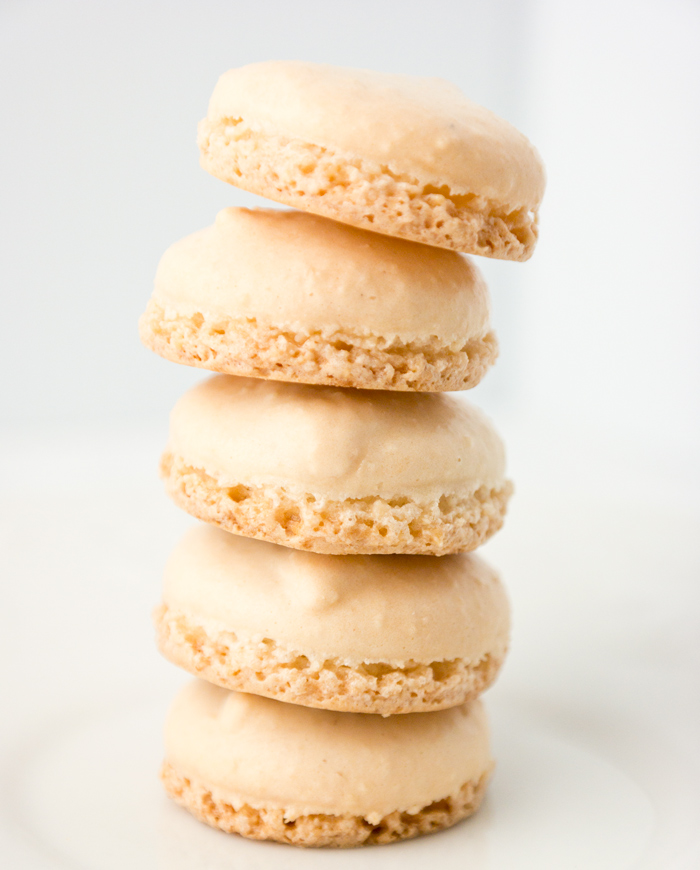 I would just like to interrupt and commend all the parents out there with multiple children. My husband and I got to watch all three kids, my brothers two and our one, ages 7, 5 and 3 on Sunday for like two hours and I was exhausted. The keeping track, the mediating over who's turn it was to play with the toy computer, "she touched my toy", "no I didn't", you get the point. All and all it really was a blast but wow I have a new respect for parents with more than one. Hats off to you!
I have had macarons on the brain, obviously but since I am trying to hang onto to summer ice cream came to mind as well. What could be more summer than ice cream, like I need a season to eat ice cream but we'll go with it for this post, lol. The gears started turning in the recipe department of my brain. Macaron + ice cream? Really? I was thrilled with where this was going but it was so untraditional to the macaron I know and love. A friend of mine is always saying, "God hates a coward", lol, so with that in mind I jumped in. A Banana Split Macaron. Does it get any better than this? These little bite size cuties are France meets America to create the greatest macaron ice cream treat you'll ever have.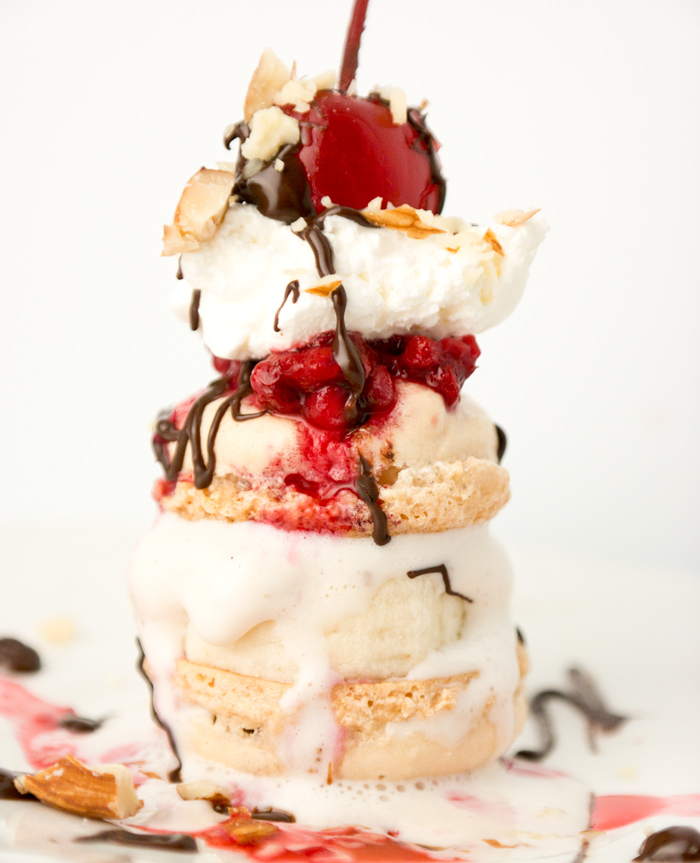 [social_share]Yum
Let's start with the macaron shall we? The French know what they are doing here, not that anyone is questioning that, who dare question the french, not I. This little cookie has been my favorite for years. Making these is a real treat and once you get the hang of it the technique becomes second nature. Light, crunchy, sweet and almondy. The perfect accompaniment as it delicately breaks away with each bite. I made mine about 1 inches wide, so these are small, like I said bite sized.
Now pair that sweet little cookie with ice cream, not just any ice cream, I went with a vanilla bean. Hey, if we're gonna do this, it's gonna be done right, vanilla bean ice cream. The macaron deserves a little better than typical ice cream. Vanilla bean is smooth and creamy and brings that little extra flavor to the party, like the necklace that makes an outfit pop. For the rest of the ensemble? Smooth tropical bananas, sweet/tart raspberries, rich chocolate and crunchy almonds, all with a cherry on top. Music to my ears and more importantly my tastebuds! Together a masterpiece of flavors! Remember when I said above, "The French know what they are doing here..", that may be true for the macaron but no one does banana splits like out good old USA! So I pair up my macarons, lay a slice of banana on one cookie, next a scoop of ice cream, top with the second macaron. I put a small spoonful of mashed raspberries on top, followed by a dollop of whip and a cherry. Drizzle the chocolate sauce and sprinkle with toasted almonds.
[social_share]Yum
The Banana Split Macarons take French and American classics to make the best macaron experience, or is it the best banana split experience, let's go with both, you'll ever have.
Enjoy!
Stacey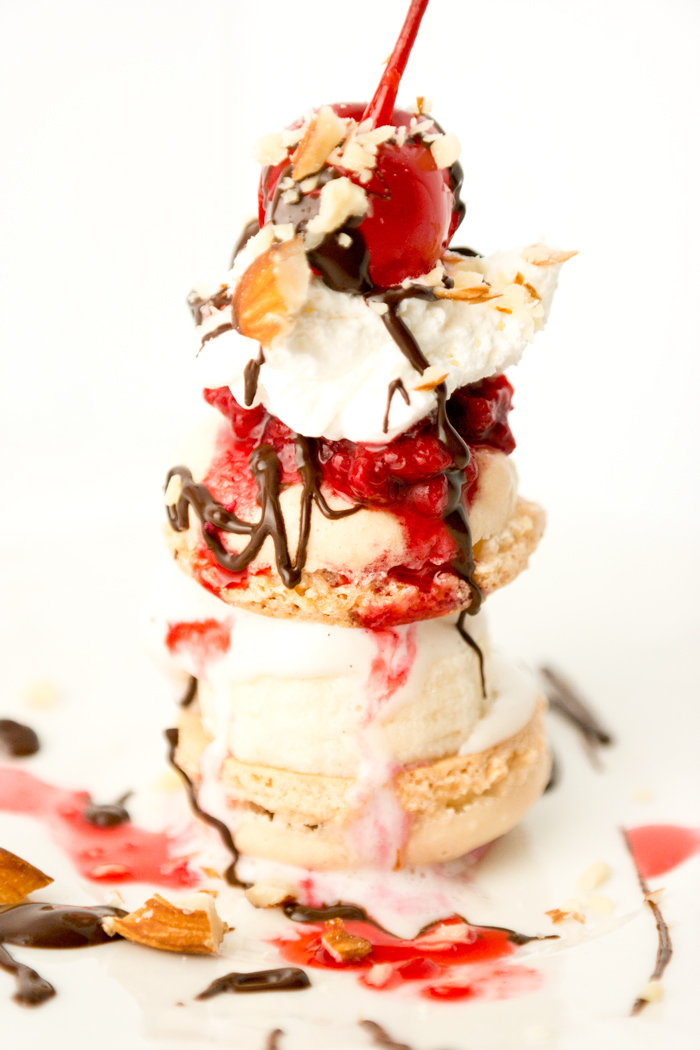 Banana Split Macarons
Banana Split Macarons! French classic meets an American classic. Macarons + Bananas + Vanilla Bean Ice Cream!
Ingredients
MACARONS:

1

cup

almond flour

1

cup

confectioners sugar

2

egg whites

1/4

cup

sugar

BANANA SPLIT:

1

pint

vanilla bean ice cream

1

bag frozen raspberries thawed

2

large bananas

you'll need 24 banana slices

1/4

cup

crumbled almonds

24

maraschino cherries with stem

favorite chocolate sauce

Whipped topping
Instructions
MACARON:

Pre- heat oven to 350 degree F

Place rack at lower third of the oven.

Line 2 cookie sheets with parchment paper

In medium bowl, sift almond flour and confectioners sugar. With back of spatula gently press any large granuals through the sifter. Toss any that do not go through. Repeat process 2 more times. Set aside.

In a medium sauce pan add the egg whites and granulated sugar. Whisk on medium heat until sugar granuals are dissolved, about 5 minutes.

Pour into mixing bowl with whisk attachment and mix on medium speed until soft glossy peaks are reached.

Pour in the almond mixture and fold until incorporated, Next press the mixture against inside of bowl with back of spatula in an upward motion. Repeat until batter is fully mixed and incorporated.

Add to piping bag and pipe macarons onto cookie sheet about 1 inch in diameter, I used an Ateco #806 tip). (If needed trace circles on parchment as a guide with pencil and flip over so pencil does not get on macarons).

Let sit for 20 minutes until skin forms on tops, this will help achieve the "foot" at bottom of macaron.

Bake for 10-11 minutes until risen and set, turning cookie sheet half way through.

BANANA SPLIT PREP:

Mash raspberries set aside.

Warm chocolate sauce so it drizzles easily.

Set out almonds, whipped topping, banana slices and cherries

Pair up macarons with like sizes, top and bottom.

ASSEMBLY:

Place macaron pairs in a row.

Place a banana slice on the bottom macarons.

Next a small ice cream scoop, I used a 2 tsp cookie scoop but you can eye ball it if you don't have one.

Take the macaron cookie and put on top to make a sandwich.

Take a small spoon full of raspberries and put on top of macaron, follow by whip topping and cherry.

Drizzle with chocolate and sprinkle with almonds.
Notes
1. Due to melting ice cream you may have to do these in batches.
2. The average person could eat up to three of these.
3. Raspberries can be substituted with strawberries.
4. When piping macarons pull piping bag to one side when done, rather than pulling upward when done, this will help avoid a peak at the top of each macaron so they sit flat.