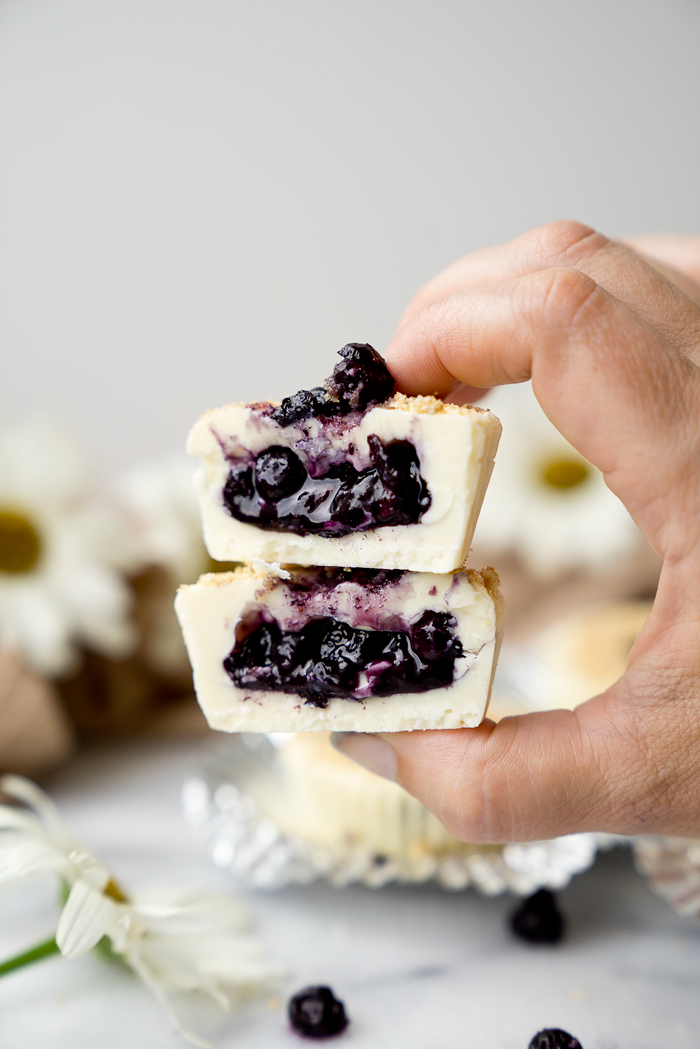 White Chocolate Blueberry Crumble Cups. Classic blueberry crumble inside of a creamy white chocolate cup. New take on a summer classic. [social_share/]Yum
A few weeks back I made the Dark Chocolate Salted Caramallow Cups. I have to admit they have a special place in my heart. I love them so much I decided to make this version, the White Chocolate Blueberry Crumble Cups. In reality the only thing they have in common is the "cup". All the ingredients are way different but they still remain simple and no bake which in this heat is a win win.  
First I started with creamy white chocolate which is a great base for the filling to come. Next I cooked down blueberries with a little sugar and flour. One note, I used frozen blueberries because as the warm up they release more juice which is what we want here. Covered with more white chocolate and sprinkled the tops with a graham cracker brown sugar mixture and a few blueberries.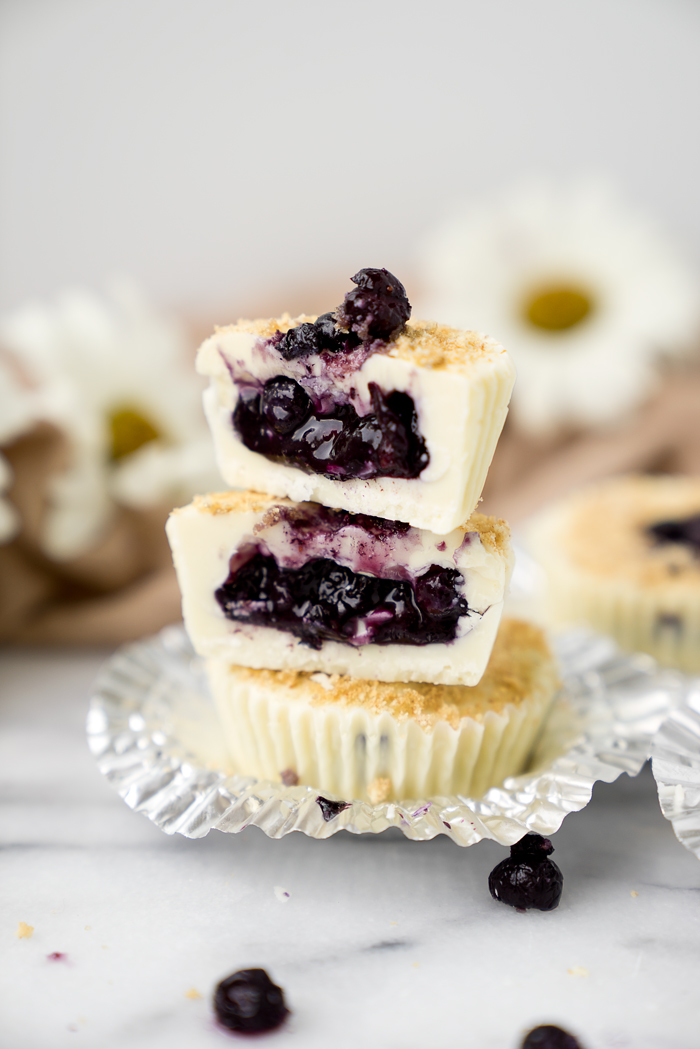 The creamy white chocolate melts into the flavor of the sweet blueberries and is balanced with the little bit of crumb on top. These truly are a decadent, no bake, simple way to enjoy a blueberry classic in candy form.
Enjoy!
Stacey
Check out these links! These are some of the items I found helpful in the making of these White Chocolate Blueberry Crumble Cups.
Foil Baking Cups – I think these are sturdier for candy making and they peel off really nice without sticking.
Guittard White Chocolate – This is some of the smoothest, creamiest white chocolate ever!
Please note some of the links above are affiliate links which means if you purchase from the link I get a small commission. I use these products and stand behind them which is why I chose to tell you about them. Thank you for your support. 
FORGOT TO PIN IT? Here you go! Thanks.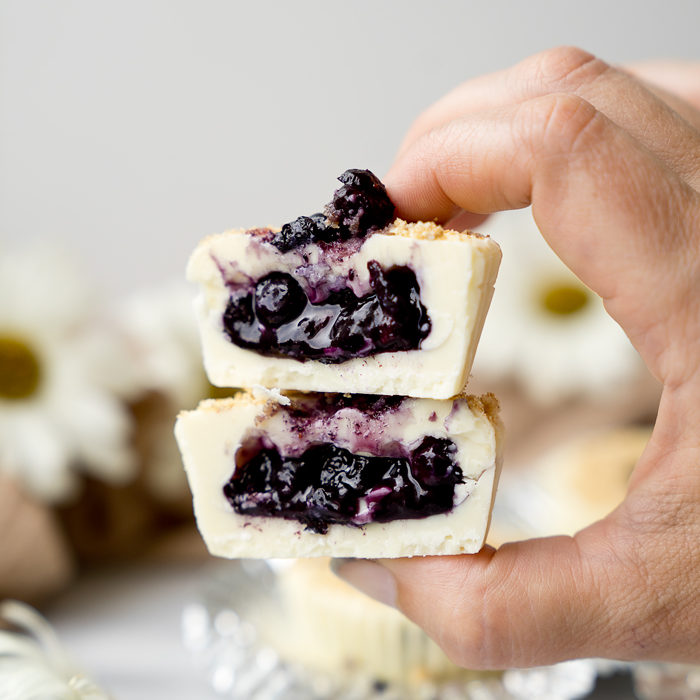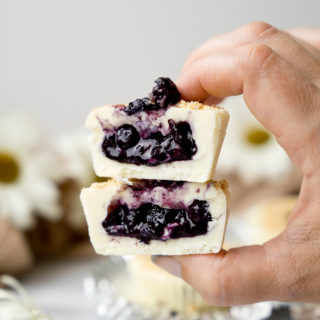 White Chocolate Blueberry Crumble Cups
White Chocolate Blueberry Crumble Cups. Classic blueberry crumble inside of a creamy white chocolate cup. New take on a summer classic.
Ingredients
12

oz

white chocolate chips divided in half

1

cup

blueberries

more for garnish

1

Tbsp

sugar

1

tsp

flour

1/2

of one graham cracker

1

tsp

brown sugar
Instructions
Line a muffin tray with 6 muffin cups. (I prefer the foil cups, they are sturdier)

Melt 1/2 the white chocolate (6 oz)

Evenly disperse the melted chocolate amongst the 6 cups.

Now pick up the muffin tray and swirl it around so the melted chocolate climbs up the sides cups, do this about 12-15 times/swirls. This is creating the sides of your candy cups.

Put in the freezer for 10 minutes.

While the chocolate is setting, put the blueberries, granulated sugar and flour in small sauce pan.

Cook over low heat until juices thicken stirring regularly.

Remove from heat, let cool completely. (to speed this up you can transfer to bow and place in freezer, freeze 10 minutes, stir half way through.)

Pull muffin tin and blueberries out of freezer and scoop blueberry mixture into each cup, about 1/2 Tbsp per cup.

Freeze 10 minutes.

Crush the graham cracker into fine crumb, mix in the brown sugar, set aside.

Melt remaining white chocolate.

Pull muffin tin from freezer, pour the remaining white chocolate over the cups evenly so all 6 cups get covered.

Sprinkle with graham mixture and blueberries. Refrigerate until set, about 2 hours.
SaveSave