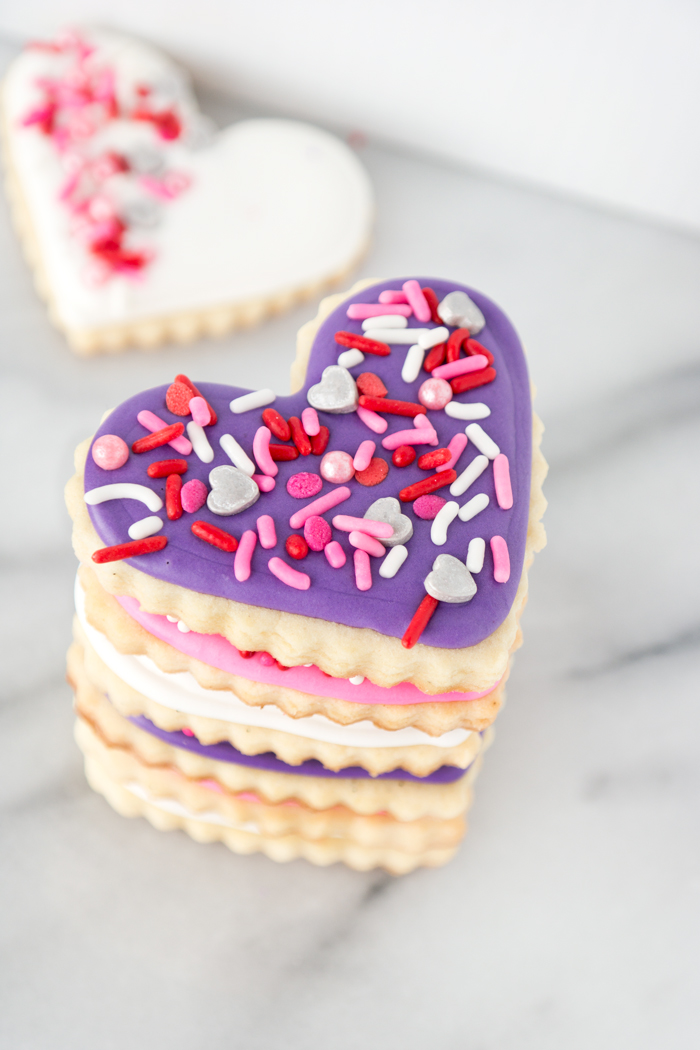 Vanilla Bean Valentine Sugar Cookies! Sugary, buttery cookie with the subtle hints of vanilla. Enrobed in smooth royal icing and decorated for Valentines Day.
[social_share/]Yum

Our daughter, Olivia, loves all her cousins but there is one in particular who is her favorite, Katie. Katie is in middle school and Olivia just thinks the world of her, she has ever since she was a baby. As soon as she would see Katie her face would light up, she would get all excited and would follow her around everywhere. Katie had a baby doll that was hers when she was little, it was her favorite and when my daughter found it in the closet it soon became her favorite. Katie allowed Olivia to take it home when Olivia was about two years old (now 5) and they are inseparable. She plays tea party with baby, takes her in the car everywhere we go, sleeps with her at night and so on. Baby quick became my daughters version of a "blankie".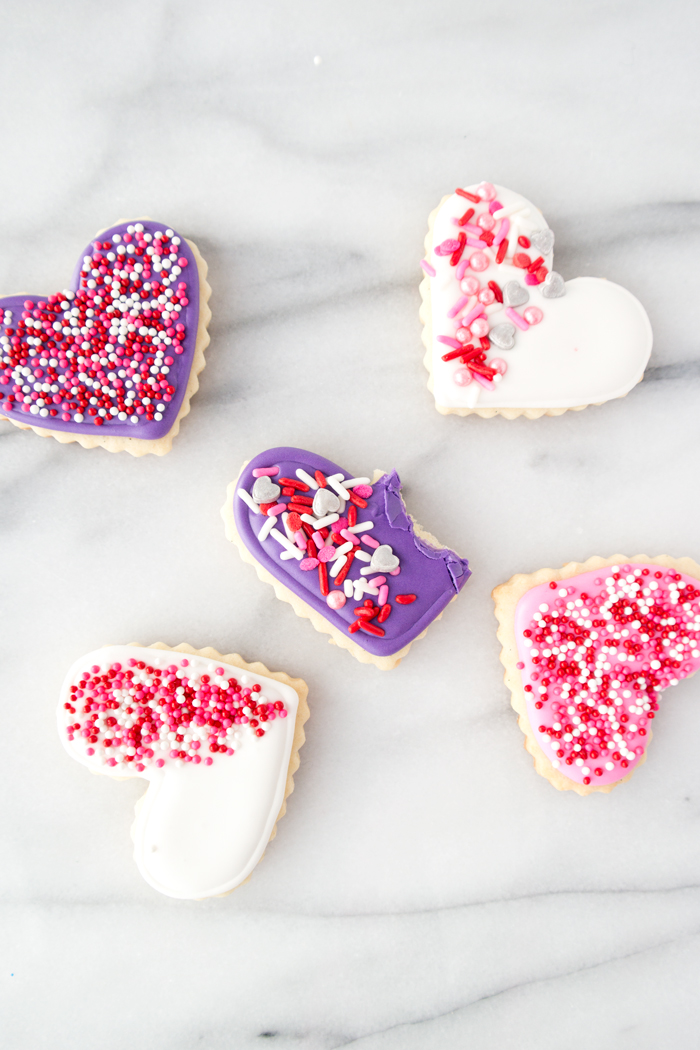 You can imagine that after having the first owner and now my daughter who never stops playing with her that baby is starting to wear out. My mother-in-law purchased the doll for Katie originally at a local toy store, it is a Berenguer doll which was a very high quality, life like doll but with all the love this doll gets something was bound to happen. The hubby and I were in the kitchen when we heard the most horrific scream from our daughter and she came running, "baby's arm fell off". Sure enough, where the fabric arm meets the plastic hand it had just worn away and when Olivia pulled babes arm through the sleeve of the dress she was changing her into it just ripped. She cried for hours, we were even heart broken. When she left for school I tried to figure out how I was going to fix her but it just wasn't possible. As I looked at the other limbs I began to see it wasn't going to be long before they were all doing it. I scoured online for a look alike but this doll is now considered vintage and I couldn't even find one used that looked identical (yes, I was going to pull a switch-a-roo, don't judge, lol ).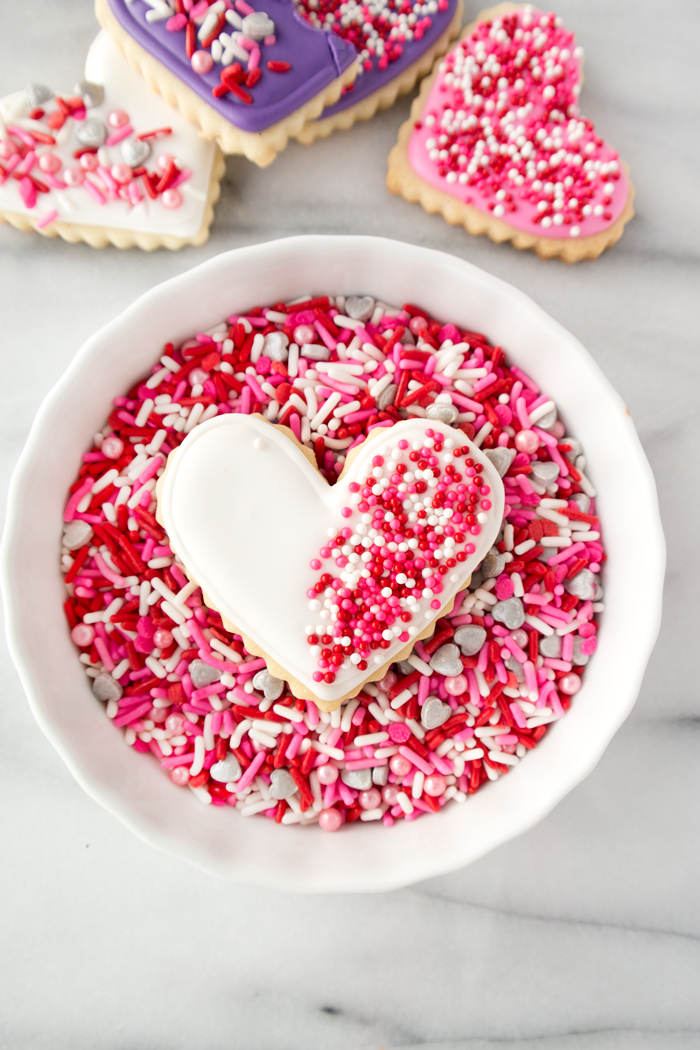 I remembered hearing a commercial when I was kid for the "Doll Hospital and Toy Soldier Shop" over and over again on the radio. I looked them up and they were still in business. Though an hour and 15 minutes away that seemed like nothing compared to the sleepless nights and tears from our daughter. I taped up babies arm like a cast, wrapped her in a blanket and off we went to get her help. Olivia, the ever concerned mother of baby gently walked her into the Doll Hospital part of the store and explained her baby was hurt. They were the kindest people you would even want to meet, they warned it make take up to two weeks but they would put a rush on it. On the car ride home Olivia seemed fine, happy even that baby was being fixed. But when we walked in the door Olivia's mood changed. She picked up babies blanket and wrapped herself in it, "it makes me think of baby" she said and then began to cry. I picked her up and explained that baby will be back soon. We sat in a comfy chair and snuggled, still crying she said, "Everything makes me think of baby, everything. My heart is broken". Which of course broke my heart.
In less than a day the Doll Hospital called, baby was ready. Olivia was over joyed. The whole ride home all I heard from the back seat were smooches, "I love you" and "Mama missed you baby girl", over and over again. It was so sweet and touching.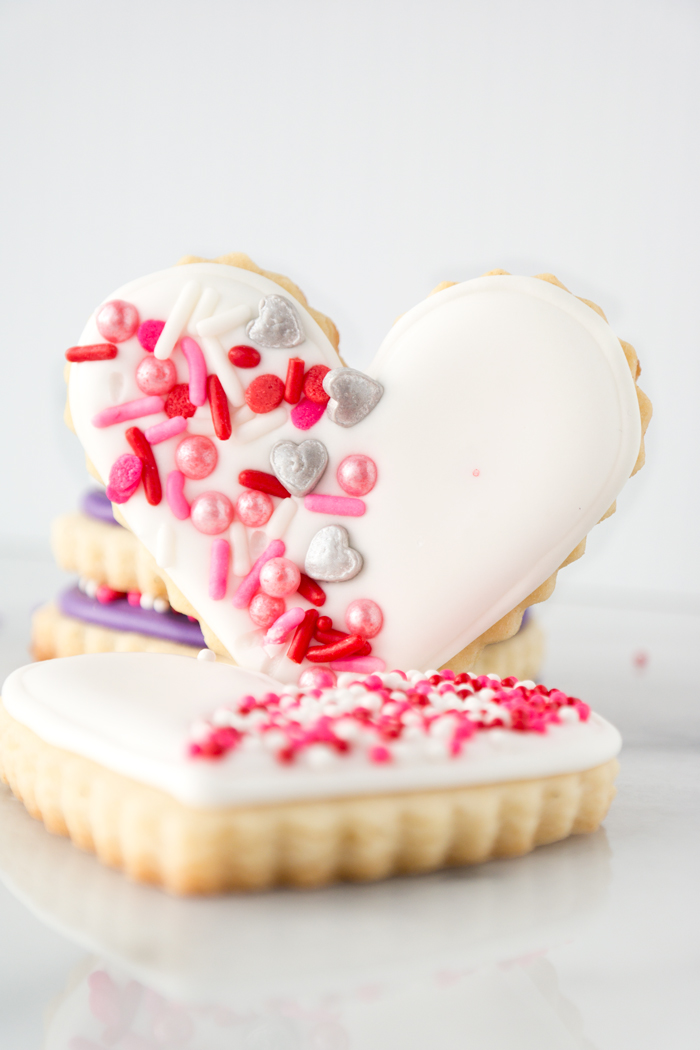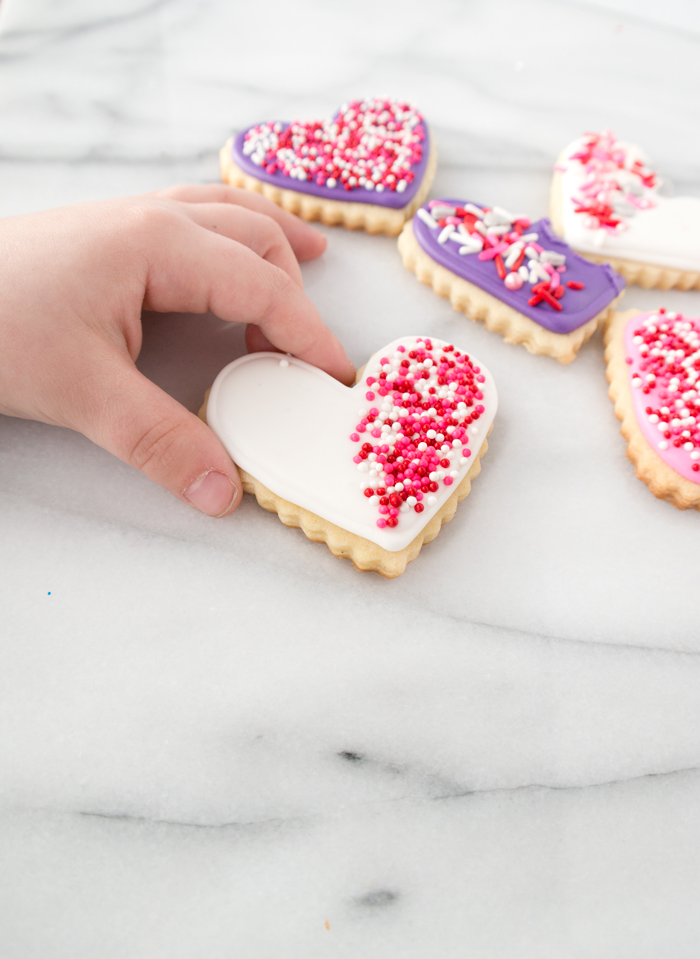 Ok, so obviously not your typical love story around Valentines Day.  I know, I know, its just a doll, all this for a doll, you may even be thinking, "Are you crazy?" and the answer would be yes and crazy or not I would do it again, lol!
Switching gears in a not so subtle way…These cookies are all Valentines Day kind of perfection!! Vanilla Bean Valentine Sugar Cookies. Sweet, buttery, vanilla, tender crumb goodness. Decorated lovingly with royal icing and inspired sprinkles. Ahh, the colors of Valentines Day get me every year! White, Red, Pink and Purple with little hints of gold and silver!!
These cookies would make a wonderfully delicious gift for any Valentine or just for yourself but be forewarned, there is no such thing as eating just one! As you can see from the above photo where my daughter is trying to snag one while I am photographing it, lol.
Enjoy!
Stacey
FORGOT TO PIN IT? Here's your chance! Thanks.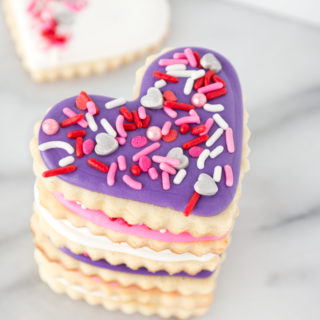 Vanilla Bean Valentine Sugar Cookies
Ingredients
COOKIE:

adapted from Fancy Flours No Fail Cookies recipe

3

cups

flour

1.5

tsp

baking powder

1

tsp

salt

1

cup

butter

1

cup

sugar

1

egg

1

tsp

vanilla extract or paste

Seeds from 1/2 of a vanilla bean

ROYAL ICING:

2

Tbsp

Wilton color flow mix

4

cups

powdered sugar

1/4

cup

+ 1 Tbsp water

1/2

tsp

almond extract

Food coloring for desired colors. I used AmeriColor #164 electric pink and #103 Sky Blue. For the pink cookies I used only a drop or two of the #164 and for the purple did a combo of #103 and #164.

Sprinkles of your choice.
Instructions
Pre-heat oven to 350 degrees.

Line baking sheets with parchment.

Have cookie cutter(s) ready, I used a 2.5 inch wide heart cutter for these.

COOKIES:

In medium bowl add the flour, salt and baking powder, stir to combine, set aside.

In bowl of mixer start whipping the butter until light and fluffy.

Add the sugar and mix to combine.

Add in the egg, vanilla and vanilla bean. Mix well to combine.

Slowly add in the flour mixture and mix until cookie dough forms and all is combined.

Divide dough into two portions.

Place dough between two sheets of wax paper and roll out, cut out cookies and place on tray.

Bake for 8-12 minutes.

Repeat until all cookies are baked.

Let cool completely.

ROYAL ICING:

Combine all ingredients (not food coloring yet) into mixer and mix until all combine and royal icing forms, about 5 minutes.

Divide icing into 3 and place 2 of the servings into their own cup for coloring.

Mix in the appropriate food coloring. Once desired colors are reached pour each into three separate piping bags with a small round tip, I used Wilton tip #3.

DECORATING:

Lay cookies flat on cookie sheets.

Divide total into 3 equal groups, one grouping for each color.

Outline the hearts with royal icing, switching out colors as needed.

Let set for at least 10 minutes. This outline will be like a fence and will keep the royal icing from running over the sides when its time to fill.

Next fill each cookie with royal icing, using the tip or a toothpick to move it around so it covers evenly.

Sprinkle immediately with sprinkles while icing is wet.

Let set to dry completely, at least 4 hours but over night is preferable.