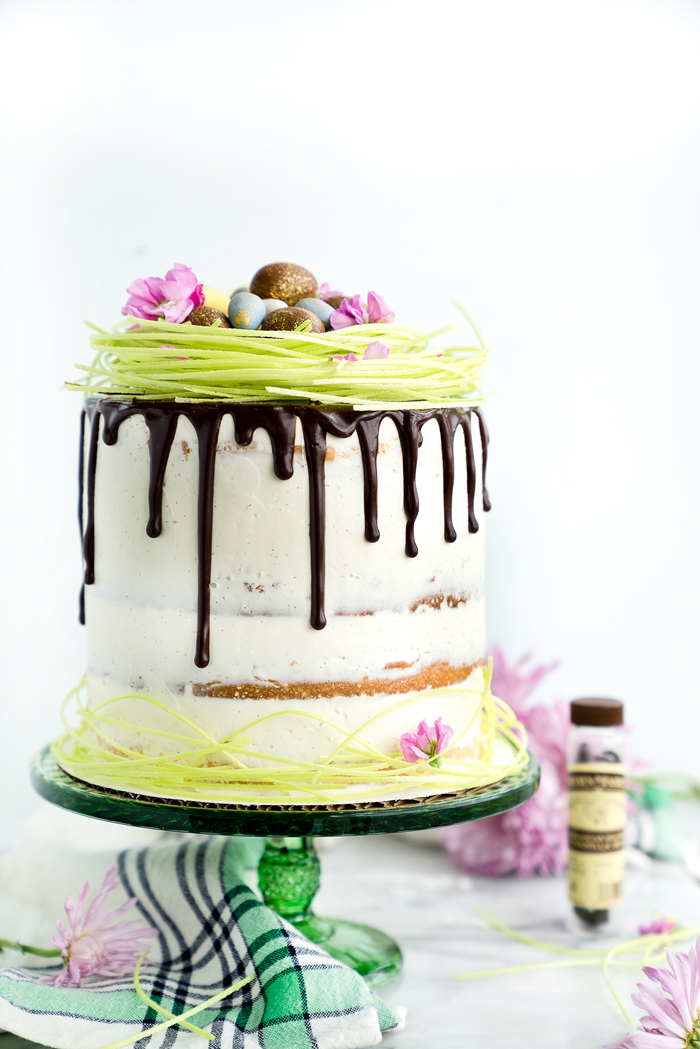 Vanilla Bean Layer Cake. 4 layers of the best vanilla bean enhanced cake smothered in a layer of vanilla bean buttercream.
Todays post is sponsored by Nielsen-Massey Fine Vanilla and Flavors. The opinions expressed in this post are 100% my own. Thank you for supporting the brands that make The Sugar Coated Cottage possible.
Ok, so this is the third cake in a row and you may be thinking, "is she only going to do cakes now?". Though tempting the answer is no. I love too many other things to pick just cake. It just happens that first we had Valentines Day, then a baby shower and now Easter. And on top of that I was treated to Nielsen-Massey Vanilla Beans. So a cake is in order!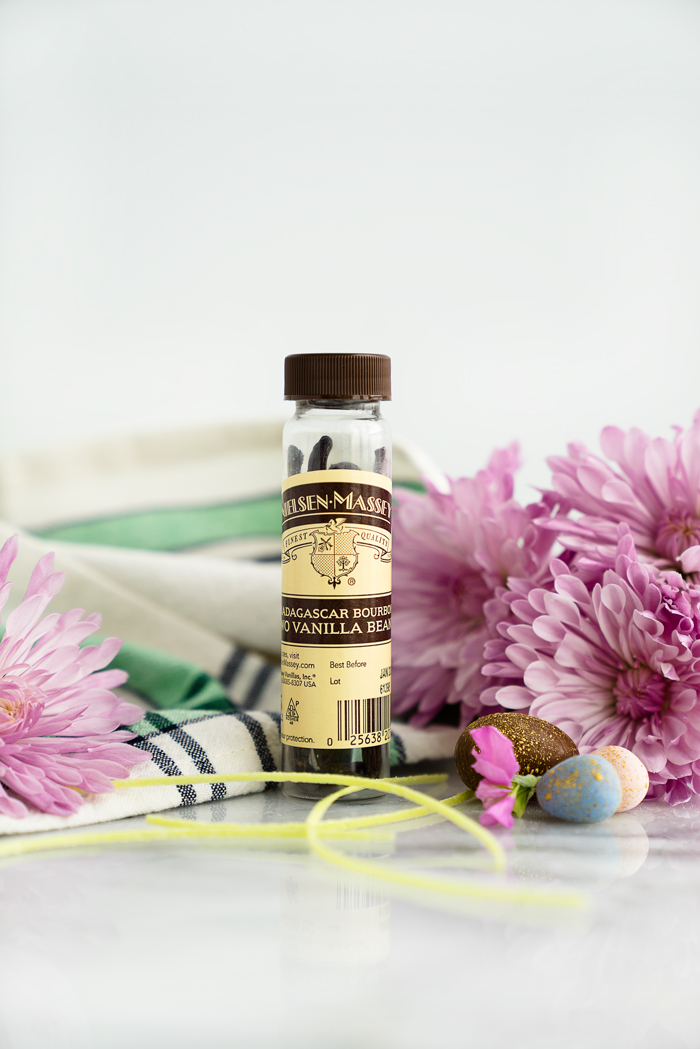 You've all heard me say it before and I will say it again. Fresh vanilla beans are one of the most flavorful (and one of my favorite) ways to enhance any baked good. The aroma, the taste and lets not forget all those pretty little specks. Hard to believe that those small little specks pack so much flavor. I was really loving the vanilla flavor for Easter since it is such a transitional time of year. Not quite winter any more but if you're in Michigan (or surrounding areas) like me its definitely not fully Spring yet. In fact I am looking at at snow in our yard. Vanilla is the perfect flavor that has no specific season or holiday. So it's the perfect choice.
Our cake today starts as a typical white cake and to it I added the seeds of 1 whole Nielsen-Massey Madagascar Bourbon Vanilla Bean, not so typical anymore. The house smelled so delicious as this cake was baking. My daughter even had to ask what smelled so good. Next it's time to make the luxurious swiss meringue buttercream, dramatic I know but it's the truth, its like silk. I used my favorite swiss meringue buttercream recipe and to it added, you guessed it, the seeds of 1 whole Nielsen-Massey Madagascar Bourbon Vanilla Bean.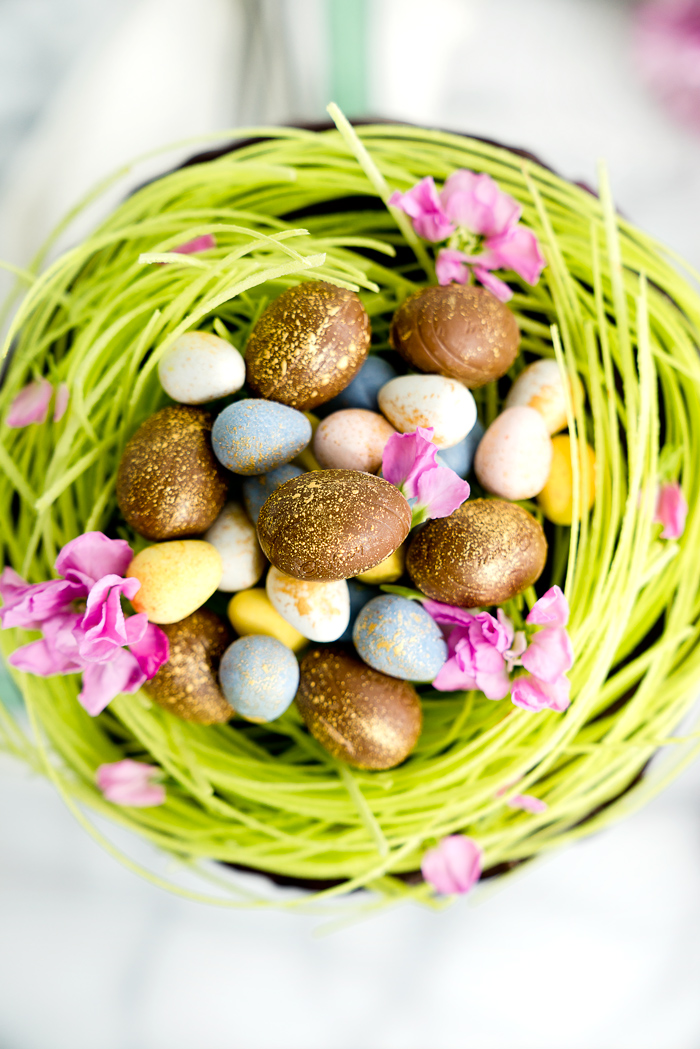 Now, one side note. If you are looking for the plumpest, most seed filled vanilla beans than you must get the Nielsen-Massey Madagascar Bourbon Vanilla Beans. 2 beans come in a glass tube for super freshness and they are by far the best I have used. But no matter what you choose please, please, please, do not buy vanilla beans in a plastic bag, even if packaged pretty. I made this mistake early in my baking years and guess what, they were skinny, half dried out and a complete disappointment. You and your baked goods deserve better 😉 .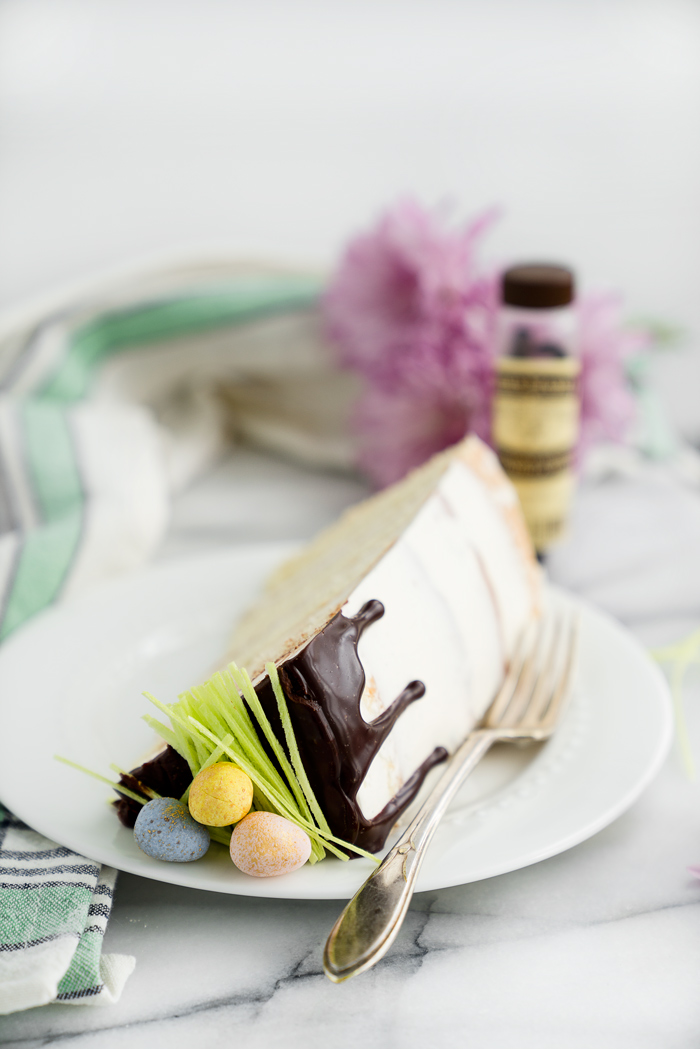 Decorating, since I chose to do a semi-naked cake I did a fun chocolate ganache drizzle for some interest. I used a little product called edible easter grass (available at Target) for the green grass nest on the top and around the bottom of the cake. I wanted to glam up the mini cadbury eggs so I splattered some gold luster dust on them. I used small fresh flowers to decorate around the eggs, this really made the top pop. Tip: If you have a cake and aren't sure how to decorate it, fresh flowers are always a winner.
To check out the vanilla mentioned above and other great products please visit Nielsen-Massey Fine Vanilla and Flavors.
Enjoy!
Stacey
FORGOT TO PIN IT? Here it is. Thanks.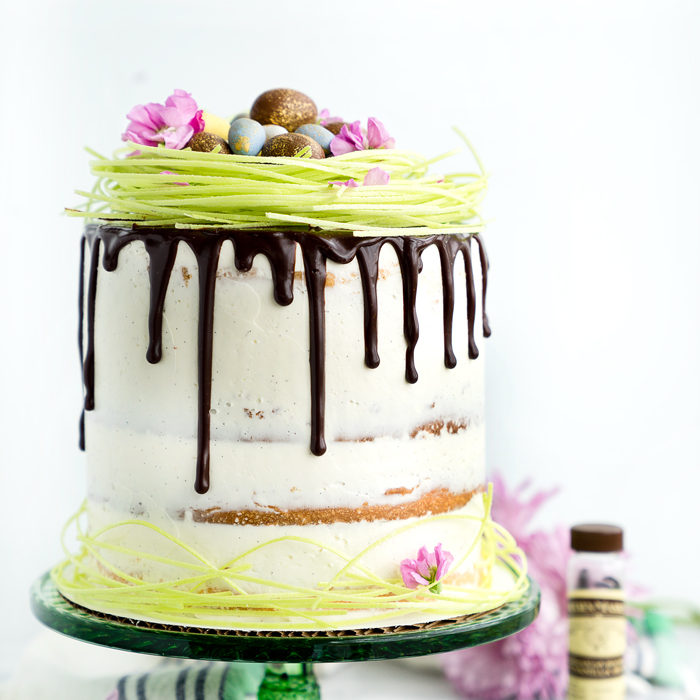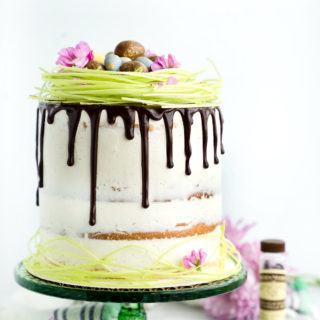 Vanilla Bean Layer Cake
Vanilla Bean Layer Cake. Four layers of vanilla bean cake covered in vanilla bean swiss meringue buttercream.
Ingredients
CAKE:

2

sticks butter room temp.

2

cups

sugar

3

cups

sifted cake flour

4

eggs

1

cup

milk

3

tsp

baking powder

1/2

tsp

salt

3

tsp

Neilsen Massey vanilla extract

Seeds from 1 Neilsen Massey Madagascar Bourbon vanilla bean

BUTTERCREAM:

7

egg whites

1 1/2

cups

+ 3 Tbsp sugar

1 1/2

lbs

butter

2

tsp

Neilsen Massey vanilla extract

Seeds from 1 Neilsen Massey Madagascar Bourbon vanilla bean

pinch

of salt

GANACHE:

1/4

cup

heavy cream

1/4

cup

semi-sweet chocolate

GARNISH:

Edible easter grass

Cadbury mini eggs

the pastel colored ones

Cadbury Mini cream eggs

the chocolate ones with the filling

Luster dust and lemon extract

if speckling the eggs gold

Fresh flowers
Instructions
Preheat oven to 350 degrees

Oil, flour and parchment 4 x 7 in cake pans.

In large bowl add in the flour, baking powder and salt, mix to combine.

Cream the butter.

Add in the sugar, mix until light and fluffy.

Add in one egg at a time, mix completely.

Add in the flour mixture and milk alternating each.

Add in the vanilla and vanilla seeds.

Mix completely to combine.

Pour batter evenly into the 4 cake pans.

Bake 30-35 minutes, or until toothpick inserted comes out clean.

Remove from oven, let cool completely.

BUTTERCREAM:

In medium sauce pan add the egg whites and sugar.

On medium heat you are going to whisk egg mixture until sugar is completely dissolved (you can test it by rubbing a small amount between your fingers to test it, it should be completely smooth).

Transfer to mixing bowl and with whisk attachment whisk on high until stiff peaks form and mixture is completely cooled.

Switch to paddle attachment.

On low speed add the butter one piece at a time. Mix until well combined.

Add in the vanilla and vanilla bean seeds, continue mixing until completely mixed in.

GANACHE:

Microwave heavy cream and chocolate in a bowl together for 40 seconds, stir until chocolate is completely melted and ganache forms (if you need to microwave again do so in 10 second increments). Let cool so ganache is not hot, it should warm enough to drizzle but not hot enough to melt your buttercream.

EGGS:

Arrange candy eggs on parchment lined cookie sheet.

Mix a small amount of luster dust and lemon extract on a plate.

Take a small, stiff artists brush (like one used for painting a small picture), put it in the luster dust mixture, really load up the brush and then pull the bristles back with your finger over the eggs so it spatters onto them. Repeat until desired look is achieved. Once dry, turn over and repeat.

ASSEMBLY:

Put a small dollop of frosting on cake board/cake plate so the cake sticks.

Put on the first layer, spread layer of buttercream, smooth with offset spatula.

Repeat with next two cake layers.

Place last layer of cake on top.

Crumb coat the cake for a semi-naked look, refrigerate.

Pipe ganache around the edges (make sue cake has been refrigerated for this step) of the cake for the drip effect and then cover entire top of cake with ganache.

Refrigerate again to set the ganache.

Arrange edible easter grass on top of cake to resemble a nest. Place some strands around the bottom of the cake as well.

Arrange candy easter eggs in the center and decorate with fresh flowers.
SaveSave
SaveSave
SaveSave
SaveSave
SaveSave
SaveSave
SaveSave
SaveSave
SaveSave
SaveSave
SaveSave
SaveSave
SaveSave
SaveSave
SaveSave
SaveSave
SaveSave
SaveSave
SaveSave
SaveSave
SaveSave
SaveSave
SaveSave
SaveSave
SaveSave