It's a Girl! White Chocolate Baby Shower Cake. White chocolate cake covered in rich delicious white chocolate swiss meringue buttercream colored in a delicate shade of pink.
It's A Girl!!! I'm so excited for my friend Katherine at Love In My Oven and her family who will be welcoming a baby girl soon! And we're celebrating with a virtual baby shower!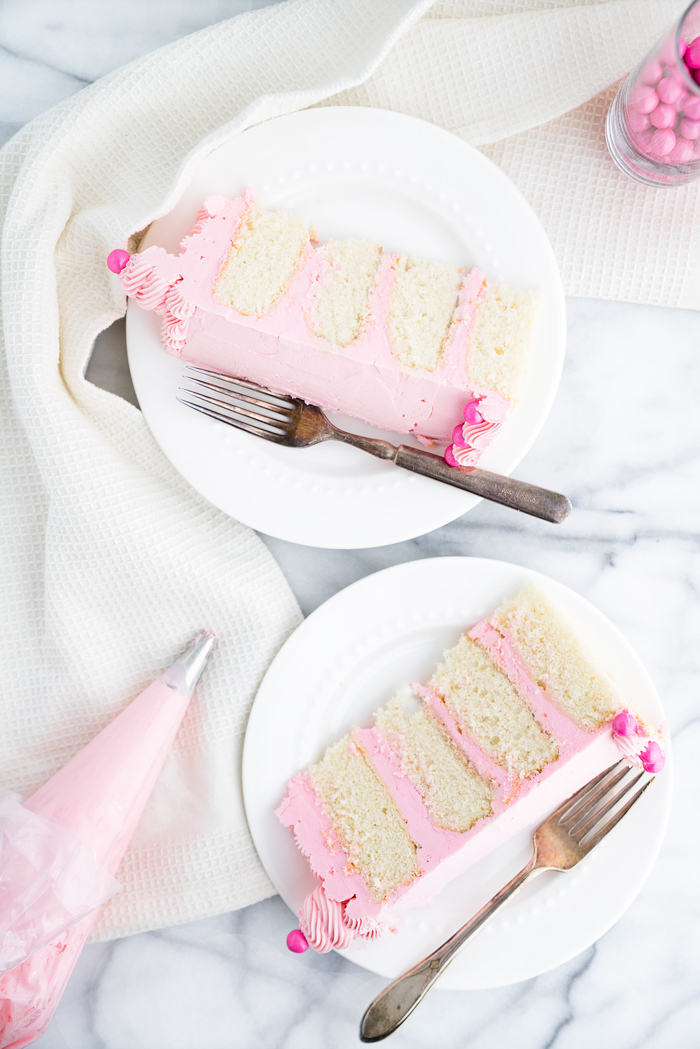 My contribution is this perfectly pink White Chocolate Cake coated in smooth White Chocolate Swiss Meringue Buttercream.
Layer cakes are a favorite and always look so tall and pretty sitting on the dessert table. What would a "It's a Girl" baby shower be without a pink cake? This little beauty has four layers of delicious white chocolate cake and in between each layer is White Chocolate Swiss Meringue Buttercream, colored pink of course.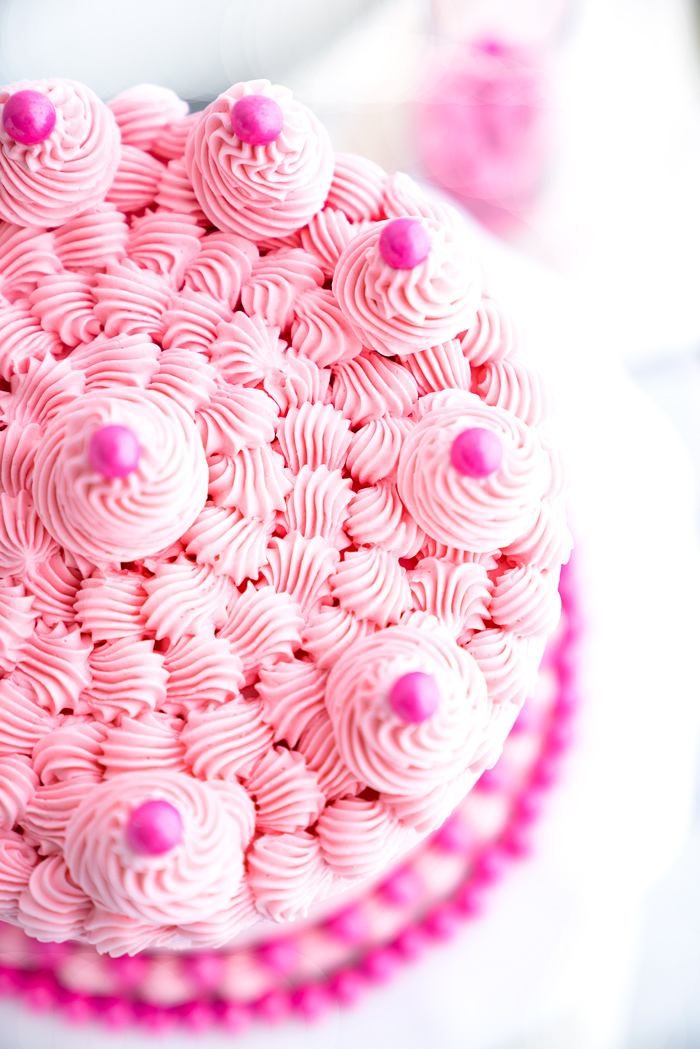 The piping on the cake was the fun part. I used the same tip for all the piping, Wilton #32. If I wasn't afraid of running out of buttercream I probably would've piped the sides to but thought I better stop while I'm ahead 😉 . I used a basic shell border around the bottom. I did the same for the top, starting at the outer edge I went around the cake in one direction, then starting the next row piped in the opposite direction. I repeated this process until I reached the middle. Then finished with swirls and sixlets for garnish.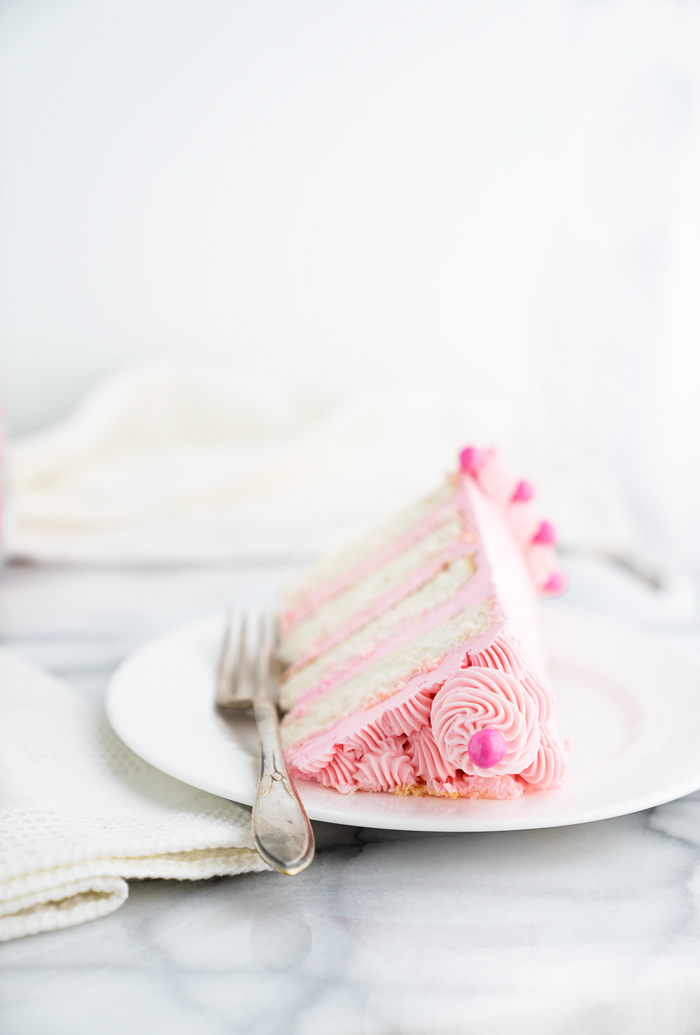 We're inviting all of you to join in the fun! Keep scrolling down to see the list of all the bloggers who participated and their posts. Check out their blogs to see what delicious food they brought to the virtual party!! Thank you to Kelly at Kelly Lynns Sweets and Treats for asking me to join in and for organizing it all!!
Congrats to Katherine and her family during this truly magical time as they wait with great anticipation for their little girl to arrive!
Enjoy!
Stacey
Here are some of the products used to make this cake. Whether you are interested in buying through the link or just want a visual of what to look for see below. (Please note some of the links below are affiliate links which means if you purchase from the link I get a small commission. I use these products and stand behind them which is why I chose to tell you about them. Thank you for your supporting this blog. )
Wilton Tip #32
FORGOT TO PIN IT? Here it is! Thanks.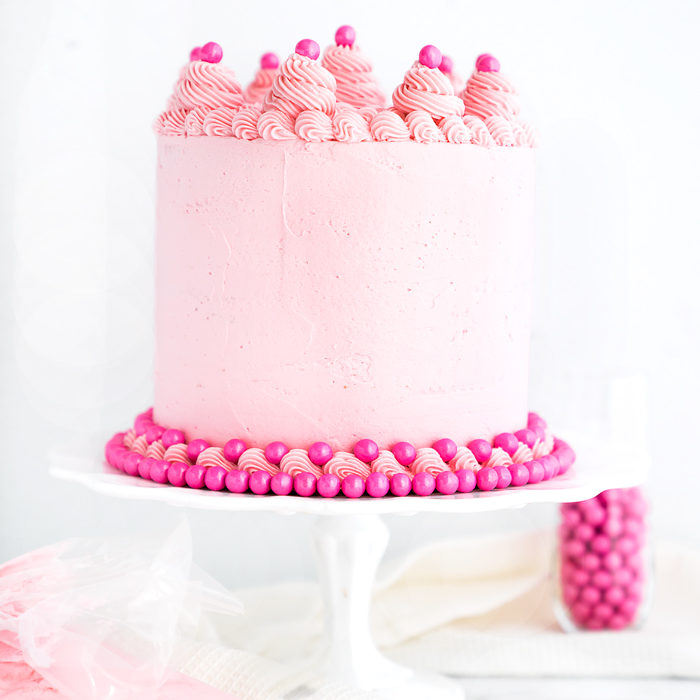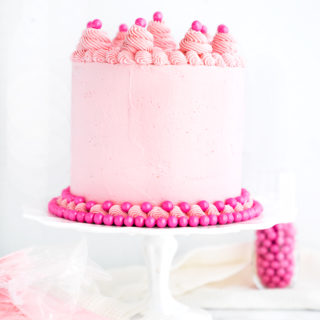 It's A Girl! Baby Shower Cake and Virtual Baby Shower
White Chocolate Baby Shower Cake. White chocolate cake covered in rich delicious white chocolate swiss meringue buttercream colored in a delicate shade of pink.
Ingredients
CAKE:

6

oz.

white chocolate

melted

4

large egg whites room temp

1

cup

milk room temp

2

tsp

vanilla

3

cups

cake flour

1

cup

+ 3 Tbsp sugar

1

Tbsp

+ 1.5 tsp baking powder

1/2

tsp

salt

9

Tbsp

butter room temp

BUTTERCREAM:

20

ounces

white chocolate melted and cooled

1

+ 1/2 cup egg whites

10-12 large egg whites

2

cups

sugar

4 1/2

sticks butter

2 1/4 cups

2

tsp

vanilla extract

Pink food coloring

I used Wilton "Pink"

GARNISH:

Hot pink sixlets
Instructions
CAKE:

Preheat oven to 300 degrees F (this is not a typo, I bake at low heat so each layer bakes flat on top.)

Grease 4- 7inch cake pans, line bottom with parchment, grease parchment and flour pans.

In medium bowl combine the egg whites, 1/4 cup milk and vanilla.

In large bowl of mixer add the dry ingredients (flour, sugar, baking powder, salt).

Mix the dry ingredients for 30 seconds to combine.

Add the butter and the remaining 3/4 cups milk, mixing on low until ingredients are moistened.

With mixer on medium speed beat for 1.5 minutes to form the cake batters structure.

Scrape down the sides.

Slowly add the egg mixture in 3 batches, mix 20 seconds after each addition.

Scrape down the sides with spatula.

With mixer on medium slowly add the melted chocolate and mix until well combined.

Pour batter into cake pans evenly.

Bake 35-40 minutes (rotating cake pans half way through baking) or until light golden brown and toothpick inserted comes out clean.

Let cool completely.

BUTTERCREAM:

In large sauce pan add the egg whites and sugar.

On medium heat you are going to whisk egg mixture until sugar is completely dissolved (you can test it by rubbing a small amount between your fingers to test it, it should be completely smooth).

Transfer to mixing bowl and with whisk attachment whisk on high until stiff peaks form and mixture is completely cooled.

Switch to paddle attachment.

On low speed add the butter one piece at a time. Mix until well combined.

With mixer on med/high speed slowly add in the melted white chocolate. Continue mixing until well combined, smooth and creamy.

Add in the food coloring (as much needed to reach desired shade) and mix until completely combined.

ASSEMBLY:

Put a small dollop of frosting on cake board/cake plate so the cake sticks.

Put on the first layer, pipe buttercream on top. Smooth with offset spatula.

Repeat with next two cake layers.

Place last layer of cake on top.

Crumb coat entire cake, refrigerate.

Apply and smooth out final coat of buttercream on top and sides. Pipe on bottom border.

Then pipe on decorative top. (All piping for this cake was done with wilton tip #32)*

Decorate with sixlets.

Refrigerate.
Notes
I used a basic shell piping technique on the top and bottom. For the top I started with the shell border on the outer edge moving right to left, the second row was left to right. I alternated right to left and left to right until I got to the center of the cake.
Meet our guest of honor: Katherine! Katherine blogs over at Love In My Oven and is the proud momma to two boys and a soon-to-arrive baby girl!!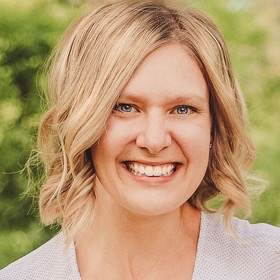 You don't need to know Katherine to join in the fun, just enjoy all of the pink themed recipes the bloggers are bringing to the party! Scroll down to see what the bloggers are sharing, and click on the links to hop over to their blogs to check their recipe out.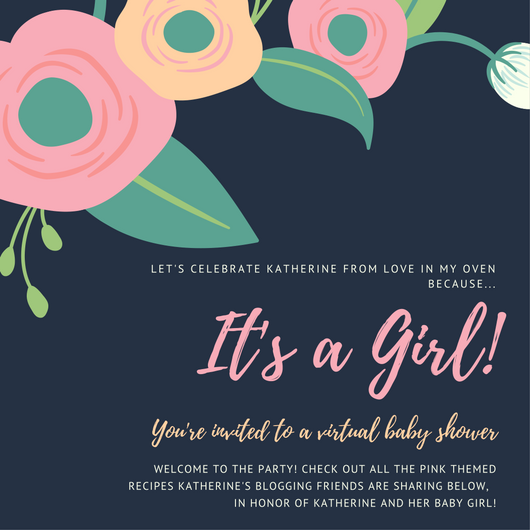 Thanks for joining the party and I hope you enjoyed all of these fun recipes!
SaveSave
SaveSave
SaveSave
SaveSave
SaveSave
SaveSave
SaveSave
SaveSave
SaveSave
SaveSave
SaveSave
SaveSave
SaveSave
SaveSave
SaveSave
SaveSave
SaveSave
SaveSave
SaveSave