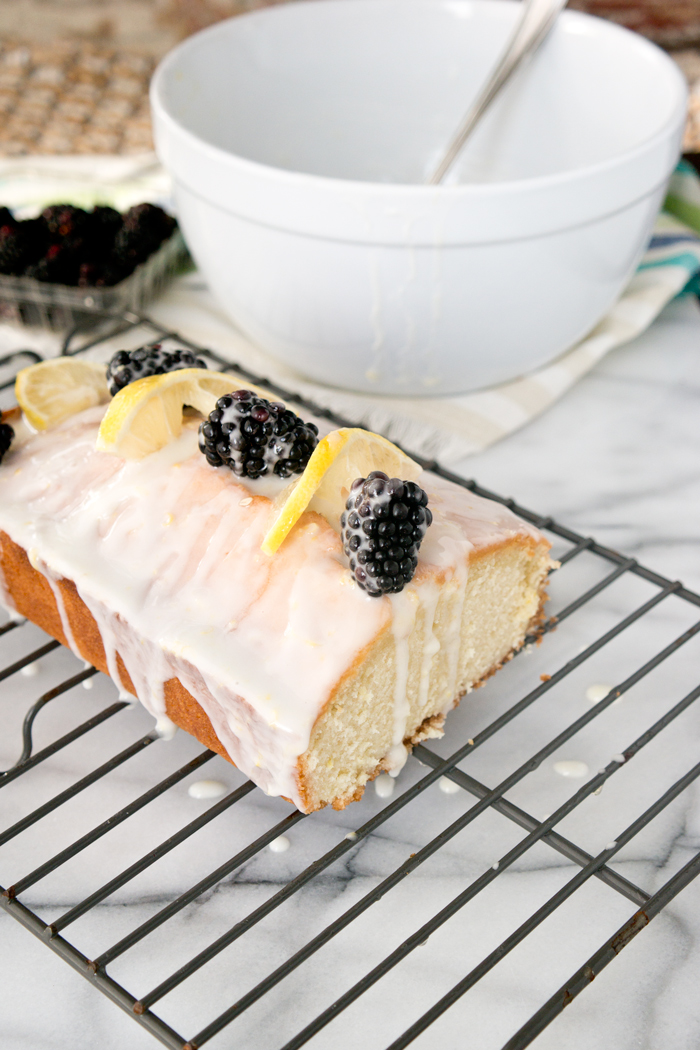 The Best Lemon Pound Cake. Moist, tender buttery pound cake with the fresh brightness of lemons. [social_share/]Yum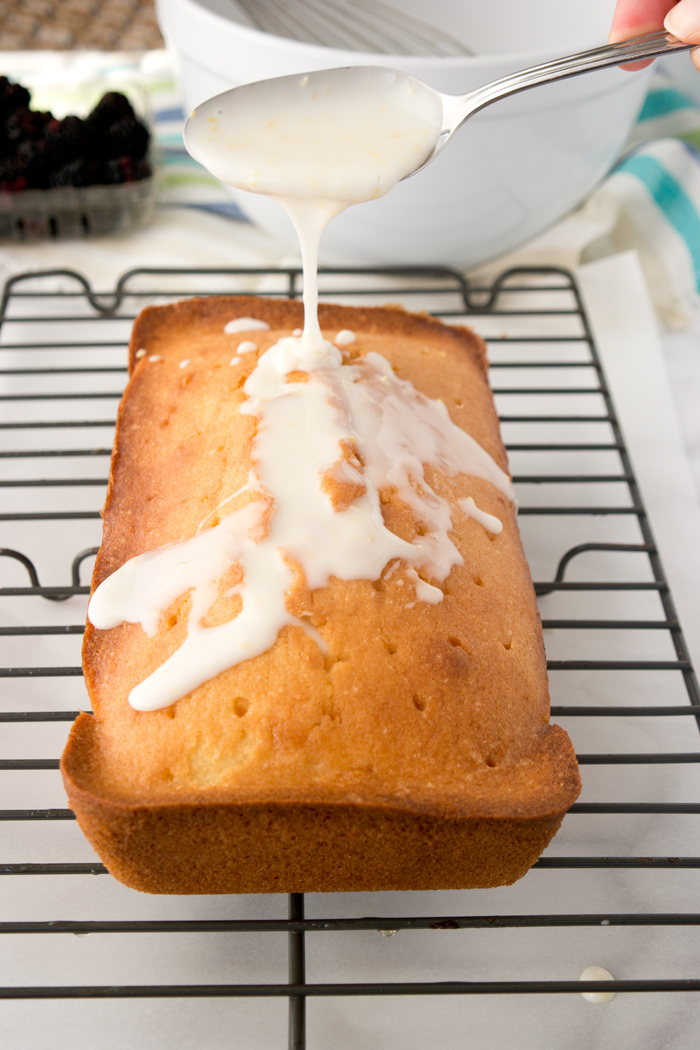 I know I should be posting something more "fall" but I was asked to baked up a pound cake for a friend and jumped at the chance! I took the opportunity and ran with it, adding lemons and glaze. Photographing it and blogging about it was not in the plan but it turned out so beautifully I just couldn't help myself.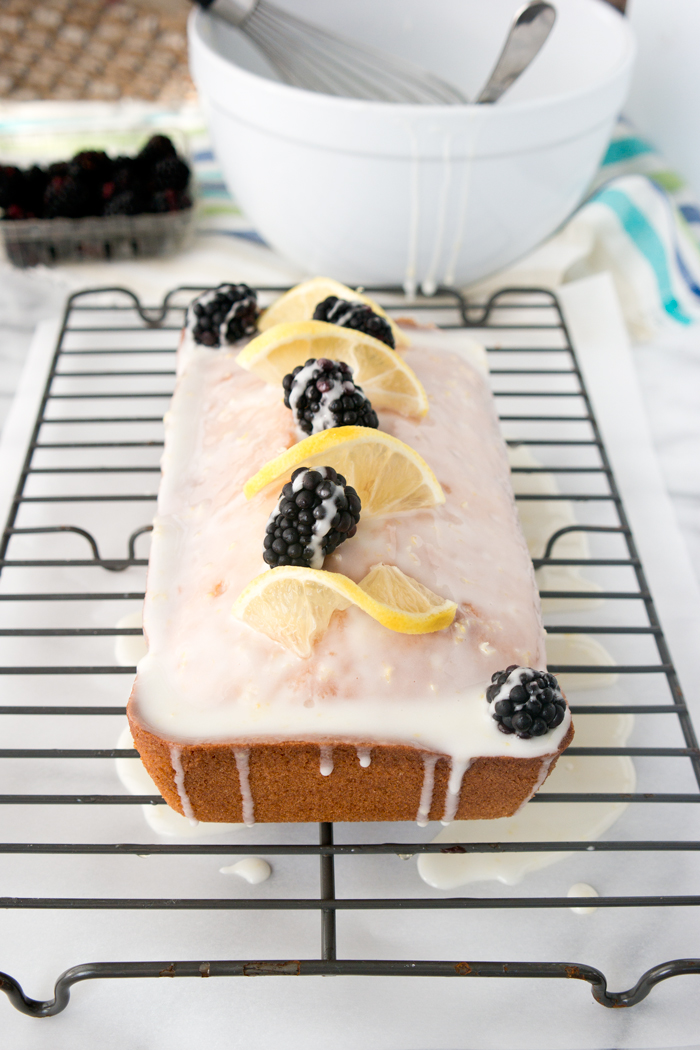 Because I was giving this away I only had permission to cut one small slice off which was just enough for you all to get the idea of how tender this pound cake is. Pound cake has really grown on me in the last few years and anything lemon is just icing on the cake so to speak.
The butter is usually the star ingredient in a pound cake and though I love butter there's another secret to this Best Lemon Pound Cake. You poke small holes all over the top and bottom and brush on lemon syrup. This lemon syrup gets down into the cake, pairs with the lemon zest that was already baked in and provides a fabulous punch of lemon flavor as well as make it super moist.
I don't know about you but when I think of cake my mind immediately goes to frosting, topping, filling, etc. So I had to add some lemon glaze to top it all off. Glaze is a really beautiful thing and on this cake it truly is the "icing on the cake". I love that crack down the center of the pound cake, why? Because its a wonderful place to fill in with more glaze. I love glaze that is set on the surface but still slightly soft underneath don't you? I added some lemon zest to keep with the theme and voila, we have ourselves one beautifully glazed, lemon loving, buttery pound cake!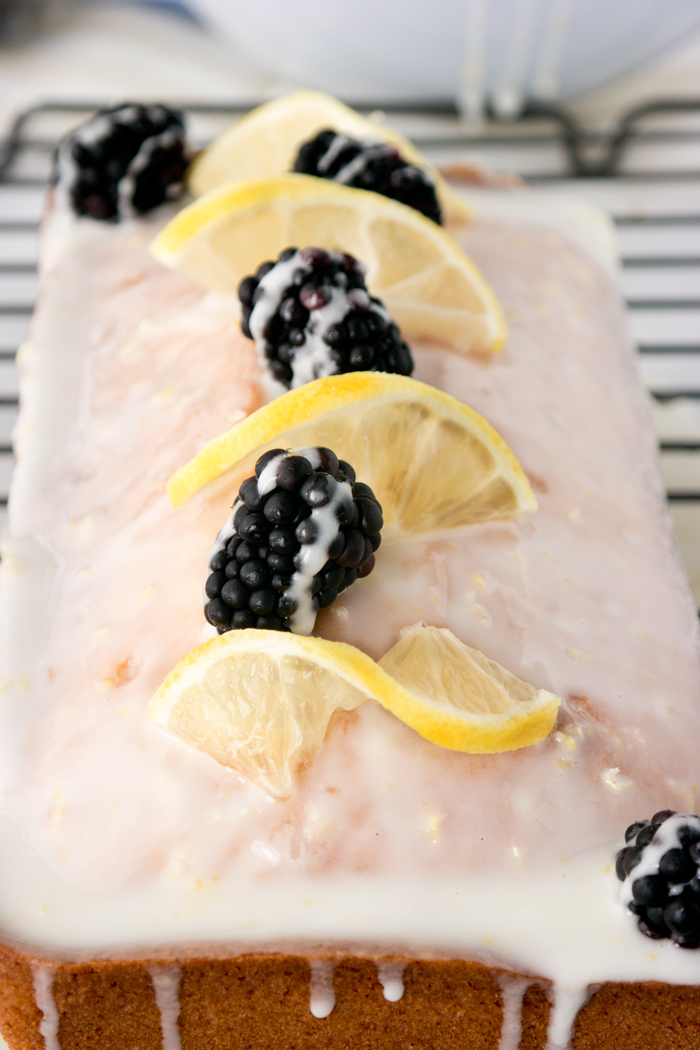 The Best Lemon Pound Cake will soon be your favorite lemon pound cake.
Enjoy!
Stacey
FORGOT TO PIN IT? Here's your chance! Thanks

Recipe adapted from "The Cake Bible" perfect pound cake lemon poppyseed version.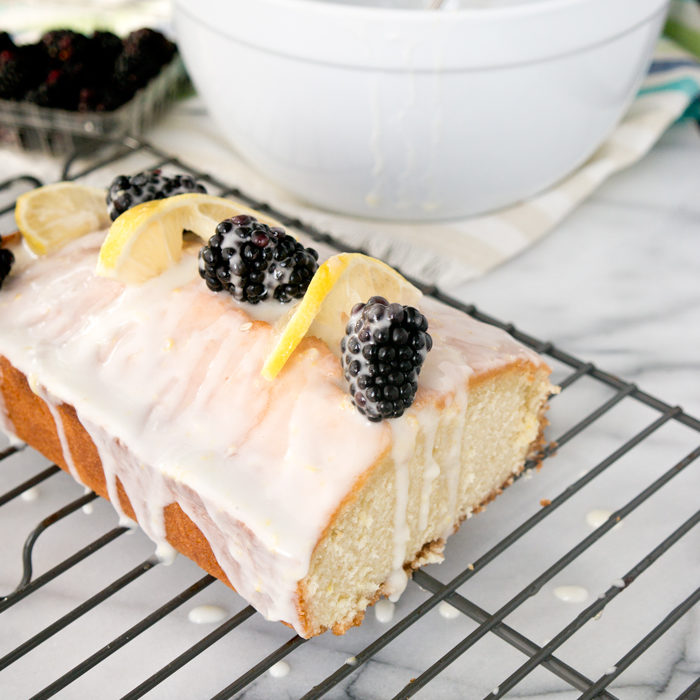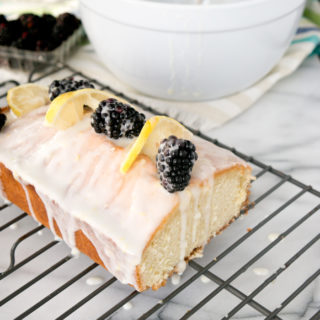 The Best Lemon Pound Cake
The Best Lemon Pound Cake. Moist, tender buttery pound cake with the fresh brightness of lemons.
Ingredients
ALL INGREDIENTS ARE ROOM TEMPERATURE:

1 1/2

cake flour sifted

3/4

cup

sugar

3/4

tsp

baking powder

1/4

tsp

salt

13

Tbsp

unsalted butter

3

large eggs

3

Tbsp

milk

1 1/2

tsp

vanilla

1

Tbsp

lemon zest

LEMON SYRUP:

1/3

cup

sugar

1/4

cup

fresh lemon juice

GLAZE:

1 1/2

cups

confectioners sugar

1/4

cup

milk

1

Tbsp

lemon zest
Instructions
Preheat oven to 350 degrees

loaf pan (8"x4"), greased and floured

LEMON POUND CAKE:

In medium bowl mix the eggs, milk and vanilla. Stir to combine.

Place dry ingredients in bowl of mixer, mix 30 seconds to combine.

Add the butter and half the egg mixture. Mix on medium speed for 1 minute.

Slowly add the remaining egg mixture, scrape down sides of bowl, continue mixing until fully combined.

Gently fold in the lemon zest, mix well.

Pour into prepared loaf pan.

Bake 55-65 minutes or until wooden toothpick inserted in center comes out clean.

At 30 minutes cover with butter foiled to prevent over browning.

Remove from oven, cool 10 minutes.

LEMON SYRUP:

On medium heat stir lemon juice and sugar until sugar is dissolved.

GLAZE (can be made a few minutes before you are ready to glaze the cake):

With whisk stir all ingredients until well combined.

ASSEMBLY:

After cake has cooled 10 minutes remove from pan.

Poke holes over the top of the cake, brush lemon syrup over the top making sure it seeps into the holes, this allows the cake to retain more flavor and moisture.

Gently turn the cake over and repeat on the bottom of the cake.

Brush remaining syrup on the sides. (You may have some syrup left over)

Let cool completely.

Wrap in plastic wrap and keep overnight to allow lemon syrup to really flavor the cake.

Next day, pour glaze over the entire top of cake.

Garnish as desired.