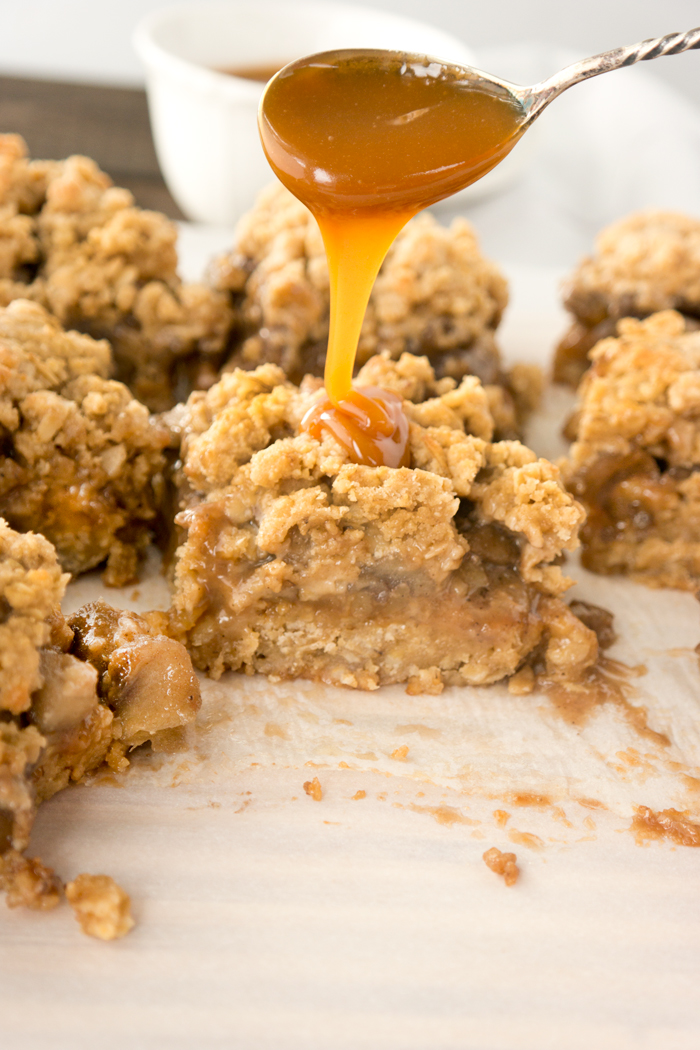 Caramel Apple Walnut Oat Bars. Seasonally delicious apples, warm comforting spices, oats and crunch walnuts make these bars a fall must!
[social_share/] Yum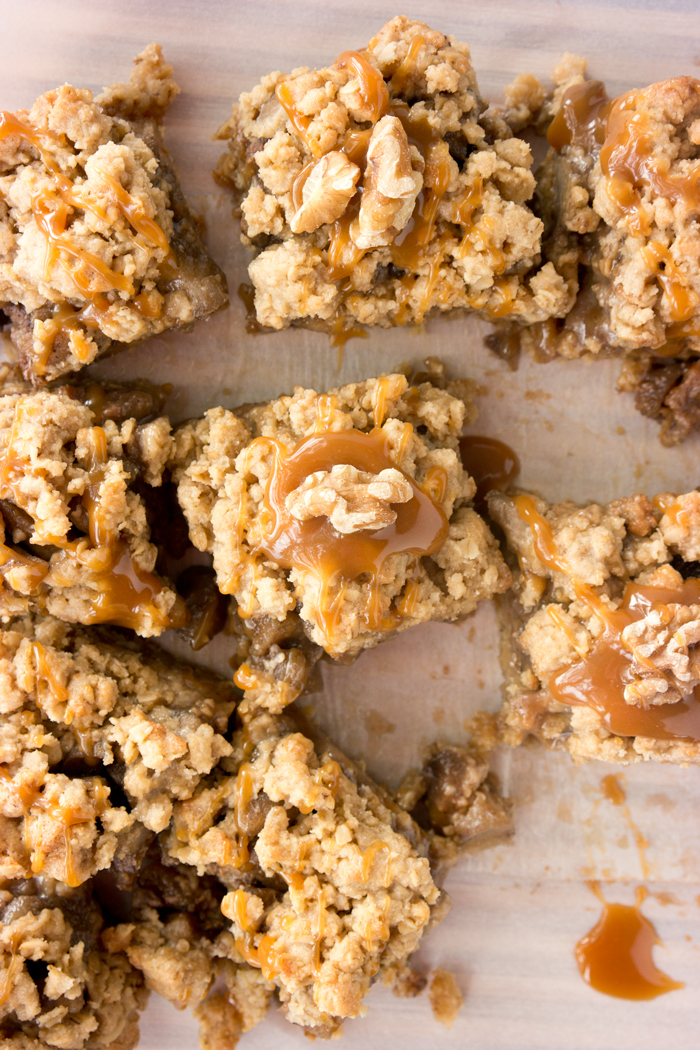 The fall bug finally bit me, it took these apples and a change in the weather but I am officially ready for fall. Good thing to because the seasons don't actually ask permission they just roll right in a take over. And of course fall makes me think of apple pie, Michigan is a huge producer of delicious apples so they are everywhere from the orchards, the road side stands and the grocery stores. It's no wonder I have apples on the brain.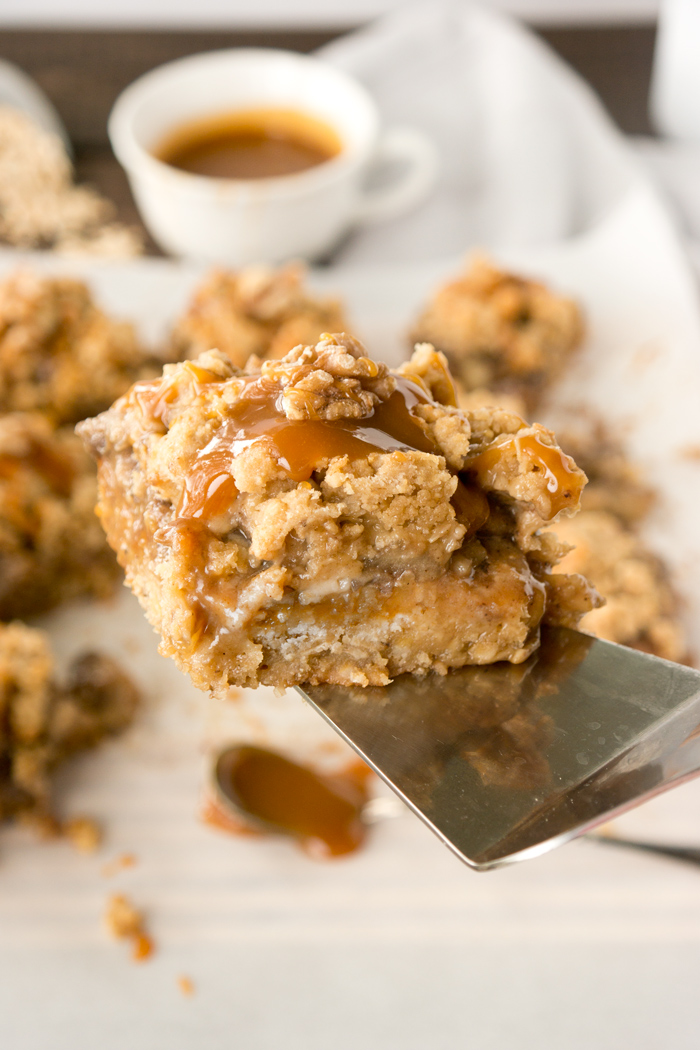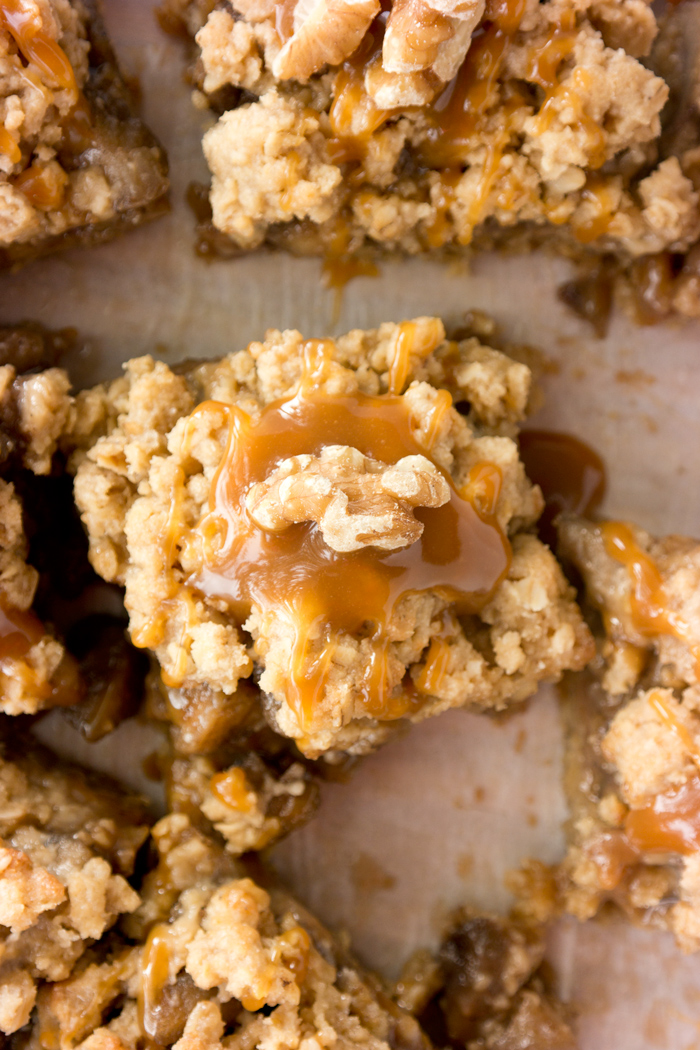 These Caramel Apple Walnut Oat Bars have been on my radar for a few weeks. I had to tweak the recipe a bit before getting it just right and boy did I. Not to toot my horn or anything, well maybe just a little but these bars are amazing! Imagine an apple pie married an oatmeal cookie and they decided to roll in caramel and walnuts. Though my analogy may be on the ridiculous side its also on the seriously delicious side!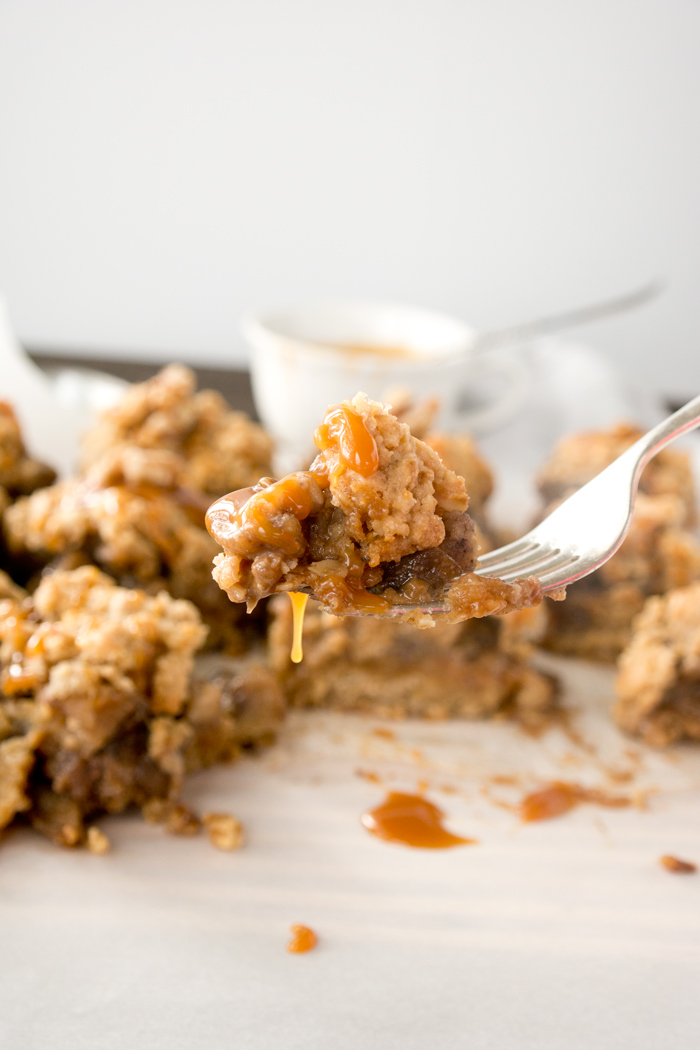 Cool, crisp, apples sautéed down in warm apple pie spices, brown sugar and butter. Deep dark golden caramel sauce, crunchy walnuts and an oatmeal base and top just waiting to hug all that wonderful filling.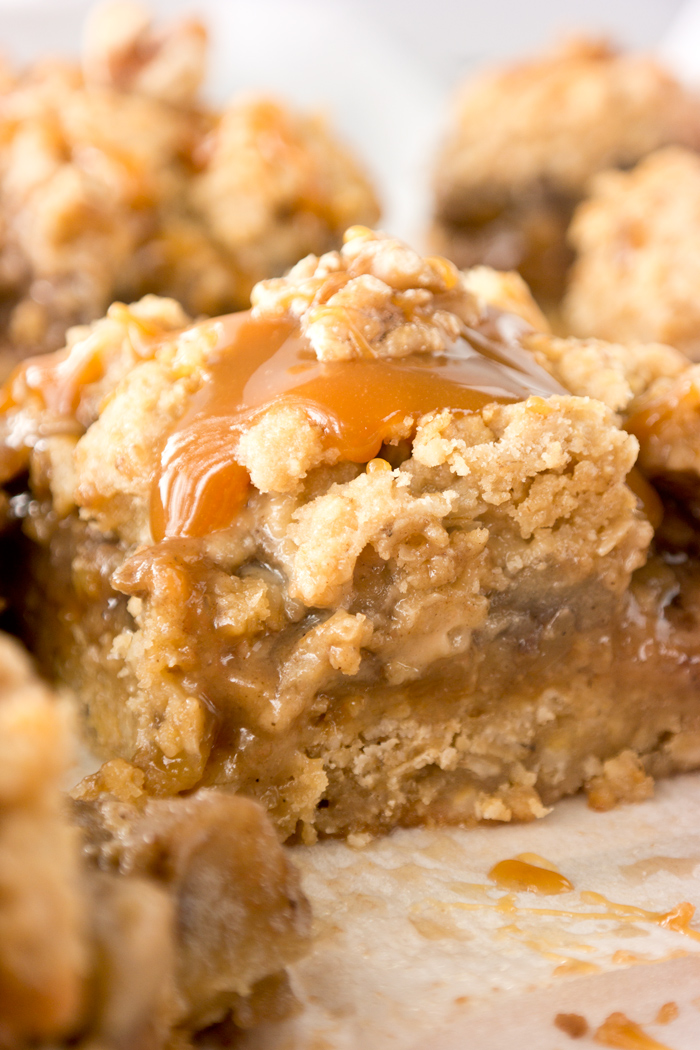 Just imagine all the above mentioned ingredients baking together, doing their browning and bubbling dance together. The aroma of fresh baked apples, spices and oatmeal cookies in the air. The wind blowing outside, under a cloud of chilly drizzle as the leaves on the trees are starting to give in to the inevitable as the edges are turning hues of ruby, amber and gold. Ahhh, fall is here and there is no better way to embrace it than with Caramel Apple Walnut Oat Bars, a cup of tea and a warm blanket.
Enjoy!
Stacey
FORGOT TO PIN IT? Here's your chance! Thanks.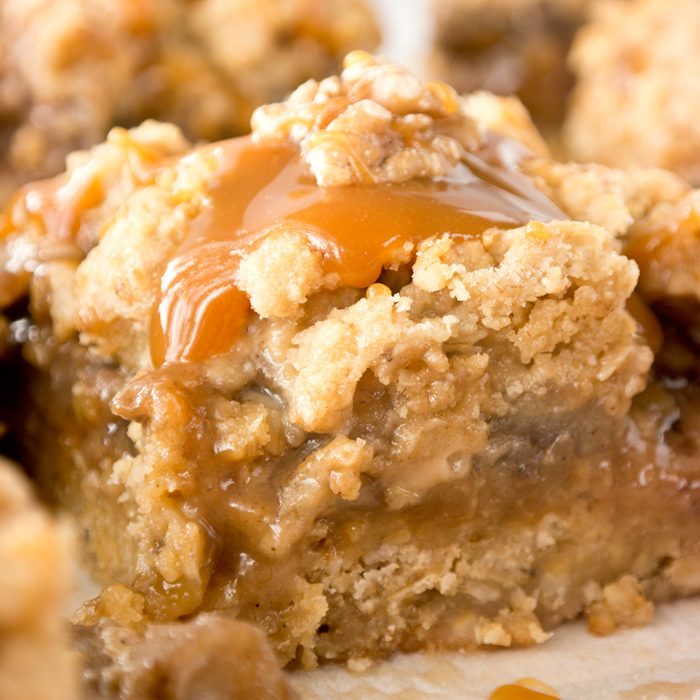 Caramel Apple Walnut Oat Bars
Fall is here which means its apple season. These Caramel Apple Walnut Oat bars are delicious and always a crowd pleaser.
Ingredients
COOKIE BASE AND TOP:

2¼

cup

all purpose flour

2

cups

rolled oats

1½

cups

light brown sugar packed

½

tsp

baking soda

½

tsp

salt

1

cup

butter at room temperature

1

large egg

FILLING:

5

cups

chopped apples

3

Tbsp

unsalted butter

3

Tbsp

brown sugar

1

tsp

cinnamon

3/4

tsp

ground ginger

1/4

tsp

cloves

1/4

tsp

nutmeg

1

cup

chopped walnuts

plus more for garnish

1

cup

caramel sauce

plus more for drizzling on top
Instructions
Line 9x9 pan with parchment

Pre-heat oven to 350 degrees F

APPLE FILLING:

Add apples, brown sugar, butter and spices into a large sautee pan.

Cook on low-medium heat, stirring often, until apples have softened, about 10 minutes.

Set aside.

COOKIE BASE:

In bowl of mixer on low speed mix flour, oats, brown sugar, baking soda, salt until combined.

Slowly add in the butter in chunks with mixer on low.

Add in egg, mix on medium/low speed until you have a unified crumbly mixture.

Pour half of the mixture into prepared pan and press into place evenly with back of measuring cup.

Bake 15 minutes.

FILLING:

Evenly spread caramel sauce over cookie.

Evenly sprinkle on the walnuts.

Pour on the apple filling you made and gently spread evenly with spatula.

TOPPING:

Take the second half of the cookie mixture and evenly distribute over entire top.

Bake 30 minutes.

Remove from oven and let cool completely before cutting.

GARNISH (optional):

Drizzle with caramel sauce and sprinkle with additional walnuts.