Rich chocolate cupcakes filled with luxurious silky chocolate ganache and iced with a swirl of swiss meringue buttercream! Music to my tastebuds.
[social_share/]Yum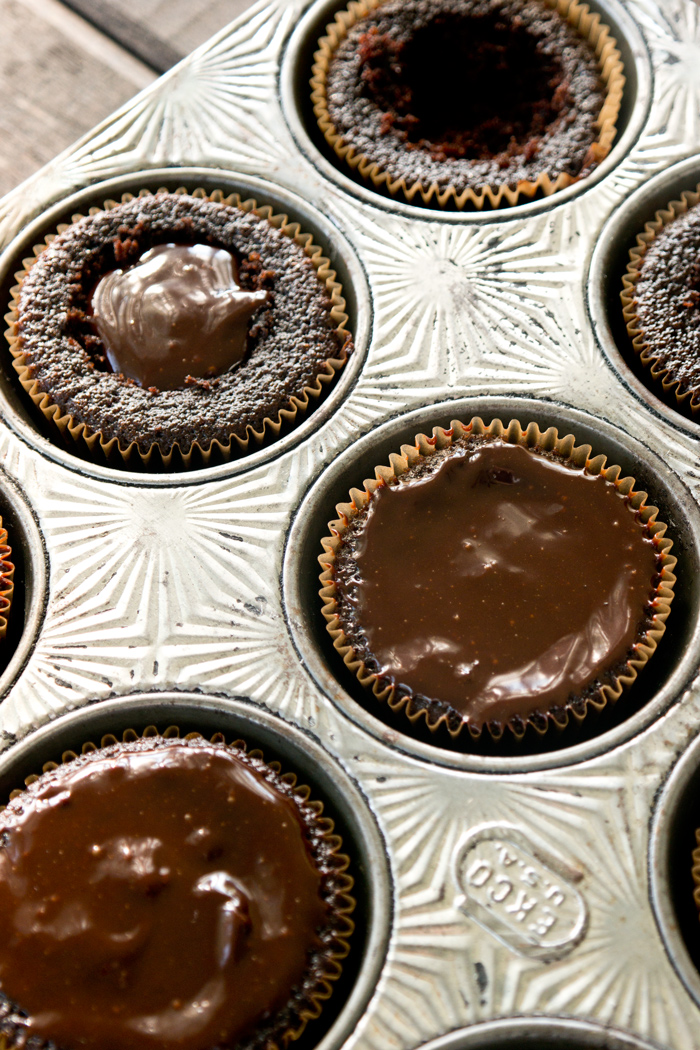 Things are quiet here on the home front and I'm pretty sure these Double Chocolate Ganache Filled Cupcakes are doing most of the talking without saying a single word. So lets jump right in shall we?
I've had chocolate on the brain as you can see. But no ordinary chocolate cupcake would do. I wanted rich, velvety, melt in your mouth kind of chocolate cupcake. I mean really if we're gonna do this we need to go all out right? All out is exactly what we did.
I started with a fabulously chocolaty cupcake, notched out a little spot to spoon in some lovely creamy chocolate ganache. Then decided to add a little more ganache and spread it all over the top of the cupcake because heaven forbid we get a bite of cupcake without an equal bite of ganache, gasp! Secret ingredient…Amaretto. This will really enhance the flavor of the chocolate ganache and add warmth and complexity to the flavor, its optional but in my world its a must! Pretty good right? We could stop right here and be completely content in our chocolaty heaven bliss but wait there's more….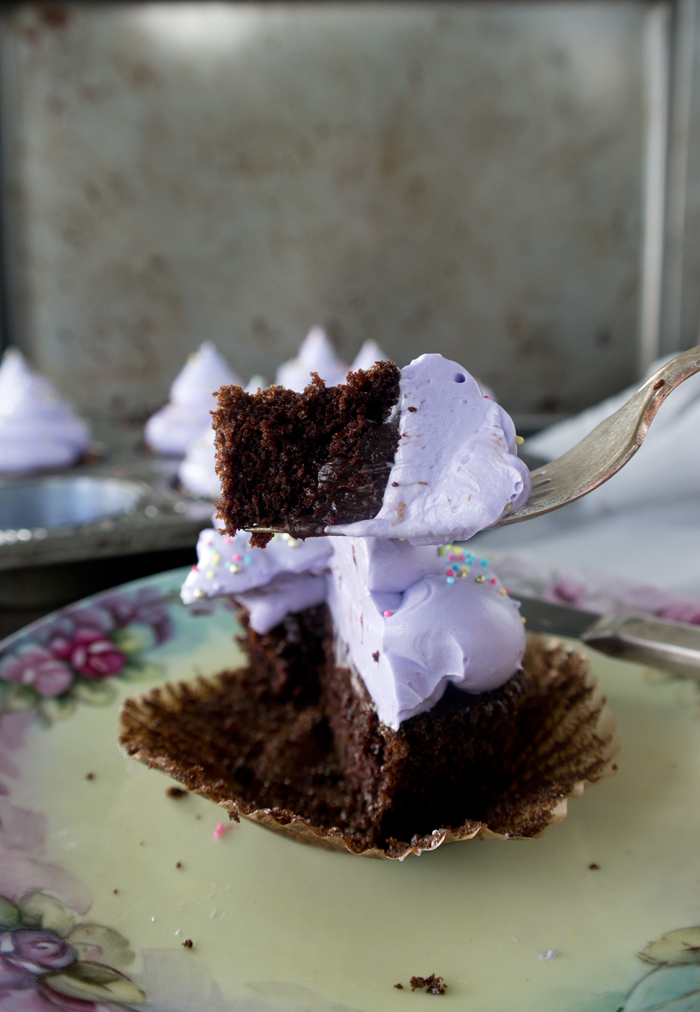 Swiss Meringue Buttercream!! Thats right, on top of our chocolate truffle style cupcakes is the frosting of royalty, the frosting of weddings, the frosting so many folks fear to attempt making. The frosting that once you make it your frosting world will never be the same again! On top of each cupcake is swirled purple swiss meringue buttercream. Smooth, creamy, not too sweet, buttery heaven.
Last but never least…Sprinkles. Sprinkles just make the world a happier place. I loved the contrast of the deep dark chocolate colors against the pastel pops of color from the sprinkles. For a bit of sparkle I threw in a few gold sprinkles because even food needs some shiny bling!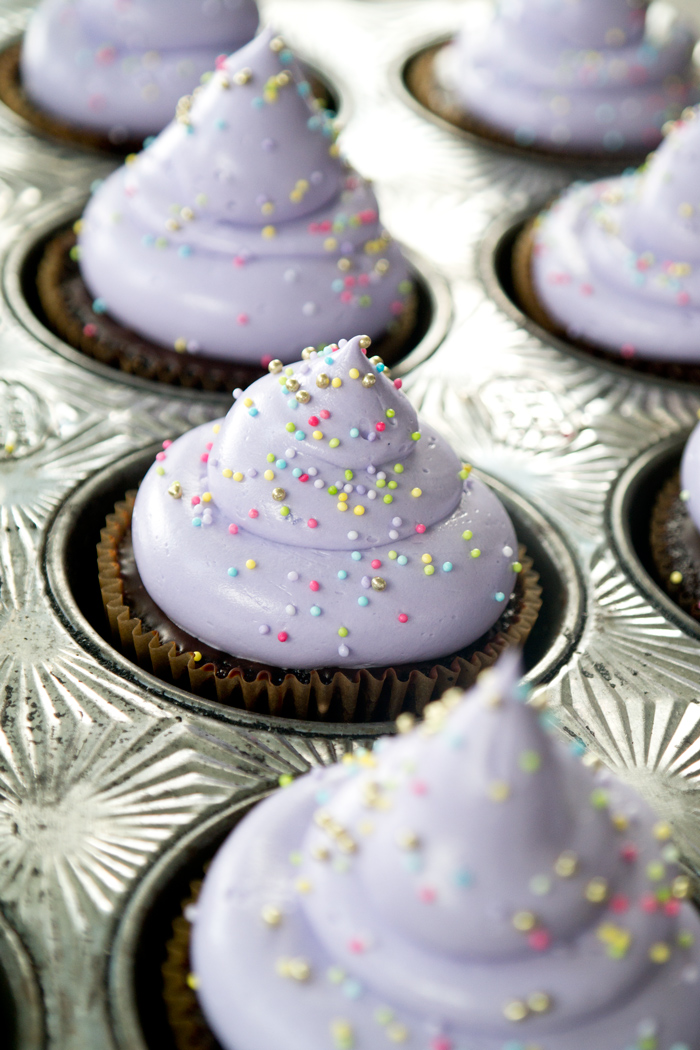 Double Chocolate Ganache Filled Cupcakes are perfect for any party, get together or all for yourself!
Enjoy!
Stacey
FORGOT TO PIN IT? Here's your chance!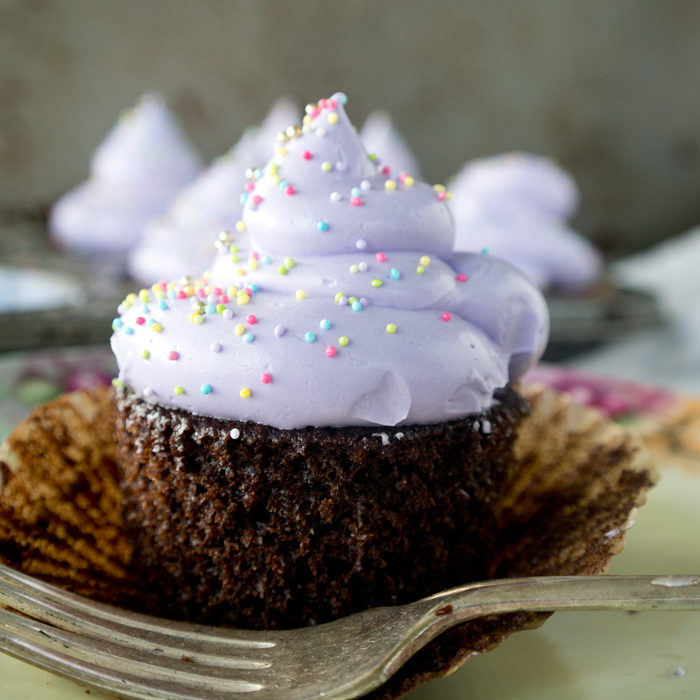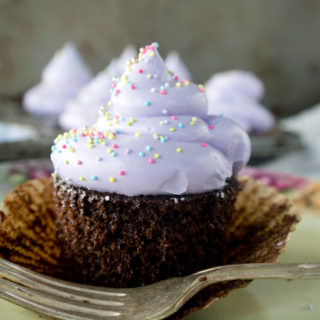 Double Chocolate Ganache Cupcakes
Chocolatey cupcakes, rich, luxurious ganache all topped off with Swiss Meringue Buttercream!
Ingredients
CUPCAKES:

2

large eggs

room temp

1

Tbsp

vanilla extract

3/4

cup

buttermilk

room temp

3/4

cup

butter melted

3/4

cup

strong coffee

room temp

1 1/4

cups

all purpose flour

1 1/4

cups

unsweetened cocoa powder

1/2

tsp

salt

1/2

Tbsp

baking soda

1/2

Tbsp

baking powder

1 1/2

cups

granulated sugar

GANACHE:

11

ounces

semi-sweet chocolate

chopped or chips

1/3

cup

heavy cream

2

Tbsp

Amaretto

optional

SWISS MERINGUE BUTTERCREAM:

5

egg whites

2

cups

sugar

1

lb

unsalted butter

room temp

1

tsp

vanilla extract

purple food coloring
Instructions
Pre-heat oven to 350 degrees F

Line 24 count cupcake pan with paper liners

CAKE:

In large bowl add the eggs, vanilla, buttermilk, butter and coffee. Stir to combine, set aside.

In bowl of mixer add the flour, cocoa powder, salt, baking soda, baking powder and sugar.

Mix for 30 seconds to combine.

With mixer on low slowly add in the liquid ingredients.

Once all the liquids have been added turn mixer up to medium and mix for 1 minute to fully combine ingredients and form batter.

Evenly distribute among cupcake cavities.

Bake 15 -16 minutes or until toothpick inserted comes out clean.

Cool completely.

GANACHE:

Put chocolate in medium mixing bowl

In small sauce pan bring heavy cream to just about boiling.

Pour heavy cream over chocolate, let sit 4 minutes.

Begin stirring in small circular motions from the center of bowl on outward.

Continue to stir until cream and chocolate are completely melted and combined.

Add amaretto and stir vigorously to combine.

Let cool.

SWISS MERINGUE BUTTERCREAM:

In medium sauce pan add the sugar and eggs.

On medium heat stir until sugar is dissolved. (do a pinch test, if there are no granuals between fingers the sugar is dissolved.)

Pour into bowl of mixer and mix with whisk attachment until stiff glossy peaks are formed and mixture is cooled. (if its warm it will melt the butter, it must be cooled completely.)

Add butter 1 Tbsp at a time, turn mixer to high and mix until fully combined and frosting has formed.

Lower speed to medium and add in vanilla and food coloring (optional). Mix to combine.

ASSEMBLY:

Line cupcakes up and cut a hole (about an inch wide and half inch deep) into each cupcake, the cut piece can be discarded.

Fill each cavity with about a Tbsp of ganache, ganache should not be hot, if it hardened microwave to spoonable consistency about 15 -30 seconds.

Spoon another spoonful of ganache on top and spread over top of cupcake.

Let set until ganache has hardened.

Add buttercream to piping bag (I used an Ateco #808 tip but you can use any tip you choose) and pipe buttercream on each cupcake.

Garnish with sprinkles.
Notes
1. There is coffee in the cake recipe, coffee enhances the flavor of chocolate but you do not taste the coffee in the finished cupcake.
2. There is amaretto in the ganache, this is optional, it enhances the flavor of the ganache adding a warmth and rich flavor. You will not get an overwhelming taste of amaretto.