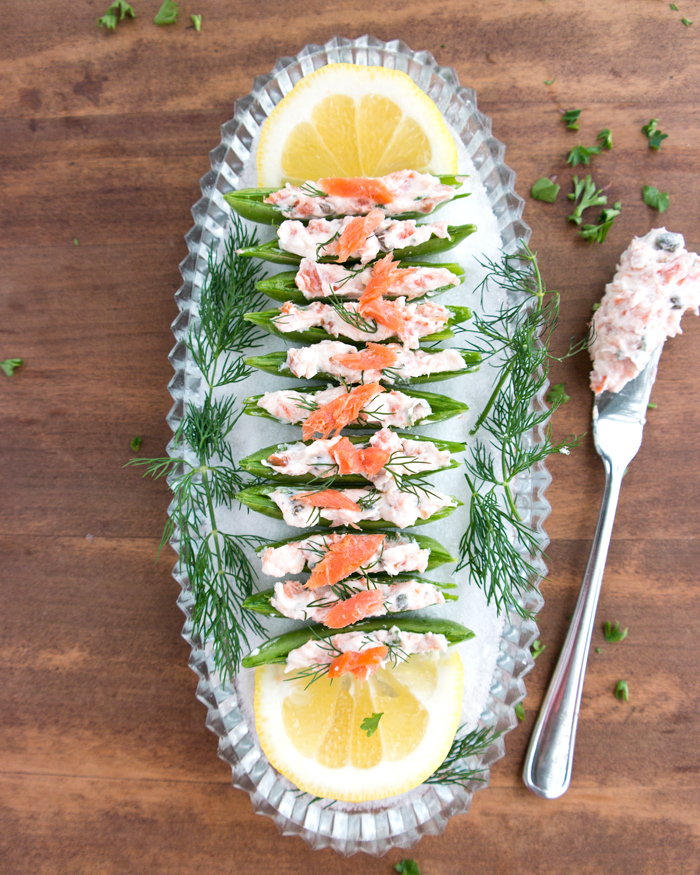 Smoked Salmon Sugar Snap Peas. Smokey, creamy, sweet and crunchy.
For get togethers I always volunteer to bring dessert. I love cooking all types of food but tend to favor sweets, as if you couldn't tell by past posts. Recently though I was told that dessert was covered but finger food/appetizers were needed. Ouch, not only was I not making dessert but I was going to have to branch out of my comfort zone. I immediately wanted to ask the host, "who's bringing dessert, what are they making, is it from scratch or store bought?". I refrained, it wasn't my place and I didn't want to be "that" guest.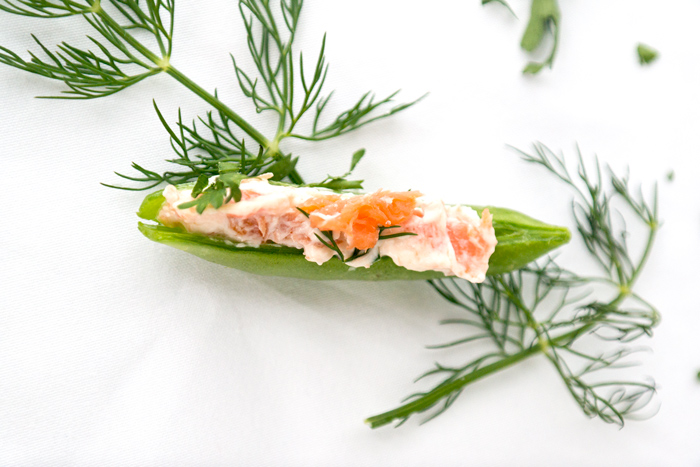 [social_share/]Yum

As luck would have it I have been on a smoked salmon kick. Its been a nice lunch alternative lately. It can be served chilled and no cooking on my part required. Just add a salad and some capers and lunch is severed. Which started me down this path.
I wanted something that presented beautifully, easy to pick up and tasted really good. So I started thinking what if I took the separate components of my new found favorite lunch and some how made a delicious, bite size appetizer out of it all. Think, think, think…I could make a dip/spread with crackers, no that would miss the presentation mark. I could put a smoked salmon filet on a plate cover with capers and serve with crackers, no that would miss the easy to pick up mark. Got it, sugar snap peas. They are like tiny little, sweet, crunchy purses ready to hold whatever delectable filling I choose. Voila! Smoked Salmon Sugar Snap Peas were born. Sorta, I still had to fine tune the details.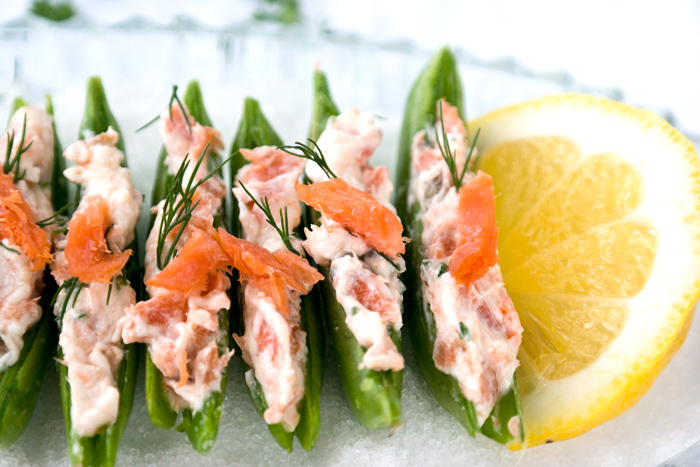 [social_share/]Yum

I started my base with cream cheese and added mayonnaise for a lighter touch. I finely minced 2 oz of smoked salmon, add capers. Getting good but it needs a hint of freshness, so I reach for the parsley and lemon. Now you may be wondering, why not dill? Isn't dill a salmon favorite? Agreed but dill can become over powering fast so I didn't want it in the spread itself but don't worry it hasn't been forgotten, we'll get to that. I mix all the previous mentioned ingredients together, add a pinch of pepper. No salt, the salmon and capers have that covered. Let sit for an hour to let all the smoky, briny, lemony flavors melt together. Taste it…perfect.
Filling the peas. I'd be lying if I said this went as quickly as I had imagined, it didn't because I forgot about a few steps. So hopefully by mentioning them you will be more prepared. You have to de-string (top and bottom) each pea pod. If you don't know what I am talking about bite a pea pod in half, you will find a string attached that runs around the top and bottom, not pleasant. Imagine being at a party and pulling a pea pod string out of your mouth during a conversation, had to pause and laugh for second, it might be entertaining to watch someone else do this but that someone is always me! It never fails. So to save myself and others the embarrassment remove the strings please. Still laughing… Next, opening each pea. I had imagined these just splitting open for me like they were ready for the savory dip to be stuffed right in, wrong. You will need to take the tip of a sharp knife and gently run it across the middle seam. Now we're ready for stuffing.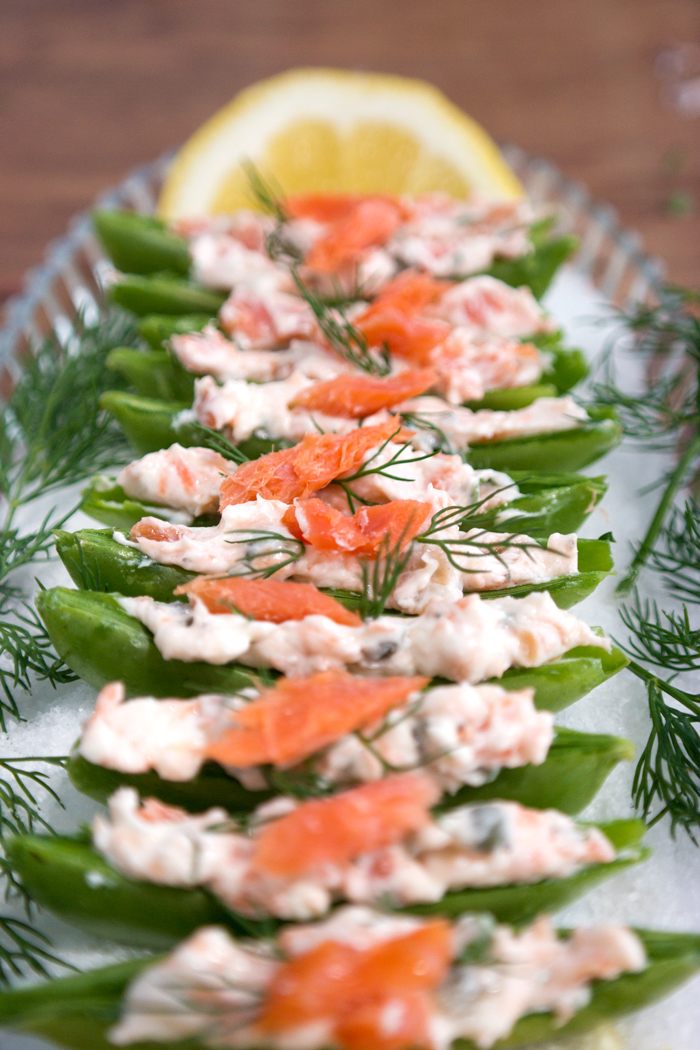 [social_share/]Yum

I leave the peas in place, they are perfect right where they are. Gently push each end to open the mouth/top of each pea pod and with a small spoon or knife gently fill with dip. Look closely at my photos, no two are alike, they are not precisely measured or perfect. Take some pressure off. If you want a more uniform styled look, blend all ingredients in a food processor and use a piping bag with star tip, that would be pretty. But I think they look great just they way they are. When all done I take a small sprig of dill, see I didn't forget it and small piece of smoked salmon and place on top to give a finished look.
The last challenge, getting them to all stand up for presentation. Those lemons aren't just there for looks, they are like book ends holding up these beautiful little savory bites. I also used a bed of salt (just poured the salt right on the rimmed dish) to help wedge them in. If you do this make sure the peas are nice and dry. We don't want too much salt sticking to them.
[social_share/]Yum

Smokey, creamy, sweet and crunchy. Smoked Salmon Sugar Snap Peas will be a tasty hit with your guests and make a nice presentation.
Enjoy!
Stacey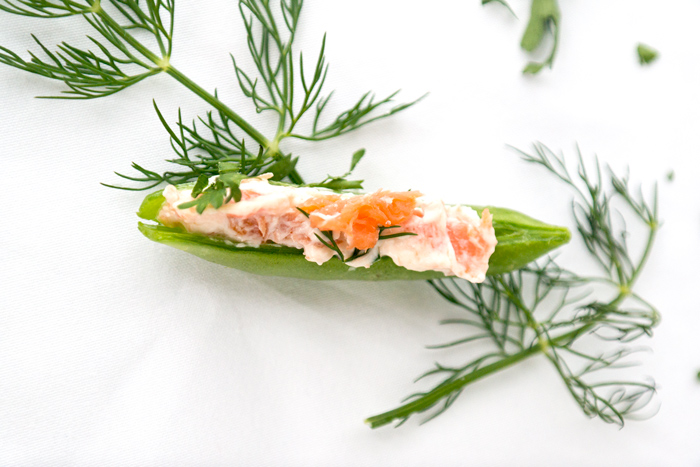 Smoked Salmon Sugar Snap Peas
Smokey, creamy, sweet and crunchy. Smoked Salmon Sugar Snap Peas will be a tasty hit with your guests and make a nice presentation.
Ingredients
2

oz

smoked salmon minced + extra for garnish

2

oz

cream cheese room temperature

30-40

sugar snap peas

cleaned, de-stringed and seam cut open for stuffing

2

Tbsp

mayonnaise

1/2

Tbsp

capers drained and rinsed

1/2

Tbsp

minced fresh parsley

1/2

tsp

lemon juice

pinch

of pepper

sprigs of dill for garnish
Instructions
Mix cream cheese and mayonnaise first to get nice and blended/creamy.

Add the salmon, capers, parsley, lemon juice and pepper, mix well. Let sit for an hour for flavors to blend with each other.

Start stuffing prepared sugar snap peas one at a time.

Garnish with tiny sprig of dill and small piece of smoked salmon