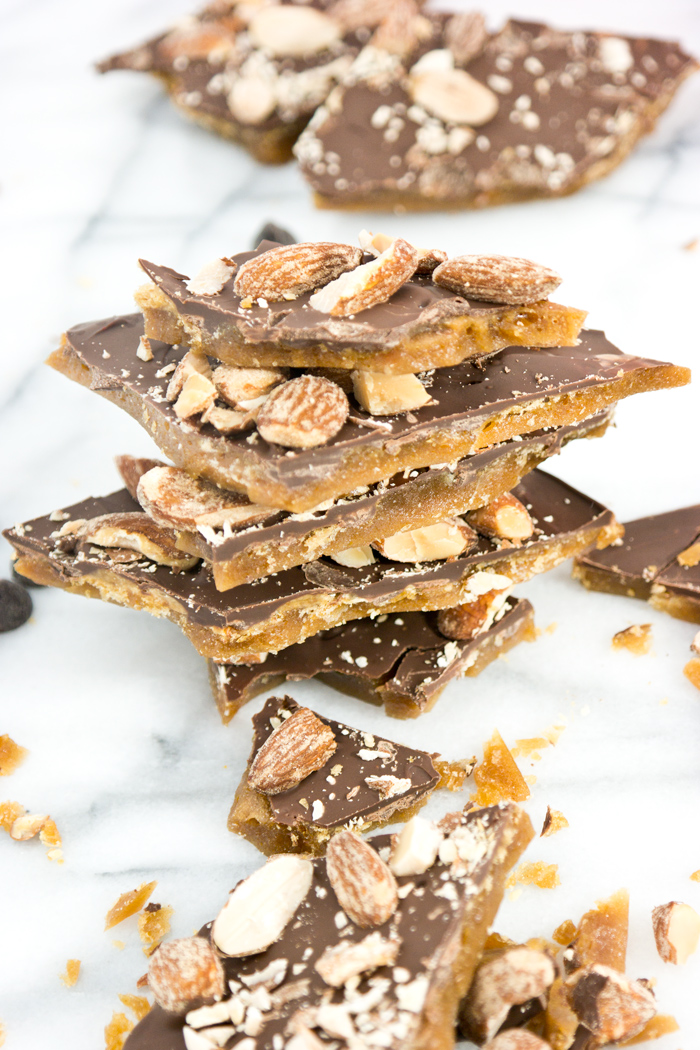 Smoked Almond Toffee. Buttery, rich toffee blanketed by a layer of chocolate and adorned by smoky almonds!
[social_share] Yum
Toffee, toffee, toffee! I can never get enough of toffee. It is one of my most favorite treats and believe me I have a lot of favorites. But there is something special about toffee. First off not everyone makes it so that makes it even more special. Next, it always makes me think of the holidays first and then Dairy Queen's Heath Bar Blizzard second so it obviously is perfect for any season. But the texture is what gets me every time. It's deceiving at first glance and at first bite. It makes you think it's going to be a hard candy but as you chomp down on the second bite it has already begun to melt and dissolve into the most delicious buttery, sweet confection imaginable. I'm in love…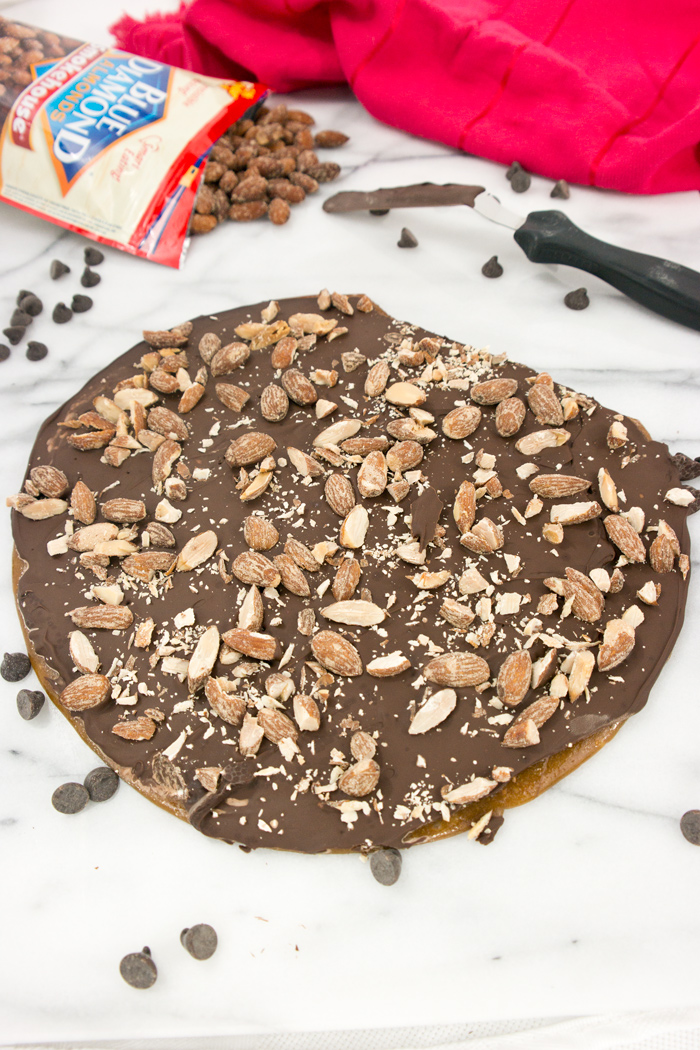 [social_share]
Smoked almonds…where do I begin. No secret I love almonds but smoked almonds, now I'm in lust! As we all know love is grand but lust can be so much more fun! I have to control, no restrain myself from smoked almonds because I could eat the whole bag! I'm not saying I wouldn't have a stomach ache after but that's the thing about lust, you act before thinking and then it's too late. Smoked almonds are at the height of savory, salty, smoky, crunchy and rich lust!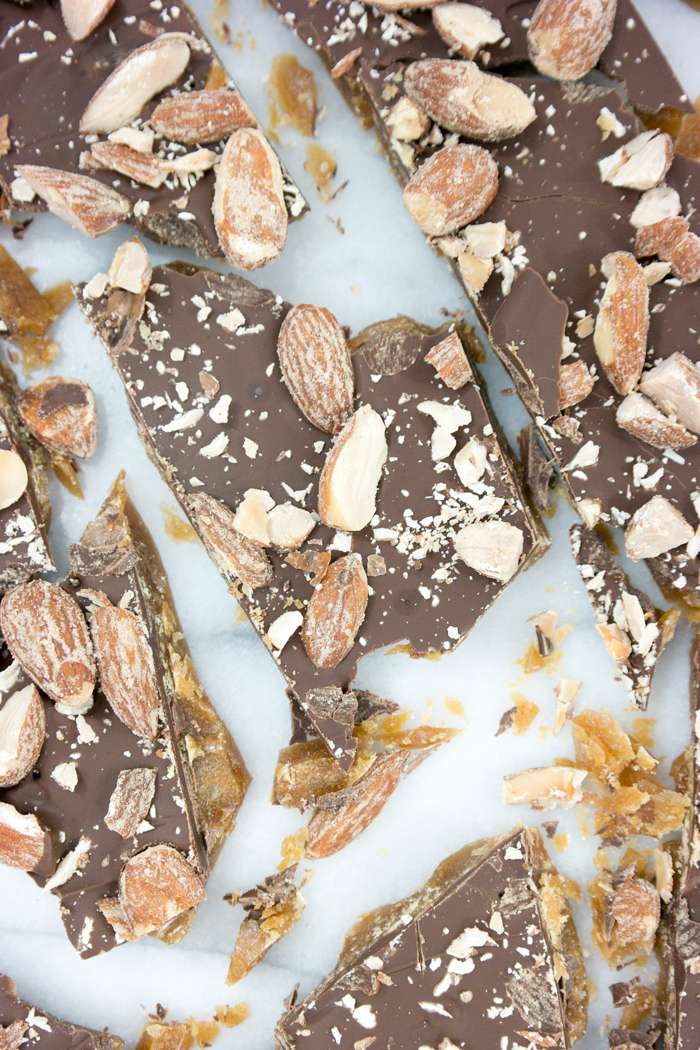 [social_share]
So what happens when you mix the love of toffee and the lust of smoked almonds and blanket them in a layer of silky smooth chocolate? You enjoy every second, every bite, hoping it will never end and then like the old cliche scene in the romantic movies wish you had a cigarette to light afterwards…lol, a little too much? What can I say, I'm obviously obsessed.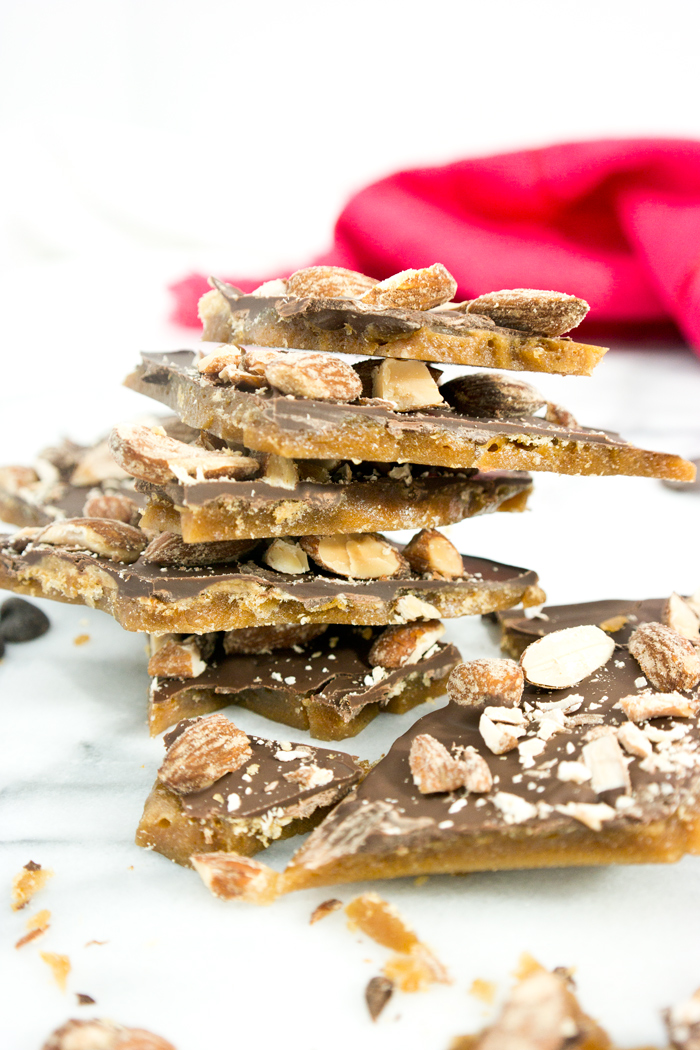 [social_share]
The next time you need a dessert or treat that is over the top this is it! But be forewarned, you will not be able to stop at one bite.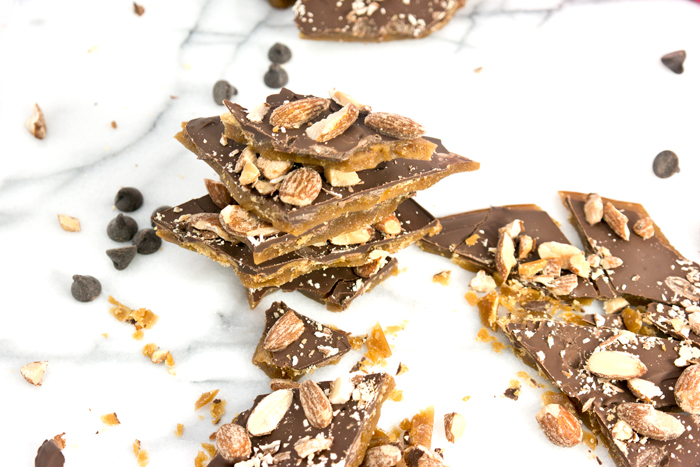 [social_share]
Enjoy!
Stacey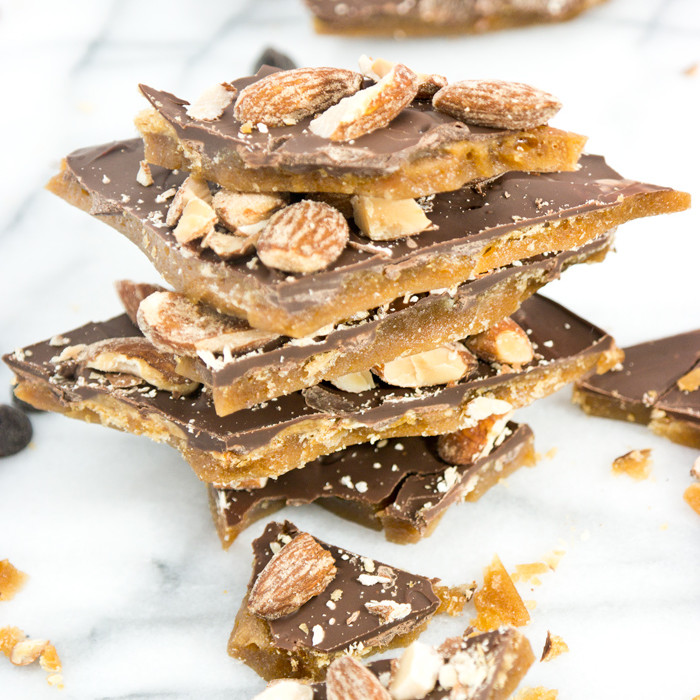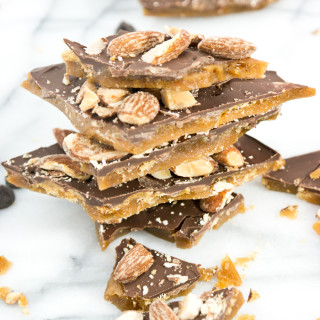 Smoked Almond Toffee
Smoked Almond Toffee. Buttery, rich toffee blanketed by a layer of chocolate and adorned by smoky almonds!
Ingredients
1 1/4

cup

light brown sugar lightly packed

1/2

cup

butter

1

Tbsp

light corn syrup

2

Tbsp

water

2

tsp

vanilla extract

1/4

tsp

baking soda

1 1/2

cups

semi-sweet chocolate chips for chocolate layer

1

cup

smoked almonds roughly chopped
Instructions
Prepare cookie sheet with buttered parchment paper.

Have baking soda and vanilla ready to be added when toffee reaches right temperature.

In a heavy bottom medium sauce pan add the brown sugar, water, butter and corn syrup.

Stir until mixture comes to a boil and sugar is dissolved.

Lower temperature to simmer.

Cover with lid for 1 minute.

Remove lid, attach a candy thermometer and cook (do not stir) until temperature reaches 285 degrees F.

Remove from heat, temp will continue to rise.

Add in baking soda and vanilla, stir to mix well. Careful of a little splatter when you add these.

Pour onto prepared cookie sheet. Do not scrape bottom of pan as there may be speckles of burnt sediment.

Scatter chocolate over the hot toffee and let sit for 2 minutes or until it is soft enough to spread easily with off set spatula.

Once chocolate is evenly spread sprinkle with smoked almonds.

Let cool completely. Cut into pieces with sharp knife and store in air tight container.
Notes
Watch the toffee as it cooks, it only takes a moment for burning to begin.